It's been one year since ODESZA wrapped up their most ambitious project yet, A Moment Apart. As I look back on what was one of the best tours ever seen, I have to reflect on what this project and what ODESZA means to me.
I have been a part of the community since 2015, seeing the evolution of ODESZA's sound from Summers Gone to In Return, and finally A Moment Apart. I started River Beats in March 2016, just eight or nine months before A Moment Apart made its first debut at Day For Night in Houston. The inspiration behind River Beats stems from my early days of following ODESZA.
As A Moment Apart evolved, so did our company and the amazing relationships I forged with new and old friends that shared the same love for ODESZA. The almost three-year journey from Day For Night to Red Rocks, the album's full release, and the eventual finale in Los Angeles were also my personal and professional journey.
My story is unique to me, but I don't think it's unique to others that have shared this ODESZA journey. ODESZA's growth and evolution have led to professional and personal journeys of thousands of their fans, all unique to them individually. Collectively, this growth has made a unique community that has spawned a world-renowned label, thousands of super-fans, and a deep and powerful discography.
As I reflected on the year anniversary of the finale, I wanted a way to create an accurate timeline of A Moment Apart. ODESZA's music has a way of bringing a sense of nostalgia when you listen to it, and the goal with this timeline was to do the same. For myself, my friends, and just thousands of other ODESZA fans, this timeline shows just how truly creative and well planned out A Moment Apart was.
Below is a 32-month timeline of A Moment Apart, from its start in December 2016, to its end in July 2019. We have used past River Beats articles and Instagram videos & photos to show the creative aspect of each date.
---
1.) December 5, 2016: Red Rocks 2017 Announcement. The First Hint of a New Album is Born
After selling out Red Rocks in 2016, ODESZA announces a new headlining show for May 2017. The show announcement comes with a snippet of new music, that shows fans something bis is on the horizon.
---
2.) December 18, 2016: New music at Day For Night
The first time A Moment Apart comes to life. A single from Clayton Knight's solo project, "LLC," is dropped at the now-extinct Day For Night festival in Houston, Texas. "LLC "eventually becomes the hit single "Late Night" from A Moment Apart. Read More Here about Day For Night 2016.
---
3.) March 29, 2017: ODESZA Announces Red Rocks Will Feature Brand "new" Production and Music
After almost three years without new music, the group finally confirms a new show, and new music will come at Red Rocks 2017.
Over the past few years few have created such a massive group of super fans than Seattle based ODESZA. The group has become a staple of Indie Electronic music. Since the release of their platinum album "In Return", ODESZA has gone on a global tour, and sold out every venue that hosted them.
---
4.) April 18th, 2017: A Cryptic Spotify Title Leads to New Music, the First in Almost Three Years
Using brail, ODESZA creates a brand new playlist on Spotify. This hidden message leaves fans pondering for over one week until an announcement is actually released. River Beats breaks the code first, giving fans a preview of what could becoming. Read about the cryptic playlist here!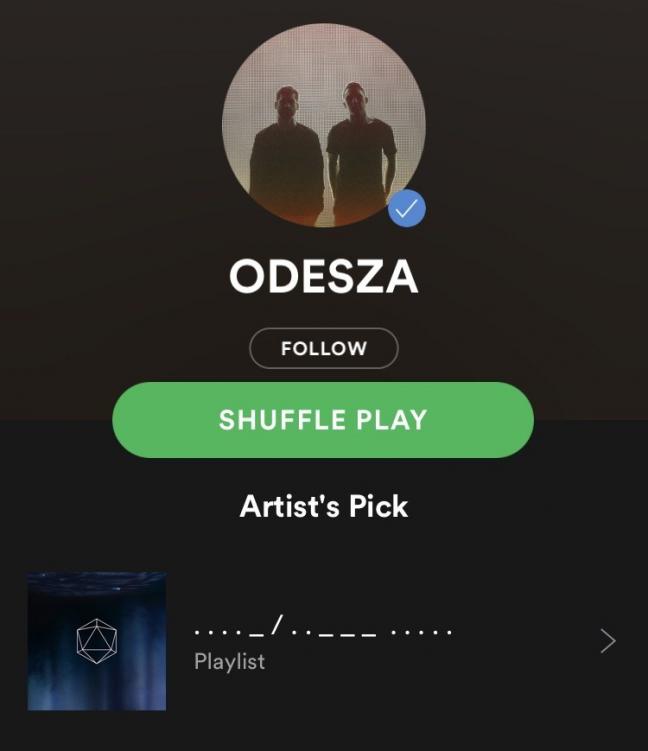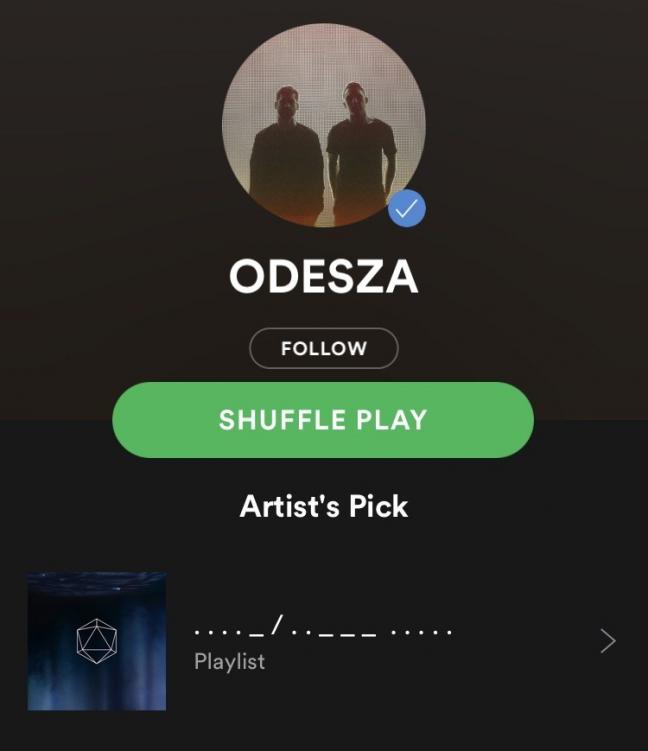 ---
5.) April 25th, 2017: The First Two Singles From "A Moment Apart" are Released
"Line of Sight" & "Late Night" are the first two singles released from the new album. In a unique twist, ODESZA releases both singles on the same day. "Line of Sight" is released in the morning, and "Late Night" ironically at night. The singles showed both sides of the album, upbeat melodic vocals over cinematic landscapes vs nostalgic indie beats over undistinguishable vocal chops.
The song, titled "Line of Sight" feat. WYNNE & Mansionair, was released bright and early on the respective radio stations. Within an hour of that release, the group took to Twitter to announce they would be releasing another single later in the day.
---
6.) May 20th, 2017: ODESZA Drops Two Unreleased Singles Live From Oregon
"Meridian" & "Loyal" are released live for the first time. "Loyal" evolved from an earlier live version titled "Bronko," named after the group's tour manager. The single would not be released until after "A Moment Apart" eventually becoming apart of the deluxe album released at another time.
---
7.) May 25th, 2017: The Boys Call on Fans For "Late Night" Music Video
Using home videos from fans from all over the world, ODESZA creates a memorable video for their hit "Late Night." The video features dozens of loyal fans home movies shot from all across the world. Read more about how the video was created here!

---
8.) May 27-28, 2017: Reliving Two Sold-Out Nights of Red Rocks + 6 New Singles
6 new singles are dropped for the first time in Denver Colorado, with 8 total unreleased singles being released over the two days of shows. A Moment Apart is officially alive, and it damn good. River Beats captured the full setlist from Red Rocks, including videos for each song of the night, relive Red Rocks 2017 below!
Well, ODESZA's much anticipated two-night Red Rocks run is finally over. Although there is a feeling of sadness, it is only because we cannot relive such a legendary two nights over again. But wait… yes we can! It's hard to put into words how special Red Rocks Amphitheater is.
---
9.) June 12th, 2017: A Moment Apart Tour & Album Release Date Announced
Two new singles, "Meridian" & "Corners of The Earth" are also released in the announcement, making June 12th a memorable day for fans. With these two released, 4 new singles form A Moment Apart are made public.
It has been almost a month since ODESZA brought a two-night ethereal performance to Red Rocks, filled with six brand new songs. Today, it has been unofficially announced on Spotify via an album, titled A Moment Apart with an album release date of September 8th. The anxious wait for new music has been worth it…
---
10.) July 11th, 2017: The Group Releases "Higher Ground"
Featuring Los Angeles vocalist Naomi Wild, "Higher Ground" becomes the latest single from A Moment Apart. The single was actually released early after a leak pushed the song to youtube and Reddit pages. Naomi Wild would go on to say she sent the demo to ODESZA in hopes they would like it. Months later she joins them on tour for numerous tour runs, including Sundara Fest and Red Rocks. Read more about the single & how it came to be here.
---
11.)

August 11th, 2017: ODESZA Releases No Sleep Mix 11.0

As fans patiently wait for "A Moment Apart," ODESZA drops their popular mix series No Sleep Mix 11.0. The mix is released one month before the release of A Moment Apart.
ODESZA fans are just two and a half short weeks away from a brand new album. The duo is taking every chance at creating suspense over the upcoming release for A Moment Apart. Utilizing all social media methods, Harrison and Clayton of ODESZA have taken a creative approach to get fans excited.
---
12.) September 3rd, 2017: Following 10 Months of Anticipation, ODESZA Finally Releases "A Moment Apart"
After almost 1 full year of previews, and single releases fans are finally gifted "A Moment Apart," ODESZA's most ambitious piece of work yet. The new album features the previous 5 released and 11 new singles. The album is praised on every level.
"Our first album was about discovering our sound. The second one was us trying to do something new with it and becoming more songwriters than instrumentalists, and this one was understanding what we do and trying to push it." – Clayton Knight
If there has been one artist constantly supported by river beats, it has been Indie-Electronic Group ODESZA. The group is having a tremendous 2017, winning over fans with consistently sold-out live shows, new music, and a brand-new album, their first since 2015.
---
13.) September 26, 2017: ODESZA hosts an AMA on Reddit
Two weeks following the release of A Moment Apart ODESZA took to Reddit to answer multiple questions from fans. Take a look back and see how their answers hold up almost two years later. Read the top 12 things we learned for their 2017 Reddit below.
This is the second Q&A session the group has held in the past few months; with the last one coming via Twitter. This a rare occurrence for the group, as they have been notably quiet from answering questions about their music in the past.
---
14.) October 7, 2017: A Brand-New Show Design is Coming
After unveiling a new show at Red Rocks in May 2017, this is the first time the group's live set has changed significantly since. The new design debuted at the Staples Center in October and featured a reimagining of A Moment Apart. This "All new Show" design featured new edits and mashups to existing favorites, such as "It's Only," "Don't Stop" and several others.
2017 might be the year of ODESZA. The group is fresh off the release of their third studio album, A Moment Apart, and just yesterday, announced to fans that their upcoming North American tour stops will feature a brand new show.
---
15.) October 21, 2017: ODESZA sells out the Staples Center & Debuts Brand New Show Design
In one of their biggest shows to date, ODESZA sells out the Staples Center in Los Angeles. This Los Angeles set debuted a brand new show from ODESZA. Missing is some favorites most ODESZA fans will have a hard time parting with. "IPlayYouListen," "My Friends Never Die," "Big Girls Cry – SIA (ODESZA remix)," Today, Faded – ZHU (ODESZA remix)," and "Kusanagi." These songs were replaced with "Show Me," "Thin Ceilings and Tall Floors," "Across the Room," and "Falls."
Known for making live edits of already existing songs, the group mashed up several new hits while introducing new edits of already existing favorites. Rewatch all the new edits and new moments below
From small venues in 2012, to selling out back to back nights at the famous Red Rocks, to conquering the Staples Center, ODESZA's journey has come full circle. With a brand new show debuting their newest album A Moment Apart, the Seattle super-duo conquered only what some musicians can only dream of: a sold out Staples Center show in one of the biggest cities in the world.
---
16.) November 28th, 2017: "A Moment Apart" and "Line of Sight" are Nominated For a Grammy
ODESZA was nominated twice for the 60th GRAMMY Awards! 'A Moment Apart' is nominated for Best Dance/Electronic Album, and "Line Of Sight (feat. WYNNE & Mansionair)" is nominated for Best Dance Recording.
After praise from the entire dance music community, and seeing their album sit in the iTunes top ten albums for several weeks, the boys face their biggest moment yet. Read more about the Grammy nomination here.
ODESZA have been nominated twice for the 60th GRAMMY Awards! 'A Moment Apart' is nominated for Best Dance/Electronic Album, and "Line Of Sight (feat. WYNNE & Mansionair)" is nominated for Best Dance Recording. See the full list of nominees here.
---
17.) January 22nd,
2018: ODESZA Announces The return to Red Rocks on Social Media
It's hard to explain the magic of Red Rocks and ODESZA. They pair just fit, and after a two night sold-out run in 2017, it just made sense to do it again one year later. Using their recap video from their NYE show, ODESZA announces their return to Red Rocks on June 15 & 16.

Since 2015, ODESZA has brought their entrancing performance to Red Rocks Amphitheater in Denver, Colorado. This popular venue hosts tons of concerts during the spring and summer, including popular artists such as Big Wild and Louis the Child, Above and Beyond, the Disco Biscuits, and more.
---
18.) February 8, 2018: Fans Submit Home Videos From "Show Day"
There is a special feeling in the air during an ODESZA show day, and these fan-made videos really show how connected fans are to ODESZA's brand.
---
19.) March 18, 2018: Support Announced For Red Rocks 2018
The Foreign Family crew was out in full force for Red Rocks 2018. Jai Wolf and Big Wild ended up being the special support guests, and boy they did not let down.
---
20.) March 30, 2018: The First A Moment Apart Remixes are Shared
ODESZA debuts three remixes for their lead single "Higher Ground." Foreign Family newcomer Pluko delivering a fantastic rendition of the single.
---
21.) April 15, 2018: ODESZA Debuts A Moment Apart at
Coachella Weekend One
In a memorable performance in front of thousands of fans, ODESZA used hundreds of drones to close out their set. Re-watch below.
---
22.) April 26, 2018:

ODESZA's Gives a Mesmerizing Live Performance On Conan O'Brien

Lead vocalist Naomi Wild and a full band joined the Seattle super-duo to perform the single off their latest album A Moment Apart.
Lead vocalist Naomi Wild and a full band joined the Seattle super-duo to perform the single off their latest album A Moment Apart. This is the second late-night appearance for the group since the release of their album, after a live performance on Jimmy Kimmel last October.
---
23.)
June 16, 2018: The Return to Red Rocks
A year after first showcasing A Moment Apart at Red Rocks, ODESZA returns with a larger than life production.
The epic return to Red Rock saw two nights of amazing music from Big Wild, Jai Wolf, Pluko, and more. ODESZA reworked several aspects of their live set, including releasing a brand new remix for "IplayYouListen" for the first time ever. This is the last time the group has performed at Red Rocks, announcing in 2019 they would not return for foreseeable future.
Editors Note: We made a small mistake on the initial publication of this article. The track song was labeled incorrectly, it was fixed shortly after to the correct song. ODESZA is in the midst of a sold out two day run at Red Rocks, and to add to the madness the group dropped a new ID for fans.
---
24.) June 20, 2018: The
"Across The Room" Remix EP Is Released
The Ep featured six remixes, including one by Tycho. This is the second remix Ep to be released from A Moment Apart.
After a paramount performance at Red Rocks this past weekend, ODESZA decided to surprise fans with a 6-track remix EP of "Across the Room" featuring Leon Bridges. The remixes include takes from Tycho, Groove Armada, AbJo, Yung Heat, and Durante. While staying true to the soulful vibes of the original, each remix showcases the respective artist's unique sound.
---
25.) July 16, 2018: ODESZA Announces They Will Not Return To Red Rocks in 2019
After three amazing years headlining Red Rocks, ODESZA announces they plan to branch out creatively in 2019. This announcement is the first hint at an all "Foreign Family" festival. A few months later, Sundara Fest is born.
---
26.) August 10, 2018: ODESZA Brings A Moment Apart to Lollapalooza
View this post on Instagram
---
27.) September 8-12, 2018: A Moment Apart Turn one, and
"Loyal" Is Finally Released to The Public
The first version of "loyal" made its debut in October of 2015, during the In Return Tour. It took three years, but on September 12, 2018, it finally made its way to streaming services. The song has long been a hit in all of ODESZA's live performances.
---
28.) October 2-15, 2018: "Falls" Gets A Full Remix Ep, Featuring 6 New Remixes
Featuring remixes from Golden Features, Kaskade, Troyboi, The Glitch Mob, and More.
It's been over a year since ODESZA dropped their third studio album A Moment Apart, and fans have been dying for official remixes since it went live. A few months ago, we were gifted with a full-remix EP for their single "Across The Room," including a fantastic version from But today, ODESZA & bass music fans are gifted with a new complete remix set to "Falls."
---
29.) October 16th, 2018: ODESZA Reveals Plans For First-Ever Sundara Fest
As more and more labels across dance music begin to experiment with curated events, ODESZA finally pleases its fans with the announcement of Sundara Fest. The announcement came in a creative video featuring tweets from fans over the various years.
Tomorrow. pic.twitter.com/maJuZcO4nX

— ODESZA (@odesza) October 15, 2018
This is NOT a drill! 2019 brings big things for ODESZA, including a Foreign Family Collective Festival. Where at? MEXICO! ODESZA is bringing a long list of amazing artists all the way down to Mexico for an all-inclusive destination festival at Riviera Maya.
---
30.) ODESZA Announces First-Ever "Ambient" Set on Instagram
---
31.) October 30th, 2018: River Beats Interviews ODESZA at Voodoo Fest.
I had the pleasure of sitting down with Clay at Voodoo Festival in New Orleans in 2018 as the group looked to close out night two of the festival. The interview has easily been one of the highlights of my career. During our extensive chat, the boys talked about their plan for Sundara, what their next ODESZA project might look like, and potential other Foreign Family Festivals in the future.
If you've been following River Beats over the past two years, you know our love For ODESZA is Strong. With over 60 + articles published and thousands of video plays, the Seattle duo has dominated our airwaves. And how can you blame us?
---
32.) November 30th, 2018: ODESZA Releases A Full Deluxe Remix Album For "A Moment Apart" Featuring 9 New Releases
Always blessing their fans, ODESZA drops a full deluxe album for A Moment Apart featuring live remixes for "It's Only," and"Memories That You Call."
---
Yep, we're writing about ODESZA again. Sorry, but the boys keep giving us a reason too! As we reported yesterday, the Seattle duo announced a deluxe album for on Wednesday. Not even two days later, and we got it! The album features instrumentals for "Falls," "Higher Ground," and "Line of Sight."
---
33.) January 1, 2019: ODESZA Brings In 2019 At Memorable Sold Out Show In San Francisco
View this post on Instagram
---
34.) March 14-17th, 2019: Sundara Fest was Total Magic in Mexico
Sundara fest has come and gone, and what an experience it truly was. For years, ODESZA fans continuously asked for a Foreign Family ODESZA- curated festival. This past weekend, the Seattle duo provided just what we needed: four days of music, amazing vibes, unique sets, and an overall experience that Foreign Family fans have never experienced before.
---
35.) March 18, 2019: ODESZA Says "Thank You" by Posting Special "Sundara" Live Edit on Instagram
---
36.) March 21-22nd, 2019: ODESZA Announces the "Finale" for A Moment Apart. Date set for July 26th & 27th in Los Angeles
In an ominous announcement on social media, ODESZA shares a video with the words the finale attached. All great things must come to an end, and so will A Moment Apart.
---
ODESZA has dominated the airwaves over the past week. Their first ever curated festival, Sundara Fest, just wrapped up this past weekend. Amidst he end of Sundara is some massive changes to their live show moving into the future.
---
37.) April 10, 2019: Sundara After Movie Arrives, Hitting Us All In The Feels
Was it a dream? Can you still be buzzing from an event almost 15 months later? The Sundara recap video really does show us how special our ODESZA clan is.
---
38.) April 14th, 2019: Game of Thrones features "Corners of The Earth"
One of the most popular shows on television just used ODESZA in the best way possible. Check out the feature video from our editorial below.
If you thought you heard ODESZA during the Game of Thrones return, then you're right! The duo's track "Corners of the Earth" made it in the season preview of the beloved television show, and it totally fits. Fans have been waiting quite some time for the Game of Thrones to return.
---
39.) June 15, 2019: ODESZA Bring A Moment Apart to Bonnaroo
View this post on Instagram
View this post on Instagram
---
40.) July 6th, 2019: Relive ODESZA's A Moment Apart set from Electric forest 2019
Always a favorite of the Rothbury crowd, ODESZA brings A Moment Apart one more time. And if you are looking to re-live the memorable moment, one amazing fan filmed the entire set. Watch below.
Electric Forest just closed out 4 days of magic in Rothbury Michigan. This year the festival decided to revert back to one weekend, as opposed to two full weekends. This means we only had one opportunity to see some of the biggest acts in the music industry.
---
41.) July 24, 2019: Limited Edition "A Moment Apart" Box Set Goes Live.
---
42.) July 27-28, 2019: ODESZA Performs Two Sold-Out Sets in LA to Close Out Three Years of A Moment Apart
Hard to believe it's only been one year since the finale. So much as changed, but one thing remains the same, the production on this tour was unmatched across the dance spectrum.
---
43.) August 2, 2019: A Final Goodbye To All Crew, Fans, and Artists Involved In A Moment Apart
---
Since I have started this article in January 2020, the world of live music has definitely changed. We all know COVID has really altered how we watch and view music. As I write this, I am thankful that A Moment Apart was able to end properly, and not forcefully due to COVID.
In addition, ODESZA has begun their own new journey, one that no one saw coming: a new alias. BRONSON, the new collaboration between ODESZA and Golden Features, has been a pleasant surprise during quarantine. The first singles from the trio were released in early June, with a full album slated to be released in August.
Only time will tell after COVID wether we see ODESZA live or BRONSON; hopefully, we see both along with all the rest of the Foreign Family Collective label mates.
---
Featured Image: 📷: @alivecoverage