Just over a decade ago, Joe Rich, the artist now known as Thought Process, was just another fan of the scene. Growing up in Kent Island, Maryland, Rich often made his way over to the 8×10 in Baltimore where he would see small to big-name artists and local acts. But as he continued to become immersed in the scene, Rich realized he wanted to do more than watch from the crowd.
Eventually, Rich got into mixing and DJing and was fortunate enough to land an opening slot for Tsuruda at the 8×10. This was the night everything changed.
"Back in 2015, before I even produced beats, I opened as a DJ under my name "Joe Rich," years before Thought Process. The headliner was Tsuruda, it was such a golden time period for the forward-thinking beats he was making and playing at the time, and the show is the reason I met Ryan Blank (vide) who is an extremely close friend still to this day. He taught me a lot about production and helped motivate me to get with it. That show in general just helped push me to realize that music and art was a passion worth pursuing."
Today, 7 years later, Thought Process gets set to return to the 8×10 for his first headlining show at the place where it all started.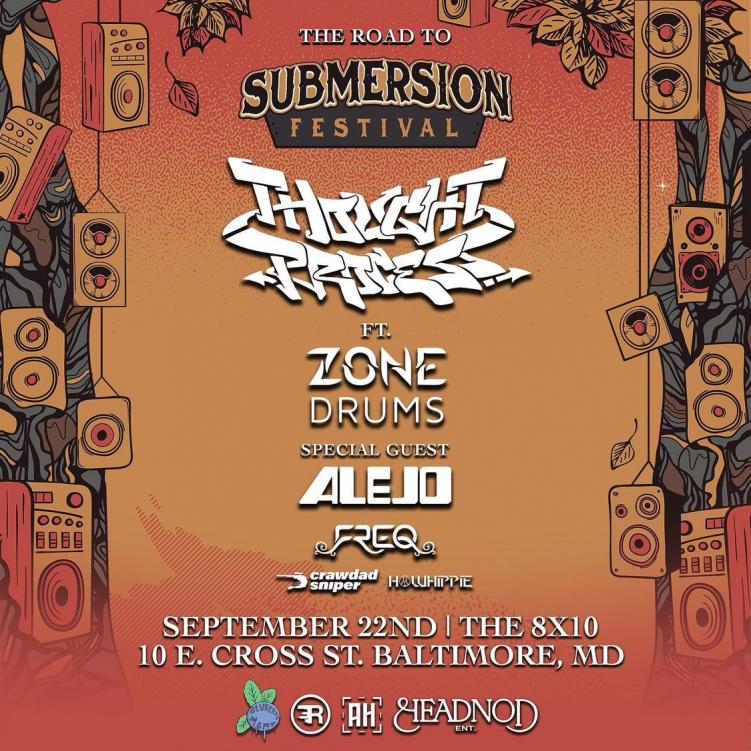 The show is a part of the Road to Submersion; an event series leading up to Submersion Festival in Hammonton, New Jersey on October 6th-9th. Being put on by event curators The Rust and Aspire Higher as well as local promoters Headnod Entertainment and Bluberry Management, the show's headliners include Thought Process and ZONE Drums with special guest Alejo.
Also in attendance will be Philadelphia talents FREQ and Howhippie alongside local sharpshooter Crawdad Sniper. To make the night even more special, Thought Process will be celebrating his 28th birthday at midnight and inviting a surprise guest from The Rust to share the stage with him for a song or two.
Here's a little more information on the artists and what you can expect out of the night.
Boom-Bap & Bass in Baltimore
In the four years of the Thought Process project, Joe Rich has grown his production skills immensely. Now residing in Denver, Colorado, Thought Process operates with the all:Lo Collective crew spinning bass-focused music that's layered with genre-spanning influences.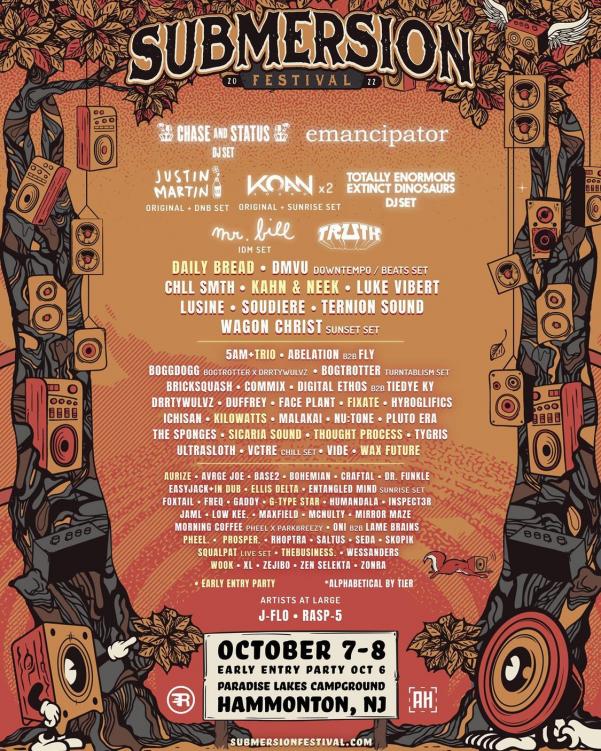 His 2021 EP, Collapse in Real Time, demonstrates Thought Process's ability to incorporate elements from genres like soul, jazz, and hip-hop, all while retaining the essence of bass music. 2022 has seen Thought Process perform at festivals like Nocturnal Funktion, Solasta, Lightning in a Bottle, and the Philos & Friends Block Party with Daily Bread. The Maryland-bred, Denver-based artist will also be performing at Submersion Festival this October alongside artists like Koan Sound, Chase & Status, Emancipator, and more.
But before the second-year festival at Paradise Lakes Campground takes place, Thought Process will be heading down to the 8×10 in Baltimore where he is inviting 5am Trio drummer ZONE Drums to jam with him.
"Aaron (ZONE Drums) and I have been friends for years and I've always been a fan of live instrumentation with electronic music. We first ever performed together at Resonance '21 with no practice or rehearsal and have only performed one other time since (June Jam). He's someone I truly admire and is an amazing musician. We just vibed really well and had the idea to play together because live drumming meshes well with my boom bap, more hip hop style. The rest is history."
Another artist we are very excited to see at the Road to Submersion show is special guest Alejo. The Ohio native is fresh off a screaming performance at Secret Dreams where he delivered one of the best sets of the weekend behind Tipper, Jade Cicada, and Detox Unit.
Although Alejo's Tough Cuts Vol. 2 EP is only a year old, the producer has been dropping new music nearly every month for the entirety of 2022. Definitely expect him to be bringing along "The Gas Wagon" and then some for his performance in Baltimore this Thursday.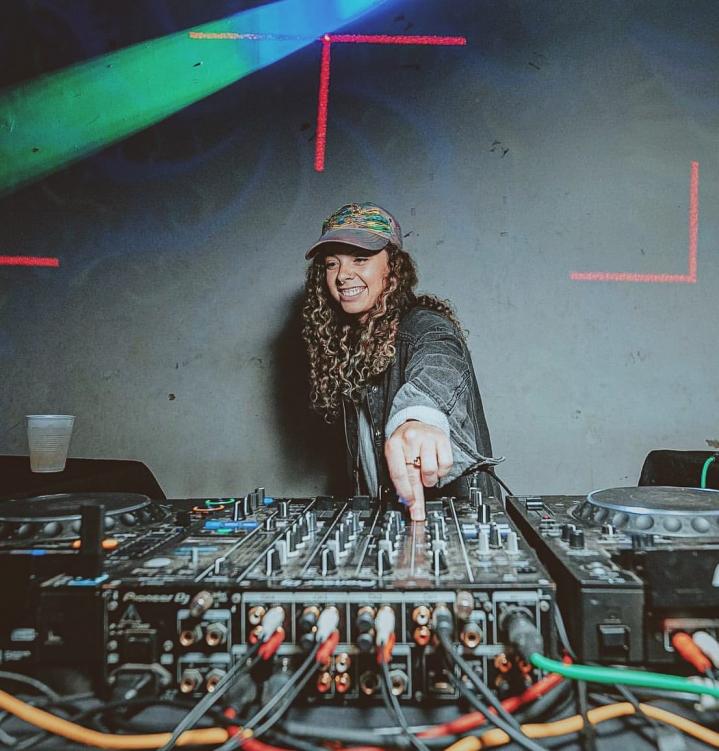 Warming up the decks is Aspire Higher's FREQ who has been enjoying the most successful year of her career with performances at Nocturnal Funktion, Yonderville, Sound Haven, and an upcoming slot at Submersion Festival where she will be performing dark and early at 4:45 AM.
Lastly, we can't forget about Crawdad Sniper and Howhippie, two artists who have been using 2022 to fill their discographies and their touring schedules.
Known for curating full-spectrum shows, Headnod Entertainment has always ensured that its visual accompaniments will be up to par. This being the case, they have tapped video jockey Ozwvld to conduct the digital arrangements for the night in addition to live painters aabstract and GuMo.
View this post on Instagram
As for the vendors, you can find some incredibly stunning wire-wrapped jewelry all handmade by Kassafrass Creations.
View this post on Instagram
With just a few weeks to go until Submersion Festival, the show on Thursday 9/22 will be a perfect way to make the wait a little more bearable. Grab tickets for Submersion Festival here, the Thought Process show here, and make sure to keep up with everything these massive players in the industry have going on in the links below.
Follow Thought Process:
FACEBOOK | INSTAGRAM | TWITTER | SOUNDCLOUD
Follow Submersion Festival:
WEBSITE | FACEBOOK | INSTAGRAM | TWITTER
Follow Headnod Entertainment: