Introducing an absolutely incredible collaboration, Daily Bread, STS & Chris Karns have come together to create a heartfelt masterpiece paired with a kick-back remix by Mounika. Out now on all platforms through Philos Records, 'We'll Always Have Paris' is sure to become one of your new favorite releases of the year!
Following the 2018 release of Edgewood & Boulevard, Daily Bread and STS are finally reunited. Joined by the legend Chris Karns, our expectations were set high and exceeded. For the cherry on top, Artifakts created the stunning artwork. Listen to 'We'll Always Have Paris' below!
"We'll Always Have Paris"
Since Purple Clouds, Daily Bread soared to new heights performing coast-to-coast across the US. His 2021 run caught the attention of thousands as his fanbase grows and tickets to shows become more challenging to acquire. This year has been no different with a string of knockout performances and max capacity events.
While many of the unreleased tracks in the rotation have been heavy hitters, dB is back to the roots on the pad. The bassline and stripped-down beats are reminiscent of early USB tracks and could fit right in with the Bread & Breakfast series.
Likewise, legendary DJ and sampling wizard Chris Karns is making waves with a ton of new releases and performances alike. Lately, Karns has displayed his diverse talent in production, effortlessly blending sounds of the past with modern production and instrumentalism. His sampling and tasteful scratching are a perfect fit alongside the beat-driven foundation.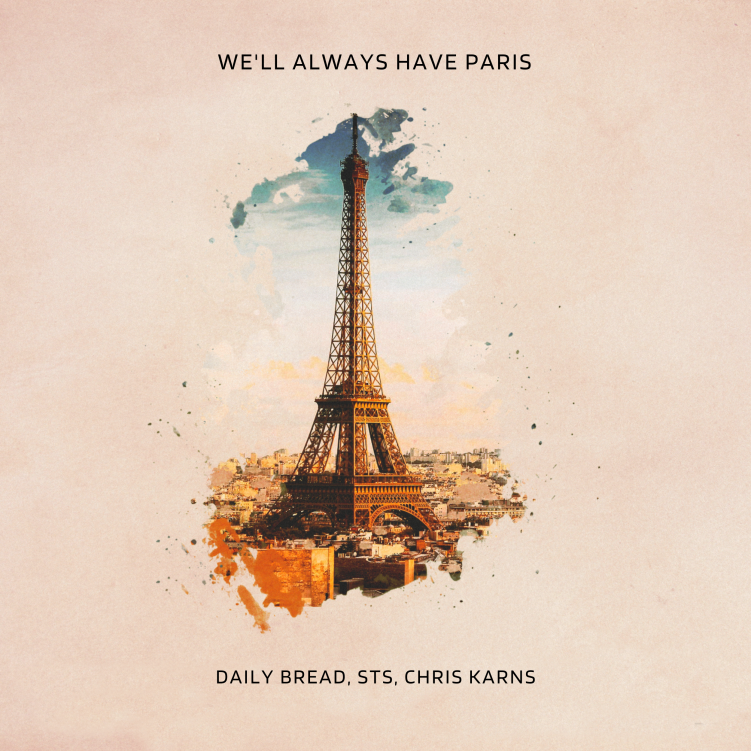 For STS, travel abroad has allowed for creativity to flow with several collaborations including reconnecting with RJD2 for 'I Excel' and 'Whatchawannado.' As with many of his releases, 'We'll Always Have Paris' comes from the heart. Taking a look back at his experiences while living in Paris, STS tells a story of love lost and lessons learned.
"How can I love someone if I don't love myself first?"
Poof, Now I'm Gone
The reflective tone and smooth flow fit seamlessly with the time capsule feel. 'We'll Always Have Paris' is a nod to the hip-hop heads with something for everyone and we're thankful this power trio came together for its creation.
This is Philos's 50th release, and a special collaboration for us to signify that milestone. In 2018 Daily Bread and STS released their first project together, Edgewood & Boulevard, which is one of my personal favorite releases to date. I was immediately drawn to 'We'll Always Have Paris' and am beyond excited and honored to have Chris Karns producing this one in collaboration with dB and STS.

– Jordan Wengler (Label Manager, Philos Records)
In a symbolic collaboration, France-based Mounika. took to the lab to create a chilled-out, lo-fi remix of the inevitable classic original. For fans of SwuM, Jinsang, and others, Mounika. perfectly encapsulates the story created and places it by the fire on a cold afternoon.
Together, the two tracks complement each other effortlessly. Perfect for the shifting seasons, 'We'll Always Have Paris' will remain in constant rotation on our playlists for the foreseeable future.
Now that it's been released, we hope to hear it played out live at one of the many upcoming shows! Where will we catch you for the rest of 2022? To keep up with Daily Bread, Chris Karns, and STS, check the links below and turn on notifications for updates to come!
---
Connect with the Artists