As one of the first festivals following the return of live music in 2021, Sound Haven didn't just reignite the festival circuit, they set it ablaze. 
With a lineup that featured artists like Mersiv, Jantsen, The Widdler, Smoakland, Supertask, Ternion Sound, and more, the 2021 lineup was stacked beyond belief. But in a recent and extraordinary announcement, Sound Haven is proving that they can still outdo themselves with a lineup even bigger than the last.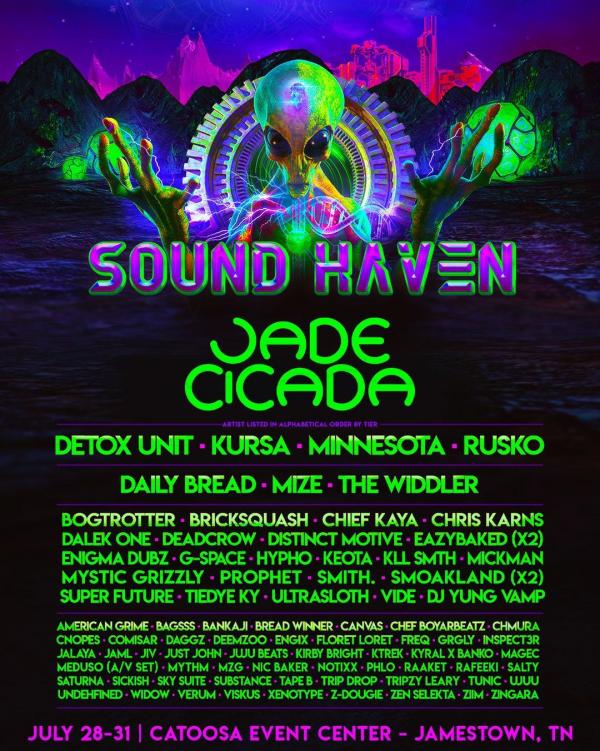 Some of the new additions in Sound Haven's final lineup announcement include The Widdler, G-Space, kLL sMTH, Prophet, smith., tiedye ky, DJ YUNG VAMP, and tons more. With new names and old ones from the entire bass music spectrum, Sound Haven is without a doubt one of the biggest bills of this summer.
Here is a little more information on the headliners and some of the artists we are most excited to see at the festival taking place July 28th – 31st 2022.
Jade Cicada
Right off the bat, you have Jade Cicada who will undoubtedly be the reason tons of fans make the trip to Tennessee this year. With little to no releases in the past few years, fans will be eager to hear some new music from the Massachusetts native.
So far, Sound Haven is only one of three festivals that Jade Cicada is confirmed to be attending in 2022. Given the rarity of his performances, this is not one to miss.
Detox Unit
Another artist that is sure to catch the eye of fans is Detox Unit. Following a recent slew of legendary performances over the past year at King's Theater for Jadesgiving, a baffling Red Rocks set, an appearance at Tipper & Friends Suwannee, and his most recent performance at The Mirage, Detox Unit has become one of the most sought after live acts in bass music.
His flip of Bia's "whole lotta money," "keys to the jeep," and "interior crocodile" tracks quickly went viral with fans everywhere searching for an opportunity to hear them live. Fingers crossed he rinses these bangers when it comes time for his performance in Jamestown.
View this post on Instagram
Daily Bread
Finally, we have River Beats' favorite Daily Bread who we are thrilled to see in bold print at the top of the lineup. While there are several sets of his that won us over, it's Daily Bread's performance following Tipper at Resonance 2021 that really demonstrated his capabilities as a live performer. 
Steadily exploring sonic remedies with the Philos Records crew, Daily Bread has a discography loaded with tracks that are ripe for live mixing. His skills with Ableton and an MPC set him apart from other artists who use controllers and CDJS which makes a Daily Bread set incredibly unique.
Other headliners we didn't mention that will also be bringing nothing but heat include Kursa, Minnesota, Rusko, Mize, and The Widdler.
A Stacked Undercard
One of the most appealing factors of Sound Haven this year is the depth they added to their undercard. Considering the weight the headliners bring, it's incredibly impressive who they were able to tap to fill out the rest of the lineup.
Bogtrotter
Going in alphabetical order we first have Bogtrotter with his psychedelic swamp-hop and liquid laser textures. What we are most excited about in regards to this Denver DJ's set are his skills on the turntables, oftentimes incorporating vinyl scratching and cutting during his performances.
View this post on Instagram
Bricksquash
We are also particularly excited to see Bricksquash, the hard-hitting duo made up of Cloud D and Resonant Language. Most recently, Bricksquash made an appearance at Yonderville with a set that mixed broken-beat bass music, hip-hop, and half-time in a way that no other artist is doing right now.
Chris Karns
Similar to Bogtrotter, Chris Karns is another DJ revered for his skills as a turntablist. Spending time touring with the Pretty Lights live band while also expanding upon his own solo career, Karns is an artist you don't regularly see at mainstream or even underground bass festivals which makes him another must-see act at Sound Haven.
View this post on Instagram
Keota
A bit further down the list, we have Keota whose performance at King's Theater for Jadesgiving this past November also lives in notoriety. His skills as a producer, teacher, and live performer all make him quite the commodity. We're surprised not to see him on too many festival lineups this year but his recent sets at Nocturnal Funktion, one of which was a surprise B2B with VCTRE, and Sol Fest have undoubtedly thrust him into the spotlight.
kLL sMTH & Ultrasloth
Another River Beats' favorite is kLL sMTH who has won us over with his trademark style and kept us more than entertained with his litany of side projects. Though he has dedicated a lot of his recent time to said side projects, including the kLL Bill project with Mr. Bill, his lo-fi experiment with cHLL sMTH, and the Ultrasloth series with bioLuMigen and Duffrey, he continues to show dedication to his own particular brand of music which has earned him multiple spots at festivals across the map.
Speaking of the Ultrasloth series, fans in attendance at Sound Haven will also get to experience the trio take the stage. Although they have a limited discography, Ultrasloth comes together brilliantly during live performances which oftentimes features kLL sMTH cutting and scratching over bass-laden beats procured by Duffrey and bioLuMigen.
Mickman
Mickman is as mysterious as he is adored. As yet another artist who performed at Kings Theater for Jadesgiving, Mickman adds even more flavor to this already decorated bill of musicians. With performances that have included "quick-footed breakbeats, unexpected drum and bass, and gigantic glitch-hop bangers," Mickman's sets are diverse as they are rare.
Smoakland x2
Sound Haven 2021 saw Smoakland take the stage for one of their biggest sets to date that people still talk about to this day. This is part of the reason the California-based duo got booked for not one, but two slots at Sound Haven this year, one of which will be their first-ever "Liquid Smoak" set. Their recent "Speakerbox Thuggin" mix exemplifies a duo who are only getting better and better, so expect nothing but fireworks when they take the stage this year.
Bread Winner
One artist that has recently emerged on the scene is Mean Mug artist Bread Winner. Bread Winner's production capabilities are unique in their own right while also echoing styles from some of the bigger artists in the industry. Those familiar with the "Diet-Tipper" genre will be quick to assign Bread Winner to this niche.
Chmura
We discovered Chmura the same way a lot of other people did, through his remix of "Sound" by Ashez. Although the hard-hitting track defines Chmura's trademark style, recent performances of his including one at Yonderville and one at The Untz festival have shown that his capabilities as a live performer are growing. However, we believe it is his late-night set at Sound Haven 2021 which really secured his spot at this year's festivities.  
Floret Loret
The Lakeland, Florida artist known as Floret Loret is another producer who we have had a keen eye on since they started producing around five years ago. We are most recently captivated by Floret Lorets latest release with "Red Eyed Lily" although all of his singles from 2022 are meritable. We are definitely looking forward to seeing this artist for the first time when Sound Haven comes around.
Nic Baker
One of the acts on Sound Haven's lineup that we are most curious about is Nic Baker, a duo made up of east coast producers vide and Inspect3r. Both artists have earned a reputation for masterful production and hard-hitting sets, so seeing them combine under this project is highly anticipated. Their SoundCloud is barren so Nic Baker previews are limited. This means fans will have to wait until their upcoming set at Baltimore's the 8×10 or Sound Haven at the end of July to hear what these two have to offer.
In addition to a bigger lineup for 2022, Sound Haven is also moving to a bigger venue.
Rainbows & Waterfalls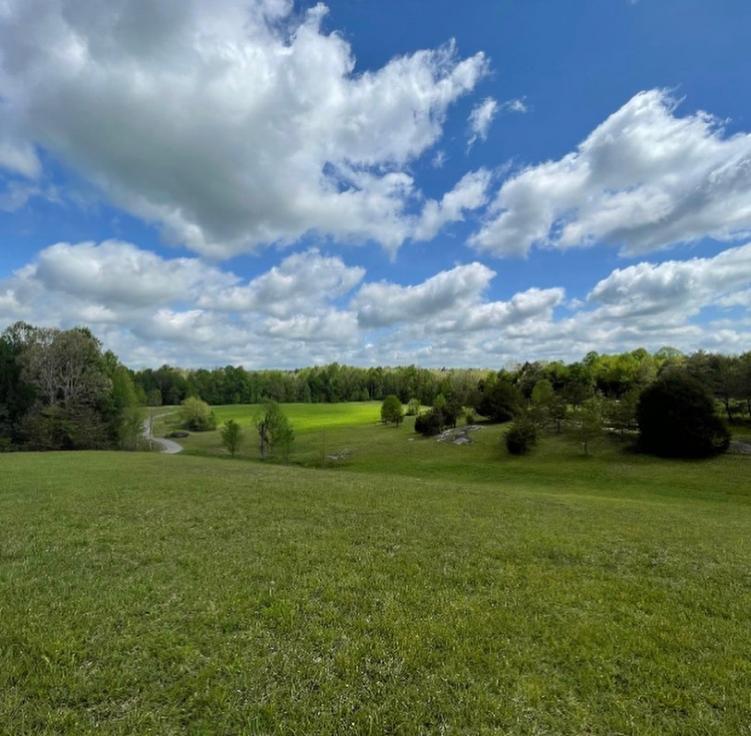 The Catoosa Event Center in Jamestown, Tennessee is where the festivities will be held this year. Boasting 165 acres of beautiful terrain that includes several waterfalls, caves, a lake, a grotto, and beautiful shaded greenery, this former golf course looks like a magical place to hold a festival.
View this post on Instagram
Attendees will be permitted to camp with their cars with the option to upgrade to RV camping or VIP camping which includes preferred shaded camping next to the venue, access to a VIP lounge, VIP restrooms, free showers, and exclusive Sound Haven merch.
In addition to incredible infrastructure and the largest natural land bridge in Tennessee, Catoosa Event Center is shaping up to be an immaculate destination for Sound Haven 2022.
If you haven't yet, grab your tickets to the event here and keep up with everything that Sound Haven and festival organizers Sacred Hive have going on in the links below. 
Follow Sound Haven:
Website | Facebook | Instagram | Twitter
Follow Sacred Hive: