Here's a lineup you've never seen – Colorado-based kLL sMTH and Belgian DJ and record producer YUNG VAMP are taking over a famous, Philadelphia warehouse venue with some Funktion-one sound. And if that wasn't enough, they've got BACKWHEN, Skopik, and McNulty joining them to make the party even crazier.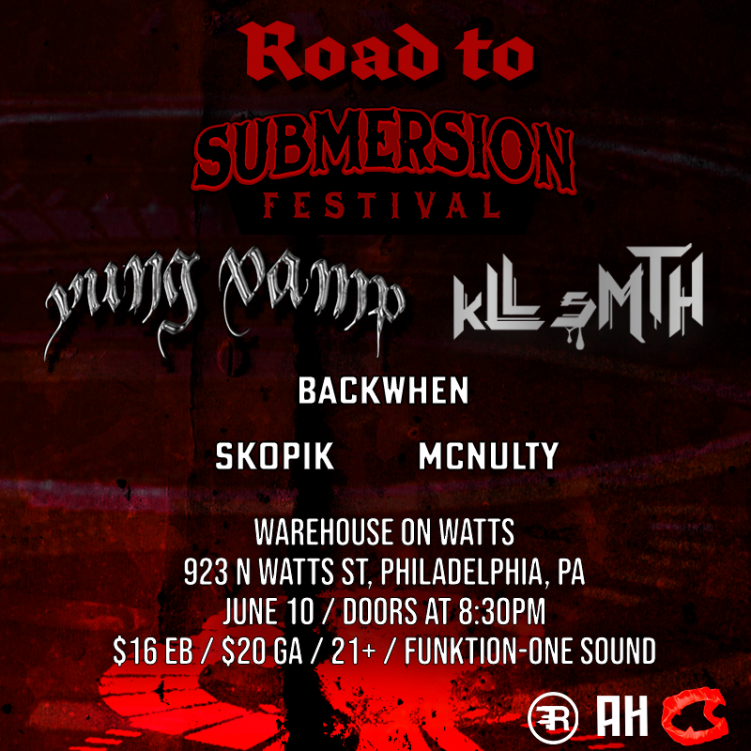 The show will be the first on the Road to Submersion Festival, a two-day music and arts festival taking place this October in Hammonton, NJ. While the show, taking place this Friday, June 10th, at Warehouse on Watts, is a great warm-up for the upcoming bonanza, it is also a chance to score a pair of weekend tickets to Submersion Festival as all advanced ticket buyers (bought before doors) will be entered into a raffle.
So we've got four master selectors, an epic venue in Warehouse on Watts, and the chance to score two free tickets to a massive festival. What more could you want? For the uninformed, here is a little bit more about the headliners set to take the stage this Friday night.
Hardly Slurkn'
A guy with as many side projects as sausage recipes, kLL sMTH is an icon that is adored across the electronic music spectrum for a variety of reasons. While his collaborative mindset and community-oriented perspectives have helped kLL sMTH rise in the industry, it's his production prowess that has made him stick.
Notable projects of his include the cHLL sMTH series; a lo-fi, downtempo pursuit, the Ultrasloth trio; made up of him, Biolumigen, and Duffrey, kLL Bill; made up of him and IDM mastermind Mr. Bill, and 2NUTZ; made up of him and Atomic Reactor.
Although he spends plenty of time working on collaborations, kLL sMTH has recently announced that he has plans to drop an EP very soon.
It dawned on me that I haven't released any solo music in about a year which is just unacceptable and I apologize 🥺 Got very consumed by touring 🫠
I'm nearly done with an EP though but I'm thinkin I might drop that Audrey Nuna flip this weekend how's that sound 🤷🏻‍♂️

— kLL sMTH (@kLLsMTHmusic) May 25, 2022
Expect this sonic and culinary connoisseur to be dropping nothing but bombs come Friday.
VAMPIRE IS NOT A CAREER CHOICE
The phonk flexmaster, the Belgian who could've been born in Memphis, Draculean, Gregory Renard, is the artist known internationally as DJ YUNG VAMP.  As one of the leading pioneers of phonk, a subgenre of hip hop and trap music inspired by 1990s Memphis rap, DJ YUNG VAMP is an artist who has won over audiences everywhere for his auditory artistry, eclectic suave in beat-making, and aggressive swagger. 
With collaborations alongside artists like Soudiere, DJ Smokey, Mister V, Soulja Boy, Yung Gravy, and more, DJ YUNG VAMP has successfully made his imprint on the hip hop scene and beat-making industry as a whole.
So why is he being put on a lineup next to kLL sMTH? For the same reason everyone else is on the lineup – he knows how to murder a set.
On his first official US tour, expect anything and everything from this Belgian beat slinger this coming Friday.
The Road to Submersion Festival
As the first show in the Road to Submersion Festival concert series, event curators Aspire Higher and The Rust intend on Friday's event to kick off a long line of heavy-hitting, pre-festival gigs across the country. With phase two expected to drop in the next couple of weeks, there is plenty of stuff to look out for.
Grab tickets for this Friday's show here, for Submersion Festival here, and keep up with everything these players have coming up in the next couple of months and beyond in the links below.
Follow Submersion Festival:
Website | Facebook | Instagram | Twitter 
Follow Aspire Higher:
Facebook | Instagram | Twitter | SoundCloud
Follow The Rust:
Website | Facebook | Twitter | Instagram | SoundCloud