This past memorial day weekend, music lovers and seekers of underground bass up, down, and across the country flocked to southern Massachusettes for the first-ever Nocturnal Funktion. 
The destination was Camp Timber Trails, the schedule was set, and despite uncertain weather, the weekend was shaping up to be memorable one way or another. 
After we got off the highway and began making our way deeper and deeper into those lush Massachusetts woods, the only things that let us know we were going the right way were a few signs for camp every so often.
Otherwise, it felt like we were getting swallowed up by the green around us.
Finally, we were spat up at a misted parking lot where those pre-festival jitters began to settle. Shortly after we unpacked our car we were scooped up by a golf cart and headed into the festival. As we began to make our way through the trails and closer to the music, those initial jitters quickly grew to excitement.
We set camp, met our neighbors for the weekend, and headed off to our first set.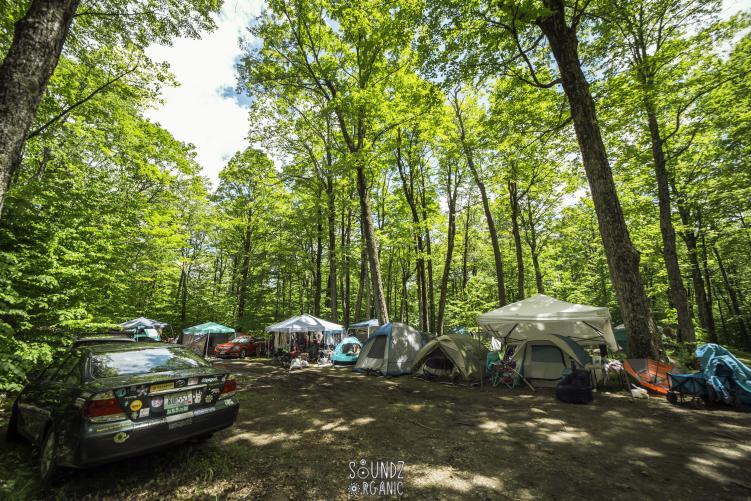 Nocturnal's Notable Sets
For a first-year festival, Nocturnal Funktion was able to flavor its lineup in spectacular fashion. However, their selections sought to satisfy the underground community more than mainstream listeners – one of the reasons Nocturnal Funktion is so admired.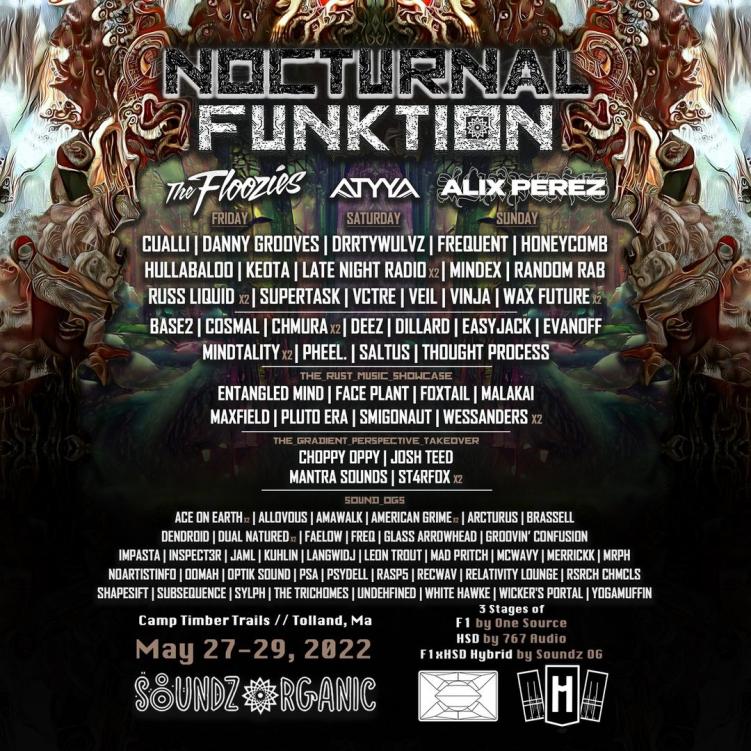 As people began to fill the venue on Thursday for the early-arrival preparty, artists like Chmura and Wessanders started flexing the Funktion-one sound system at the main stage, The Hollow, followed by Aspire Higher artists JamL and FREQ at the Barefoot Ballroom.
At this point, there were only so many people at the festival so it was easy to start recognizing faces. This was a feature that gave Nocturnal Funktion a very friendly, familiar, and community-oriented vibe that lasted throughout the whole weekend.
The next day brought intermittent weather but even more hard-hitting names from the underground as the first official day of Nocturnal Funktion commenced.
One of the first artists to take the stage that day was Relativity Lounge who gave fans a live taste of his recent convoluted EP in addition to an array of glitchy, bass-ridden wompers.
Soon after Relativity Lounge was ST4RFOX over at The Cave – a cabin-like stage with enough windows to remind you of the lush wilderness that surrounded you but enough bass to transport you elsewhere.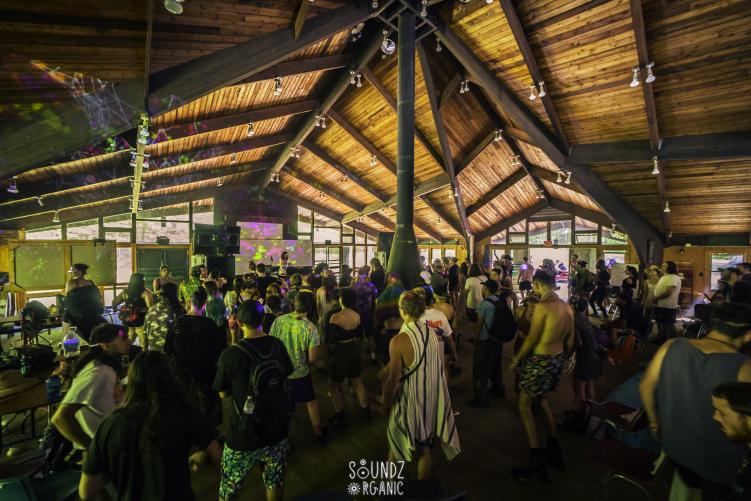 Despite having an earlier slot (3 PM), ST4RFOX wasted no time in showing the crowd what he was capable of both on his trumpet and behind the decks.
Later that night was one of the most anticipated sets of the weekend, Supertask, who rinsed everything from Lab Group and CharlestheFirst to unreleased originals, all while the sun set over our little slice of paradise.
IG: @mic_molloy
Followed by Supertask were The Floozies who, as the first headliners of the weekend, brought a new and welcomed vibe to the main stage with their high-vibe instrumentation and antics.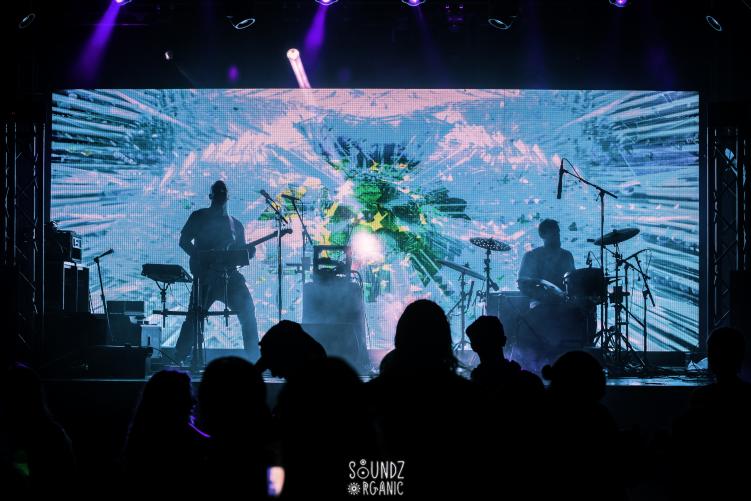 Once the Hollow stage closed down we headed to The Barefoot Ballroom where, like the name of the stage says, we took off our shoes to dance in our socks and bare feet while artists like Entangled Mind, Shapesift, and Rsrch Chmcls, laid down a gauntlet of enthusiastic beats and bangers.
When Saturday came around, the grounds at Camp Timber Trails may have been wet but they were also filled with impressions from a fantastic first day.
Through some off-and-on light rain, Denver's pheel. took the Hollow stage around 3 PM to offer an entrancing demo of low fidelity bass and a sweet treat that included him, ST4RFOX, and Rasp-5 premiering some unreleased heat.
View this post on Instagram
Also taking place Saturday was The Rust takeover which included artists like Faceplant, Pluto Era, Maxfield, and Wessanders.
While all the artists on Saturday's bill came with high-caliber sets, including Thought Process and Smigonaut, it was Keota that really stole the show.
As day turned to night and the sun slipped behind the trees of Camp Timber Trails, Keota brought nothing but filth. So much so that at one point, he blew the speakers.
IG: @kuhlinmusic
Luckily for the experienced engineers and technicians with Soundz Organic, the fix took no time at all and the wheels on the bass bus that Keota was driving started spinning merrily once more.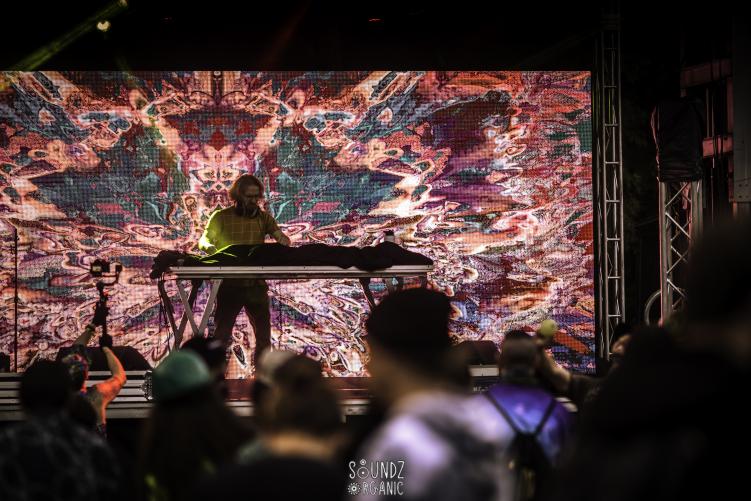 By the time ATYYA had taken the stage, the crowd was vibrating and more than ready for the headliner to do his thing. While ATYYA's whole set was a spectacle, it was his hip-hop edits that really perked my ears. 
At one point he was dropping Jack Harlow over a melody while fire spinner circleswithincircleswithin swung around a triple fire snake. At another point, ATYYA was mixing A$AP Rocky's "Fukk Sleep" while fire dancer Shadow Sorceress composed her sweat-inducing choreography.
On top of all that, DRO1D Visuals was delivering an onslaught of mind-bending graphics and pixel arrangements that had me completely baffled. A well-rounded show from start to finish and an amazing way to close down the main stage Saturday night.
View this post on Instagram
When Sunday arrived, so did the sun, drying up the campgrounds and inviting attendees to get out of their tents and enjoy the most welcome warm weather. 
First thing on the menu for Sunday was not one, but 2.5 tropical fruit smoothies from Kona Girl which put some juice in my engine, so to speak, followed by The Gradient Perspective takeover on the main stage.
Kicking off the takeover was label boss Choppy Oppy who dove headfirst into a library filled with remixes, edits, and tracks that I never heard nor was expecting.
Following Choppy Oppy was Mantra Sounds who flexed her capabilities both as a producer and vocalist, even dropping tracks from her lyrical side project, Grim Steez. Closing out the takeover was Josh Teed and his bass-layered, violin prowess.
A few hours later at the same stage, Mean Mug's Mindtality manned the decks where he took us through a maze of his delirium-inducing soundscapes. Some of which included his recent Cutt Comms EP which, played out on those Funktion-ones, made it my second favorite set of the weekend.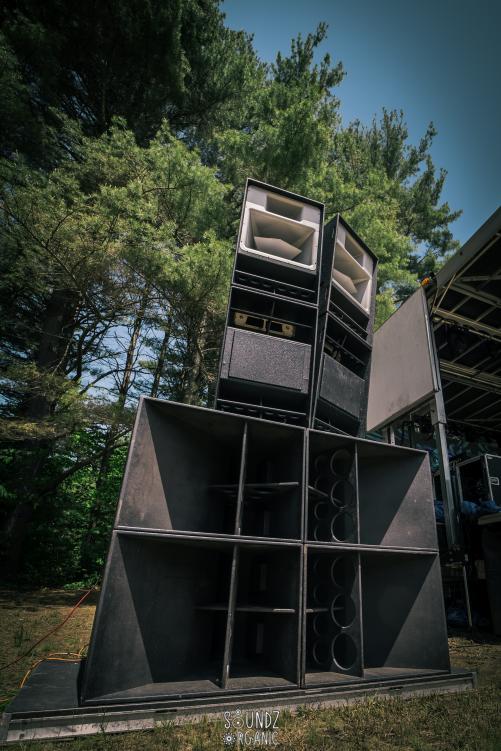 My favorite set of the weekend, however, was not Alix Perez who took the stage later that night or any of the other artists who landed on Nocturnal Funktion's bill this year.
My favorite set of the weekend was the surprise B2B between Keota and VCTRE that happened at The Cave right around 2AM on the last night.
Dropping everything from old-school dubstep and D&B to underground bass that hasn't seen the light of day yet, the performance had all the makings of an ideal B2B – spontaneity, collaboration, and copious amounts of enthusiasm.
Despite a long weekend, the duo was in fine form, rinsing every last drop out of the HSD Soundsystem that had provided an incredibly reliable rig for the stage.
Having already performed their sets and with no more obligations to the festival, VCTRE and Keota took the stage late that night because they love what they do and who they do it for.
The few hundred of us that were in that room that night/morning could feel the appreciation coming from them and we hope they could feel it back. It is these types of scenarios that festivals strive to create and one in which Nocturnal Funktion certainly hit the mark in more than one instance this Memorial Day Weekend.
One of the only things we recommend the festival do differently next year is to make sure all of the paths in between the stages have enough light for people to navigate them safely and comfortably. Besides that, they nailed the location, lineup, production, and overall curation.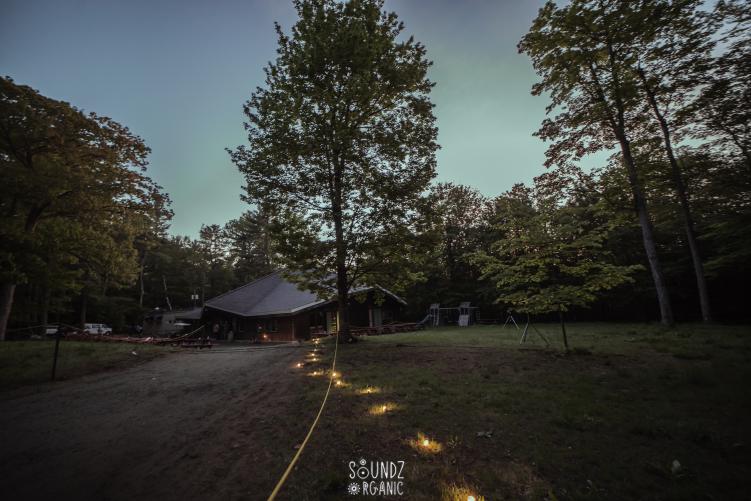 Despite taking a financial loss this year, the festival Organizers (Soundz Organic) still made sure all of their artists were paid and everyone was compensated – something that isn't always the case with new festivals, especially those in their first year.
With everything they did to make this year come true, we hope we can see Nocturnal Funktion return in 2023 with an even bigger festival and an even bigger lineup.
If you'd like to see Nocturnal Funktion return next year or just want to memorialize the incredible weekend, pick up an official Nocturnal Funktion poster! To keep up with everything Soundz Organic and the festival have going on, follow the links below.
Soundz Organic:
Website | Facebook | Instagram | TikTok | Twitter
Nocturnal Funktion
Facebook | Instagram | Tickets
Photo Credits: MoonManVision