Memorial Day Weekend is finally upon us and Camp Timber Trails is all set to welcome the Nocturnal Funktion family through its gates. The stages have been designed, vendors are prepped, and the artists are ready to deliver some immaculate sets. The only question that remains is if you're ready.
With so much to consider and prep for going into a festival, it can become difficult to know what boxes to check and what to keep in mind. That's why we put together an all-inclusive guide to get you ready for this weekend's festivities
From artists to watch to FAQs, here's everything you need to know about Nocturnal Funktion 2022.
How to Get Around
Before you get to see your favorite artists, you're going to want to know where to set up camp, where to get water and food, and where the stages are.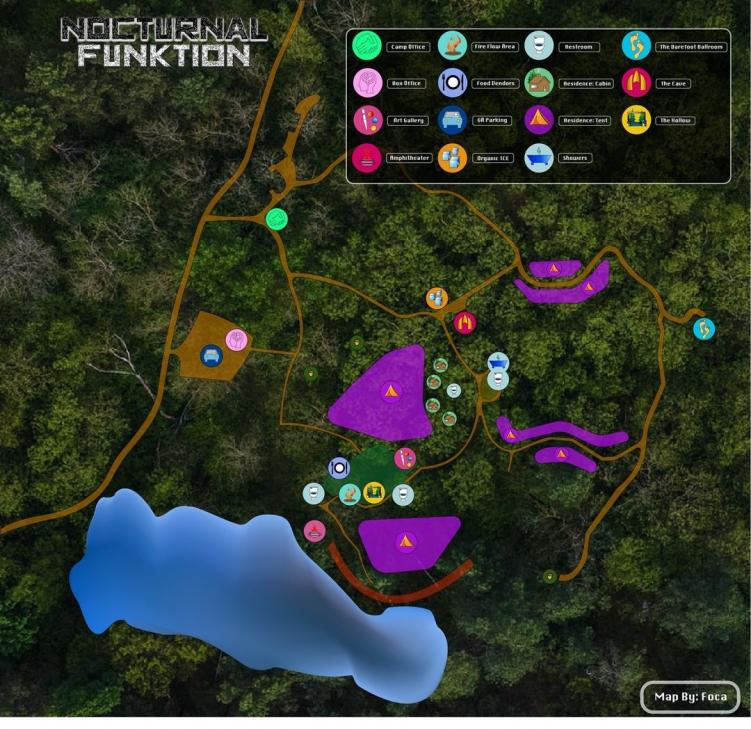 The furthest campers will have to travel to get to their sites are only a ¼ to a ½ mile. Plus, taxi cab and golf cart services will be available for those interested.
With around sixish camping locations, four areas with bathrooms, three stages, and one main spot for food vending, Nocturnal Funktion looks pretty easy to get around. 
Can't Miss Sets
Although most people have their minds made up when it comes to which headliners they want to see, choosing which artists to check out during the earlier slots can become a little more difficult. Especially when you're not very familiar with some of those names.
While every artist on Nocturnal Funktion's lineup is worth checking out, here are a couple River Beats' favorites.
Relativity Lounge
Toeing the lines of low end and broken beat bass, Relativity Lounge is an artist who has been steadily pulsating throughout the underground. Growing up in Westmont, Illinois and now residing in Chicago, this is an artist who has been exposed to music at every end of the spectrum and who uses those influences in profound ways. 
Catch Relativity Lounge from 1-2 PM at The Hollow Stage on Friday.
Mindtality
If you're looking for an up and coming bass artist with an insane output, Mindtality is a selector you need to check out. In 2021 alone he dropped two full length albums, one with 10 songs and the other with a "staggering" 18, both of which demonstrated the range Mindtality is capable of.
You can catch Mindtality at The Cave stage from 4-5 PM on Friday and at The Hollow from 6-7 PM on Sunday.
Mantra Sounds
Her crowd control is electric, her bars are fire, and her production skills are immense, Mantra Sounds is a producer who can do it all. 2022 has seen this young artist release her first LP, The Seven Deadly Sins, all while enjoying a jam-packed tour schedule that includes opening sets for SHADES, GJONES, and tons more.
View this post on Instagram
Joining ST4RFOX, Choppy Oppy, and Josh Teed for The Gradient Perspective takeover, you can catch Mantra Sounds' set at The Hollow stage from 3-4 PM on Sunday.
JamL
Steadily making a name for himself in the realms of crunchy bass and electro funk, JamL is an artist you're going to want to familiarize yourself with. With a relatively limited discography dating back to 2019, the Philadelphia-based artist has developed a trademark sound for himself that reverberates throughout all of his tracks.
Unfortunately, only guests at the early arrival party on Thursday will be able to catch JamL's set. So if you're thinking about getting their early, let this be a sign!
pheel.
all:Lo Collective label boss and Colorado beat curator pheel. is an artist we have been obsessed with over the past several months. His collaborations with label mates Thought Process and parkbreezy, the latter of which is one half of Morning Coffee who recently performed at Tipper & Friends Suwannee, illustrate an artist with tons of untapped production potential and sonic creativity.
View this post on Instagram
Catch pheel. performing on Saturday from 3-4 PM at The Hollow stage.
A few other artists playing earlier sets that we definitely recommend checking out include Entangled Mind, Face Plant, Pluto Era, Smigonaut, and chmura.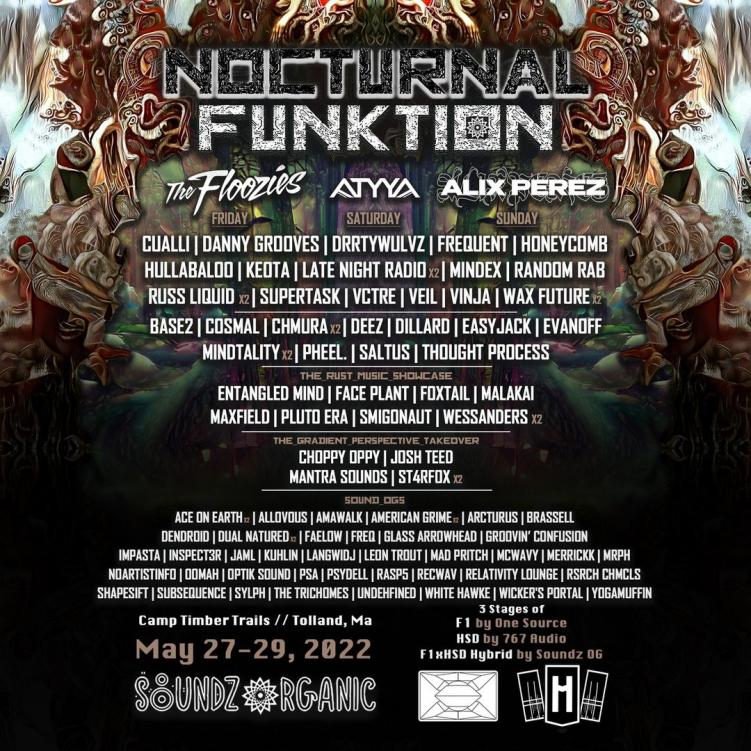 Extracurriculars
Along with a stacked lineup, the team at Nocturnal Funktion and Soundz Organic are also bringing in some incredibly talented artists and visual performers. That includes live painting from Logan Walden and Seth McMahon, a flow arts workshop put on by Epic Spin Jams, projection mapping by Gryphon Dor, fire spinning, and much more.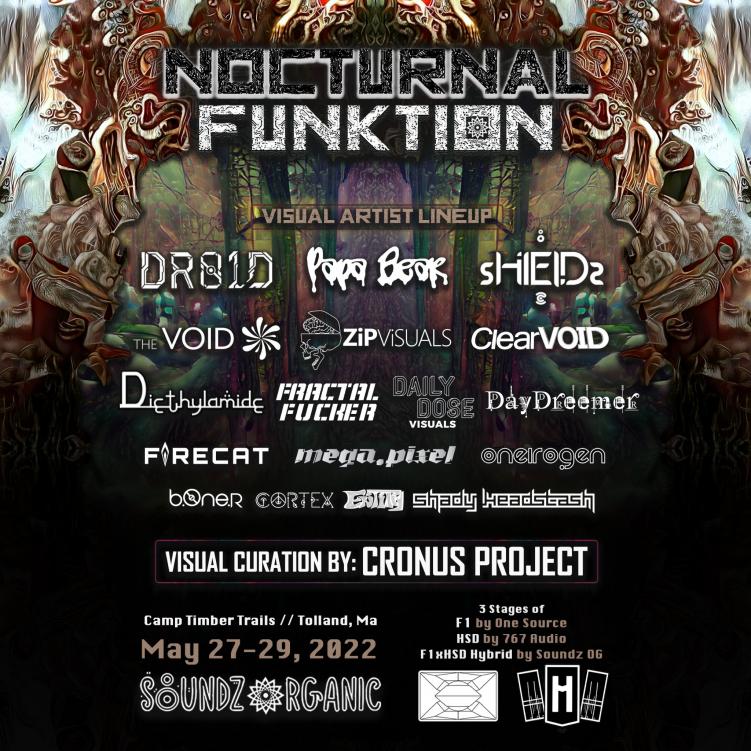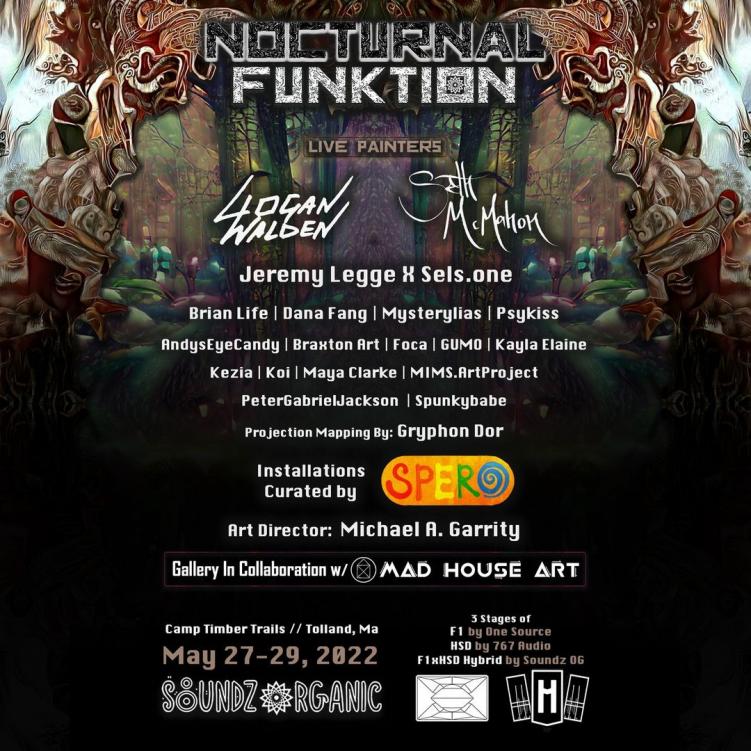 A few other activities attendees will be able to participate in include Narcan education and harm reduction classes, yoga, fire lightings, and even a cacao ceremony. Check out the daily schedules below for a full list of activities.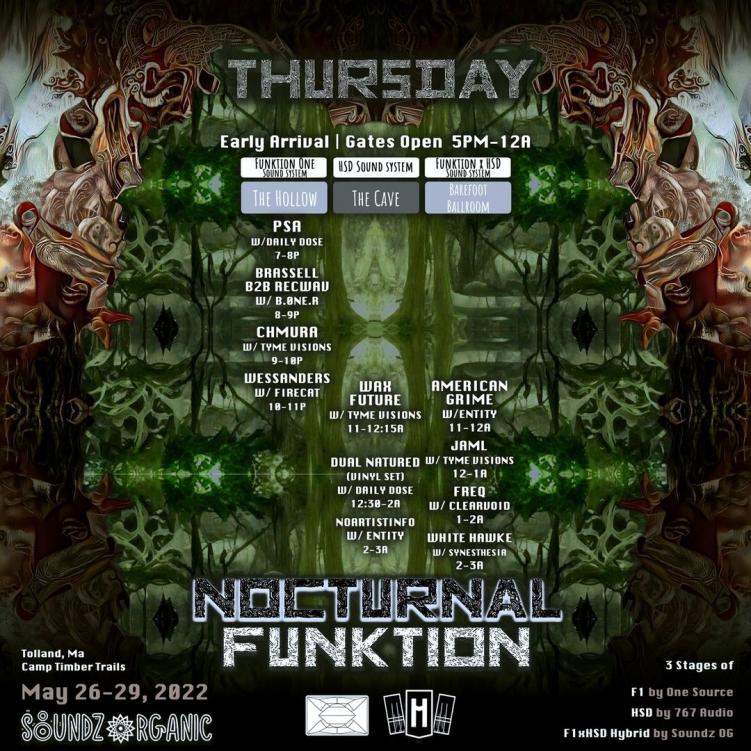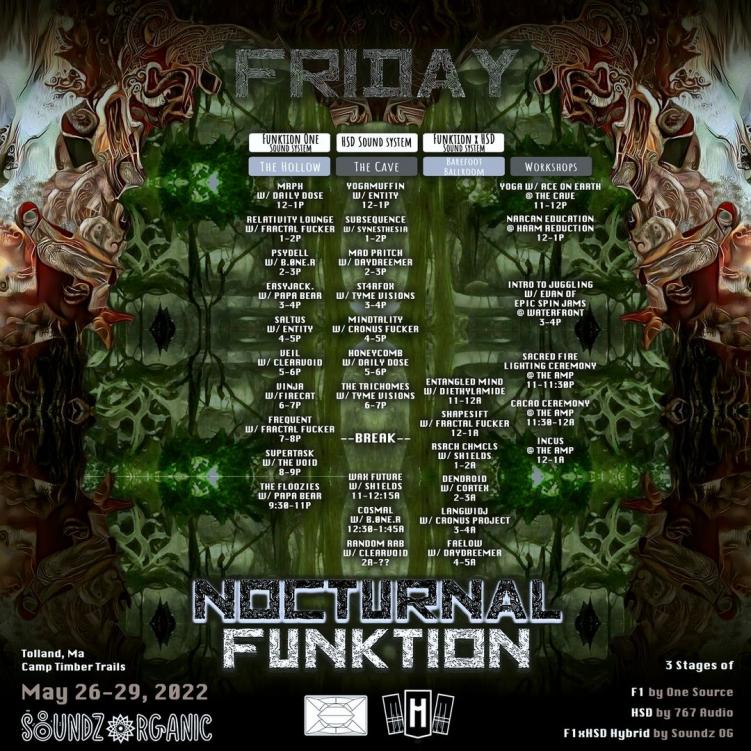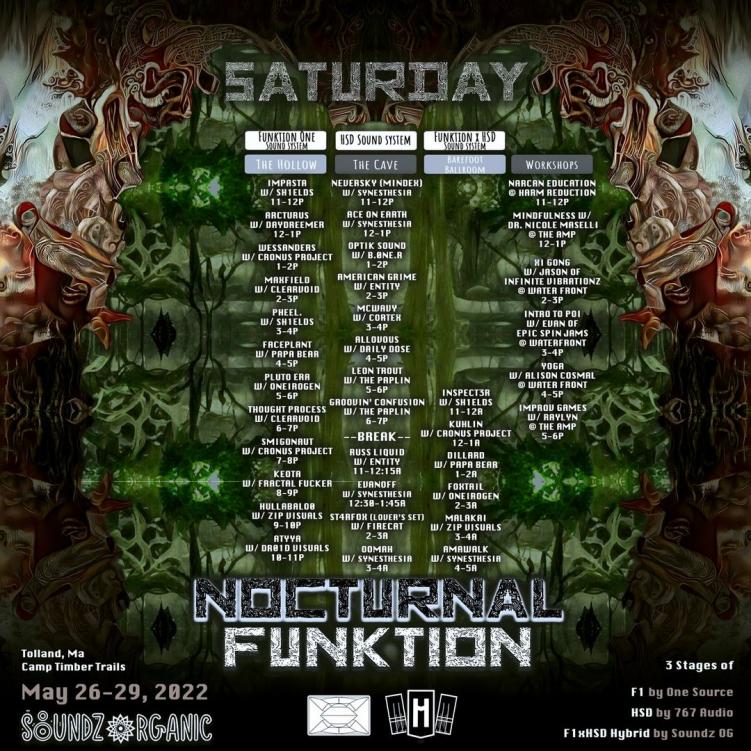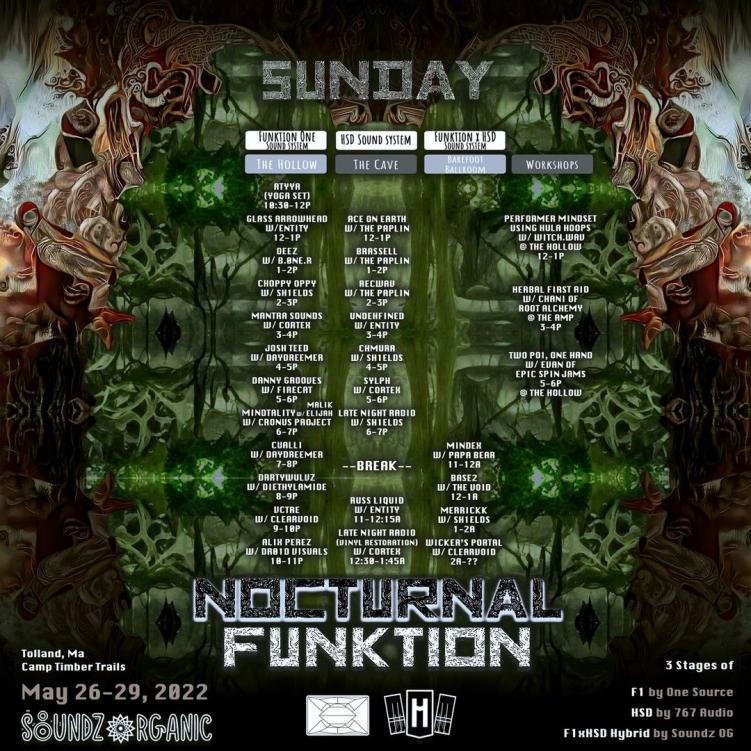 Frequently Asked Questions About Nocturnal Funktion
Finally, the festival has provided a list of FAQs for you to make sure there isn't any last-minute confusion.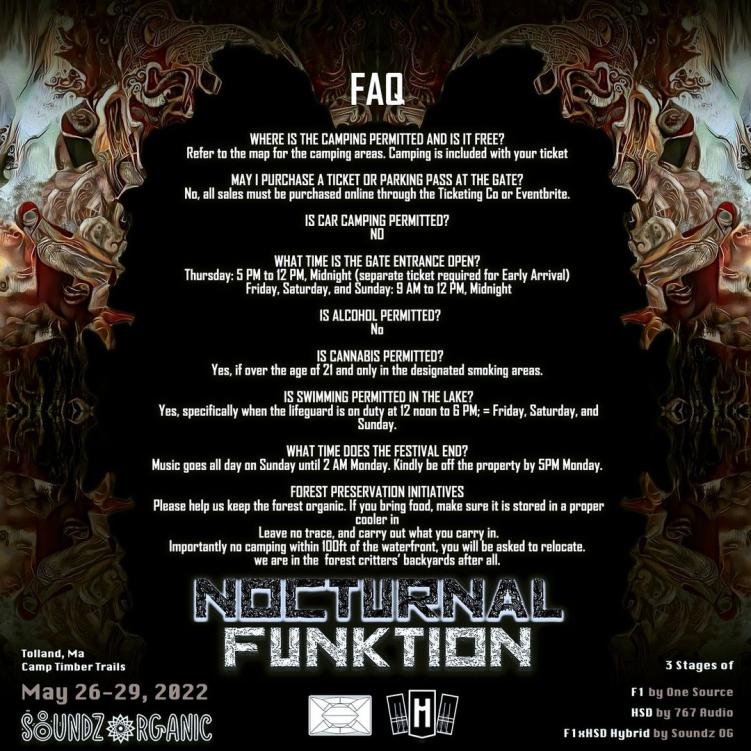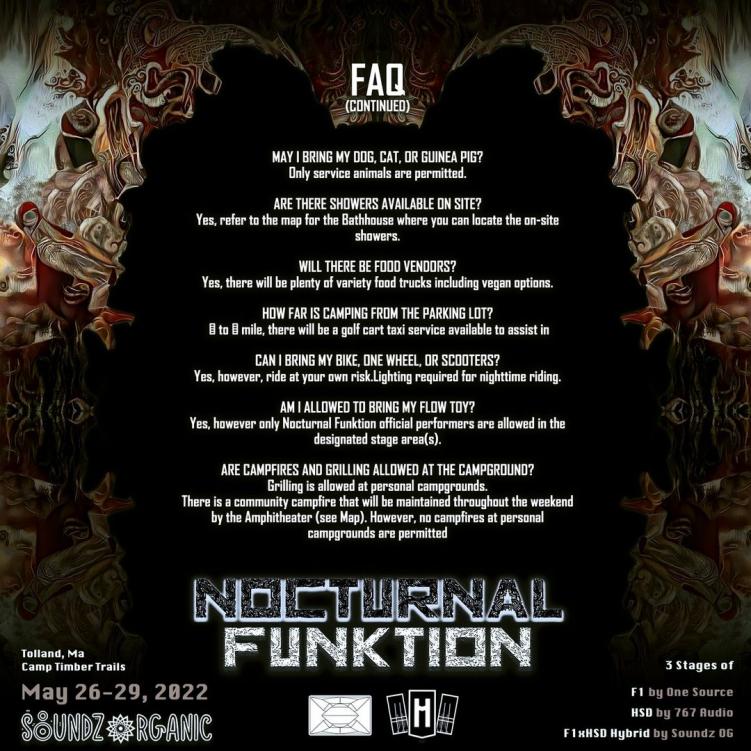 Weed is indeed allowed if you're 21+ but alcohol will be restricted, showers will be provided free of cost, there is no car camping, and only service animals will be permitted. For any other questions you have, feel free to reach out to soundzorganic@gmail.com or any of their social platforms below.
Otherwise, grab your tickets for the event here and we'll see you in Massachusetts!  
Follow Soundz Organic
Website | Facebook | Twitter | Instagram
Follow Nocturnal Funktion