If you're going to throw a launch party, this is how you do it. A newly established promotion company in the District of Maryland and Virginia (DMV), Headnod Entertainment, is kicking things off in Baltimore this weekend with a lineup of artists that is going to leave you vibrating like jello in an earthquake.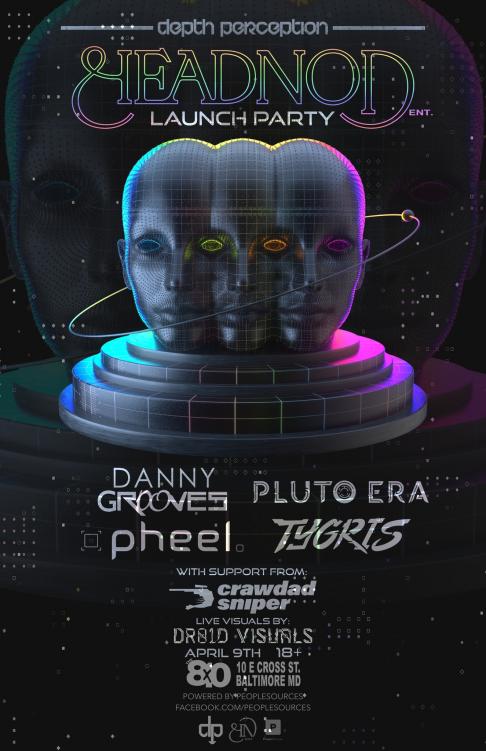 Combining the Danny Grooves and pheel. Dust Bin tour with TYGRIS and Pluto Era's Tiger Planet tour isn't just masterful booking, it's bringing gasoline to a forest fire. Add in the fact that DR01D visuals will be commanding the VJ booth and there is no telling what kind of a/v shenanigans are set to come pouring down at the 8×10 this Saturday.
"These are all artists that we love and have been big fans of for a long time, so when we saw Danny Grooves and pheel. were going on The Dust Bin tour at the same time Pluto Era and TYGRIS were doing the Tiger Planet Tour, we thought it would be awesome if we could bring the tours together."

Nick Wiese, Co-Founder Headnod Entertainment
Founded by Nick Wiese and Tyler Purcell, Headnod Entertainment intends for this event to be the first of many that consists of top-notch DJs and jaw-dropping visual accompaniments. With a show flyer designed by Glass Crane, it is clear that corners will not be cut when it comes to aesthetics for the Maryland-based promo company.
In addition to creating fun and stimulating environments, the team at Headnod also wants to ensure they are creating safe environments. In a conversation we had with co-founder Tyler Purcell, he exclaimed how they hope to create a "safe and judgment free atmosphere where everyone is accepted" and that their goal is to "create intimate experiences with top tier artists, extremely talented underground musicians, and immaculate production while supporting our local community and music scene." It is clear that Headnod's intentions as a curator are honest, which means better events for everyone.
As for the musicians on the launch party lineup, here is what we can tell you about where they are, where they were, and where they're going.
Danny Grooves
Coming out of Springfield, Illinois, this midwest beatsmith has opened up for massive acts like Tipper, Detox Unit, and EOTO, all while perfecting a sound that traverses hip hop, trap, glitch, neuro, and everything in between. 2022 has seen Grooves release a jazzy two-song EP that flexes his instrumentation skills while recently embarking on The Dust Bin tour alongside pheel..
Look for this upcoming performance of his to feature plenty of chest-rattling music, both new and old, as he prepares for his biggest set to date during Jade Cicada's Swarm Takeover at Secret Dreams Festival.
pheel.
As the label boss of all:Lo Collective, pheel. is an artist who has been steadily carving out his own niche in the world of electronic music. The category of music he has been expanding upon is one of lo-fi, brokenbeat bass, and serves as a perfect example of how experimentation can lead to the cultivation of new genres and sound design techniques.
Despite being busy with the label business and his own production efforts, pheel. still contributes time to Morning Coffee with labelmate Parkbreezy – a project that focuses on chill beat-making and wavy instrumentation. Recently, the duo played an opening set at Tipper and Friends Suwannee which further introduced both artists to an audience that's eager for what's next.
However, expect pheel.'s upcoming set at the Headnod Entertainment launch party to be just a bit heavier than a Morning Coffee performance with sounds gravitating towards his stunted. EP or Spring 2021 Promo Mix.
TYGRIS
A River Beats' favorite, TYGRIS has been on our radar for quite some time and makes the perfect addition to this already stacked lineup of musicians. With an EP and two singles on his list of 2022 releases in addition to tons of new music rumored to be dropping later this year, expect this Philadelphia producer to throw down a fine-tuned and well-chiseled set come Saturday night.
Past performances have consisted of TYGRIS incorporating his skills as a bassist and prowess on turntables with live cutting, strumming, and mixing all taking place in the same set. With a summer chock full of performances, including the Circus of Life Festival and the rest of the Tiger Planet Tour, TYGRIS is sure to be in top form for the upcoming show in Baltimore.
Pluto Era
When it comes to the stylings of Pluto Era, it is nearly impossible to categorize him in one style of production or another. This is the kind of artist who will drop some of the most mind-melting bass you've ever heard right after a Billie Eilish edit, leaving you totally unaware of what's to come next. This is perhaps one of the biggest allures of a Pluto Era set – his ability to surprise fans while also satisfying them with favorites from his discography.
A part of New York music label The Rust, Pluto Era has been steadily proving his skills as a producer and sound technician. Driven by the slogan "Music for myself," Pluto Era has proved that if you let your own inhibitions and curiosity fuel your efforts, things will always work out. A piece of advice that all up-and-coming producers should take note of.
Crawdad Sniper
Warming up the decks and opening up the function is none other than the legendary local, Crawdad Sniper. The producer, DJ, visual artist, and bass enthusiast from DC has been slowly but surely getting booked at more shows in and around the Maryland, Virginia, DC, Baltimore areas, including an opening slot for Black Carl! and NotLö at Flash this past February. You'll definitely want to arrive early to watch this rising star put in work.
The Beginning of Legacy
Being co-promoted by Depth Perception, the Headnod Entertainment launch party is lining up to be quite the spectacle. Expect the event to be the first in a long line of top-tier shows with some of the best acts in underground bass and visual artistry.
Grab tickets to the event here and keep up with all things Headnod in the links below.
Headnod Entertainment: