If you were to ask someone if they know what gothic bass music is they may frown, they may giggle, they may nod gleefully in the affirmative, or they may say, "sir this is a Wendy's if you don't order something I'm going to have to ask you to leave." 
But if you were to show someone gothic bass music, specifically from the soundboard of multi-instrumentalist and producer Tygris, the only thing they will do is ask you where they can find some more. 
Recently, Philadelphia-based DJ, bassist, producer, turntablist, and engineer Tygris dropped his first solo project in over a year – an EP titled Kirana. The three-piece extended premier is a sonic adventure from start to finish with tracks arranged in perfect harmony. A must-listen for anyone looking for some sounds that will make you want to curl up in a futon or wiggle your limbs. Either of the two.
As 1/3 of fan-favorite 5AM Trio, an ensemble that has captivated crowds at major festivals like Resonance and Infrasound, Tygris provides an explosive production prowess both inside and outside of his collaborations.
Recently, we got the chance to chat with the scratch master and bass provocateur about the EP and everything he's got going on.
MV: Zach! Thanks for taking some time to chat. How does it feel to be releasing your first solo project in over a year?
T: It feels good man, I'm always juggling a handful of projects at any given moment, so it's nice to get these ones tied up and it feels good to come back to a solo release. I did a few singles on my own in 2021 but my last EP was in 2020 and I definitely feel like this is a proper step up from the last release. 
MV: How important is it for you to wait until the final product is absolutely ready? 
T: I definitely have no problems waiting until something feels ready. That's why I'm always juggling a few projects at once. If I know something is good but I'm still not feeling that it has reached its full potential I'll jump back into a different project or start a new tune. Some tunes are more free whim spur-of-the-moment ideas that are usually just fun dancefloor grooves and sound design experiments. Other songs dig a little deeper into conveying a certain emotion or feeling/mood and those are the ones I save and hold on to until I feel they are ready. And then usually as the songs come together I'll try to map them into an EP so I can try to connect each track. With Kirana, the first tune I wrote was "All Out" and I started that when I was still living back at home in New Jersey in like 2018. Then "Kirana" came about before Elements 2019 – I was playing the Sermon late-night takeover and I knew I wanted to write a cool intro track to really take people "out there" at that hour of the night, so to speak. And "Eye to Eye" was the most recent that I started in Fall of 2020 after falling out of the writing groove for a bit with the first 'Covid Summer' and getting a bit depressed in regards to music. But that one brought me back into it.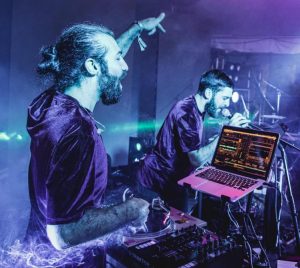 MV: How did you go about creating this EP? Can you walk me through your production process? I know you oftentimes pick up a bass or turntable – did any of those outside elements come into play?
T: When I'm writing music I usually don't have those too directly in mind, to be honest. Sometimes with more hip/hop-oriented tunes, I'll end up picking up the bass, but that's more stuff for my collabs with Rasp 5 and my trip/hop collection. When I produce myself, I really want to push myself as a sound designer, composer, and arranger since I already have outlets for bass and scratching. Sometimes I will write tunes that are more open beats that are meant to be tunes to scratch over, but usually, that's an afterthought and not something I consider as much when writing an EP like this. No doubt I'll end up scratching over these tunes live, but I want to leave room for them to shine on their own and allow the live experience to have something a bit extra. 
MV: Are the songs laid out in a particular way? Why did you start and finish the way you did?
T: I actually played with the track ordering a fair amount and was almost more concerned with that than I really needed to be maybe haha. But yeah, I was concerned about having "Kirana" being such a long song and also being the first tune, and also felt self-conscious since it opened my last mix in 2021, but it's also such an intro vibe that really no other tune could be the opener. And then "All Out" just gives this epic vibe with St4rfox's trumpets that's perfect to go out on. It's like ending on an old western cowboy duel but for bass music producers.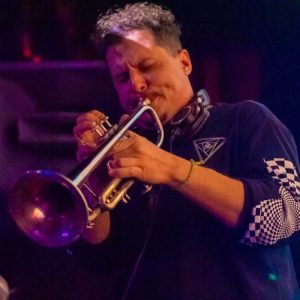 MV: What led you to collaborate with ST4RFOX? Will fans see more of this duo?
T: Kevin (ST4RFOX) was in town to play a show with The Universal Emotion and I ended up on that show as well, and Sam (5AM) is a good friend of Kevin so those dots were easily connected. Sam wanted to record Kevin's trumpet for a collab they had started previously so I told them to come to my studio since I have a recording booth and a decent mic. Then at the end of the session, I asked Kevin if I could get him to record to replace these trumpets I had sampled originally in "All Out" and he was totally into it.
MV: Let's talk trio for a second. Anything fans can expect on the horizon in addition to your performance schedule?
T: We've definitely been stepping up our live improvisation and live looping game. At this point, we've developed a solid catalog of music between our trio tunes and some of Sam's (5AM) tunes that we just play live, so the next thing we really want to get into is the improvisational "off the grid" stuff, especially now that we understand Ableton's looping features a little better, we can loop layers of synths and basses to create a much more full mix than some of our early stripped-down improv jams.
MV: You guys are getting booked at some really solid festivals and shows. In addition to your own solo schedule, including the b2b with Malakai at The Circus of Life festival, are there any performances that you are particularly excited about?
T: Yeah I'm definitely stoked for the set with Malakai, we've done last-minute live jams a handful of times but this is the first time we will be planning out anything specific so it should be pretty fun. Also stoked on this Tiger Planet tour with Pluto Era – we're getting ready to announce the first string of those shows and I'm definitely excited for it.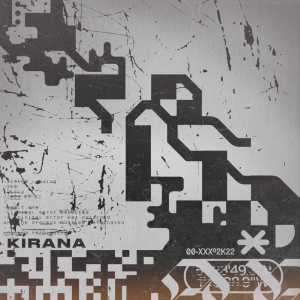 MV: Anyone you'd like to shout out?
T: My boy Tyme Visions who did all of my artwork and kept up with my picky ass. He's also been getting some video content together for the EP so be on the lookout for that. Also my dad for being a gangster on Twitter. Also, my mom for always giving me food to go home with when I visit.
You heard it here folks, get ready for some amazing performances and crushing material from Tygris & co. as we descend further into his pit of sonic magnificence. To keep up with the Philadelphia producer connect with him on SoundCloud or follow him on Instagram here. 
Until then, keep your eyes peeled to the River Beats feed to stay in the know with the what's what.