Very few festivals that have taken place over the last few years have had expectations set as high as they were for Yonderville 2022.
Claiming to have one of the most impressive sound systems to ever be used at a US festival, celebrating their 5th anniversary, hosting their biggest lineup to date, and hoping to restore the image of Marvin's Mountaintop, the bar was set extremely high.
Taking place on the 4th of July weekend, River Beats Dance was on site to see founder Maxwell Stone's vision come to life. 
Day 1 – Mammoths at the Monolith
Following the trend of recent festivals, the weather was not looking good in the weeks, days, and even hours leading up to the first set. However, when we arrived on Friday, the sun was shining through the clouds and the rain seemed to get pushed further and further away.
After hammering some stakes and a few fistfuls of granola, we were off to see our first set of the day – Dubday's DiCE MaN at the Monolith Stage.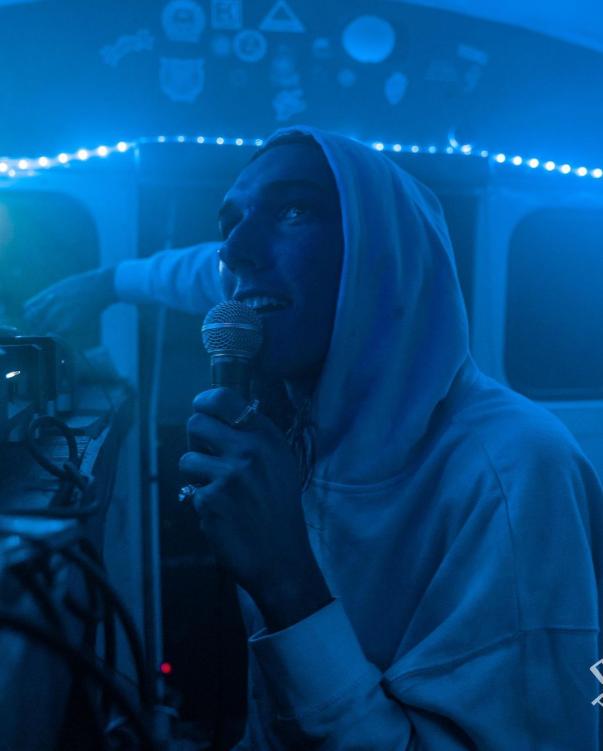 Opening with an edit of Tyler the Creator's "Yonkers" and quickly speeding into some spicy bass, this would be the first set of many that Wade Appleton would end up rampaging. Seemingly always filled with enthusiasm, it was hard to catch the Brooklyn artist at a time when he wasn't bouncing around.
Following DiCE MaN was Abelation who was playing to a crowd that was still a bit rail shy. However, near the beginning of the set, Black Carl! and DiCE MaN stormed the pit which prompted a lot of fans to get out of their couches and on their feet.
It was really nice to see these artists showing face and supporting the earlier acts. Goes to show that we were all fans at one point!
Still warming up a bit of a dormant crowd, Black Carl! then manned the decks for a sunset performance that really started showing the sonic capabilities of Danley Sound Labs' BC218s.
As the sun disappeared beyond the trees and night welcomed us, Esseks took the stage for a masterful display of his original visuals, unreleased music, and even a rinsing of tracks from his recent EP. By this point, people were on their feet and really starting to fill up the main stage area.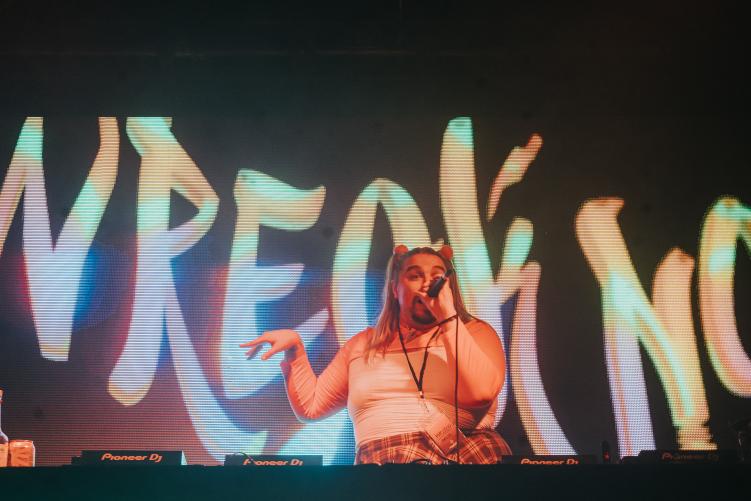 After a bussy-bopping performance by Wreckno that included a wicked Powder Puff Girls remix and a healthy portion of house music, Yheti appeared at the Monolith for one of the most anticipated sets of the weekend.
Rocking a full beard, a colorful geometric hoodie, and his trademark glasses, Yheti was giving off some real wizard vibes that added even more magic to his set.
Being that it was an audio/visual set, Yheti's performance consisted of him rotating between his controller and laptop as he simultaneously played music while queuing up his visuals – some of which included psychedelic floral arrangements, breakdancers, and what appears to be an old yearbook photo.
View this post on Instagram
Still in a bit of a haze from Yheti's champion style, we were summoned to the Temple stage by a deep dub shout from Sunken Frequencies.
After ringing the bell with Jinx and Caspa's "No Fighting," which uses a sample from everyone's favorite Irishmen, The Peaky Blinders, the duo went on to drop some of the most gut-ripping, foot-stomping nonsense that included an unreleased remix of Mystic Grizzly's "We've Arrived" (below).
Soon enough, around 2 or 3 AM, the storm that we'd been dreading finally made its appearance. Thunder and lightning sent shouts through Preston County which ultimately called the party to a head.
This ended up putting a damper on Yheti's sunrise set at the Dub Bus which, unfortunately, we listened to from our campsite. Luckily, and although we didn't know it at the time, we'd later get a chance to see Yheti rise with the sun.
Day 2 – Tiedye Ky Goes Tarps Off, Lab Group, & BRICKSQUASH Mafia
While we didn't start our Saturday off with bass music, we did start it off with bass music theory during 5am and Sol Good's workshop on beat-making and sound design. You could tell the two were totally in their element as they shared their production techniques with a very engaged group.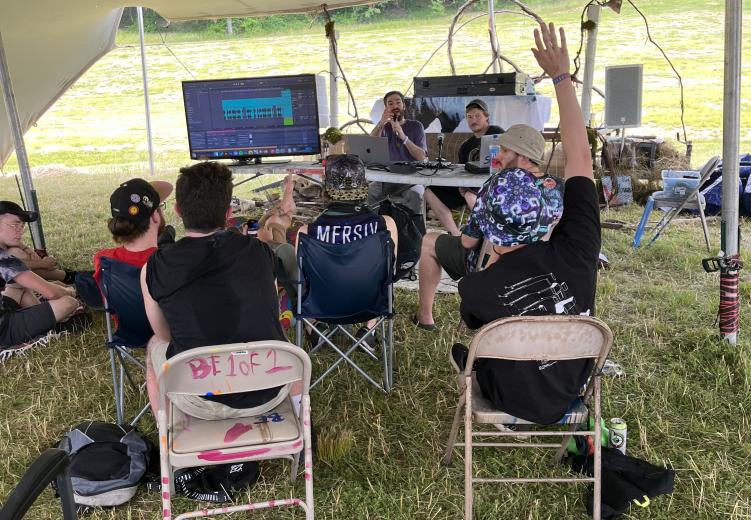 Getting a bit of a late start on Saturday, our first set of the afternoon was The Gradient Perspective label boss Choppy Oppy at 4 PM at the Monolith stage. With the sun now shining and drying up the rain from the night before, guests were smiling, flowing, dancing, and having an all-around good time.
Day 2 would consist of the most diverse set of artists to take the main stage all weekend starting with Josh Teed and his prowess as a violinist. 
View this post on Instagram
Continuing with the instrumentation after Josh Teed was Jason Leech who covered songs from artists like GRiZ, Pretty Lights, CharlestheFirst, and even Rage Against the Machine. What's unique about Jason Leech's sets is how he breaks down the stems from each song and then puts them back together using his keyboard – all live on stage.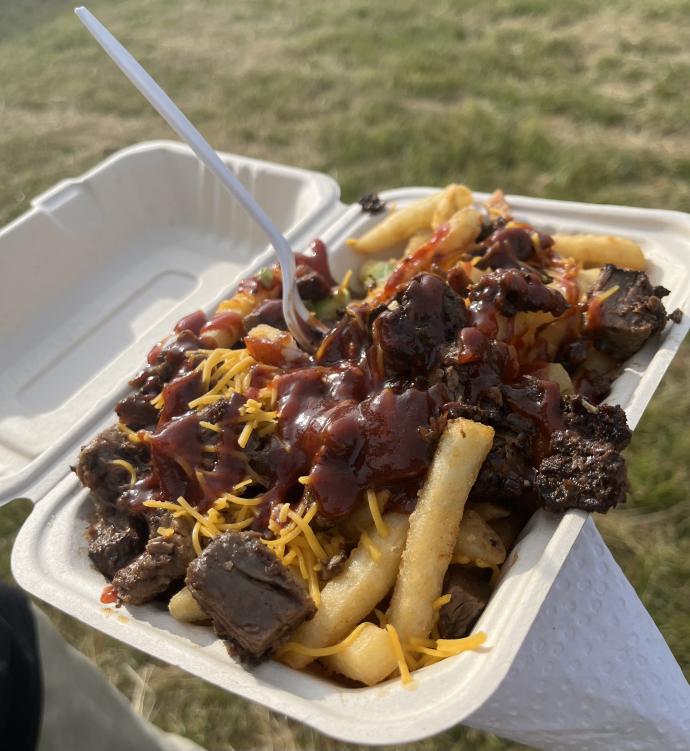 Having worked up an appetite from all that soulful electro-funk, we retreated to Cosmic Charlie's for a serving of brisket french fries. Although there were other food vendors like Festi-Bowl and Crossroads Cafe, it was Cosmic Charlie's and this particular dish that really stole the show.
As we were walking back from camp to 5am's set, someone mentioned how they thought they would hear the speakers more from where we were. I realized we were coming from behind the Monolith stage and it was at this point when I really understood what the curators meant when they said that the Danleys "direct sound where it needs to be."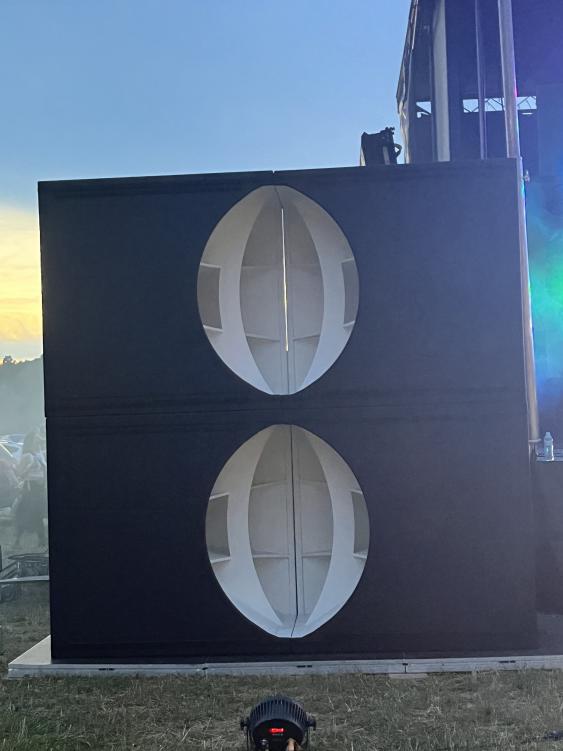 The stylings of Sam Andrus (5am) were second to none. His trademark sounds resonated throughout the entire set and although he may not have the best stage presence, he makes up for it with his musical IQ, depth of knowledge, and unique skills as a producer.
When 8 o'clock hit we had our first headliner of the night – Tiedye Ky – who went tarps off for an incredibly energetic set which included him pulling on our heartstrings with those beautiful vocals in tandem with some chest-pounding bass music. My favorite moment of his set, however, was when he mixed "Pipus and Wine/Life on a Loop," one of his collaborations with Pipus The Wise.
After Baby Blue was kLL sMTH who strolled onto the Monolith stage with his leisurely swagger and proceeded to get absolutely yurnt as rain drizzled on and off. As an artist known for experimenting with drum & bass, the Colorado native made sure to incorporate tracks featuring a wide range of BPMs.
There were some points near the end of kLL sMTH's set where the rain was getting to be a bit much, but when Of The Trees got on stage it started to die down. Playing a very hip-hop and rap-influenced set, Of The Trees' performance was mint from start to finish. One of the sweeter moments was when he dropped an unreleased track with him and CharlestheFirst.
View this post on Instagram
Finally, we had the night's main course – Lab Group. As my first time seeing Lab Group, I had no idea what to expect.
While they played some classics that had the crowd going mad, it was when they dropped CTF's "Out of the Dark" that left me covered in goosebumps. LG would go on to rinse some glitchy, bass-ridden IDs, all while Potions and Supertask maintained a very dialed-in composure. It almost felt as if they were being moved by a force beyond them – not distributing these sounds because they want to or have to, but because they need to.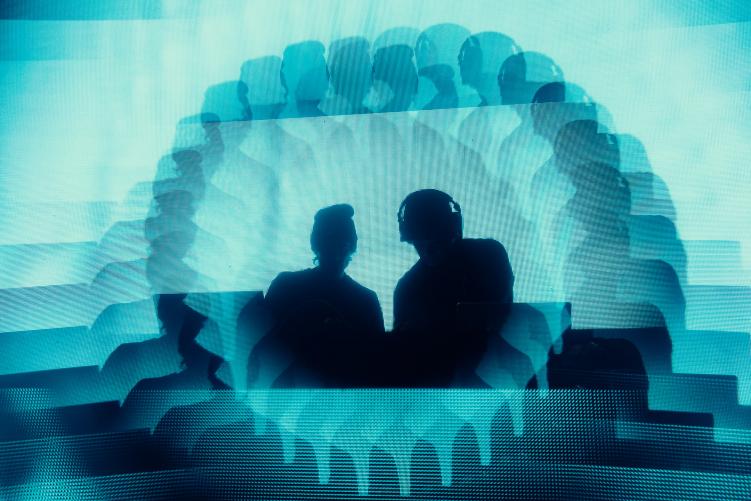 After Lab Group, it seemed as if the night couldn't get any better, but then we met the mafia. Composed of Cloud D and Resonant Language, BRICKSQUASH is a duo that emerged on the scene around 5 years ago. Their squishy, Omni-tempo, and hip-hop-influenced creations have taken the experimental bass scene by storm and their performances have left crowds baffled.
Falling in line with their hip-hop origins, BRICKSQUASH opened up with an edit of Playboi Carti's song "Beef" (below), which since that night, I have listened to on my phone at least once a day.
Yungsquash and Yungersquash took us deep into that West Virginia night with songs that ranged from thuggish and brutal to experimental and completely uncategorizable. Their ability to combine elements that seem to exist on opposite sides of the music spectrum with an incredible grasp on underground appeal has given them a corner of the music scene that they reside in practically alone. 
It is for these reasons that BRICKSQUASH was my favorite set of the weekend.
Still, the festivities of the night and early morning didn't end until Supertask's sunrise set sent shivers through the foggy landscape of Marvin's Mountaintop.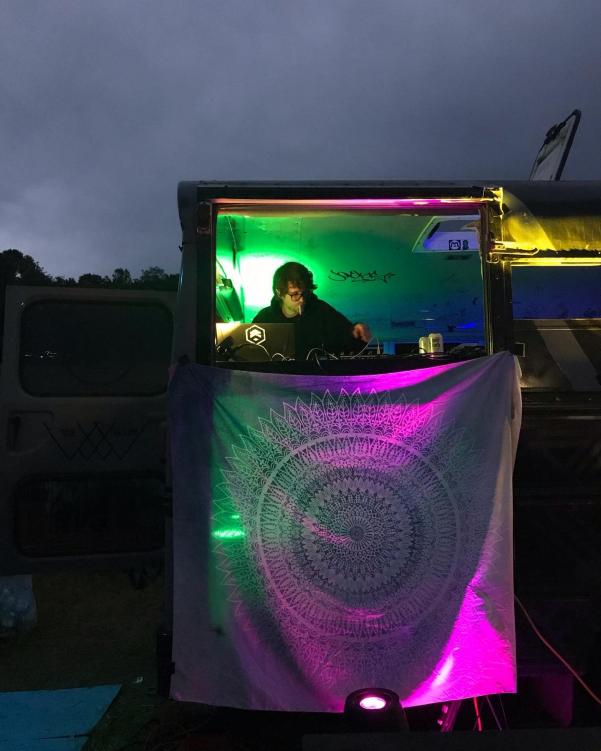 Near the end of the set, as fate would have it, Supertask was joined by Yheti who ended up closing down the Dub Bus with his beloved remix of Sugar Ray's "Every Morning," AKA, the BADMON ALARM CLOCK!!!
Day 3 – Spaghetti Time
Sunday morning definitely felt like day three of a festival, especially after that sunrise set. Despite it being the least appealing lineup out of the three days, there was still a loaded roster to close out the weekend, beginning with Try and Imagine.
The Virginia artist has been on the come up for the past four years with notable songs such as  "Dream Rythym," "Speaker Menace," and "Strange Transmissions." 

Despite being the first artist to open up the main stage that day, Try & Imagine still came out firing with an arsenal of hard-hitting tracks.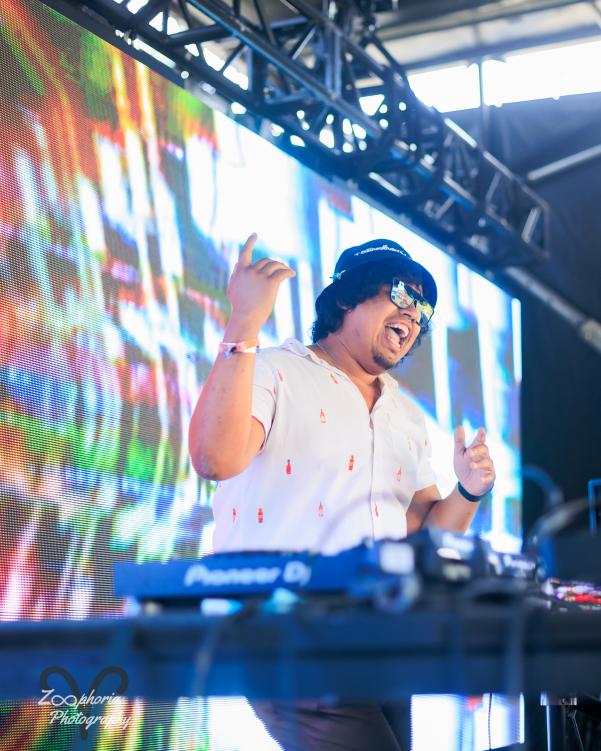 The next artist up was Sketchy Pete, another DJ from The Gradient Perspective roster. Full of energy, Sketchy Pete took the stage with tons of enthusiasm and put together a masterful set that included unreleased tracks and tons of bangers from across the electronic music spectrum. 
One of the more notable elements of his performance was the improvised analog visuals being carried out by Bordeauxline with the Monolith stage's unique array of LED screens. 
Sunday was by far the hottest day which definitely contributed to the day 3 drawl that everyone on Marvin's Mountaintop seemed to be feeling. However, this was soon to be remedied when the sun eventually descended.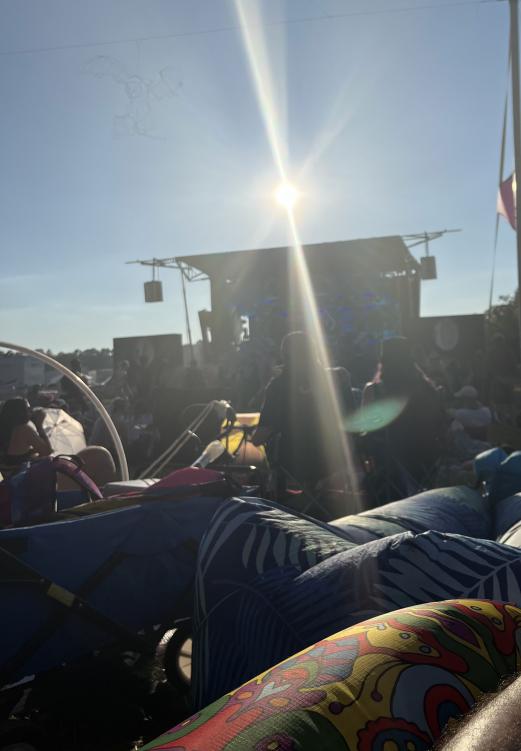 As day turned to night and attendees got a much-needed temperature adjustment, the campgrounds began to swirl with life.
The Deep Dark and Dangerous takeover, featuring isded, COLTCUTS, Mesck, Hypho, Distinct Motive, and TRUTH, was most definitely one of the biggest spectacles taking place that night.
If you were in attendance at the DDD takeover, it was hard not to be enamored by the depth of their roster. While TRUTH was the exclamation on the takeover, dropping bangers from various dubstep legends plus tons more from his own discography, the entire six hours was a whirlpool of talent. 
One of my biggest regrets from the weekend was not spending enough time at The Dub Bus, especially that Sunday. Considering there were performances from Prosper, Bagger Vance, Oni, as well as The Gradient Perspective and Dub Day takeovers, there was a lot I didn't get to see on that end.
But the main stage had my heart, and with Liquid Stranger closing it out on the last night, it was hard to venture very far.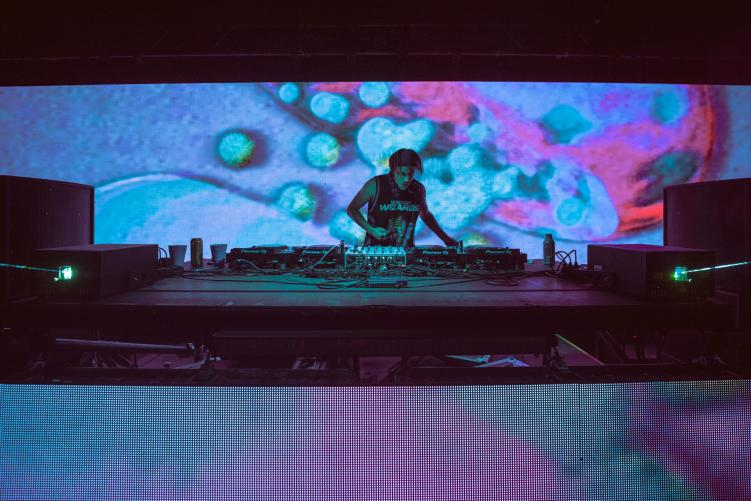 A Liquid Stranger set is always a treat. One of the reasons why is because they tend to be improvised and almost never pre-recorded – as was the case at Yonderville.
"I have an hour of your time tonight and I'm going to try and fit in as much stuff as possible. I'm not really sure what you guys want to hear but I'm going to try to look at your faces and see."

Liquid Stranger, Yonderville 2022
Clearly, he's been doing this a long time. 
Some of the highlights from the set include his unreleased collab with Boogie T and TVBOO, a remix of Empire of the Sun's "Walking on a Dream," "spaghetti time," IDs upon IDS, and someone storming the stage, climbing the LED walls, and actually getting pretty far.
Luckily, security was quick enough to grab the invader and restrain them without much of a fuss. A reminder to drink your water, take it easy on the drugs, and not attempt to perform unsolicited B2Bs with Liquid Stranger.
After a short trip over to the Temple Stage for pieces of Onhell and MYTHM, I crawled back to camp and officially signed off. 
King of the Mountaintop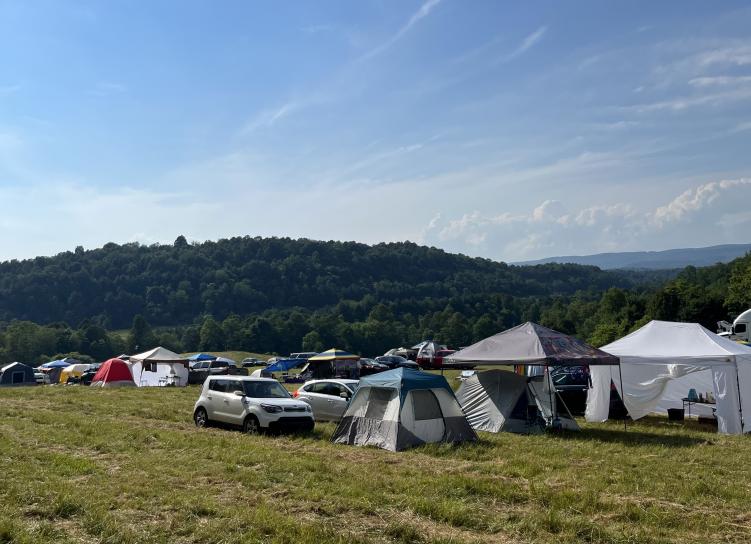 Yonderville 2022 without a doubt lived up to its expectations and in some regards exceeded them. The sound was as great as they promised, the security treated everyone right, attendees were showing mutual respect, the weather ended up great, all of the artists had amazing performances, and the reputation of Marvin's Mountaintop and Masontown, West Virginia was restored.
Aside from a few significant stretches of time when the water tank was empty and the lack of trash cans, everything about Yonderville this year was a success. We have no doubts that the festival will return in 2023 with an even bigger lineup and perhaps, an even bigger sound system.
Congratulations to Maxwell Stone and the entire Yonderville team for celebrating their 5th anniversary in style.
Follow Yonderville:
Website | Facebook | Instagram
Header photo credit: Auudrey A.