Have you ever looked at a tour schedule and wondered how some artists do it? How artists can go from city to city and play show after show all while maintaining a creative career?
It's no joke, and the burnout is real. Despite the difficulty of making it in the electronic music scene, people's ambitions and aspirations have grown rapidly right alongside the evolution of the scene itself. 
While there are many notable acts that have risen and laid their unique handprint on the industry, few have done it like Sam Eckstein, better known as Esseks. Since his breakout in 2015 with the Dopplebangers and Bad Cartoons albums, Esseks has created a unique and well-established name for himself in bass music.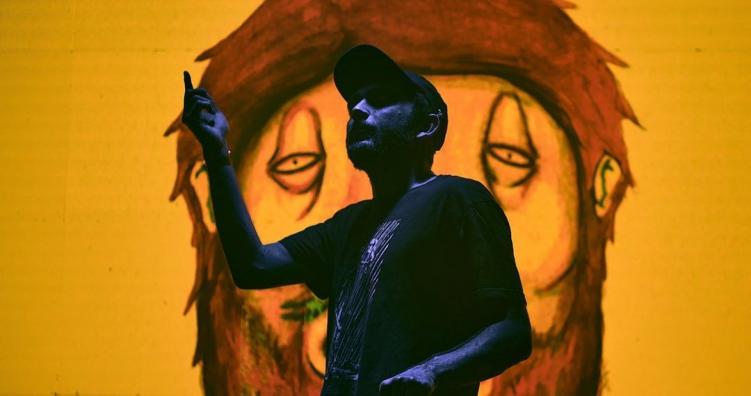 As a multi-faceted artist, Esseks has grown both as a producer/DJ and as an illustrator, having created all of his album art since the inception of the project in addition to curating his own visuals for live shows. This summer, all of Esseks' aspirations are coming to a head as he prepares for his first Yonderville set followed by the release of his new EP and his very own art show/release party exactly one week later.
With so much going on, we had to catch up with Esseks to find out what this epic week is going to look like.
---
RB: Congratulations on the announcement of your release party and art show! How does it feel for these two massive milestones to be coinciding with each other?
Esseks: It feels both good and stressful but a good kind of stressful.
RB: How long has the art show been in the works?
Esseks: It's definitely been a goal of mine for many years but it is a complicated thing to put together especially since I wanted it to be connected to an actual concert which was a big part of that vision. I wanted to wait until I had the ability to do it right with enough art to make the gallery showing its own event and not just an add-on to the show. 
View this post on Instagram
RB: I Love that you guys are bringing in a comedian. Laughter is important now more than ever. What made you want to include this element? 
Esseks: There were a number of factors in this decision. I love comedy being one of the main ones but also because I wanted this to be an event that brings the bass music scene in Brooklyn together outside of just a late-night show environment.
It will actually be multiple comedians doing short sets for an edition of a monthly comedy show thrown by Beyond Dope called Beyond Jokes that raises funds for their harm reduction charity. I had been to one of them before and had a great time and I also like the idea of them being able to provide harm reduction and Narcan training at the event as well.
RB: We're really excited for Tiedye Ky's upcoming sets at Yonderville and the art show release party. What made you want to include Tiedye Ky and why did you decide upon the idea for an acoustic set? 
Esseks: Tiedye Ky is doing both an acoustic set during the art show AND a DJ set during the main show. I wanted to include him because I love both his acoustic music and his bass music equally, which is a lot. He is also a good friend and the perfect fit for what I wanted to do with the early show/late show idea.
I wanted the acoustic set for the same reason I wanted the comedy show and the downtempo set during the daytime show, to bring people together and give them a place to enjoy themselves as well as the art. That's also why we made it free because I want to give people a place where they can enjoy each other's company before the show, and see some art, comedy, and music. Even if they can't get a ticket to the main show for whatever reason, they can still see the art and some friends. I just want people to have fun. I chose everyone involved because I love what they do.
RB: What are you most excited about for the upcoming release party? 
Esseks: I'm most excited to do a show my way, for my hometown, with all my friends, and to connect with everybody again. I love New York, I've lived here my entire adult life and I love the community here but I haven't played here in 2 years. I wanted my return to be special and I truly feel like this show is going to be just that. I have so much to share both musically and visually from the last 2 years and I am so excited to have the time and setting to do it on a deeper level.
RB: In regards to the music you're planning to share, we'd love to know what production tools and techniques you've been using lately, particularly when it comes to the upcoming EP.
Esseks: I learned a lot watching people's Patreons and production streams over quarantine so I think there are definitely some new techniques being used but honestly I worked on most of these so long ago that I don't even remember much specifics about the process anymore.
RB: Given that The Uncertain Future was drafted over quarantine, during times of isolation and anxiety, what are your thoughts about how negative or dark emotions spur creativity and inspiration?
Esseks: I think working on creative projects is a nice escape from negative emotions and thoughts. It doesn't stop them from coming but it silences them for a while. I think everybody should have some kind of creative outlet. It helps.  
RB: What do you recommend other artists do when those creative outlets start getting stifled and burnout starts to set in?
Esseks: If you're miserable working on something it probably won't turn into anything good. Sometimes you gotta walk away and live a little so you have something to express. Go walk a few miles with some headphones on.  
RB: Pivoting back to show talk, how have you incorporated your illustration abilities in live performances?
Esseks: I animate all my own visuals. I have a music video I animated that I also intend to show during the art showing. I have a folder of loops I give to VJs to freestyle with at the moment but I'm working towards time coding my visuals eventually.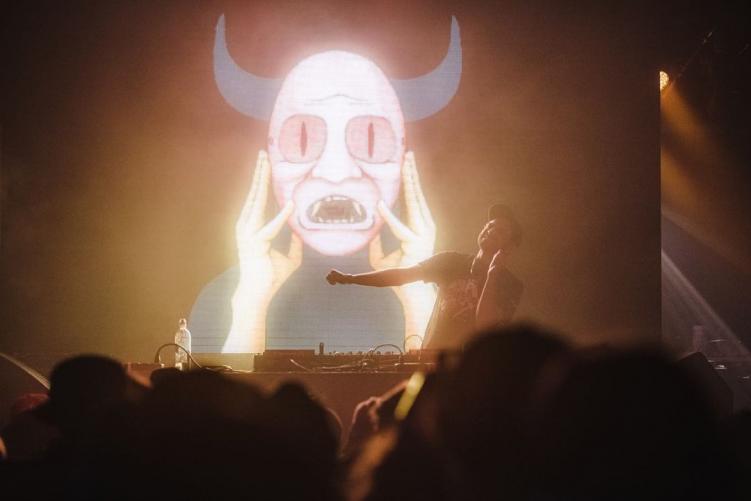 RB: We can't wait to see some of your latest visuals at Yonderville this upcoming weekend! What are you most excited about for the upcoming festival?
Esseks: I'm most excited to see a bunch of my friends and play all the new music I've been hoarding for a good crowd.
RB: Who are some artists you definitely want to see perform at the festival?
Esseks: There are too many to get into but I will say one act that I haven't seen yet and am looking forward to seeing for the first time is Bricksquash.
RB: Before I let you go I just wanted to say how much we enjoyed having you at Cervantes for Shift Thursdays! What did you think of the show?
Esseks: I loved it so much. That was the biggest headline I'd ever had in Denver so I was a little anxious but it went amazingly. Such a great crowd and all the other acts on the bill were top-notch. Couldn't have asked for a better night.
---
Starting to really hit his stride, there is no telling what Esseks will do next after this busy week ahead of him. To experience everything Esseks has to offer, make sure you snag tickets to either his show this weekend at Yonderville or his art show release party next week in Brooklyn (free entry during the day)!
Follow Esseks:
Website | Facebook | Instagram | Twitter | Soundcloud