Featuring headliners like Chase & Status, Emancipator, and KOAN Sound, the lineup at Submersion Festival is special in more ways than one. While there are easy decisions to be made at the top of the bill, as you make your way down you may come across artists you're unfamiliar with or only heard of once or twice.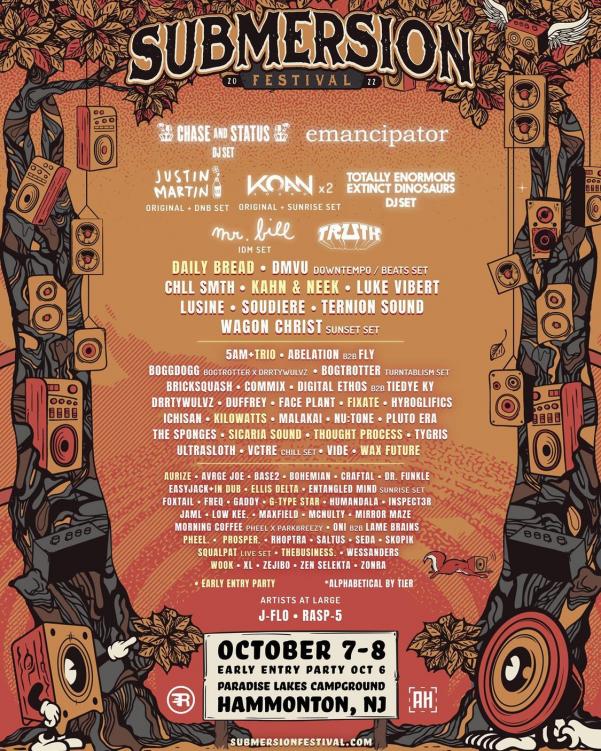 As a festival presenting a very unique lineup to the American market, Submersion is the place to get introduced to new sounds and producers. While everyone on the bill is worth seeing, here are a few of River Beats' must-see acts at Submersion Festival 2022.
BogTroTTeR
Taking his domain among the gooier side of psy-bass, BogTroTTeR has been a dominant force in the festival scene for longer than a decade (2009). Although the Minneapolis native has not released a single for 2 years and an album for nearly 6, his sets have not dwindled from being both original and inclusive of some of the most sought-out styles in the world of underground bass. Likely to be pivoting beats and samples back and forth on his turntable, his sets on Friday at 5 PM (solo) and on Saturday at 6 PM with Drrtywulvz (BoggDogg) are not to be missed.
Bricksquash
After watching Bricksquash perform a rousing set at Yonderville 2022, they are probably my most anticipated set for Submersion Festival. Their sets incorporate hip-hop influences and incredibly textured sound design with Omni-tempo and highly experimental rhythms taking the forefront of their delivery. The duo, made up of cloud_d and Resonant Language, caught fire with their 2020 EP Skreet Force One and have been maintaining a dominant presence in the realm of broken beat bass ever since. Catch Bricksquash at 2:30 AM Friday night/Saturday morning at the Beach Stage.
Thought Process
Coming off an incredibly impassioned performance at the 8×10 this September for a stop on the Road to Submersion series, Thought Process is currently at the top of his game. The Denver-based artist dropped a 4-song EP at the end of last year which sprung him into the spotlight of promoters and fellow artists across the country. This ultimately led to him getting booked at festivals like Nocturnal Funktion, Lightning in a Bottle, and of course, Submersion Festival where he will be playing the 8:45 PM slot during the early-entry pre-party.
Ultrasloth
The trio known as Ultrasloth, made up of kLL sMTH, bioLuMigen, and Duffrey, has been celebrated as a group as much as the members have been celebrated individually. Their sonic nature is denoted by punchy basslines, glitched-out synthesizers, and humorous vocal samples which have included everything from J-Roc snippets (Trailer Park Boys) to sound bites from South Park. Despite Ultrasloth's comical tendencies you better believe that no games are being played when it comes to their production capabilities. Find the boys getting busy alongside Glass Crane at 12:30 AM at The Beach Stage Saturday night/Sunday morning.
Wax Future
As the only instrument-forward artists on our Top 10 list, Wax Future is yet another gem on the already-loaded pre-party lineup. Wax Future offers everything from wildly improvised string arrangements and guitar solos to bashful electro-riddled jam sessions, all of which are nothing but intoxicating played out in a live setting. The Friday before Submersion Festival will see Wax Future release their new single, "Purple Empress," which adds to an already climactic week for the Philly-based group. If Daily Bread, Thought Process, and the 5AM Trio aren't already enough to get you out to the pre-party on Thursday, Wax Future should help you make the decision.
View this post on Instagram
Craftal
As a favorite from The Rust Music's roster, Craftal is a sonic explorer who travels between low-end bass and glitch music carrying a passport stamped with curious synth work and masterful engineering. The wax is still hot from the recent vinyl pressing of Craftal's Lullabytes LP while his 2022 full-length, This Was All A Test, is hardly a month old. In addition to being consistent with his production output, Craftal also stays busy offering Ableton lessons which you can inquire about through email (craftalmusic@gmail.com). Catch Craftal deconstructing the crowd at the Woods Stage at 3:30 PM on Saturday. 
Entangled Mind (SS)
Winning the Tipper & Friends Suwannee competition this year is without a doubt one of the biggest accolades in Entangled Mind's career. However, their precipice is yet to come. Just a few months after their performance under the Spanish moss, Entangled Mind would go on to play at another Tipper event with their performance at Secret Dreams. Although the latter was a family jazz set that was cut early due to weather, their booking at the high-profile event confirmed the love that the bass music literati have for Entangled Mind. Performing a sunrise set at 6:30 AM, attendees can definitely expect some Friday morning magic along the shoreline at Paradise Lakes.
Maxfield
The Boston bass titan known as Maxfield has developed a discography loaded with devastating hits and hard-hitting compositions. Having developed his skills at the Berklee College of Music, where fellow musicians Jade Cicada and Smigonaut are also alumni, Maxfield's brand of sound design boasts flavorful textures and captivating builds that are both surprising and entrancing. 2022 saw Maxfield open up for artists like Keota and Tripp St. while enjoying some time on the festival circuit at Nocturnal Funktion and Yonderville this past summer. Mark your schedules for 4:30 PM on Saturday at the Woods Stage if you're keen on seeing Maxfield tear it up. 
Humandala
I've been trying to track down Humandala ever since I came across his Sun Cycles EP from 2018 and I'm elated to finally experience his polyrhythmic applications in real-time. While his earlier work like the Sun Cycles EP offers more of a meditative and journey-like approach to production, his recent collaboration EP (Apport Apparatus) with EOS packs a punch in the normally ethereal soundscapes that he is known for – especially in "Swivet". Unfortunately, Humandala's set starts in the middle of Maxfield's set and bleeds into Duffrey's which means fans will have to be quick on their feet or be faced with some tough decisions.
Morning Coffee
By far one of the most chill sets of the weekend, Morning Coffee will be providing the vibes at sunset (6 PM) on Friday. The duo is made up of all:Lo Collective labelmates pheel. and parkbreezy who combine for low-fidelity compositions that will have you nodding your head and ashing your blunt. Hip-hop samples, cooing melodies, and boom-bap stylization layer Morning Coffee's sets, providing the perfect environment to watch the sun go down over Paradise Lakes campground.
Festival curators Aspire Higher and The Rust did an astounding job on the schedule this year and left little room for conflict. With so many massive acts taking the stage this year, Submersion Festival is not one to miss.
Grab your tickets to the legendary three-day event here and keep up with everything Submersion has going on in the links below.
Follow Submersion Festival: