For the 2023 iteration of Submersion Festival, River Beats Dance was on-site to provide pre-, live, and post-coverage reporting. Below is a first-hand narrative through the lens of embedded reporter Maximilian Vanegas recounting how the event unfolded.
---
The weekend began before we even arrived. Sly smiles and casual head nods between brightly colored characters at the Hammonton Walmart let us know that we were all just visitors in this peculiar town.
After a couple of laps up and down Route 206, we found our path, and those familiar pines began to envelop us like a pitting wave or a warm hug.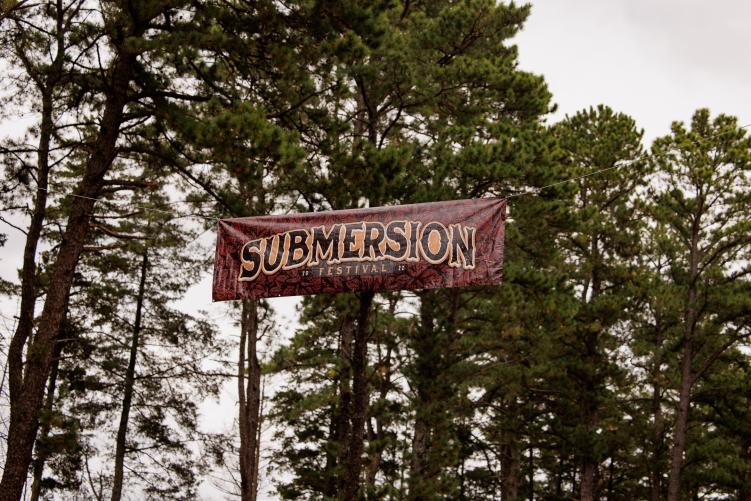 As we made our way onto the grounds, the trees waved hello as the sun shot a shimmer across the calm waters of Paradise Lakes letting us know one thing – the weekend of Submersion has arrived. We were lucky enough to snag the same spot we did last year, however, those celebrations were short-lived as we had shrimp in our sights.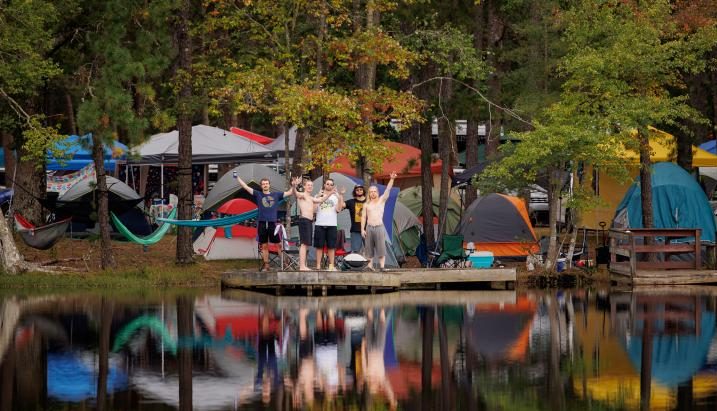 Day 1- Shrimp Stuff, Duffprocess, & Night Swims
Starting things off on the Woods Stage was Maryland local Crawdad Sniper. There are few things as exciting as the first set of the weekend and this one was no different.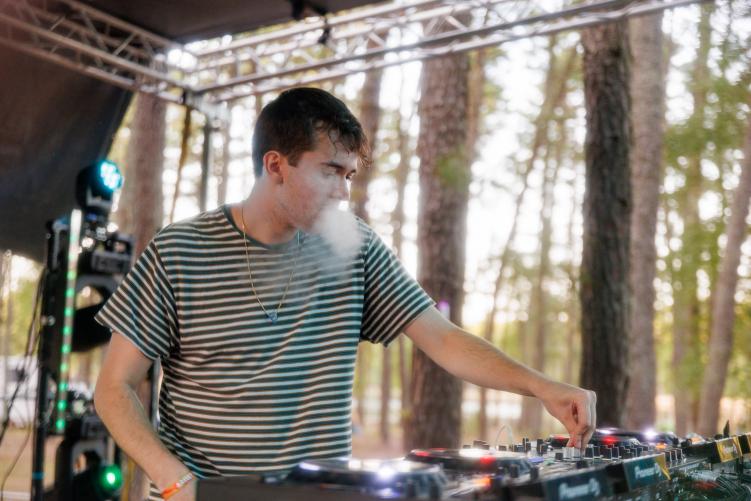 Experiencing a Crawdad Sniper set is a lot like watching a sprite trapped in a glass box; flying around in every direction and leaving implosions of pixy dust with each collision – whimsical and free-willed, yet contained. With it being the opening set of the festival, he didn't lean on the gas like he normally does but still provided a boisterous set.
During Crawdad's set, I briefly spoke with Sean Hennessey – the designer of the HSD and Intent Audio sound systems. Although our conversation will remain off the record, he did confirm that this was the biggest deployment of the Intent Audio rig to date.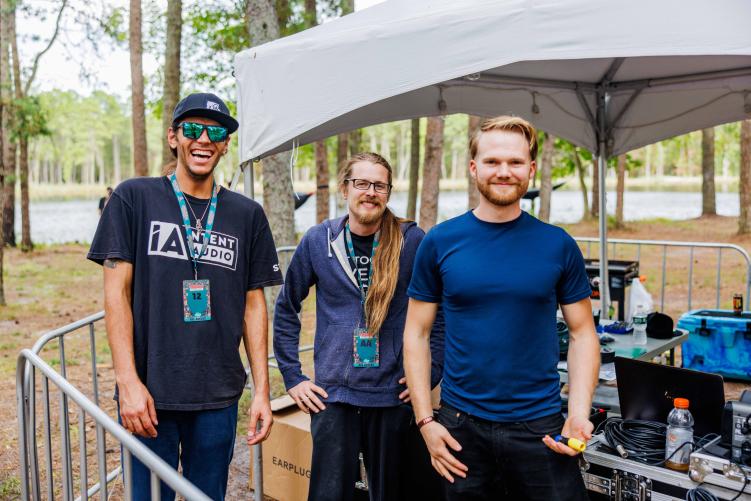 As soon as the set ended we hustled over to the Beach Stage to catch the end of Face Plant's Sky.Lab set. In our interview with Jason Shepherd, he described Sky.Lab as "music you can stargaze to." After just a few whiffs of the melodic ethers and ambient soundscapes he was amalgamating, it was clear to see what he meant.
Following Sky.Lab on the Beach Stage was Denver-based jamtronica group 3420. Much like the rest of these early acts, 3420 chose to explore a more reserved route and provided a cool, calm, and collected routine with tons of funk and improvisational jamming. The cherry on top of this set was our boy Tygris hopping up on the turntables for some slippery sloped vinyl cuts.
At this point, the gang was locked in. Tweas were cracked, spliffs were lit, and the Funktions were purring.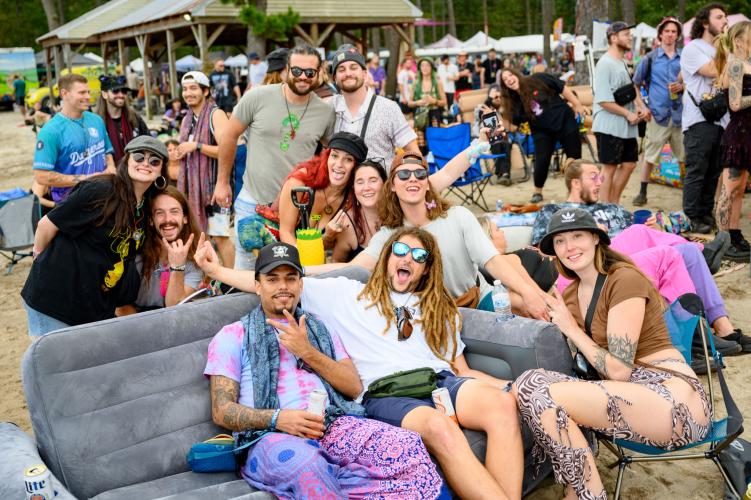 A few hours later, Parkbreezy got the party up to pace with some soulful selections and choice plates. He dropped some 21 Savage that had me reaching for the ski mask but kept me tethered to peace with gliding electronics and sunny soundscapes.
Soon after, Duffrey and Thought Process would take the Woods Stage for what, in my mind, was the best set of the night. Rinsing "Let Me Clear My Throat" was enough to raise the blood flow of that early-entry crowd but it was Duffrey's flip of  "Moon Slips Away" (Daily Bread) that tore the place down.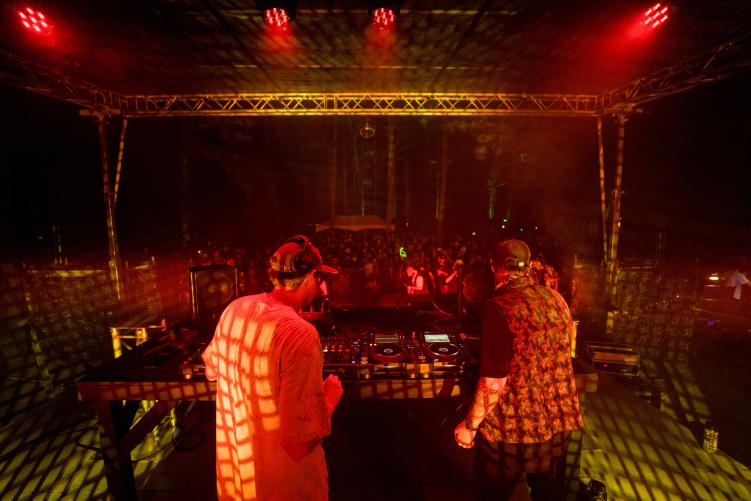 KEOTA and OOGA would go on to breathe fire on the Woods Stage, reminding everyone why they arrived a day in advance.
At the end of the night, I felt prompted to go for a swim. Down I went to what I felt was the center point of the little cove we were camped next to. The sky looked like someone spilled glitter across it, Lab Group I played faintly at a nearby campsite, and I was exactly where I needed to be.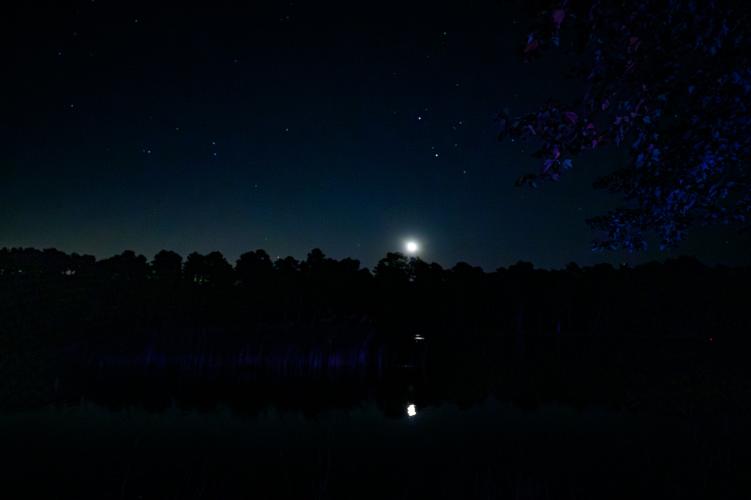 Day 2 – Hip Hop Time Machine, Neuro Liquids, & Portal Hopping
Friday morning, I woke up with a smile on my face. I was surrounded by some of my closest friends, the weather was holding up, and we were staring down the barrel of a fully loaded schedule.
Starting things off at 1 PM was the founder of NY label Driven AM, Dave Shichman, scrambling some drum & breakfast on the Woods Stage. Shortly after, Brother Bear would kick off an afternoon loaded with beats, hip-hop, and vintage cuts on the Beach Stage. Damu The Fudgemunk, KRS-One, Mac Miller, Beyonce, and some of my favorite selections from Gramatik's Street Bangerz series had me bobbing and weaving for the entire 90-minute set.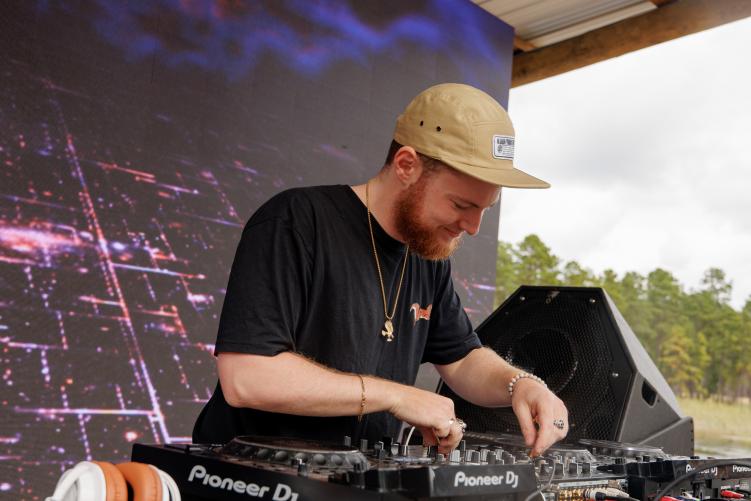 After a quick dose of liquid classics on the Woods Stage from the palms of Hugh Hardie, we were lassoed back to the beach where Krafty Kuts picked up where Tygris and Squalpat left off. Krafty Kuts' Golden Era of Hip-Hop mixes are the reason a lot of fans discovered the "undisputed King of Breaks," including myself, so to hear that style of music on a live stage was an incredible experience.
During the set, I had a brief conversation with pheel. and Rasp-5 about the evolution of music storage technology. Most notably, we discussed how artists such as Krafty Kuts at one point had to lug around boxes of vinyl records to perform and now they can just upload it to a USB. Shout out science.
Just a moment later, pheel. would take the stage alongside Thought Process and Parkbreezy for the Groovsauce sunset performance. With Parkbreezy on keys, Thought Process managing the decks, and pheel. wheeling away on the turntable, the all:Lo collective labelmates formed a beautifully decorated trifecta that was only sharpened by their shared musical IQ. Although the trio is fairly new (est. 2021), these three friends have been playing together for much longer and it certainly shows.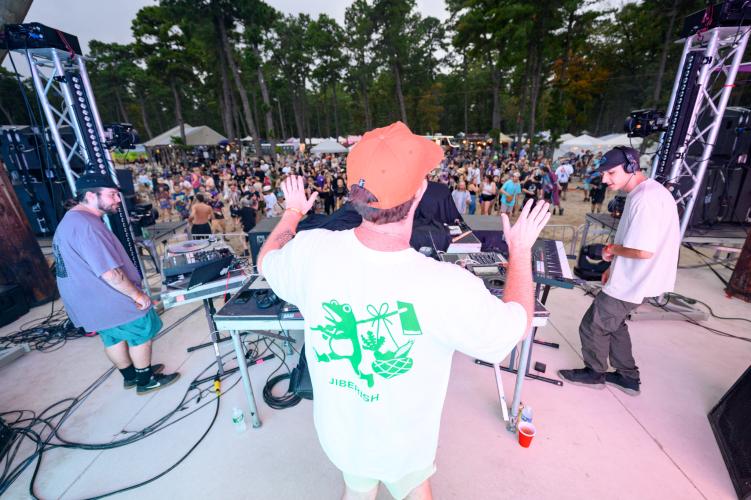 During the Groovsauce set, security approached some patrons sitting in couches and politely asked them to move back. In an era where festivals have become gridlocked, this was a refreshing move by the Submersion team.
While the breakbeat and hip-hop-oriented afternoon on the beach stage was divine, I was very much looking forward to elevated tempos, starting with Chez. In previous conversations I've had with Chez, he was joyful, jubilant, and carried an animated demeanor that reminded me of an old friend. Moments before Chez took the stage that night, he was completely different.
As he paced the corridors backstage, he carried a serious and intense expression that I didn't think was capable of the Chicago native. Next to Sound Haven and Infrasound, this was definitely one of the biggest stages he has played on and it was clear the nerves were surging.
But just like that, with the snap of a Natty Ice and a few quick strides to the stage, he was back in his element, slanging bangers and stealing faces with his grimaced flavor.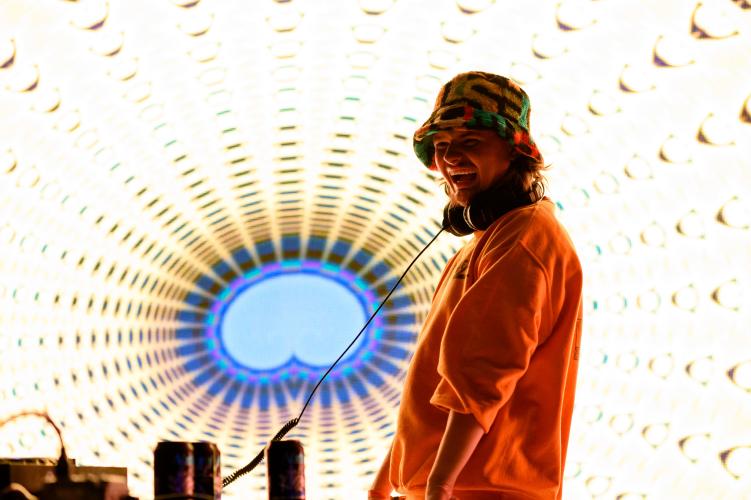 Chez was definitely one of my most anticipated sets of the weekend and he didn't disappoint.
Next up was the history professor, Mike Wallis. I call him the history professor because his Colony Retrospective set was a straight-up history lesson with songs that were released over a decade ago when the boundaries of glitch-hop and neuro were just being formed.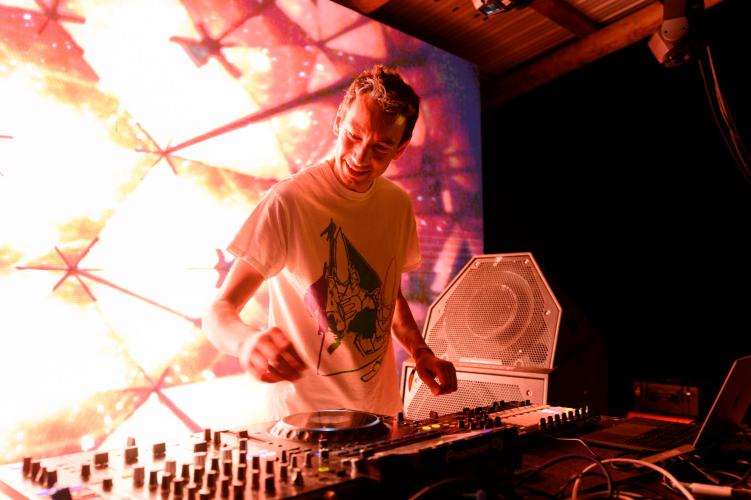 Alongside the mad scientist, Liquid Light Lab, who practices an art form that was established in the psychedelic haydays of the 1960s, we were practically time traveling. The set closed out with some K.L.O., Crawdad Sniper, and some mesmerizing liquid visuals.
By the end of the set, I heard my stomach rumbling over the Funktions so I shot over to Humpty Dumplings who I relied on faithfully the previous year to keep me powered through the weekend. I struck up a conversation with a long-bearded gentleman and two young ladies sporting Ruku and Rocket Power who were just as friendly as the crew I met at the very same vendor a year previously.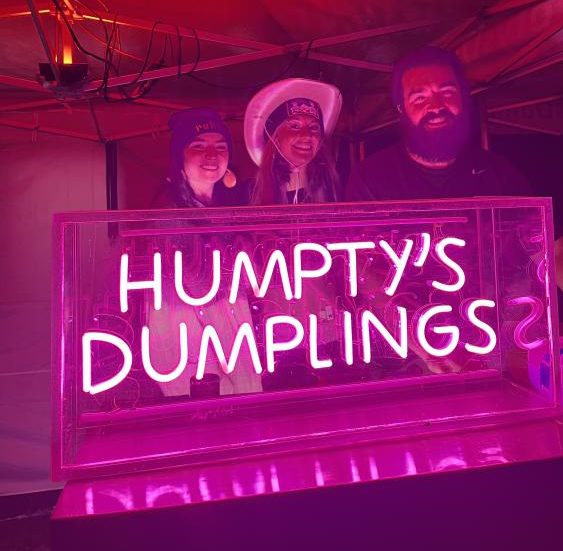 At the end of our conversation, they ended up giving me my meal on the house – a combination of 5 piping hot Buffalo Chicken and Cheesesteak dumplings. If you ever are at a festival and see the neon lights of Humpty's Dumplings, you're in the right place.
As I reveled in my first solid meal of the day I slowly made my way back to camp with a cohort of howling animals and crazed patrons who, like myself, were feeling Day 2 in its entirety.
Passing by BOU, I witnessed a vibrating crowd and an infectious energy with its own gravitational pull. As much as I wanted to go shake it up, I was spent and needed to escape the frequencies back at camp before immersing myself in the madness that would be Mickman into Resonant Language.
Lots of laughs, some healthy debates on music, an ice-cold Glacier Freeze, and some chocolate from the vendors put the wind right back in my sails. Right around midnight, we started gearing up for the fiasco as if we were going to war.
When Mickman finally took the stage, those first wavelengths cut through the air like a guillotine. Much like a rare China shop before Thanksgiving, you go to a Mickman set for the plates. No fancy transitions, no crazy doubles, just raw, uncut Mickman and a gnarled assemblage of his otherworldly distortions.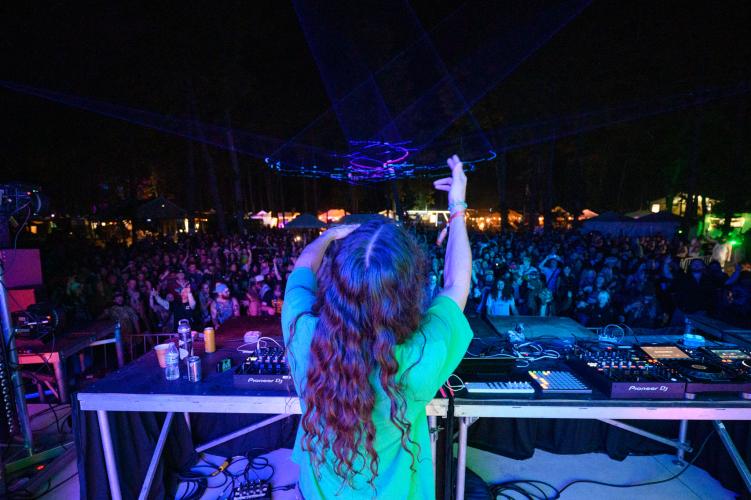 While Mickman opened up the portal, it was Resonant Language who shuvved us through it. One of the best parts about a Resonant Language set is the calmness he maintains while rinsing some of the most profound low-end bass music known to mankind. With the poise of an assassin, Resonant Language administered VIPs, originals, and unreleased IDs that had those beach-bound Funktions absolutely squealing.
After a high-energy COPYCATT set that included a nostalgia-inducing flip of the Kim Possible theme song, we were exhausted and dragged ourselves back to camp. Right before my hammock and those dreamy pines could swing me to sleep, I set an alarm for 5:15 AM to make sure I didn't miss one of my most anticipated sets of the weekend – Lusine.
At Submersion 2022, I encountered Lusine in almost identical circumstances and became obsessed with his sound and style of music. When the time came to witness his ethereal motifs, I felt prompted to put my phone down and notepad away. Boutique sound design and heavenly arrangements left me levitating. I was in a dream I never wanted to wake up from.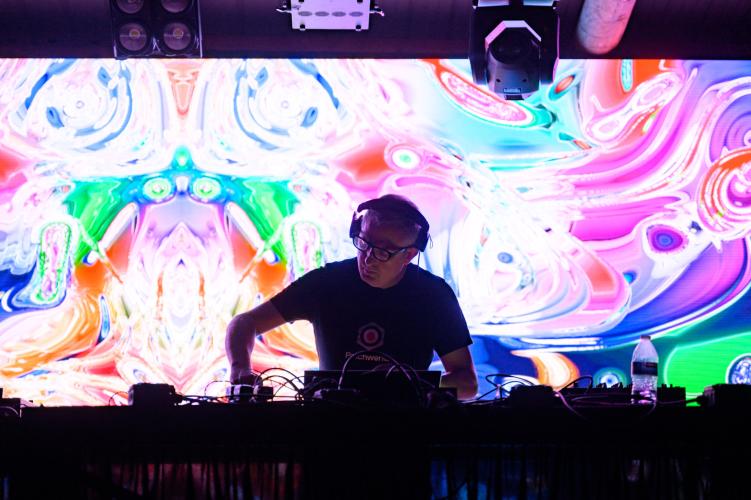 By the time Mr. Bill took the stage, Lusine had ushered in a thick fog reminiscent of his hometown – Seattle. This set the stage perfectly for an IDM sunrise set. Mr. Bill would go on to weave together a blissful array of omnitempo sonics and heavily experimental music which cast me into an angelic oblivion that at one point, left me teary-eyed and deeply introspective.
Just a year prior, Mr. Bill was unable to make it to Submersion Festival due to a brief stint in rehab. So to see him up there looking sober and healthy was a celebration that I didn't want to miss out on.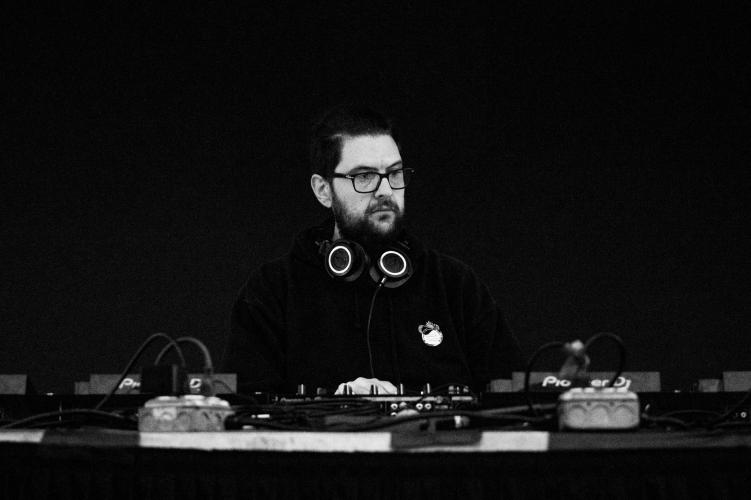 As I walked back to my camp that morning, I felt proud to be a part of a community that supports health and wellness. If Mr. Bill can face his demons and come back better than ever, then we can too.
Day 3 – Cloud Conduction, B2B Marathon, & Eazybillkillyotegrate
Early Saturday afternoon, just a few hours after I laid down, I was woken up by a crystal trader named Twig trying to sell some pins to my neighbor. Before I could even get the zipper of my tent down, he was in my grill preaching about the healing properties of poudretteite and the crystal's Canadian history.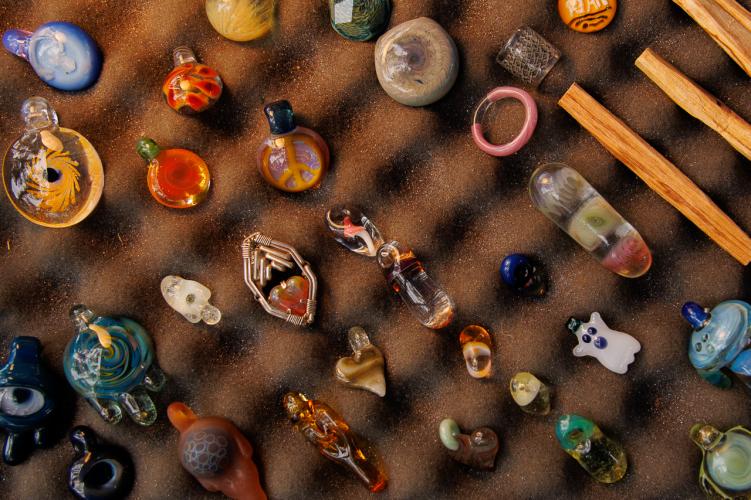 Normally, on this much sleep, I would have had some choice words for the scraggly entrepreneur. But there was something special about him that made me keep listening. After hearing him rant about an escapade he underwent with the Ohio state police, I politely let him know that I wasn't going to buy any crystals, pins, or research chemicals, even if they were going to make me feel like I didn't just sleep 5 hours.
As I looked through my notes and some footage from the previous night, I reminded myself that there were even more dynamite acts set to take the stage in just a few hours. To jumpstart my engine, I dove into the frigid waters of Paradise Lakes for an arctic embrace that woke me right up. After putting on some clean clothes and scarfing down some granola, I felt like a million bucks.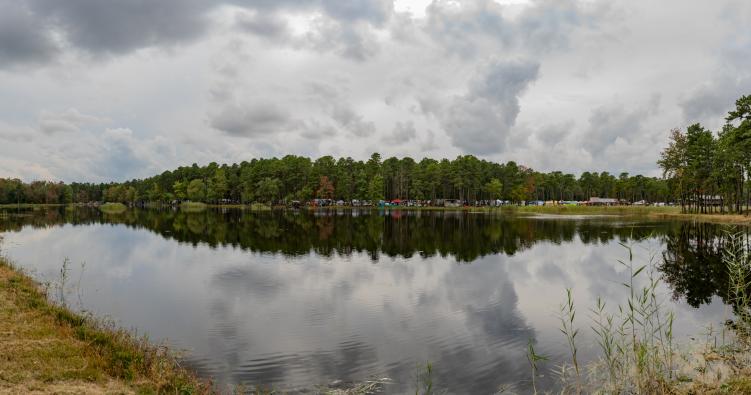 The first performance that really stood out to me that day was Daily Bread's Cloud Conductor set. After seeing a few stops of the Invisible Cinema tour earlier this year, I felt that the sets had grown a little repetitive. While it's totally understandable for an artist to keep things consistent on an album tour, I was selfishly craving DB sets full of surprises, classics, and unexpected live edits. Fortunately, that's exactly what he delivered on that nebulous afternoon.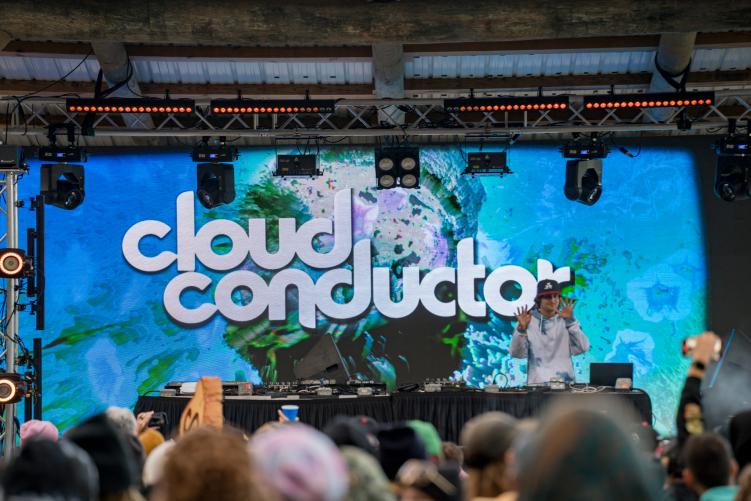 When the Cloud Conductor took the stage, the sky seemed to surge. He opened with a VIP of  "Walking in the Georgia Rain" followed by "Street Treasure" and "Blind Yourself," the latter of which he equipped with some gritty Slim Thug vocals. He would go on to mix together new and old songs from his discography with an improvisational flare that made everything seem new again.
Directly after Cloud Conductor was Chmura B2B Lowcation, a performance that surprised me as one of my favorite sets of the weekend. From start to finish, the B2B was a mad dash through gut-busting dubstep and frothy bass music. Out of the incredibly stacked setlist, it was Chmura's "Coffee Break" remix and the unreleased "Elephant Song" by Ashez & Stylust that had me gasping for air. With Mezmer on visuals, casting everything from Roman sculptures to sprawling prisms, the set was more decorated than a Christmas tree.
Following Chmura B2B Lowcation was Integrate for an equally electric performance. As two friends who grew up in the bass-deprived city of Birmingham, Alabama, VCTRE and Black Carl! have come a long way and their chemistry shows it.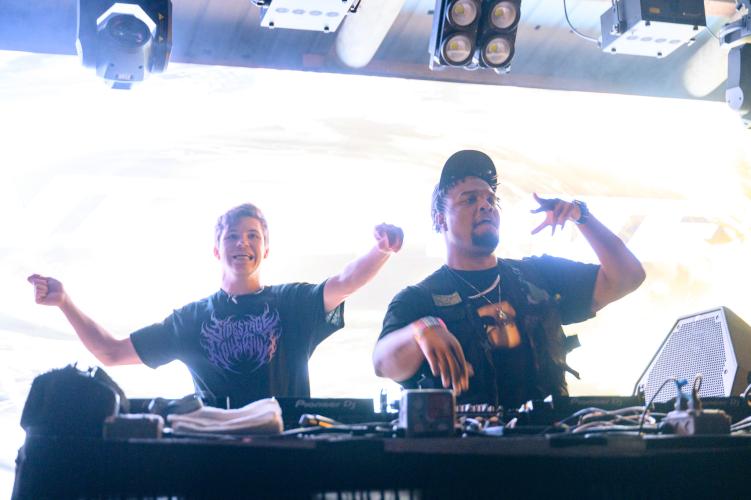 Whether it was Gorillaz and Key Glock flips or Integrate originals, every track flowed seamlessly into the next with chiseled precision and collar-popping flow.
While Integrate and Chmura B2B Lowcation definitely caught me off guard, it was the kLL sMTH & Friends free-for-all that left me completely flabbergasted. Leading up to the set, I was expecting kLL sMTH to bring up 5, maybe 6 other artists.
That was not the case.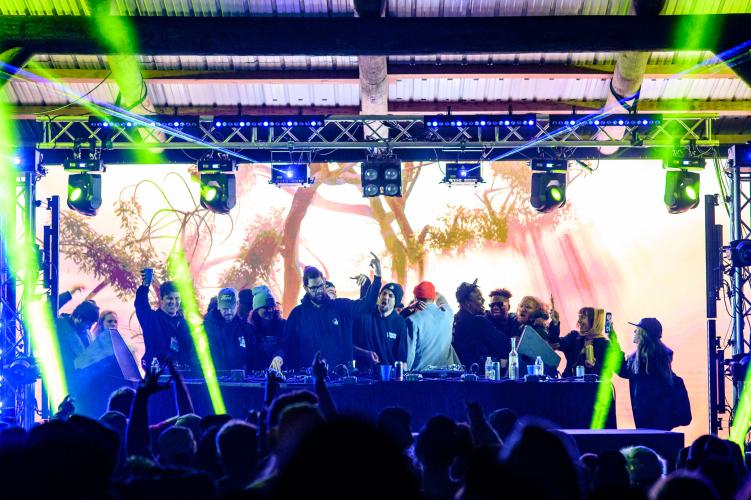 Over the course of 75 minutes, around 15 different artists took the stage for a super-stacked B2B that morphed into a beautiful melee of synergetic chaos. USBs, vapes, joints, and a handle of tequila were passed around liberally as each artist took their turn adding to the madness.
The set included appearances from Black Carl!, COPYCATT, Digital Ethos, EAZYBAKED, G-Space, KEOTA, Khiva, kLL sMTH, Monty, Mr. Bill, NUEQ, Prosper, Supersillyus, VCTRE, and likely a few more that we missed. Truly an all-star cast.
After the set ended, that was it, Submersion had met and exceeded my expectations by eons and I was one happy camper. After buzzing around Hamdi B2B Sir Hiss and Tripp St. B2B Maxfield, I caught some healing vibes at Random Rab and then called it a night.
Teamwork Makes the Dream Work

As we packed up camp the next day, I looked around and saw friends helping friends break down tents, people hugging each other goodbye, and fellow attendees grabbing one last picture or smoking one last joint before officially ending their weekend at Submersion. It was at this moment that I realized the entire weekend wouldn't have been possible without one thing – collaboration.
Whether it's collaboration between our beloved festival organizers, Aspire Higher and The Rust, collaboration during a 15-person B2B, or something as simple as a lighter from a stranger in the crowd, collaboration and teamwork are truly at the helm of Submersion Festival.
As we feverishly await announcements for next year's iteration, festival organizers have already begun planning expansions in production, immersions, and the size of their staff/team. It's with these strides that they hope to continue building the festival and enhancing the fan experience in the realms of logistics, cleanliness, and curation.
If you're like us and can't wait for Submersion 2024, make sure you check out their New Year's Eve event with Chase & Status in Philadelphia. Besides that, keep an eye on their feeds for all updates and news regarding the next iteration of their one-of-a-kind festival.
We'll see you next year!
Follow Submersion Festival: