They've played at an Armory in Minneapolis, a farm in Nashville, the jungle in Costa Rica, and now, K.L.O gets set to play a theater in Silver Spring, Maryland.
When you say it out loud, it doesn't even sound real.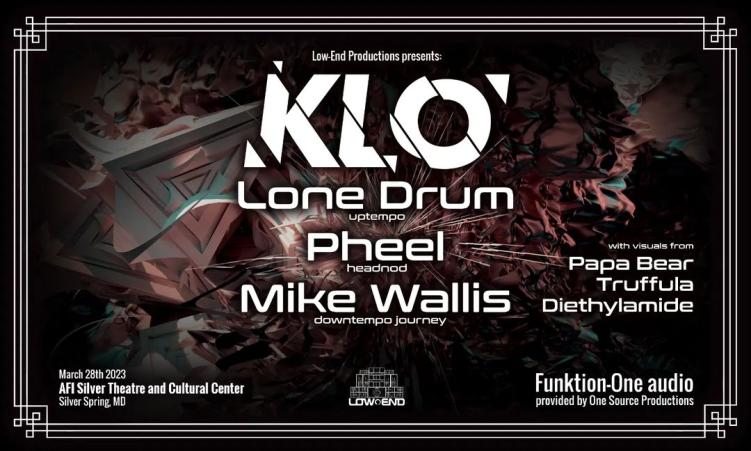 The incredibly rare but welcomed event comes from the mind of Matthew Passarelli and his newly formed promotion group, Low-end productions. Looking to chase and set the standard for audio, production, and event curation, Low-end's launch party is starting things off with an insanely stacked cast of artists.
While the bass music scenes throughout Washington DC, Virginia, and Baltimore are getting bigger and better shows, this particular date with K.L.O is undoubtedly a unicorn for the area. Towing up support are two of the members who make up the L and O of the trio – Lone Drum and Osmetic (Mike Wallis) – in addition to all:Lo Collective's founding father, pheel..
While Lone Drum and pheel. have been tearing up club after club on their co-headlining tour, Mike Wallis has been going to battle on the Colony Wars tour with a host of decorated assassins and beatmakers. On Tuesday, March 28th, everyone reunites at the AFI Theater in Silver Spring, Maryland to assemble some of the finest uptempo, downtempo, headnod, and experimental bass music the area has ever seen.
Adding gasoline to this forest fire is K.L.O's recent body of work, Slow Mode, the trio's first official release since 2020. The 10-piece album signifies yet another chapter in this ambitious supergroup's chronicle. Abound with low-end frequencies being tossed around like dumbells, glitchy sonic narratives, fizzled drum patterns, and juicy turntablism via Lone Drum's frantic fingers, the album does everything and more.
With Funktion-One sound filling the theater with audio for the night, Slow Mode will most definitely receive a proper rinsing. Adding even more magic to the mayhem of this already decorated night are the visual accompaniments of Papa Bear, Truffula, and Diethylamide.
Given the magnificent rarity of this event, we had to speak with Low-end founder and owner Matthew Passarelli to find out what led to the inspiration behind such a unique show.
River Beats: Hello Matt, congratulations on the show announcement and arrival of Low-end Productions! How did you find yourself so immersed in the electronic music scene as you are today?
Matthew Passarelli: It all started with Moonrise Festival 2016. I was 18 years old and had the time of my life but left the festival wanting more. A few months later, I found myself in a language immersion program in Costa Rica living out of the back of a restaurant in Playa Samara when I stumbled across an Ad for Envision Festival. The lineup was completely foreign to me but I was open to seeing what it was all about. After failing to convince any of my friends at the school to come with me, I bought my ticket and hopped on an 8-hour bus ride into the jungle. What followed was a journey down the rabbit hole of sound that landed me where I am today.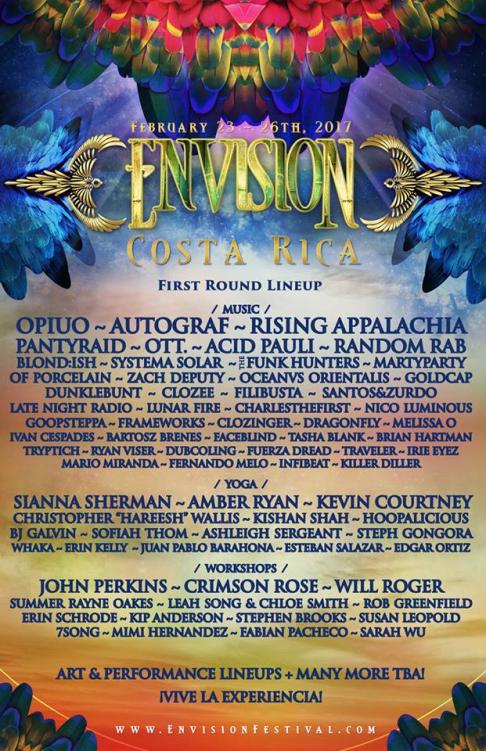 RB: How was Low-end productions formed?
MP: I never quite envisioned myself throwing my own shows. I have always had an interest in making music but never quite had the time I felt necessary to create works I could truly be proud of. I attribute the idea of starting this company to the cofounder James who over the past two years has been persistently pushing me to consider getting into this business. James' belief in me, along with the belief of others, have probably been the biggest catalyst in starting Low-end. 
RB: What was the inspiration behind this show? Why did you book the artists you did?
MP: It is as simple as just booking the artists that truly get me excited. Beyond that, I really want to work with the artists who share my vision of putting on events that really raise the bar. I reached out to Mike Wallis very early on just asking if he could chat on the phone and let me ask him a few questions about the music industry. Within 15 minutes of our conversation, I knew we saw eye to eye on just about everything regarding the industry. He really got behind my vision of trying to create a next-level debut event. Considering how closely Mike was willing to work with me, and being such a massive fan of both Colony and Slug Wife, I thought a K.L.O show would be the perfect way to work really closely with a master of his craft and put together an event that will really get people's attention.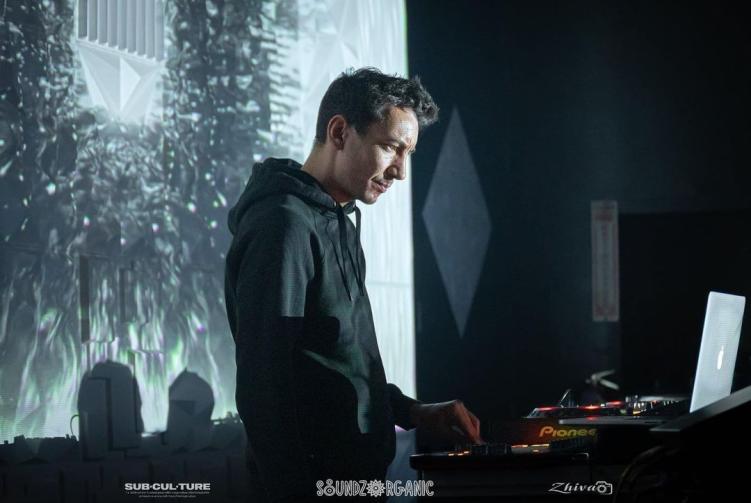 RB: What's up with the VJ lineup?
MP: In terms of the VJ lineup, Papa Bear really stole my heart with his Featherbed Session performance. He has been a long-time favorite of mine. I reached out to him and told him I wanted him to bring some friends along. I really wanted to give the artists a role in curating this event. That resulted in the addition of Truffula and Diethylamide to the lineup.
RB: I don't think AFI Theater has ever had a concert like this. What led you to the venue and what do you love most about it?
MP:  It was the Tipper Kings Theatre and Saenger Theatre shows that really planted the seed. Those shows encompass everything we are striving to achieve with Low-end Productions. They are different, the sound is phenomenal, and most importantly, they truly get people excited to buy their tickets. One of the biggest draws to this theater was the 40ft screen. I feel that there has been a serious lack of adequate visual accommodations at the venues in the area. What really did it for us was just how beautiful the space is. The pictures do not do it justice. We toured several theaters and felt that none of them besides AFI were nice enough to merit a seated event.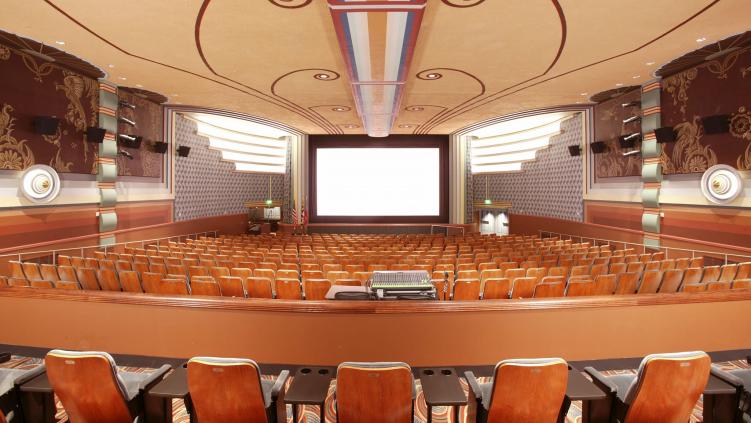 RB: You mentioned that you are going to med school later this year to study psychedelic applications in healthcare. Would you mind sharing a little more information on that?
MP: Good memory! Since I started my undergrad (2016-2020) I have been interested in pursuing a career in medicine, specifically researching and treating patients with psychedelics. I recently got into medical school and plan to pursue a psychiatry residency with the goal of starting my own psychedelic treatment center. I would also like to be active in psychedelic research while running that clinic.  I have a very close family member with a treatment-resistant mood disorder and have seen, firsthand, the side effects and lack of efficacy that come along with traditional psychiatric medications/treatments. The mind is really the last frontier of medicine. If you have a heart problem, there's a clear path to treatment. The same can be applied to just about any other organ system in the body, besides the mind. With the recent findings in the field of psychedelic-assisted psychotherapy, I think we are really close to having the same understanding and ability to treat the mind as we do with the other major systems of the body. 
RB: What's next for Low-end?
MP: Whatever it is, it's going to be something crazy haha. Looking into the logistics of incorporating some cool audio technologies such as tactile transducers or possibly upsampling an artist's music to surround sound in order to deploy the first-ever surround sound Funktion-one rig. We want to do something really groundbreaking that appeals to the audiophile crowd (such as myself lol).
From going to med school and starting a psychedelic treatment center to creating a surround-sound Funktion-one rig and throwing shows the DMV has never seen, the ideas of Matthew Passarelli and Low-end Productions are grand and awe-inspiring.
Make sure you're at the AFI Theater this Tuesday, March 28th to see the first chapter of Low-end's story unfold.
Grab your tickets here and keep up with Low-end Productions in the links below.
Follow Low-end Productions