No matter the genre, there will always be a constant search for a certain kind of freshness and originality. We want to hear music that makes us feel new while maintaining a sense of familiarity. An artist who continuously fits that bill, and then some, is Hamdi.
UK-based DJ and producer Alexander Hamdi has been making massive waves in the electronic music scene this past year. From cultivating a mass following in the UK with releases such as "Show Me" to having his hit singles like "Skanka" and "Counting" absolutely run US dance floors, Hamdi is leaving a massive stamp on the game while perfecting his blend of UKG, Grime, 140, and anything else he wants.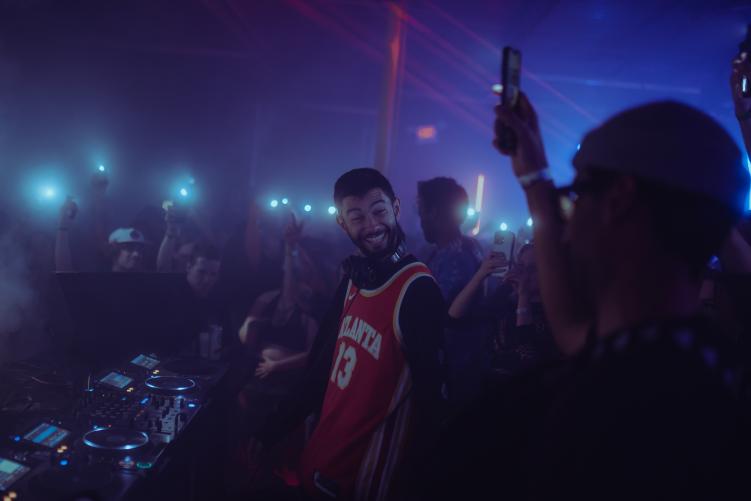 With support from some of the biggest names in the game including Skrillex, Porter Robinson, Zed's Dead, and Fred Again.., Hamdi continues to be in incredibly high demand when it comes to bookings. Just this past April, Hamdi made his long-awaited US debut with mind-blowing allure. Since then, he has capped off two incredible US tours and some major performances that include Red Rocks, DEF Atlanta, Shambhala, Infrasound, Rampage, and most recently, Lost Lands.
Hamdi has made it clear that he is not going anywhere while he cements his own legacy. His newly released Counting EP on Deadbeats only reinforces these claims and reminds us that his biggest songs are just scratching the surface of what this energetic and versatile artist has to offer. The highly anticipated Counting EP consists of 5 tracks that are all worth 5 stars.
The EP kicks off with one of two pre-released singles included on the project – "Counting" featuring Princess Superstar. It's no secret that this track was setting dance floors and festival crowds on fire months before it had a release date.
Another prime example of Hamdi showing off his ability to curate a high-energy dub slapper, "Counting" draws you in with immediate guidance to a 4-count sung by Princess Superstar. Not long after you hear that signature Hamdi sound design start creeping in accompanied by his signature drums and it's only up from there. The energy of this track is nearly unmatched and it is always sure to get a crowd reaction with it carrying the same excitement until the very end.
The second single featured is "Criminal", his collaboration with Deadbeats co-creators Zed's Dead. Featuring vocals from Warrior Queen, "Criminal" stays true to its name and steals every bit of your attention with each buildup. While you're able to hear elements from each artist, you can always spot that gritty bass that is Hamdi's, and it carries all the way through this monstrous modern-day dubstep hit, guided so smoothly by Warrior Queen's vocals.
Now for the first of three brand new tracks – "Arms Up". It starts out with an almost dark and ominous feel with a long intro that keeps a certain tension all throughout the buildup complete with eerie vocals. It drops into what sounds like a slow but steady strobe of that signature bass we all know and love, partnered with some crispy drums. The second drop adds a bit more aggression translated through a faster-paced bass pattern but keeps the darker vibe it started with.
Next up is a personal favorite, "Dubplate," featuring Archie. This track is an absolute standout. It begins with Archie's vocals, backed with lo-fi style chords and a nostalgic ambiance that carries a calm and cool cadence throughout the song. It feels like a breath of fresh air on a cool and breezy day with break beats that will keep you moving, but a melody with vocals that help hold up a relaxed state of mind.
The EP comes to a close with the fast-paced and intense energy of "One Strobe." Truly staying on brand with what we know when it comes to Hamdi, "One Strobe" comes out absolutely swinging. The drums, the vocal cuts, the bassline – no matter the element that you're focusing on, each is a rapid-sounding extension of the other. Together, everything creates the perfect storm: a speedy and hyperactive track that increasingly demands toe-tapping and head-bopping alike.
Before we close out 2023, we still have the long-awaited collaborations with Skrillex and Cesco on the way to a release as well as a vocal version of Skanka featuring the fierce MC, P Money. The Counting EP star is currently in the middle of his third run in the US which includes a wild 8 show tour with Sicaria, as well as a notable performance approaching this weekend at the reputable Submersion Festival. His first-ever UK tour is also set to commence in late November which will kick off in his hometown of Oxford.
Follow Hamdi:
Facebook | Instagram | Twitter | SoundCloud