When it comes to taking chances in the live events space, there are few organizers as bold and daring as the ones behind Submersion Festival. With a reputation for creating lineups that always surprise with genre-shattering allure, Submersion has returned for its third year with the same authenticity and unique flavor they started with.
While the 2023 lineup does well to feature artists both new and old, heard and unheard, Submersion Festival shines bright in several ways. Whether it's the towering pines and sandy shores of Paradise Lakes campground, the heightened emphasis on top-tier visual and audio production, or the fan-forward experience, Submersion is a can't-miss festival for a number of reasons.
The Lineup – Novelty Acts & Banner B2Bs
Creativity and curiosity are at the forefront of this year's Submersion Festival with several side projects, debut performances, and insane collaborations scattered across the lineup.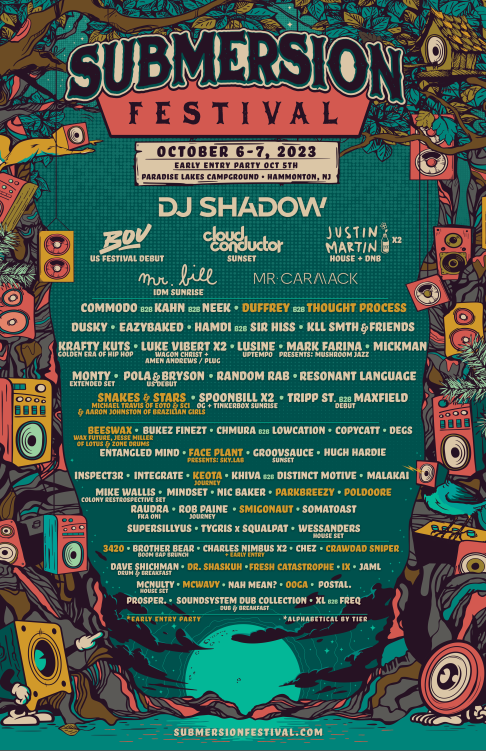 At the top of the bill, we have DJ Shadow, the godfather of trip-hop and a 30+ year veteran in music production. Just underneath him, we have Bou making his US Festival debut, Daily Bread playing a super-rare Cloud Conductor set, and Mr. Bill with an IDM Sunrise set.
Aside from the more novelty acts on the first tier, we have Justin Martin with his Submersion redemption after not making it last year (House + DNB sets) in addition to Mr. Carmack who will be delivering a performance that is sure to stun.
As you make your way down the lineup, you'll notice a slew of massive B2Bs. Commodo B2B Kahn B2B Neek, Duffrey B2B Thought Process, and the debut B2B between Tripp St. and Maxfield are just a few of the astounding pairs and pioneering trios looking to shake things up come October.
Every B2B at @Submersion_Fest this year

Commodo x Kahn x Neek
Duffrey x Thought Process
Hamdi x Sir Hiss
Tripp St. x Maxfield
Chmura x Lowcation
Khiva x Distinct Motive
Tygris x Squalpat
XL x FREQ

— River Beats Dance (@RiverBeatsDance) June 15, 2023
While the entire lineup is something to marvel at, Spoonbill's Tinkerbox Sunrise Set, Pola & Bryson's US Debut, and Face Plant's 'sky.lab' side project are a few more novelty acts that make Submersion such a one-of-a-kind festival.
Location – A Paradise On The Lake
When we were on site for last year's curation of Submersion Festival, the beauty of Paradise Lakes was hard to comprehend at times. An almost entirely flat campground flush with wooded acres and a lakeside view make this the ideal location for music lovers and those looking to get fully immersed in what Submersion has to offer.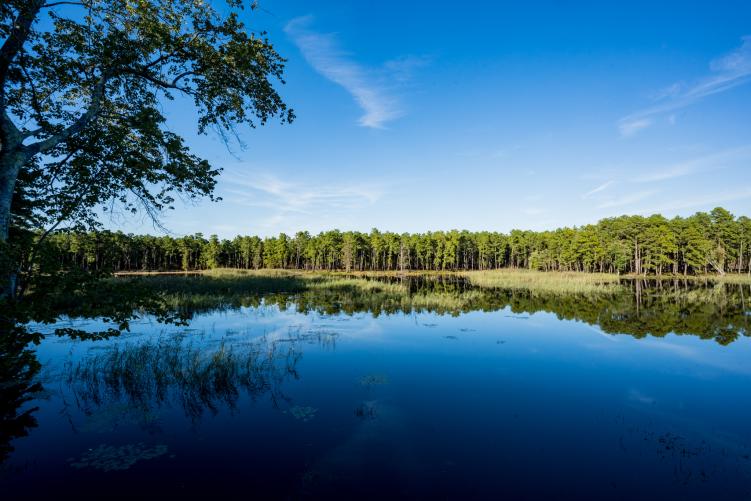 Just an hour outside of Philly and no more than two from NYC, Paradise Lakes sits comfortably within reach for fans far and wide. Those who secure a 2-day GA pass can expect to receive tent camping with the opportunity to upgrade to either a car camping or RV spot for additional fees. If you plan on attending the early entry party or parking your car, make sure you grab additional passes!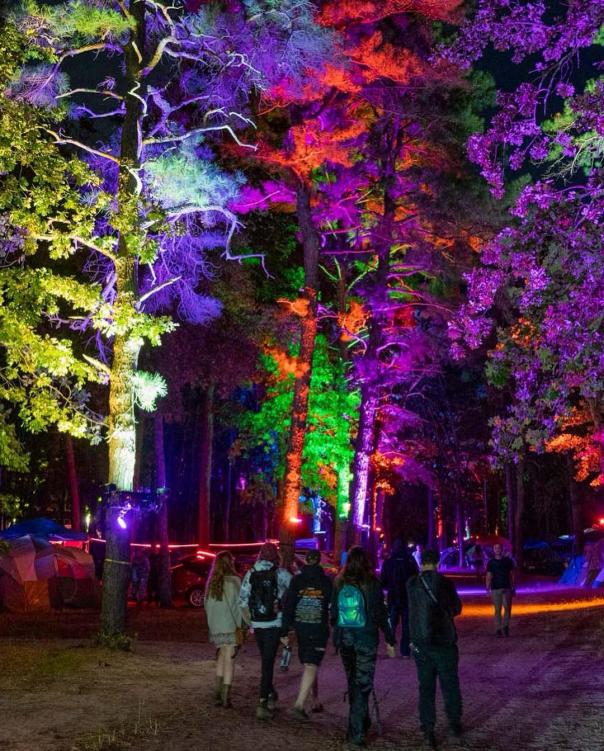 Additionally, organizers have struck the perfect distance between their dual-stage setup that limits walking while avoiding any significant sound bleed. With the production they have in tow for this year's curation, we expect nothing less.
Production – Sound That Excites

While Submersion Festival may be new, the minds behind it are no rookies to the scene. Both Aspire Higher and The Rust have been setting the bar when it comes to event production in the Philidelphia and New York music scene for years now and their experience shows.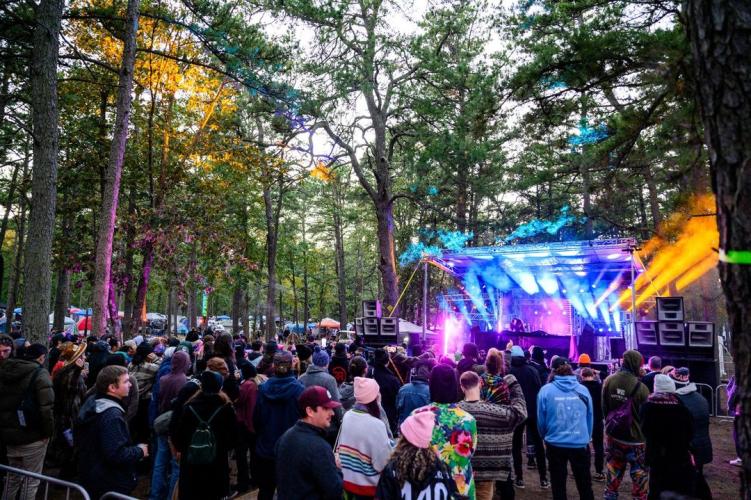 This year, organizers have tapped One-Source Productions to hold down the Beach Stage with boutique system designer Intent Audio holding down the Woods Stage. While One-Source needs no introduction, with massive festivals such as Sonic Bloom and Tipper and Friends on their 2023 resume, some fans may be unfamiliar with the capabilities of Intent Audio.
View this post on Instagram
In addition to being a custom speaker manufacturer and having the talents of Sean Hennessey on their team (creator of the Hennessey Sound Rig), Intent Audio has been steadily making a name for themselves in the Brooklyn bass scene. Appearances alongside Sermon Nation at Bogart House and The Chocolate Factory in addition to a deployment at Astronox Fest over the past year have stretched the legs of this incredibly capable sound system.
With Submersion Festival providing such a massive stage, expect Intent Audio to roll out all the stops while One-Souce looks to further cement their legacy.
Experience – Made By Fans, For Fans
One of the main reasons Submersion Festival stands out so much is due to the fact that it is made by the same people who attend it – music-obsessed fans.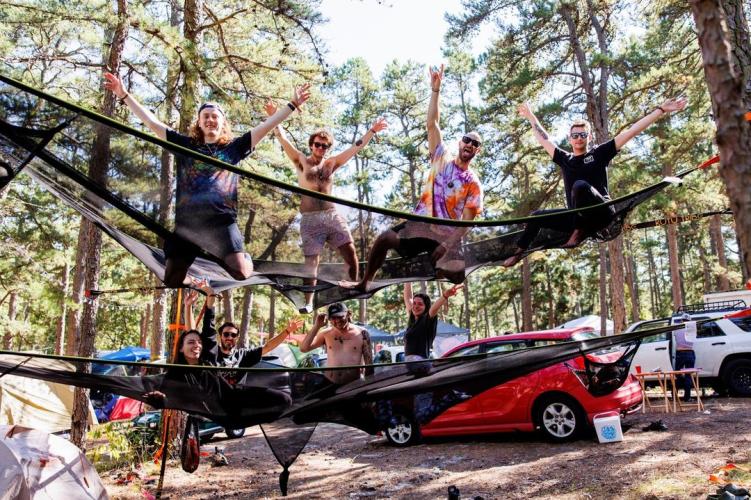 For those familiar with the Philadelphia music scene, Ryan Karolyi of Aspire Higher and Jesse Boyer of The Rust need no introduction. Anyone who has attended one of their shows know very well their heightened attention to detail and ability to curate lineups that both amaze and inspire.
While their eclectic music taste is clear by one look at this year's lineup, the organizers of Submersion Festival also have a taste for visual artistry and good eats.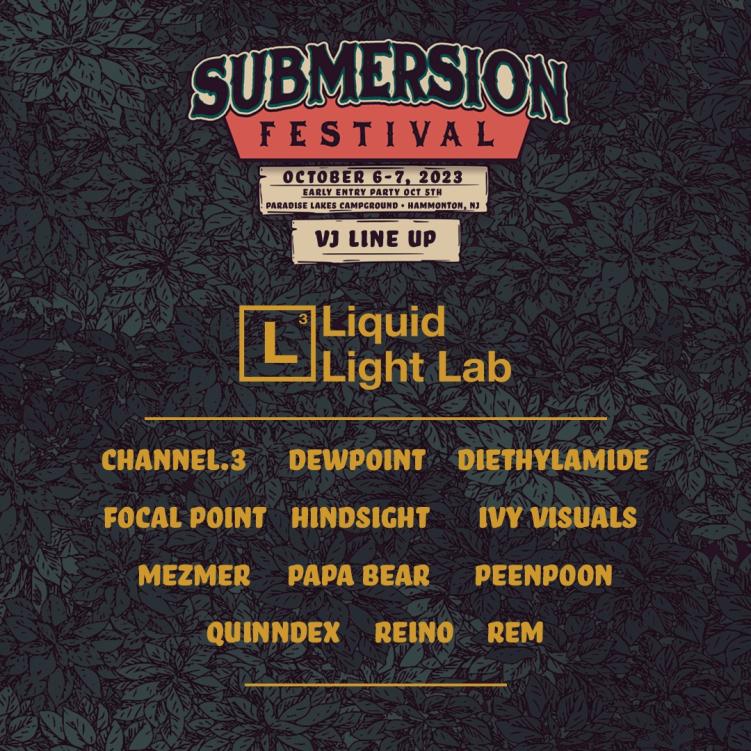 At the top of the VJ lineup we've got the enigmatic stylings of Liquid Light Lab, a legendary analog visual artist that combines dyes, colors, and oils to create insane visual projections. While the visual technology being used in modern show production is nothing short of amazing, Liquid Light Lab brings us back to our roots of the acid-soaked 60s and 70s when psychedelic light shows first began.
Pioneers in the digital realm such a Diethylamide, Papa Bear, and Peenpoon will offer further visual accompaniments that we expext to baffle, stun, and captivate audiences with illusions of every variety.
View this post on Instagram
Last but certainly not least, we've got our vendors. As far as apparel and retailers go, a few River Beats' favorites setting up shop at Submersion include the handmade imaginations of Reddy Threads, the custom-made jewelry of Shm00ps Productions, and the laser-engraved creations of Lazerdood. When it comes to grub, we've got kitchens like Humpty's Dumplings and What About Bobs making their return with Submersion first-timers Scarlet Fire Neopolitan Pizza and Paradise Taqueria Birrieria also getting into the fold.
See You At Submersion?
Whether it's the food, the art, the location, or the music, Submersion Festival has done well to check off every box imaginable when it comes to catering to the fan experience. With less than one month to go until Submersion opens up their gates on the beautiful Paradise Lakes Campground, now is the time to make your move.
Grab tickets to the festival here and keep up with everything they've got going on in the links below.
Follow Submersion Festival: