Now that the dust has settled, it's finally time for us to reflect on our experience at the wonderous Sonic Bloom Festival. Taking place at the gorgeous Hummingbird Ranch near Rye, Colorado, Sonic Bloom welcomed thousands of devout fans throughout the course of the weekend.
Featuring some of the hottest and most prominent names in the festival circuit, the music kicked off Thursday afternoon and rang into the night Sunday. With Tipper, Lettuce, and LAB GROUP as the headliners, fans of all walks were drawn to the grounds to celebrate Bloom's momentous return.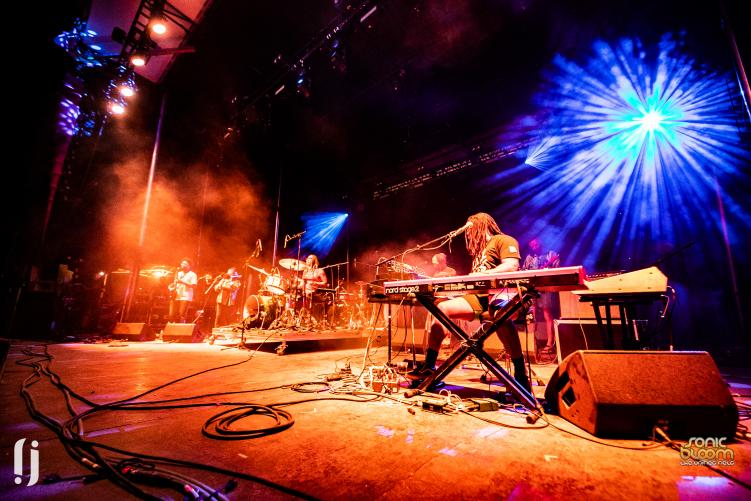 The Unified Field
More than just a music festival, Sonic Bloom is designed and planned with the intention to celebrate human creativity. The Unified Field is meant to be a container, a portal, for like-minded humans to gather, connect, create, and share with each other.
Like bees to pollen, the aim is to spread the seeds of inspiration throughout our collective consciousness. Artists bring their A-game, being provided a space to share with potentially thousands of new listeners or viewers.
Pulling into Hummingbird Ranch, attendees quickly become encapsulated by the Rocky Mountains and surrounding foothills. Campsites wrap around the valley which feels designed for this very occasion. However, it also creates challenging weather often testing attendees in years past.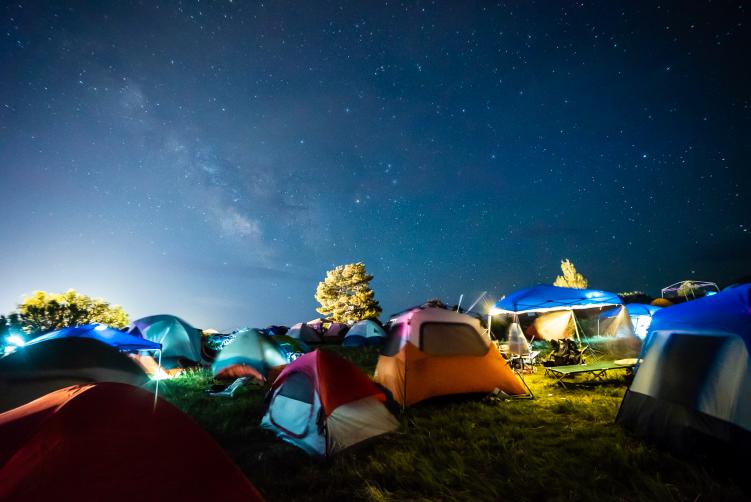 Our latest adventure would be no different, as daytime showers and wind gusts of nearly 60 MPH battered canopies and tents. It would eventually create challenges for production, shutting down the Bloom stage and several acts on Sunday. We hope for redemption for the artists that weren't able to perform.
Stepping Through the Portal
Officially kicking off on Thursday, thousands of excited campers were lined up before the noon gate opening. Cell signals began to fade as temporary home spaces popped up across the ranch, and the energy started to flow. Combining musical, visual, and interactive art, fans are quickly immersed in their surroundings once stepping through the portal.
For the opening ceremony, our host asked that we create intentions, and open our hearts up to this space created. To follow, the local native tribe shared an incredibly moving song tying them to their origins and ancestors. We could not think of a better way to begin our weekend, and fully believe it helped steer the direction of our experience.
The stage was set, and it was time to explore the grounds of Hummingbird Ranch. Featuring five unique stages, Sonic Bloom is comprised of Bloom, The Hummingbird, The Meadow, Starwater, and the Yoga D'om. Each hosts several artists throughout each day, starting early and going into the wee hours.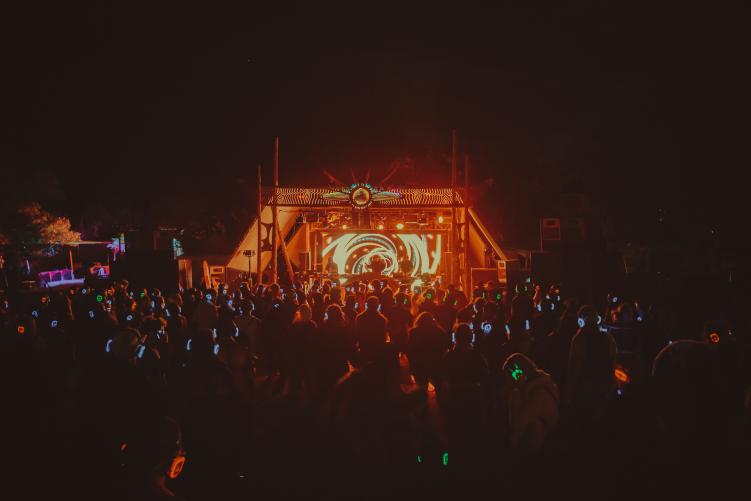 Starwater kicked off in the morning and the Yoga D'om and Hummingbird kept it going until 4. This year, we were able to mour own contribution! From 2:30-5:30 AM at The Meadow, the River Beats Silent Disco popped off allowing us to dance nearly into the sunrise.
With the likes of Huxley Anne, PhLo, Comisar, and more, attendees were able to drop in at their leisure and enjoy three different channels. If you had a good time, join us for SHIFT Thursdays at Cervantes Masterpiece Ballroom! We can't thank everyone enough for joining us.
Growing Together
Much like the Sonic Bloom theory, music is used in the Unified Field as a catalyst for growth. Community-driven artists and creators are able to share their work with a receptive audience who then share their experiences with others.
To welcome attendees into the grounds following the opening ceremony, Templo graced the Bloom stage with a familiar yet experimental blend of glitch-hop and bass-driven beats. As we navigated through the grounds, The Hummingbird Stage buzzed with excitement.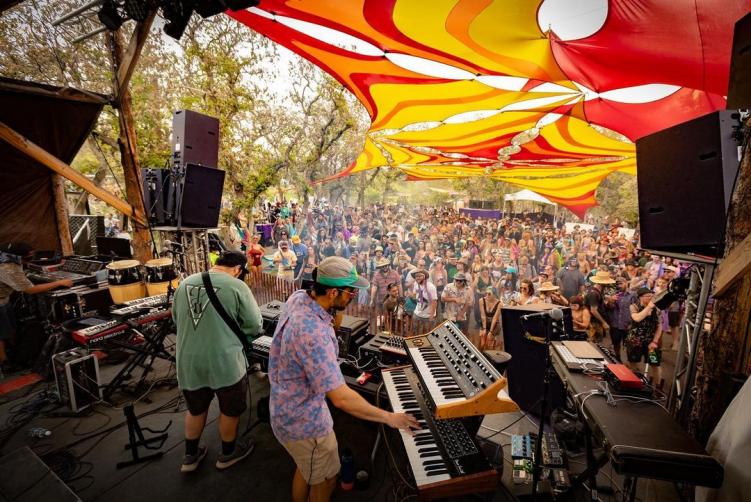 Phyphr and Kaptain, the latest generation of electro-soul and funk, filled the shaded area with familiar faces. The dynamic duo dove through classic samples mixed with their latest creations and live elements via the guitar and keys.
As hugs spread through the crowd, love filled the air. Immediately, we were reminded why we go through the efforts necessary to endure a music festival. As the sun set, crowds circulated through the grounds as the Ranch came to life.
Sounds of Sonic Bloom
There were so many incredible performances, but a few spoke to us in ways we felt compelled to share. Since the early string of quarantine streams, we've had our eye on Khiva. Once we returned to a live setting, her infectious energy, deep catalog, and incredible stage presence set the hook.
Sonic Bloom was no different with a commanding performance in the heat Friday. Both behind the decks and in front of the mic, Khiva taps into primal urges listeners can't resist moving to. We look forward to watching her continue to take crowds by storm!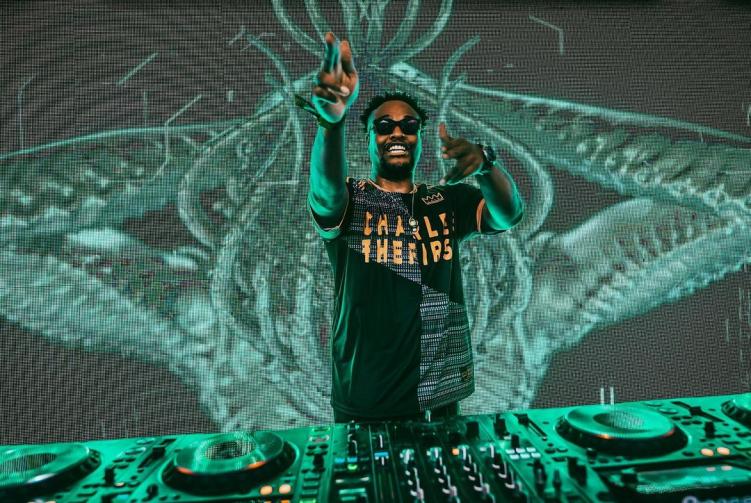 Little to our surprise, Black Carl! set The Meadow ablaze Saturday. With unbelievable mixing, a crash course of halftime, D&B, and dubstep, and the Funktion-Ones cranked, crowds were sent into a frenzy from start to finish. For the cherry on top, personal favorite Glass Crane handled the visuals. There's no question we'll see him smashing main stages soon.
Two artists who have spent years on the circuit and are aging like fine wine, kLL sMTH and Michal Menert put on masterclass performances. Paying homage to all of his dear friends including the late CharlestheFirst, kLL sMTH brought the heat in the late afternoon rolling through classics and several collaborations.
We'd catch him again later with UltraSloth, and a lucky few witnessed an impromptu gRLL sMTH set! Michal Menert prepared something special just for the sunset, and all who witnessed were blessed with one of our favorite performances from him to date.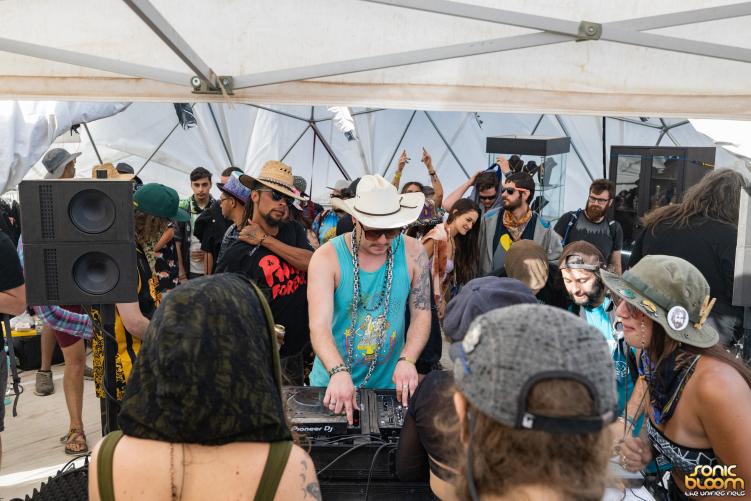 As 'Feeling Better' slowly rolled in, a sense of gratitude and joy overcame us, seeing an artist with so much passion speaking through his music. Diving deep into the catalog, he then shared his first-ever release with Pretty Lights Movement and the crowd-favorite 'Summer Love' to send us off into the evening.
Possibly our most anticipated set of the Tipper Takeover, Schmoop put the Funktion-One Veros to the test, setting the tone for the night. Paired with visuals from The Void, the crowd was in for a ride sixty minutes and would not get a break after.
A scientist in sound design, Schmoop has spent years perfecting his formula including his collaborative efforts with Jade Cicada under Wonky Llama. We believe he's onto something, and can't wait to see more.
Looks Like Storm Clouds
For several reasons, Sunday felt like an event of its own. It was an unforgettable start to the day beginning with the second installment of Daily Bread's 'Bread & Breakfast' at the Starwater Stage. Two unique menus were put together, naturally themed coinciding with tracks throughout the discography.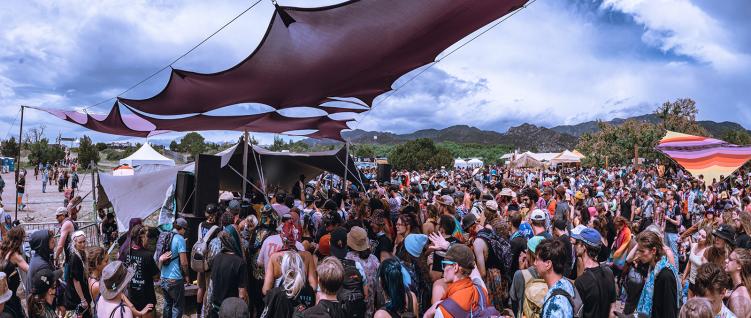 As the set kicked off, the scale of Daily Bread's growth as an artist shined. Devoted fans adorning the dB logo trickled in eventually filling the area well beyond what anyone expected. Perhaps it was the weather references, but mother nature followed shortly after. Wind gusts and eventually heavy rain paused the event for several hours.
As the weather began to settle, fans quickly sought further information until the unfortunate announcement was made. Due to the high winds and heavy rain, equipment was damaged and unsafe to operate at the Bloom stage, canceling Detox Unit, Desert Dwellers, and more.
Saving the Day
However, a faint thump could be heard in the distance as the news spread through campsites. Our crew decided to rally, finding at the end of our path, NotLö saving the day at The Meadow.
After what felt like an eternity, hope returned and the crowd grew as attendees were drawn out of their shelters. Holding no punches, NotLö filled the depleted sails of those who weathered the storm.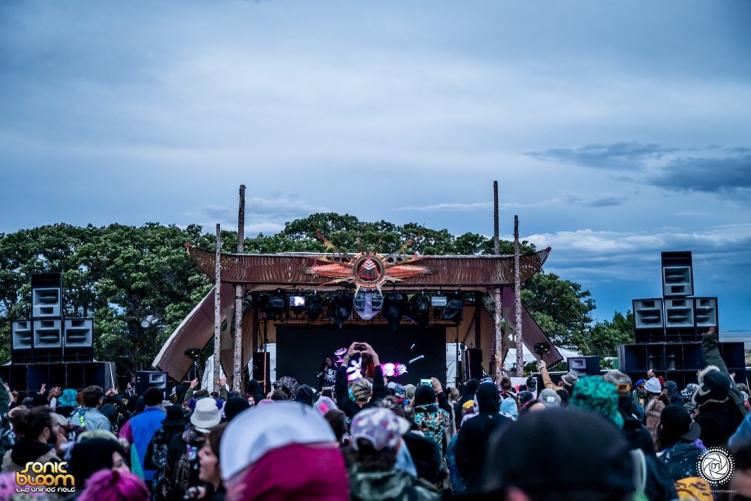 Project Aspect and Integrate (Black Carl! & VCTRE) followed up and kept the energy rolling while the Yoga D'om and Hummingbird soon came to life as well. Rumors spread quickly about what could happen to the sets for the artists who couldn't perform. One rang out and was eventually confirmed.
Desert Dwellers were set to close out the Yoga D'om, filling an empty 11 PM – 12 AM slot after Ethno, and away we went. With service being an issue across the festival, many left as the storms picked up unaware that music would go on. A stage that was challenging to get into suddenly had plenty of space.
Fans that received the message or found themselves in the right place were blessed with a sonic experience we will not soon forget. Featuring a Funktion-One surround configuration, listeners were encapsulated by the soundwaves of the immeasurably talented duo in the D'om. We couldn't think of a better way to make the most of a tough situation.
Pleasing the Senses
Along with top-notch artistry on stage, the Sonic Bloom grounds are bustling with flow artists, interactive displays, live painters, and more. Featured at both Bloom and The Meadow, performers were given a platform of their own during primetime for thousands to see.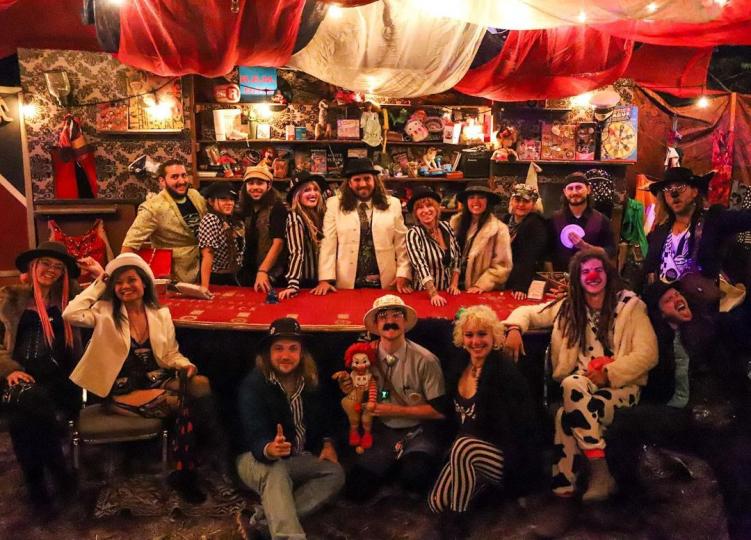 One area that saw a ton of foot traffic was the ever-popular Frick Frack Casino. Gamblers are able to place 1:1 bets at the blackjack table, or access several new features like The Claw with a heady trade.
For beverages, a non-alcoholic elixir bar and an incredible coffee shop kept the crowd going all weekend. The 'rawjuvenation' smoothie quickly became our go-to for early morning recovery.
For those looking to heal, learn, and connect, transformative workshops and yoga sessions were available throughout the weekend. At any given time, there was an outlet for patrons to immerse themselves in.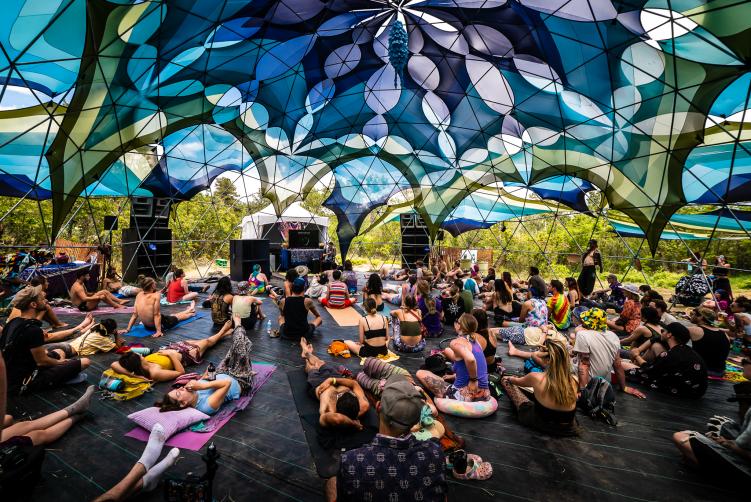 Until Next Time
We can't thank the Sonic Bloom team and everyone involved enough for bringing us back to The Unified Field. We hope with the increased interest and success of 2022, that some adjustments are made to accommodate new fans.
Vendors battled connectivity and supply issues throughout, somewhere we hope to see improvements in the future. While we loved The Hummingbird Stage, we felt a few of the artists may have been more popular than anticipated which made it challenging to access at times. The Yoga D'om faced a similar fate, with artists like Duffrey drawing a massive audience.
Because many artists agreed to play over two years ago, their fan bases have had ample time to grow, and we look forward to watching them rise to the main stages! All said and done, we had a remarkable time this year and we cannot wait to return.
For more information on Sonic Bloom, follow them on socials below and keep your eye out for 2023 announcements!
Connect with Sonic Bloom