As the weeks draw closer to Interstellar Festival, taking place this August at the Kentucky Speedway, there is a lot that you need to consider. From sleeping arrangements to the artists you're going to see, it can be difficult to know where to start.
That's why we put together a go-to guide of things to remember for Interstellar this year.
If you've already got a ticket, use this guide as a way to help you cruise through the weekend with ease and comfort knowing you're getting the best experience possible. If you haven't got your tickets yet, use this as a list of every reason why you need to be at the Kentucky Speedway on August 12th! 
Let's start with the incredible location and camping accommodations.
Camping Under the Stars
Situated right outside of the Kentucky Speedway, on lush, rolling green hills, are the campgrounds which include both regular camping and glamping. With minimal light pollution, these grounds are ideal for basking under the night sky and frolicking with your friends.
View this post on Instagram
Starting at $129, the first tier of camping permits up to 4 people, 2 tents, and 1 car per spot. Not bad at all considering you also get to bring your car. 
Those looking for a little more juice over the weekend can bump up to the next tier which includes a power hookup (30amps) for only $70 more. RV camping is also available for $599 and includes a power hookup as well.
What we are particularly excited about, however, is the "Galactic Glamping" accommodations at Interstellar this year. Starting with the aesthetics of the setup, the tee-pee-style tent is unbeatable.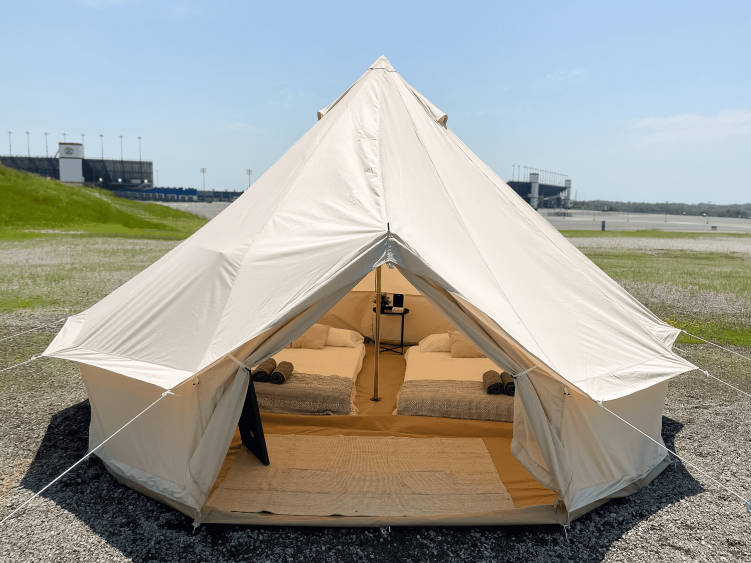 Taking a look inside the tee-pees you've got two memory foam queen mattresses, a power hookup (50amps), a mirror, storage crates, a cooling unit, a light, and clean blankets, sheets, and towels.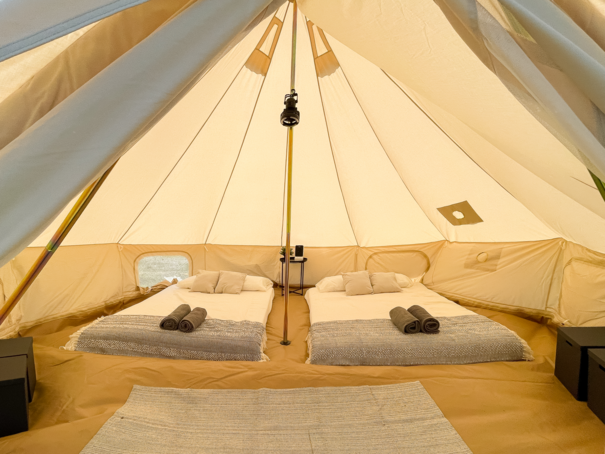 Outside of the tent, glamping attendees will be treated to free golf cart rides to the festival and access to the beauty bar and showers. Some very handsome accommodations.
Whether you're glamping or not, the entire campgrounds provide an enchanting oasis for you to explore on your way to and from the festival. Camping not for you? Discounted hotel packages and single-day tickets are available for those interested.
Live Like a Star
Also being offered at Interstellar this year is an array of upgrades and luxuries including VIP suites and insane bottle packages.
Picture this – box seats like you know from your favorite sporting events but you're watching the festival instead of basketball. With the VIP Stellar Suites, you're living lavishly with AC, a private bar, bathroom, an epic view, and even premium Wifi.
Plus, you still have the freedom to go to and from the normal festival grounds as well –  the best of both worlds. Use code SUITE22 to save 22%!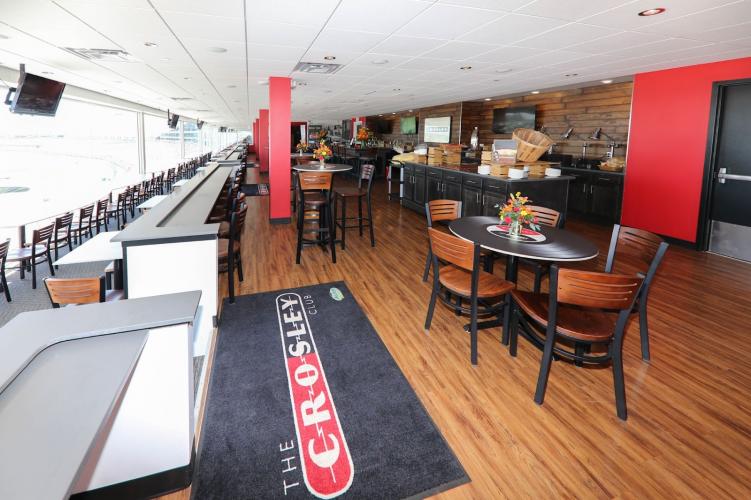 As for the bottle package, the festival is offering 8 VIP tickets, a private table, a bottle + mixers, a personal server, and a concierge to escort you to your section all on an elevated viewing platform for you and your friends to party on. And, they're doing it for 22% off when you use the code BOTTLE22.
While these upgrades aren't necessary to experience everything that Interstellar has to offer, it still makes it a whole lot better.
A Space-Aged Lineup
Now that Interstellar has announced its day-by-day lineup, you can go about making the strenuous decisions of who you want to see perform.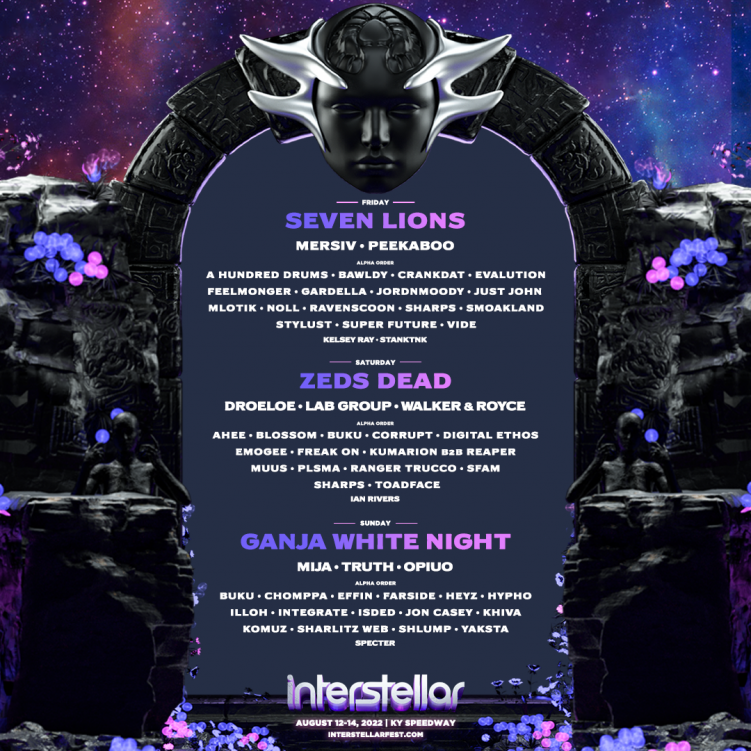 Kicking things off in high gear on Friday are artists like Vide, Smoakland, Feelmonger, A Hundred Drums, and tons more openers who are all capable of rousing crowds. Also joining the festivities on Friday will be Atlanta-born and San Fransisco-based producer Ravenscoon whose recent addition has fans particularly excited.
Headlining the first day of the festival is Seven Lions with direct support from Mersiv and Peekaboo. A tantalizing blend of future bass, bass, and dubstep. 
Some of our favorites taking the stage early on Saturday are Toadface, Digital Ethos, Buku's house set, AHEE, PLSMA, and New Orleans' Sfam who are hot off their debut LP and currently embarking on a scorching trail of shows. 
i know we posted bout beyond already but here's a vid of new music we rinsed there pic.twitter.com/MRLZmtrSpn

— š f ä m (@sfam_official) June 20, 2022
Closing down Saturday's festivities is Lab Group, who has replaced Getter, followed by Canadian powerhouse duo Zeds Dead, who are proving show after show that their peak is yet to come.
Finally, Sunday brings some very heavy-hitters to the opening lineup which includes Shlump, Khiva, Komuz, and Integrate – a duo formed by bass providers VCTRE and Black Carl! – followed by Mija, Truth, and Opiou playing direct support. 
We love the range on Sunday's card, particularly when it comes to direct support. While Truth provides that ice-cold dub to get the plates warmed up for Ganja White Night, Opiuo and Mija will send high-vibration renderings through the cosmos to gather even more momentum leading up to the headliner.
There is perhaps no better duo to close down a festival, especially this one in particular, than Ganja White Night. The Ganja White Night & Buds spectacles have shown a heightened emphasis on production value, live mixing, and visual appeal, elements of which we expect to be present during Interstellar's closing set.
Daily Theme Nights
One very exciting community feature taking place at Interstellar Festival is the "theme nights." The first is Take Off – Space Races, which is a racecar, jumpsuit, checkered flag, trucker hat kind of vibe. Day Two is the Go Off – Aliens and Astronauts theme where attendees are encouraged to wear holographic or metallic pieces, glitter, sequins, alien costumes, and the like.
View this post on Instagram
The last day of the festival, on Sunday, is the Send-Off where you can rep your favorite artists with jerseys, tees, and any other merch you may have. While these theme nights are encouraged and fun to participate in, attendees shouldn't feel obliged in any way.
Interstellar wants your weird, wonderful, and wild selves in attendance in any garment you like!
View this post on Instagram
Stay Safe!
Although it may be difficult to contain yourself from these epic sets and what is sure to be a legendary weekend, the last piece of advice we leave you is to stay safe and pick up after yourself. 
We hope you are as inspired as we are about the "leave no trace" culture being established in the music community and encourage you to promote it wherever you are. Especially at a location as beautiful as the Kentucky Speedway which is welcoming all of us lunatics to dance the weekend away on their gorgeous grounds.
Practice safe sex, always use consent, test your drugs, look out for your friends, drink water, and make sure you read that text message your mom sends you before leaving.
Festivals like this are made better by the people you share them with. Let's make this a great one! Grab your tickets to Interstellar here and keep up with everything they have going on in the links below.
Follow Interstellar: