The cover art of Peekaboo's finest release to date alludes to M.C. Escher's mind-bending "Relativity" painting. The producer's trademark skeletons appear on haphazard staircases, stubbornly defying gravity.
It's a fitting comparison as the sound design on the "Impossible" EP out on Deadbeats shatters every logical convention in modern bass music.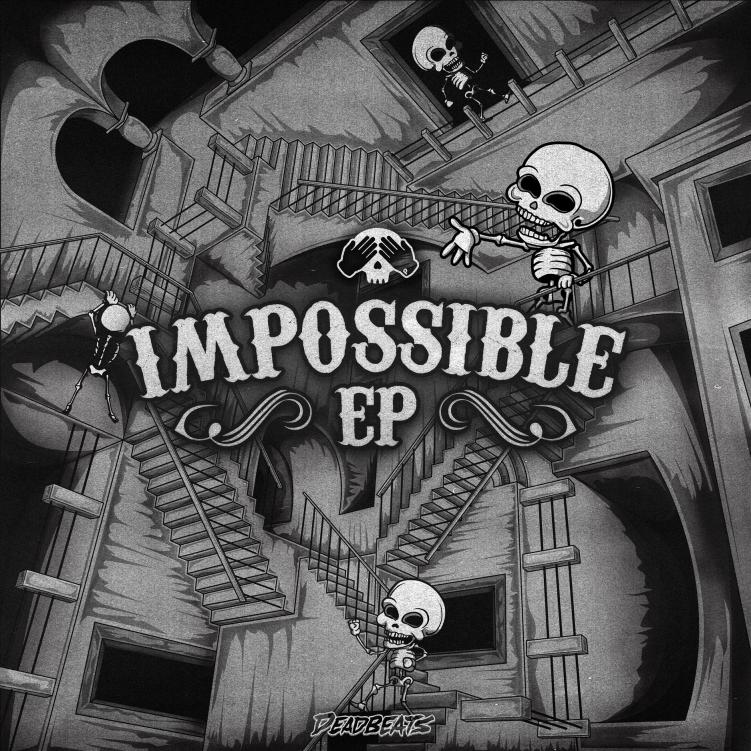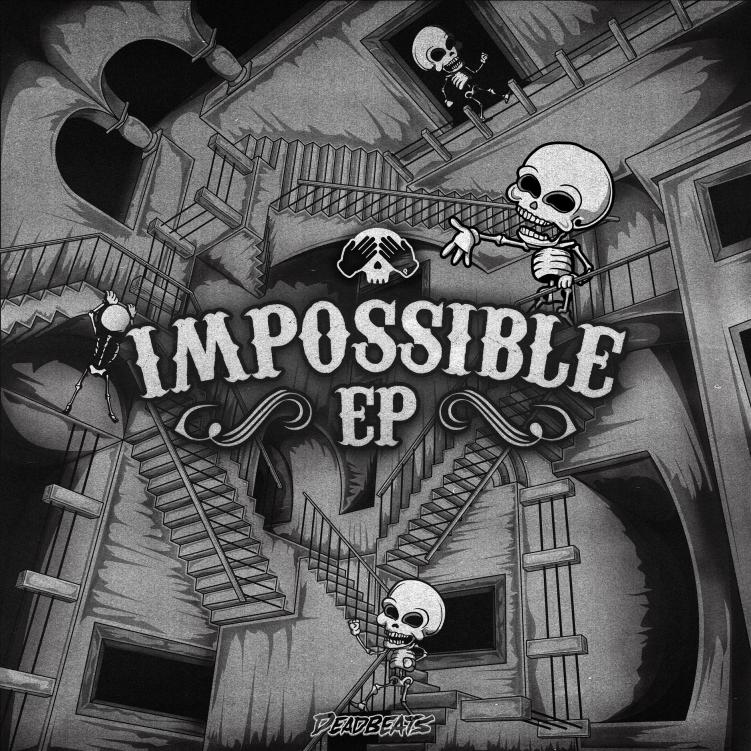 Since exploding onto the scene in 2016, Peekaboo's creations are noteworthy for not only thinking outside the box but operating ahead of the curve. "Wobbly" was the echoing plunge that immediately inspired a sea of imitators.
"Babatunde" with G-Rex was so significant tonally that it became ubiquitous. You couldn't catch a single dubstep set in 2018 without someone fading into it's sinister, viral "BWAAAAAAAAA." We wrote about how bass music existed before and after "Babatunde" here. The permanence of a track that strong should sound familiar to the millions that heard "Griztronics" played out this year.
Now that breaking barriers have become his modus operandi, Peekaboo has again left us wondering, "how did anyone make this?!"
"Impossible" is what we called it. The title track is anchored by a slow, shadowy click that belies the disgusting, heavily modulated storm that tears across the beat like the Tasmanian Devil. The clipping atmosphere is hair-raising before the second drop's razor-sharp frenzy leaves you nothing less than terrified.
"Nut Case" kicks up the tempo considerably, with hefty rave stabs bouncing off of vocal chops. Space clears out for the awe-inspiring modulation to again absolutely explode in the margins. Hearing the slimy, lurid tones morph quickly from phrase to phrase is so intense.
I'm guilty of annoying Peekaboo about this third track since he teased it months ago. Now titled "Rock the House," it features my favorite sound design on the EP. Unexpectedly, a thumping house shuffle steers the rhythm and it's damn catchy.
Surprise! The second drop strips away the funky texture for one of the wickedest sounds I've heard all year. There's silence, and then a "pew pew pew" ray gun chirp that would leave jaws on the floor live. It's so simple and deadly, and I've never heard anything like it.
"Smack" finishes everything off with a sort of nightmarish confidence. There's an evocative horror film synth pulsing over a bulldozer of low-end. It sounds like a Cronenberg monster let loose on city streets, air raid sirens galore. The last drop chops everything up a second time, leaving you exhausted and scared.
Peekaboo has had a prolific year, remixing everyone from Zeds Dead to Billie Eilish. His original releases have been flooring, even sinister. The "Impossible" EP, however, sees a left-field artist coming out of left field to break his own rules, with a swagger and vision that's nothing short of dastardly.
---
Photo courtesy of Anastasia Velicescu