Taking place the weekend of October 14th + 15th, 2022, BOSS WAVE is a two-day, multistage massive combining some of the most decorated names in electronic music with a one-of-a-kind audiovisual accompaniment that will blow your top off.
The minds behind the massive, which includes event curator NXT LVL and record label Obskure, have a reputation for making waves in the scene and BOSS WAVE is already looking tsunami-like. 
Just a few of the names set to perform at the Harrisburg Midtown Arts Center (PA) this October are NERO, Pendulum, EPROM, 1788-L, Coki, Esseks, Space Laces, and The Widdler in addition to a well-decorated undercard.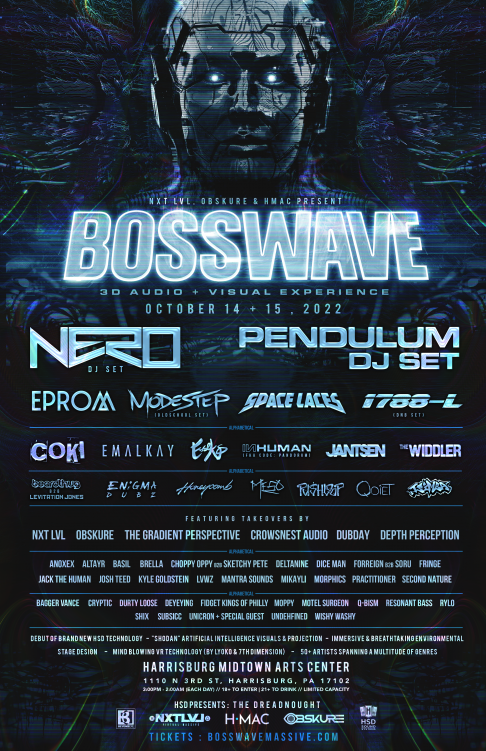 In addition to a stacked lineup, BOSS WAVE is bringing in HSD Soundsytem's biggest indoor deployment to date and a 3D, AI-powered visual configuration that we have never seen rolled out at a US show, festival, massive, or otherwise.
With so much in store for BOSS WAVE, we wanted to take a moment to break down everything that the epic massive has in store for attendees – starting with the lineup.
Aspiring Acts & Electronic Icons
A lineup hits its mark when it strikes the right balance between big-name artists and up-and-coming acts. If a bill spans all the way from the darkest depths of the underground to the more well-known spots of the mainstream, it will be an event fans want to go to.
In BOSS WAVE's lineup, the curators did just that, featuring new and old artists who have recieved fame in both foreign and domestic markets.
Starting at the top of the list, you have NERO who needs no introduction. After releasing their debut studio album in 2011, Welcome Reality, which reached number one on the UK Albums Chart and features smash hit "Promises," NERO went on to cement their name in electronic music and continue to make their presence known today.
More recently, NERO accompanied deadmau5 on the We Are Friends Tour where they are proving that their days eviscerating dance floors are far from over.
One of the next biggest names on BOSS WAVE's bill this year is Western Australia's Pendulum. After taking a near 10-year hiatus, the drum & bass-focused group reemerged on the scene with their Elemental EP and a new-found desire to get back to their roots. If you don't know who Pendulum is, you may know dubstep legends Knife Party which is made up of Pendulum's founding members – Rob Swire and Gareth McGrillen.
Another artist we are particularly excited about is EPROM. Receiving incredible admiration for his work on the SHADES project with Alix Perez as well as enjoying a very busy touring schedule in the past months – both with AP and on his own – the grammy-nominated artist is one of the most unique acts in electronic music. 
Characterized by ambiguous soundscapes and haunting, dystopic melodies, EPROM's releases are as soulfully displacing as his sets. Definitely an act you don't want to miss come October.
Hailing from the south London suburb of Croydon, Coki is one of the most influential musicians in the world of 140 and dubstep. Having received props from Skrillex, Skream, Caspa, Rusko, and more, Coki's fanbase runs just as deep as his dubplates. Whether it's at a warehouse in Bristol or the Harrisburg Midtown Arts Center, you can count on Coki to tear apart a soundsystem where ever he goes.
Rounding out some of the bigger acts we have Esseks whose EP, The Uncertain Future, is just two months old. Receiving plenty of live play, fans can expect this recent project and tons of unreleased bangers to fill his set. We also can't forget about The Widdler who, like Coki, is a 140 and dubstep legend known for rousting crowds and stretching speakers to their limit.
As for the undercard, some artists you need to arrive early for are Mantra Sounds, Choppy Oppy B2B Sketchy Pete, DiCE MaN, Bagger Vance, Rylo, Resonant Bass, DELTAnine, and Mikayli.
AI & 3D-Powered Visuals + "The Dreadnought"
Making an incredible lineup even better are the audio and visual deployments that BOSS WAVE is rolling out this year.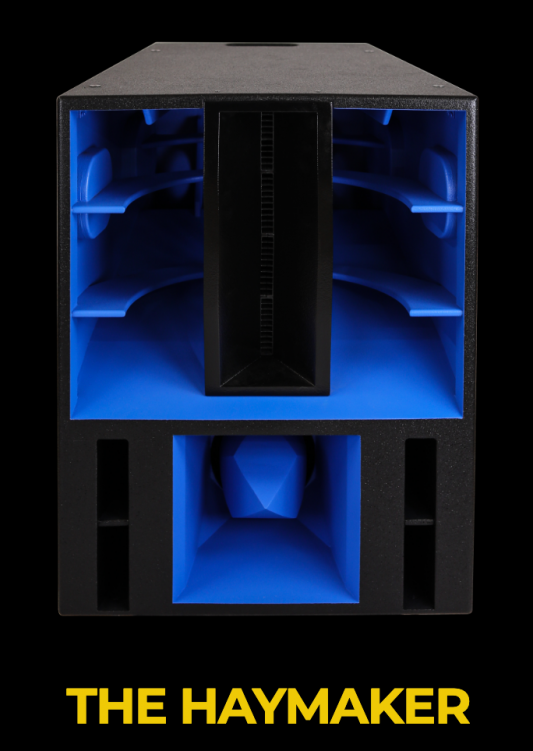 Tapping the crew at HSD Sound Systems for their biggest indoor deployment to date, BOSS WAVE will feature a rig referred to as "The Dreadnought." The system features some of HSD's new Haymaker tops as well as some of the company's most cutting-edge technology. Revered throughout the country for having some of the most dependable and hard-hitting speakers and subwoofers on the market, HSD has been featured at various festivals across the US.
Expect BOSS WAVE to be another feather in the cap of HSD's 6 years as a high-quality audio provider. 
Falling in line with the grade of the sound for the weekend is the visual production that event curators are debuting this October. The storyline of BOSS WAVE bares more resemblance to a futuristic sci-fi thriller than a music event as it features a rogue Artificial Intelligence that becomes self-aware and starts to hack the venue's visual system. 
However, it is much more than a storyline as BOSS WAVE actually has an artificial intelligence-powered system in place that uses technology that allows their production team to interact with the AI, advanced coding formulas, and 3D projections to create visuals that match the energy of the crowd; all while allowing the artist to portray their intended vision for their set. Essentially, the more the crowd moves the more visually intense and reactive the visuals become.
It is one thing for a festival to go all out on their lineup but to develop a storyline that actually comes to life for attendees like this goes above and beyond what a lot of festivals and similar events are doing today. 
Offering both single-day and weekend passes for great prices, BOSS WAVE massive is not a weekend you want to miss.
Grab your tickets to the event here and keep up with updates in the links below.
Follow BOSS WAVE Massive: