Deadmau5 has announced its own festival – DAY OF THE DEADMAU5 – and it's coming to Miami this October.
After missing most of the 2020 festival season, the announcements for late '21 festivals are everything we need. And a full fest geared around one of our favorite artists? All the better.
So far, we know the 3 day and 3-night festival will take place over Halloween weekend, include multiple deadmau5 shows, and include pool parties, club nights, and a "massive lineup" that has yet to be announced.
The weekend itinerary includes an unplugged Deadmau5 sunset show, an "are you not afraid" welcome party, and a Pomegranate Pool Party.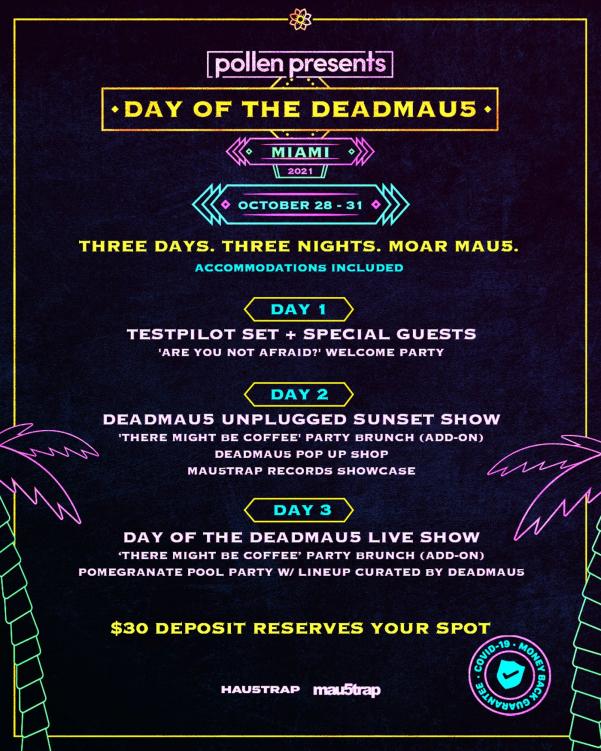 Presented by Pollen Experiences, they describe the event as "a totally immersive experience where music and gaming collide with Halloween."
Unlike most festivals, DAY OF THE DEADMAU5 includes all accommodations. It's a unique structure that comes with all Pollen Experiences.
Pollen is structured specifically for group travel, citing that "travel is better when you invite friends."
Packages include hotel accommodations and start at $439, with only a $30 deposit to secure your spot and monthly payment plans.
Plus, every Pollen Experience gets you access to private events, exclusive nightlife, a variety of adventure add-ons to best fit your group.
As a Pollen Member – when you book an event you get automatic access to easy group booking, flexible payment plans, and affordable reservation deposits. However, if you want to take your experience to the next level, you can create a group of your own, start inviting friends, and earn points towards exclusive Pollen Rewards (think free trips, VIP upgrades, and private group events.)
Follow the horde to DAY OF THE DEADMAU5 Miami October 28-31, 2021.