At this point, we've filled you in on some of the headliners and must-see acts at Submersion Festival 2022. Now, we want to talk about everything else.
With so much to think about and consider in the days leading up to the festival, things can become quite stressful. Making sure you have all of your equipment, taking time off of work, saving up money, setting up travel arrangements, and getting your plans straightened out with friends are all boxes you need to check off.
So to make things easier on you, we've put together a guide to show you everything you should take into account going into the weekend. From tips on how to prepare to highlights in production, here is everything you need to know about Submersion Festival 2022.  
Weather & Nearby Stores
Before we get into the sweet accouterments that Submersion Festival has in store, there are a few key factors to keep in mind. The first of which is the weather.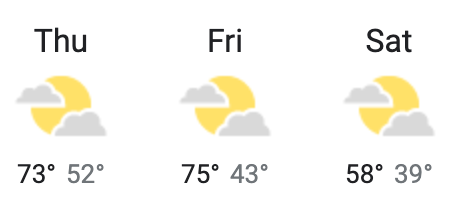 As of now, the forecast is calling for clear skies all weekend long with the exception of a few clouds. That being said, we are expecting to see temperatures drop into the low 40s with a high of only 58 on Saturday. Making things even colder will be the wind coming off the lake so campers should make sure to pack warm.
For those of you who want to pick up some last-minute supplies, your best bet is going to be the Shop Rite in Hammonton at 80 S White Horse Pike – just 12 minutes from the festival grounds. If you're coming from New York, Route 206 gets pretty bare so don't expect to find many major grocery stories past the ACME in Mt. Holly. But even that is a little bit of a ways off the highway.
Keep in mind that if you are doing car camping or RV camping you will not be able to leave and re-enter the venue. Our best suggestion for you is to plan ahead and get your supplies before you leave!
Venue Map & Location
Once you arrive at Paradise Lakes, which must be between 2 PM and 10 PM and Thursday, 10 AM and 10 PM on Friday, or 10 AM and 8 PM on Saturday, you must check in at the box office. This is with the exception of all RV campers who MUST arrive on Thursday by 10 PM.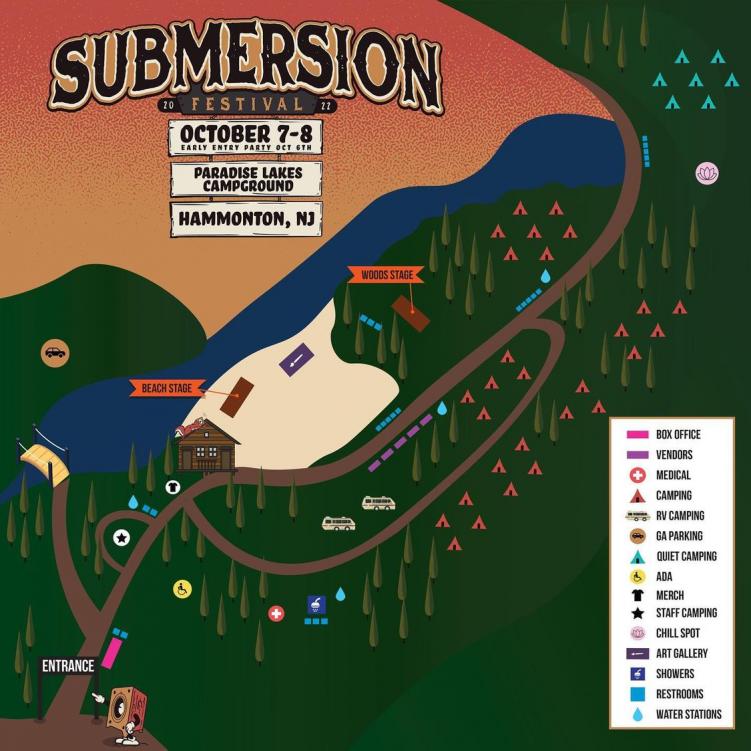 Those who got car camping will be able to drive right up to their spot whereas those who didn't will have to park their car in a designated lot and make a short trek to GA camping. That being said, Submersion is allowing attendees to set up shop with friends in car camping pending space limitations. You just have to walk your belongings from the parking lot to the site.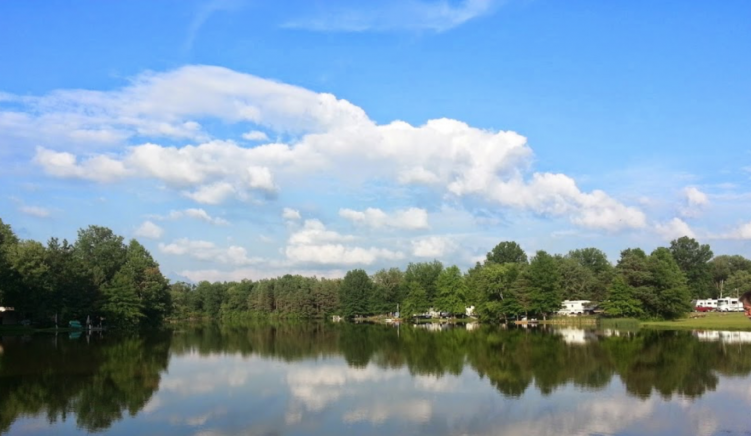 Once you've settled into camp it won't take long for the beauty of Paradise Lakes to enrapture you. Tall trees and lush greenery fills the space with a lake that borders part of the campground. From the looks of the site map, it doesn't look like attendees will have to travel very far to and from their camp or even between stages.
Speaking of the stages, festival curators The Rust and Aspire Higher have got the bar set high when it comes to sound and production. 
Sound System & Production
Ever since its introduction to the American market earlier this year, Danley Sound Lab's BC218s subwoofers have become a hot commodity. First unveiled at Yonderville, the subwoofers are renowned for their quality, accuracy, and insane power.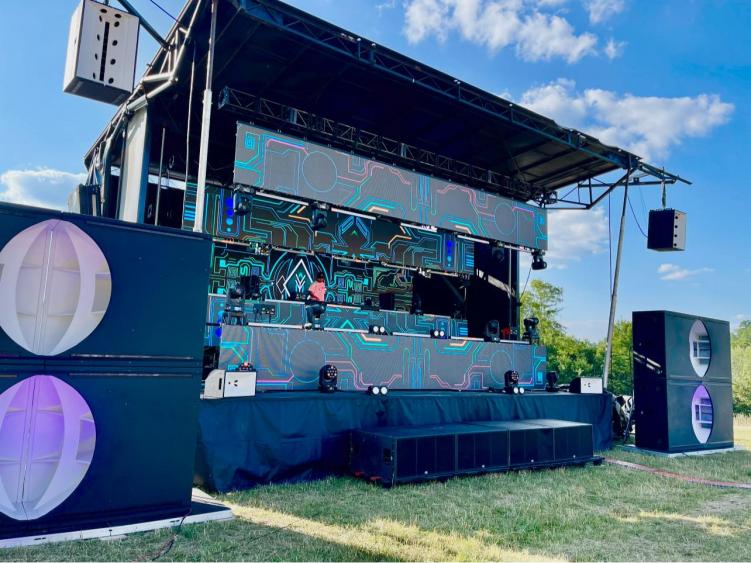 Luckily for those going to Submersion Festival, the Beach Stage will be equipped with this legendary system where artists like Koan Sound and Luke Vibert will be flexing it to its fullest capacity. Holding down the system for the event will be The Sound Live alongside Fungui Productions who are producing a custom stage design and production build.
As for the Woods Stage, One Source Productions is deploying a Funktion-One Evo7 rig, the likes of which have been relied on at festivals and shows for years. What we are most excited about regarding the Woods Stage, however, is the stage and production build coming from the minds of Lazershark and Mike Jaws. Having toured with Pretty Lights and now working in some capacities with Daily Bread, Lazershark is a genius when it comes to lighting design and live visuals.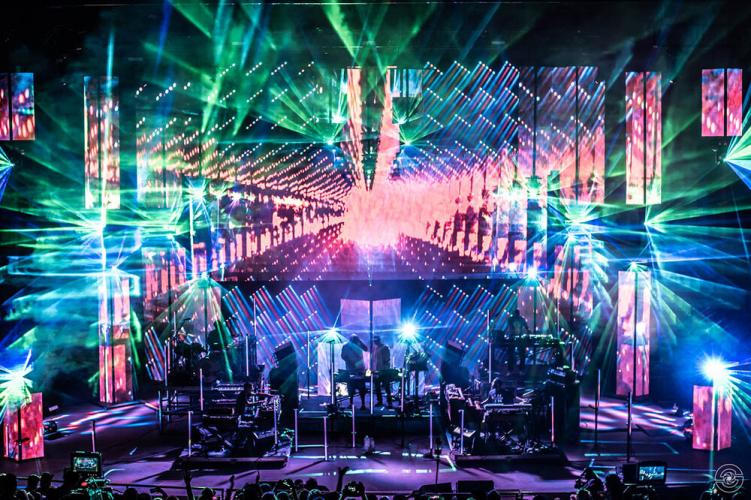 Definitely expect both of these stages to be hitting hard no matter what time it is.
Vendors & Visual Artists
Rounding out what looks to be an immaculate weekend, Submersion Festival has curated an excellent selection of artisans and vendors in both the food and craft realms.
As for the food, we've got Humpty Dumplings slanging fried bundles of joy in all varieties, What About Bobs cheffing up kabob platters and bowls, The Jubilee Food Trailer with the OG chicken and waffles on a stick, Bam Bam's Bake House providing you with your sweet tooth cravings, and Welcome This Is a Farmhouse holding down the vegan offerings with homemade and homegrown selections.
View this post on Instagram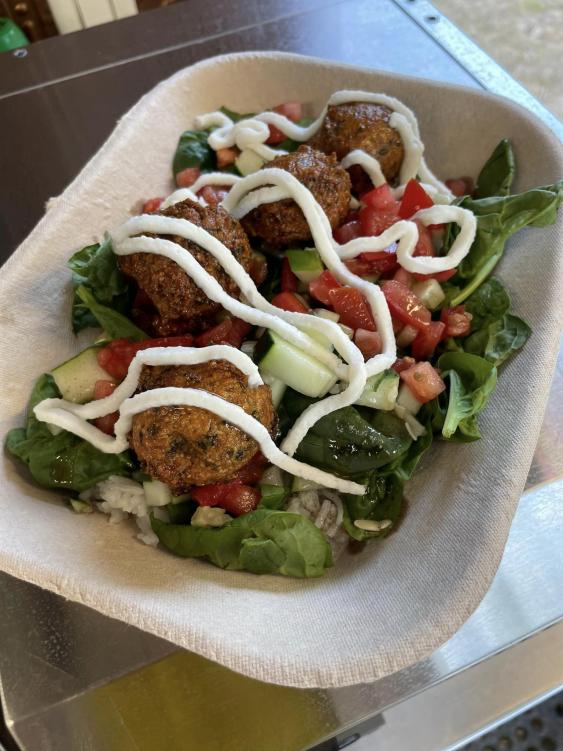 When it comes to the craft vendors, it is going to be hard to not find something you like. Everything from clothes and accessories to glassware and hemp products, the vendor list is littered with masters of their crafts and impassioned artists. 
View this post on Instagram
While all of the vendors are worth checking out, a River Beats' favorite is Reddy Threads who has been spinning handmade bags, clothes, accessories, and even furniture in and out of the Philadelphia/NJ area for the past few years.
Submersion Festival Vendors:
Artensians Market
Blackzen Apparel
Cannasseurs Shop
Dare 2 Dab
Monarch Creationz
Nomadic Movement
Reddy Threads
Shmoops Productions
The Conscious Frequency
Third Eye Pinecones
Tony's Terps
Wormtown Trading Co
People Grow Together
Last but not least we have the live painters, muralists, and glassblowers who will be providing nothing but visual vibes across the venue. Whether it's the geometric mazes and anime pop art of ChemDogMillionaire or a glass-blown banger à la ObiWook Glass, attendees will not be without mesmerizing art and activations to gaze upon.
Glassblowers
Belf Glass: @BelfGlass
Casta Glass:@CastaGlass
Evan Shore Bangers: @EvanShoreBangers
ObiWook Glass: @Obiwookglass
Chris Sculli:@ChrisSculliGlass
Shipley Glass: @ShipleyGlass
Sobe Glass: @Sobe_Glass
Vino Glassworks: @VinoGlassWorks
Live Painters/Muralists
Gavinger: @gavinger_
Mysterylias: @mysterylias
Gabbie Attardi Art: @astralgab
Eva Sturtz: @evasturtz
Sarah Vaccarello: @sarah.vaccariello
Ramon Trujillo: @ramjillio
Art by Koi: @ramjillio
Croz Arts: @crozarts
Eyes Movie: @eyesmovie
ChemDogMillionaire: @chemdoggmillionaire
Snare: @dab.slabbath
Loonah: @alessandra_hc
Alex Moso: @alexmoso_art
Andys eye candy: @andys.eye.candy
GuMo
MIMS: @mims.artproject
Laurs Truely: @lauras_mindinpencils
Gabrielle D. Veneziani: @_gabrielledveneziani
Carissa Robinson
Jeremy Legge: @jeremy_legge
Whether it's the art, location, lineup, or overall curation, there are a lot of reasons why Submersion Festival is a can't miss this year. So if you haven't already, snag your tickets and start packing your bags because in a matter of days, Paradise Lakes will see one of the most legendary festivals of 2022 take place on its sandy shores and wooded acreage.
Follow Submersion Festival: