In ancient Sanskrit, the word 'Somnium' means 'vision in a dream,' or in more modern terms, a fantasy. While all of our interpretations of fantasy may differ, for Joe Koidl and The Universal Emotion, their fantasy consists of a North Philly warehouse, projection-mapped visuals, and a cast of experimental bass artists dropping sonic pleasures on a Funktion-One sound system.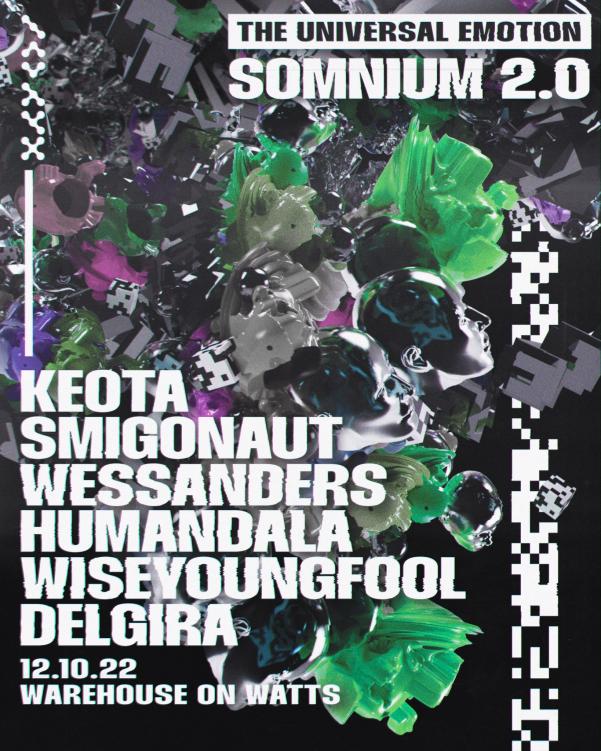 As the second iteration of the event series, Somnium 2.0 features a culmination of everything that drives The Univeral Emotion – music, art, and community. With the intention of spotlighting the underground and delivering art in a universally accepted way, UE has created an event that checks off all the boxes.
From the lineup to the location, here is every reason why Somnium 2.0 is a can't-miss event.
Sights & Sounds
Headlining the event is Denver-based sound designer KEOTA with support from Smigonaut, Wessanders, Humandala, Wiseyoungfool, and Delgira. Taking the reigns on eye candy for the night will be visual provocateurs Clear Void, Tyme Visions, and Pixel Mover.
KEOTA
October 2022 saw KEOTA release his debut LP, No Hands, an album that traversed emotions and offered listeners a deeper look into his exploratory capabilities. Known to animate his sets with hard-hitting plates and zestful energy, KEOTA will certainly be dispensing his best come Saturday.
Smigonaut
Having also released a full-length this year, Smigonaut has stayed busy in 2022 opening up for massive acts like Kursa and Resonant Language along with performances at festivals like Nocturnal Funktion, Astral Project, and Sol Fest. The last time he and KEOTA shared a bill was this time last year at King's Theater when they were opening up for Jade Cicada, a gig that further illustrated Smigonaut's staggering brilliance.
Wessanders
The Rust Music label's Wessanders is an artist who has been commanding attention in recent times for his raw, polyrhythmic stylings and low-end production prowess. As a fellow Berklee College of Music grad alongside Smigonaut, Wessanders adds immensely to the depth of musical IQ that will be present at Somnium 2.0.
Humandala
From the gooey and cavernous realms of glitch-hop and neuro-bass, we have Humandala, a potent musician capable of contorting crowds with his uncontrolled experimentation. His most recent release is a tight, two-piece EP with fellow explorer EOS that sheds light on an artist not even close to his precipice. 
Wiseyoungfool
Philadelphia local Wiseyoungfool is one of the city's most slept-on producers. In "Lizard of Oz," a single from his 2022 LP Emerald City, he displays a knack for glittered soundscapes and dreamy textures. However, work from the rest of his discography, such as Night Watch, goes to show he can play with anything from illusive synthesizers to crunchy basslines.
Delgira
We couldn't think of a better artist to start the night off than Delgira. While she is no stranger to the boisterous attitudes of low-end bass music, her flavor tends to land in the cooler waters of ambient and trip-hop. That being said, Delgira has been known to stretch out some serious crowd-shakers in previous sets, most notably during her appearance on one of The Universal Emotion's live streams in 2020, so make sure you get to the show early for this vibe provider.
Tyme Visions
Using a custom stage design for a night of projection-mapped visuals, every VJ entering the booth for Somnium 2.0 will be administering top-tier artwork. One particular media manipulator the Philly scene has grown fond of is Tyme Visions. Whether it's contrasting black and white angles on the trees of Glendinning Rock Garden or arranging complex matrices of colors and shapes on the shores of Submersion Festival, Tyme produces optics that stun, captivate, and entice audiences everywhere.
View this post on Instagram
"We have built upon our design from last year and completely enhanced our stage. It is a 2.0 version of our stage to go directly along with our 2.0 event. It is a giant upgrade and we cannot wait to show it off and light it up with some top-tier VJs. We will also feature a completely interactive visual installation that attendees will be able to mess with the entire show."
Joe Koidl, Founder – The Universal Emotion
In addition to an incredible audio-visual lineup, Somnium 2.0 will be fitted with vendors selling everything from squishmallow earrings to handmade garments and accessories. As for live painters, Somnium 2.0 will feature the tantalizing and lip-biting work of Eyes Movie, the psychedelic street art of Gumo, and much more.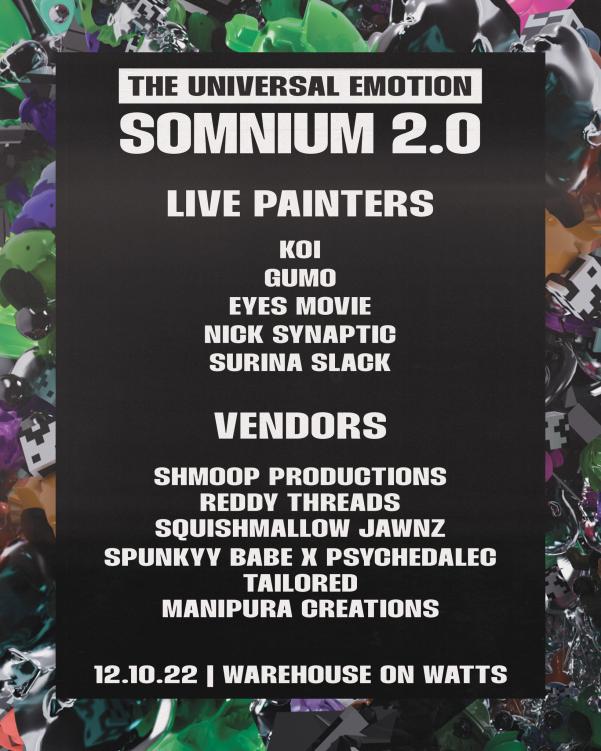 Warehouse on Watts never fails to disappoint and considering the talent and hardware that will be on site for the night's festivities, we expect The Universal Emotion's last show of the year to provide nothing but sparks.
Grab your tickets to Somnium 2.0 here and keep up with everything The Universal Emotion has going on in the links below.
​​
Follow The Universal Emotion:
Facebook | Instagram | Twitter | SoundCloud | Twitch