If bass music sounds good any day of the week, then why do we have to wait for the weekend to convene with our friends and hear some hammers played out? Thanks to The Universal Emotion and their monthly mid-week gathering, we no longer have to. 
The Universal Emotion (UE) is a Philadelphia-based collective that looks to put a spotlight on the underground music scene and the many artists that it consists of. Led by chief curator Joe Koidl, known by his stage name AVRGE JOE, The Universal Emotion has booked several artists whose sounds have reverberated in underground renegades, dance halls, and music venues across the country. Producers like Relativity Lounge, Mindex, Mindtality, Entangled Mind, and ST4RFOX, are just a few of the names to have graced a Universal Emotion flyer. 
View this post on Instagram
In an effort to continue shedding light on the underground music community and quench Philly's insatiable thirst for bass music, The Universal Emotion has devised an event series called Verge to take place one Wednesday a month at Century Bar in South Philadelphia. For May's rendition, the third installment of the series, UE is inviting master selectors Audio Goblin, Ace On Earth, and Delgira to provide the vibes for a mid-week meltdown.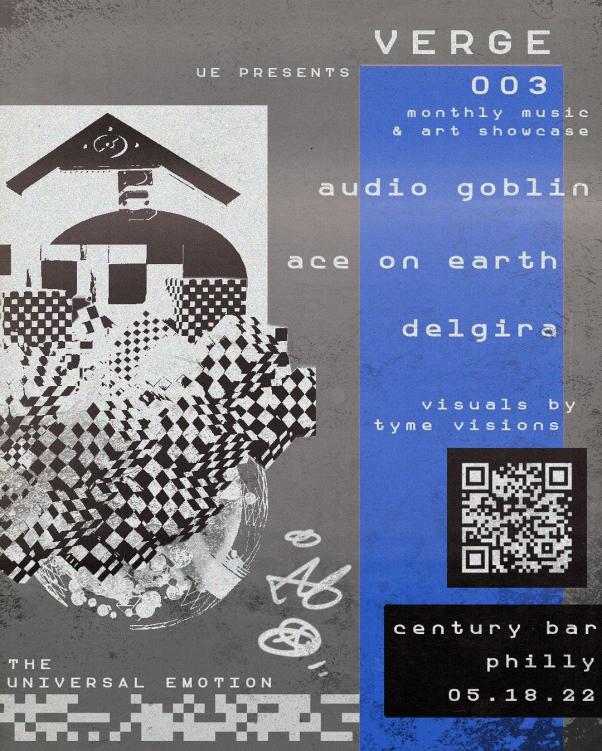 Having just received an honorable mention for his submission in the Tipper & Friends Suwanee contest, Audio Goblin is an artist you need to take note of if you haven't already. As an artist with a mild following but a heavy-hitting sound, he is exactly the kind of producer that Universal Emotion is trying to feature in their monthly series.
After a huge success following the first Verge Wednesday, which featured Shapesift, Bandito Jones, and Motel Surgeon, expect The Universal Emotion to keep the momentum going into their May 18th event and beyond.
Grab tickets to the event here and keep up with everything The Universal Emotion has going on in the links below.
Follow The Universal Emotion:
Facebook | Instagram | SoundCloud | Twitch