This past weekend, Elements Music and Arts Festival celebrated its 6th year as a multi-day camping event in explosive, entertaining, and rambunctious fashion. Hosted at the historic Poconos Raceway in Long Pond, Pennsylvania, Elements Fest promised fans 3 days of high-octane electronic music, edge-of-your-seat performances, and riveting art spectacles from all across the board.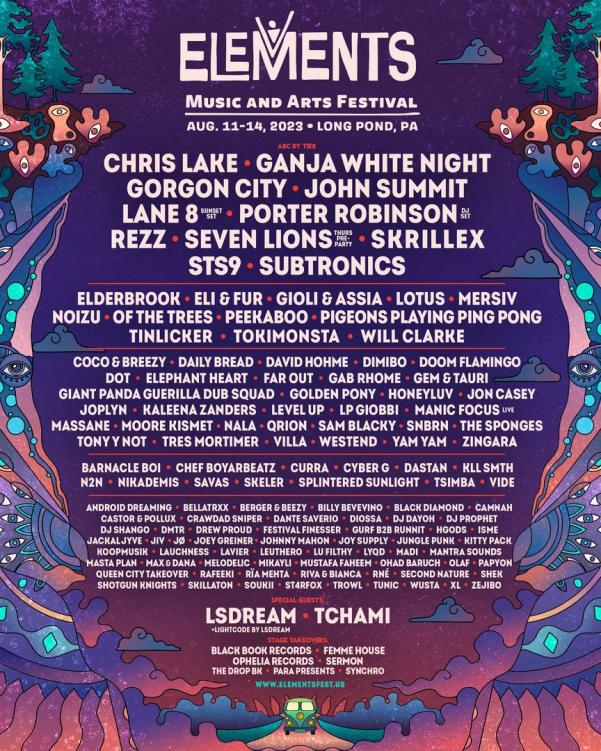 Following a difficult year in 2021 and a massive redemption in 2022, organizers were looking to make 2023 the biggest and best rendition in the festival's history. With a massive lineup featuring both EDM icons and titans of the underground in addition to immersions of every variety, all the cards were set for Elements to stake their claim as the best independent music festival in the Northeast…and perhaps beyond.
For this year's iteration, we were fortunate enough to be invited down to offer coverage and see if Elements Festival could live up to the hype. The following is a first-hand synopsis of how the weekend went down including notable performances, interesting encounters, praiseworthy installations, as well as compliments and suggestions for the organizers.
Notable Performances
Day 1 – Shrimp Man Vs. Summit
While Friday wasn't the most anticipated lineup of the weekend, headlining acts Tchami, STS9, and Ganja White Night still delivered in full and started the weekend off in high fashion.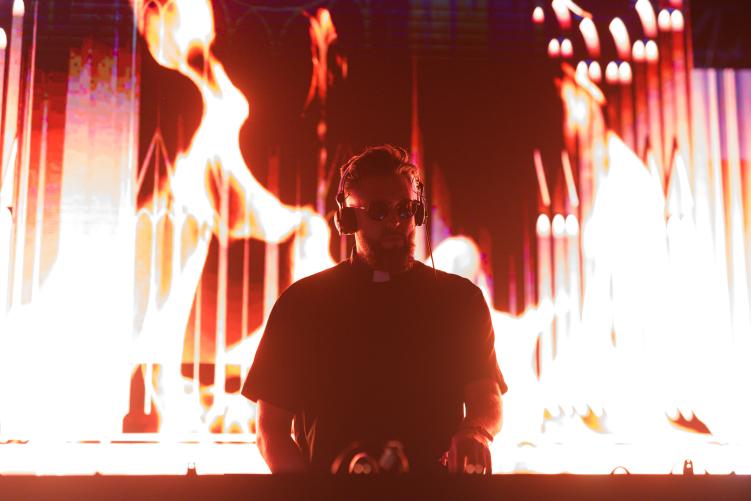 That being said, Crawdad Sniper and John Summit stood out as some of the best sets of the night.
Following Mersiv's set at the Earth Stage, bass connoisseurs swarmed the Wub Hub while jam band fans dissipated to Lotus and house heads to Tinlicker. At 9 PM, Crawdad Sniper took control of the unmanned stage and proceeded to slaughter the crowd with unreleased bangers and recent tracks from a trio of EPs he released earlier this year. While Crawdad's infectious on-stage energy was hard to keep my eyes off, it was just as enjoyable seeing new fans get down at their first seafood buffet.
About two hours after Crawdad Sniper's set, we rolled up to John Summit on the Fire Stage doing what he does best – making everyone lose their absolute minds.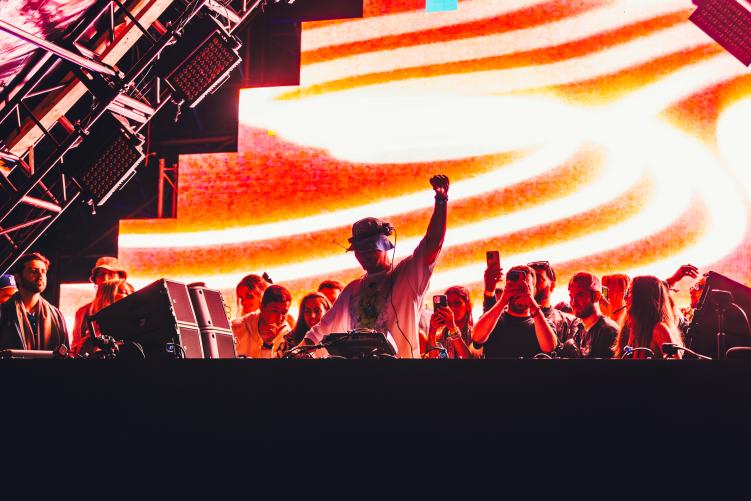 While the older generation might be skeptical about the Chicago-bred party boy, there is no denying that he can stir a crowd. Hedex, ZHU, aggressive techno, and even some Subtronics graced his main stage set. However, it wasn't until later that night during an impromptu renegade appearance that Summit really let loose. Featuring back pocket remixes, dubstep, and tracks of every variety, Summit was throwing more plates than a Decepticon-inhabited dishwasher.
All with a cheeky grin on his face.
By the end of Day 1, it was clear that festival organizers had delivered on production as both the Fire and Earth stages were the biggest they have ever been by a sizeable amount. As the night closed off, one thing was certain – Elements Festival has begun.
Day 2 – Parachutes on Lane 8 & Skrillex Master Class
When Saturday rolled around, it was hard not to think about anything but Skrillex later that night. However, there was still a potent list of artists before him including Zingara, Daily Bread, Lane 8, LSDream, Subtronics, and more.
Unfortunately, some technical issues arose during Zingara's set which pumped the breaks on what would have been a classic set from the young bass maven. Regardless, the way she handled the issues with grace and good-hearted nature was impressive and her response did well to keep the vibes of the crowd intact.
View this post on Instagram
Just about an hour later we shifted over to the adjacent Fire Stage to witness one of the most anticipated sets of the weekend – Lane 8's sunset performance. Despite the absence of a sunset due to cloudy skies, the 90-minute set was still magical as ever. With parachutes descending down from the heavens, Lane 8 laid out his glistening and nostalgia-inducing style for a wide-eyed audience.
As mist turned to a light drizzle, Lane 8 blessed the crowd with all-time favorites such as "Shatter" and "Sunday Song" in addition to his brand new collaboration with Le Youth, "I Will Leave a Light On." When the light drizzle turned to rain, we began to make our way out of the venue as Lane 8 bid us adieu with those tender synth notes and angelic vocal accompaniments.
By the time we got back to our camp, lightning and thunderbolts over the Pocono Mountains forced organizers to put a temporary pause on the festival. Despite the storm, we were certain Skrillex would still perform.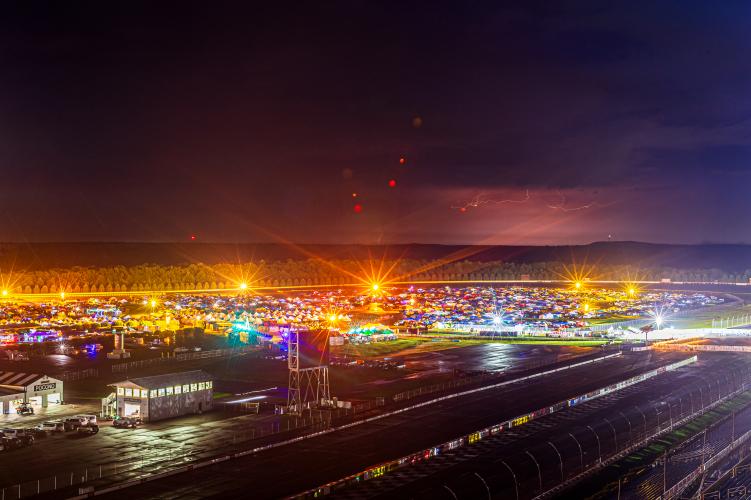 Right before midnight, we got the notification that doors were opening back up and Skrillex would indeed be fulfilling the urge that 20,000 + fans were currently onsite waiting for.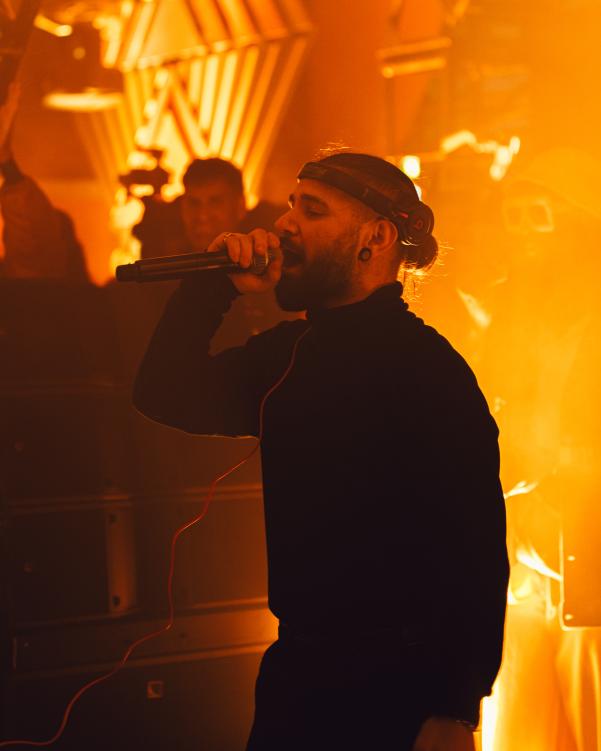 When Skrillex finally took the stage, every need and expectation that we had was met in full. While he started the set off playing hits from his recent albums, he did well to mix in surprises and throwbacks that kept the crowd on their toes. The set quickly progressed into beautiful chaos with Skrillex mixing samples and layering tracks in ways that hardly seemed real. His ability to clip the sweetest morsels from tracks, whether it's the aggressive lyrics in "Chop Suey" or the build to "Better Off Alone," and combine them into a cohesive mix is simply nonhuman.
Barely able to lift our feet from the gooey residuals of the melting pot that was Skrillex's main stage performance, we made our way out of the venue as day two came to a close.
Day 3 – ST4RFOXYGEN, Of The Robinson, & Renegade Business
When Sunday morning poured in, it seemed like the grounds were still pulsating from the banner performances the night before. LSDream's light code set – an ambient sonic experience intended for meditation, relaxation, and internal reflection – brought some tranquility to the day, but only for a moment.
A few hours later, performances by ST4RFOX and The Sponges got the pace going with Lavier, Curra, and Vide bringing the speed up to par right after.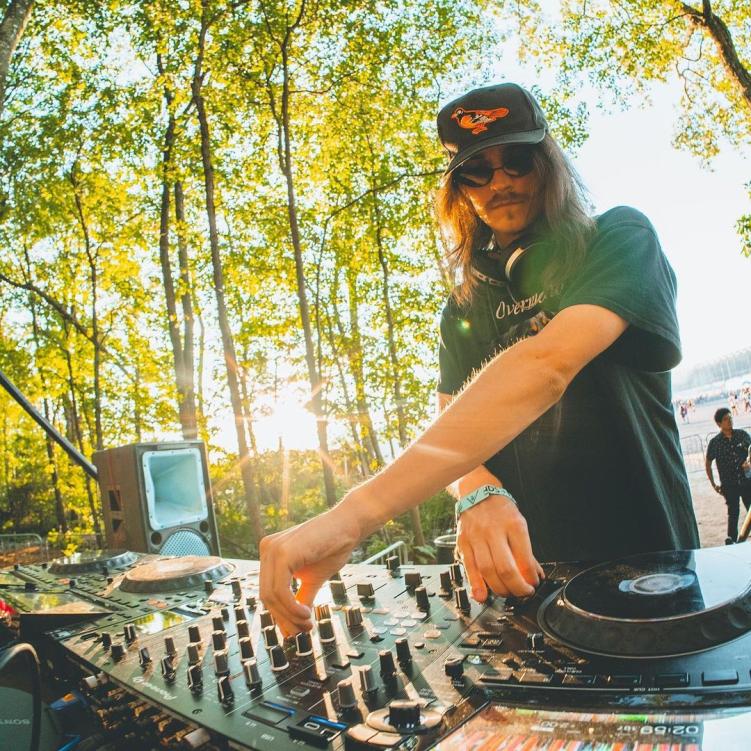 Of these early performances that Sunday, it was the Maryland native Vide who really impressed. While his song selection stood alone, it was his mixing prowess and ability to neatly stitch songs together with style and finesse that made him stand out as one of the best performers on the Wub Hub stage all weekend long.
After a brief intermission back at camp, Of The Trees demanded our attention at the Earth Stage. Unreleased music from Saka, Hamdi, and Cesco, in addition to plenty of crowd favorites were rinsed as Of The Trees made his Elements debut in marvelous fashion.
After an hour and some change of dark tempos and cavernous soundscapes via REZZ followed by a spectacular fireworks show, Porter Robinson arrived to close the Earth Stage in angelic fashion.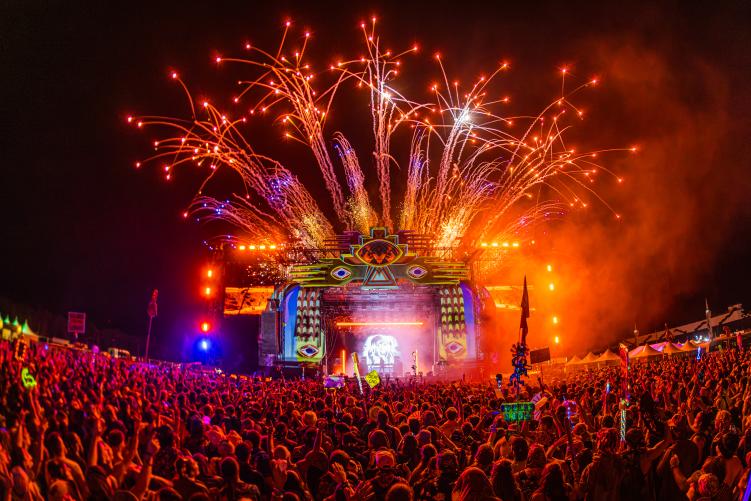 The set began bright as can be, a stark contrast from the red rampage that crescendoed just before. Almost at the exact second that the clock struck midnight, Porter let a long-hovering "Fellow Feeling" drop into the mutated and glitched-out abyss that it is.
9 years after first listening to it, Worlds was right there staring at me in the face. While the tracks had stayed the same, my life and I had become so much more different in that near-decade. The moment offered me a deep moment of self-reflection that I won't soon forget.
By the end of his 75-minute symphony of bliss, Porter had played all the favorites from "Language" to Nurture. At this point, I was more than satisfied, but in much chagrin to my quivering calf muscles, fading vocal cords, and sleep-deprived body, there was a little more music to be heard. As someone who lives for the renegades, there is no shot I was missing the last night of sound camps. Previous nights had not disappointed so rumors of triple B2B's and insane guest appearances had my hopes set extremely high on the late-night lottos.
After a bit of here and there, we set up shop at the Soundz Organic x AfterShock sound camp which had been steadily pumping good sound, high-tier visuals, and heavy bass all weekend round. The magic moment finally came around 3:30 AM when Chef Boyarbeatz and Soukii arrived on stage and proceeded to dip into some low-end deviance and freestyle methods. They played dub, roots, and reggae, so spliffs were lit. They played some uptempo and DNB, so people got out of their seats. It didn't matter what day or time it was, those guys had The After Funktion stage at their fingertips and were doing whatever they wanted.
By the end of their set, there were no more boxes to check off. The bar had been set and met. Time for bed.
Interesting Encounters & Praiseworthy Installations
While the music was certainly at the centerfold of this year's Element's Festival, there was so much more to explore. Aiming to create a world-class theme park for music and art lovers from all walks of life, Elements Festival did well to include an abundance of on-site activations, art installations, and immersions.
View this post on Instagram
At the top of my experiences when it comes to installs at Elements 2023 was the Vinyl Wellness Center located in the VIP section of the Earth Stage. Intended to give patrons refuge from the fast-paced nature of festivals, the Vinyl Wellness Center offered an assortment of therapeutic, rejuvenating, and holistic services to ease the mental and physical fatigue of fans.
View this post on Instagram
While we contemplated deep tissue massages, IV therapy, swiss ionic med beds, and even a biocharger made from a Tesla Coil, it was the Oxygen Bar that we decided to reinvigorate with. As we donned the nasal cannulas and started the session, ST4RFOX used his accompanying air to finish off his set on the nearby Earth Stage with sweet renditions on the Saxophone.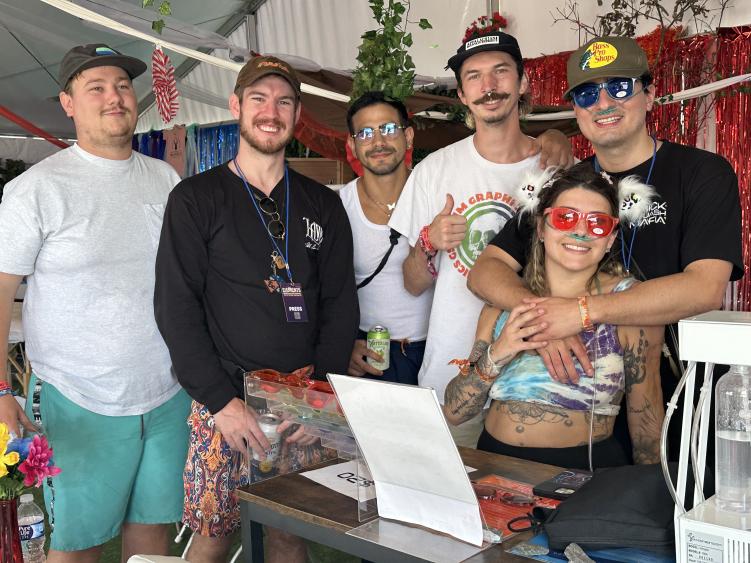 Founded by the wonderful Kristen Dray, Vinyl Wellness is filling a gap that so many festivals are missing. The more you take care of yourself during a festival, the more you will enjoy it, plain and simple. Keep an eye out for Vinyl Wellness and their curative remedies as we believe they will soon be a mainstay at several major festivals.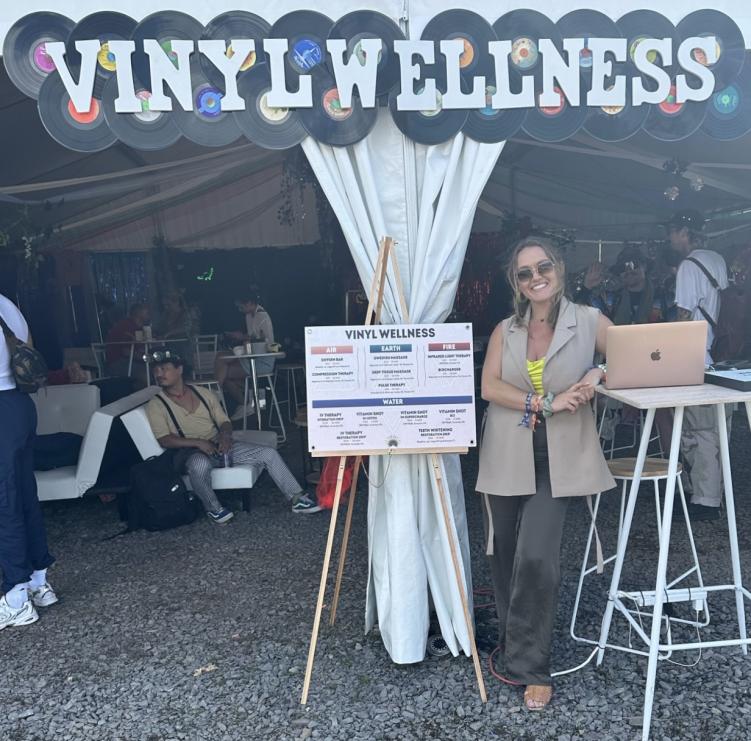 Right in line with the health and vitality vibes purported by Vinyl Wellness are the fire and ice offerings of Steam On Wheels. Providing both mobile saunas and ice baths, Steam On Wheels fuses the beauty of alder and Nordic spruce to create one-of-a-kind rejuvenation services for exhausted partygoers and those looking to enjoy the festival with healthy alternatives.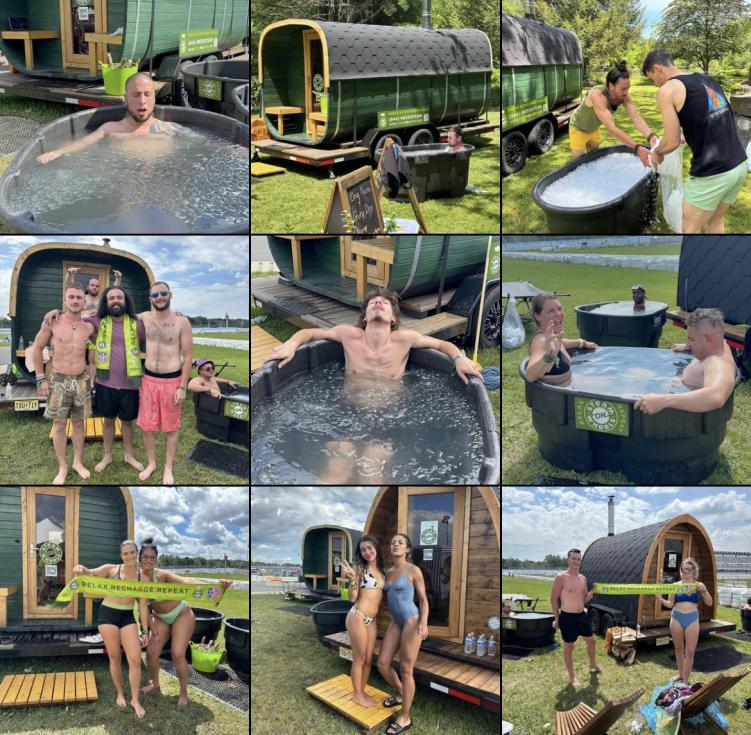 While every immersion we came across was beautiful and strange in their own way, whether it was the secret porta-potty door that led to a speakeasy or Olga Klimova's sprawling shade structure past the Wub Hub, it is nearly impossible to rival the novelty and hijinks at Frick Frack BlackJack.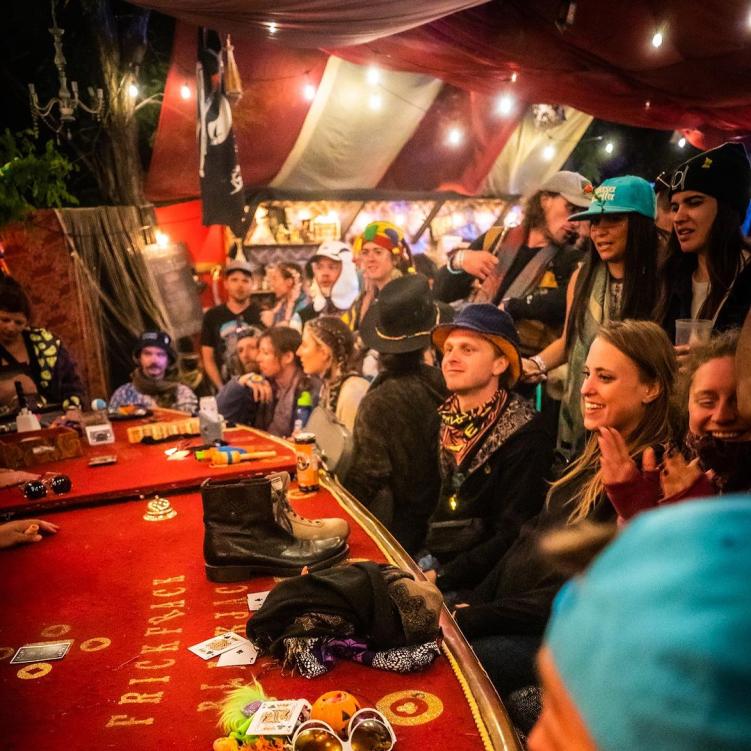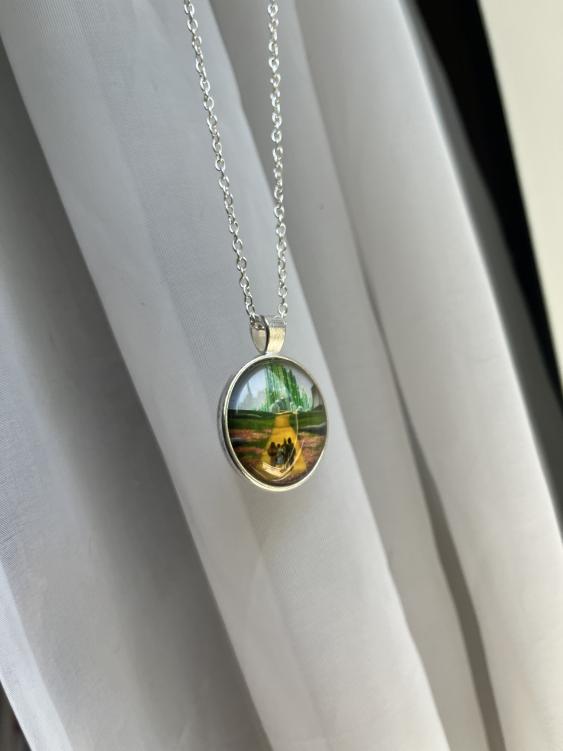 On our way out of the venue from Porter Robinson's closing set at the Earth Stage, we stopped by to wager what we could and play our last hands of the weekend.
In the time that we were there, we saw a man with a bag full of beach toys, rubber chickens, walkie-talkies, and all sorts of nonsense wager everything from Harrisburg to high hell. In the short few seconds after I finally won a hand and this beautiful Wizard of Oz Pendant, we saw a man lose an entire violin and a remote control helicopter. The madness was perfect and just what my appetite craved after a weird and extravagant weekend.
Compliments & Suggestions
While there is no doubt that the artists, performers, and installs got the job done, the execution and delivery of festival organizers receive the most important critique. During this year's Element's Music and Arts Festival, we saw management do a lot of things right and a few things wrong.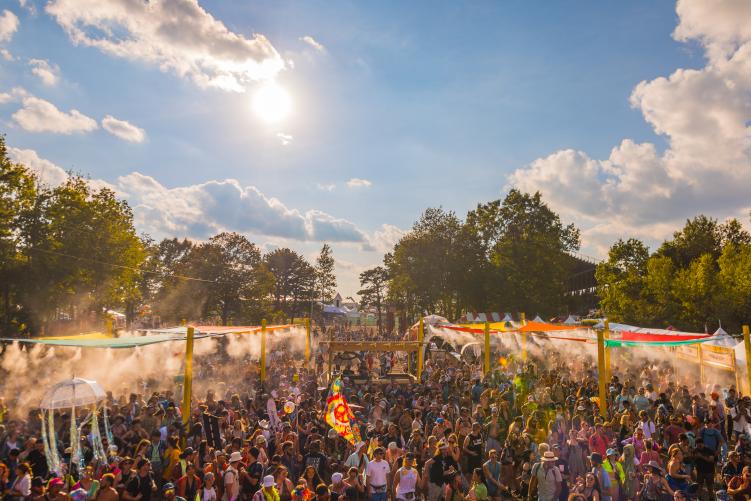 Suggestions
When it comes to what they fell short in, we believe Elements Festival could have done better with communication and security contracting. Although Elements had a designated app to send notifications on, they failed to use social media or any alternative means of communication to give critical updates and important news. Most notably, during the reopening of festival grounds following the rain delay Saturday night.


In regards to on-site security, there was a considerable amount of complaints regarding professionalism and consistent rules. Following a handful of unfortunate incidents on Friday, the festival and security personnel were forced to institute new rules regarding entry items and bag policies. This resulted in several unhappy guests and frustrated security guards who were unable to communicate the reason for these new rules effectively.
While the new policies were reasonable given the circumstances, festival organizers could have handled the adjustments better by releasing a social post or having a friendly liaison go down the entry line to let people know of the new amendments. In regards to various incidents regarding the security guards in pink vests, we recommend Elements Festival put a higher priority on contracting and vetting security teams to work their festival. All this being said, Battle Tested Security, one of the companies hired to protect festival patrons, lived up to their reputation in full with great attitudes and high levels of professionalism.
Aside from some communication breakdowns and some missteps in security contracting, Elements Festival delivered on every promise they proposed in past years.
Compliments
At this point, it goes without saying that Elements Festival's lineup and production was without a doubt the best it has ever been in the existence of the festival. In addition to that, their new venue checks off all the boxes that were missed prior to 2022. Getting into the festival was reasonable and getting out involved pretty much no line at all. Food was abundant, water stations were almost always full and nearby, and trash cans were dispersed efficiently.
When it came to drainage, the festival grounds did just what was promised – drained and dried in record time. In the areas that needed assistance, such as the Air Stage Sunday morning, organizers were quick to find solutions. Even LSDream himself commented on how quickly festival organizers laid woodchips and made the Air Stage inhabitable and enjoyable for attendees of his 11:00 AM Lightcode set on Day 3.
By the end of the weekend, there were certainly more smiling faces than grumpy attitudes. Especially on Campground 20.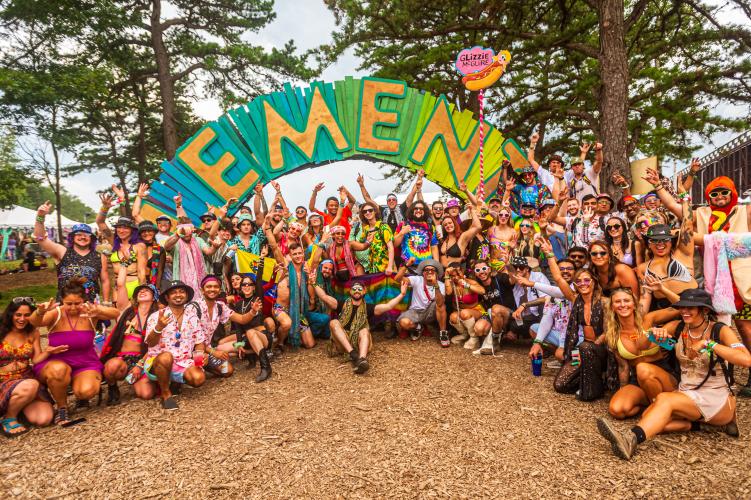 River Beats Dance salutes Elements for being so bold and innovative in their event design and always taking chances on the beautiful mysteries that accompany innovation. With lots to celebrate and a little to improve upon, we can't wait for Elements Festival to return in 2024 and dazzle us all over again. Make sure to keep up with Elements Festival in the links below to see what they have in store for years to come.
Follow Elements Festival:
Website | Facebook | Instagram | Twitter | YouTube
Featured photo credit: Elements Festival, Jake West, Adi Adinayev, and Jamal Eid
Featured video credit: @djergann (IG), @soukiibass (IG)