This story begins with a renovated church van loaded with 30+ box televisions driving through a hurricane. In the wake of the Bonnaroo 2021 cancellation, Elements Festival in Lakewood, Pennsylvania stated that their Labor Day Weekend events were still set to go down. I joined Smooth Canoe Visuals, a duo of analog visual artists, on the trek to Lakewood, PA to see the events unfold.
We arrived around 2:30 AM Wednesday morning at the Theater Stage as The Drop BK was putting the finishing touches on their Hennessy sound system – a heavy-hitting setup that was to provide the late-night entertainment for the weekend. We worked early into the morning setting up Smooth Canoe's TV wall and as the sun came up, Lavi campgrounds continued to transform from a Jewish summer camp into a mystical wonderland. 
Thursday night went off without a hitch, featuring a pre-party for early-arrival attendees with the likes of Yheti, Walker & Royce, Diceman, and Keenan, to name a few. But as Friday morning came around, a very serious issue became quite clear – attendees couldn't get into the festival.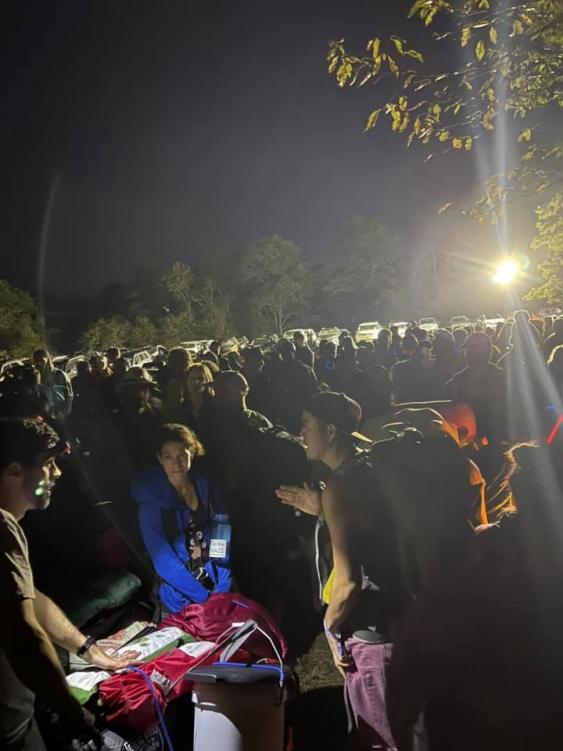 Three hours turned into five, five turned into nine, and for some attendees, nine even turned into 16 hours waiting either at the gate, in traffic, or stranded in a muddy parking lot. The elements from Hurricane Ida had flooded one of the lots and a large portion of GA camping, so event staff, and pretty much everyone arriving, were left scrambling. And to make matters worse, Esseks and Supertask suddenly canceled their Friday afternoon sets due to COVID complications. 
Day 1 – CHEE to the Rescue
The bottleneck continued into Friday night and the early morning as fans trickled into the venue. Promoters were able to produce CHEE to replace Esseks, who provided a stunning set full of live edits and unreleased tunes at the Earth Stage around 10 PM. Next up was Rusko who provided an hour full of floor scrubbing drum and bass.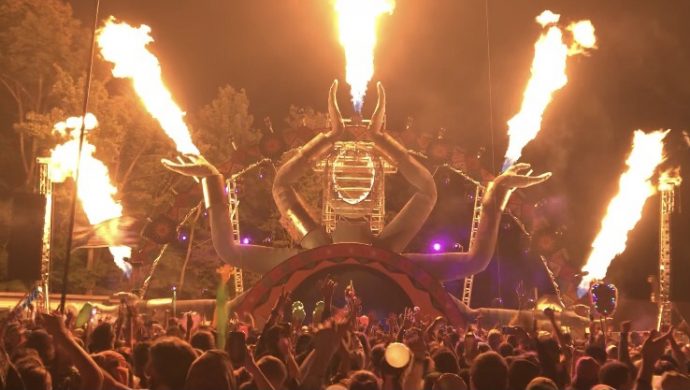 Griz closed out the Fire Stage in an absolutely ravishing fashion, and fans were given their first taste of the scale of production that the weekend was to provide. High-caliber pyrotechnics, immaculate stage design, and a powerful sound system were everything that those lucky enough to get in needed to get the vibes going again. Finally, Bob Moses closed things off at the Air Stage with a provocative performance which began to make everyone feel that things might just be alright. 
Still, it was difficult to fully enjoy and soak in that post-performance bliss with the faces of stressed and worn-out attendees who were just getting into the festival walking by. No words needed to be said to see the toll that the day's events had taken on their physical and mental health. 
With people still left stranded outside the gates, sound camps and late-night stages such as The Drop BK, Nightchaser, Rapture-Pewpew, and Therefore Records continued to remind fans why they were there. A mind rattling and bass-heavy B2B2B2B between Digital Ethos, Easy Baked, CHEE, and Diceman finished things off at The Drop BK as people began to sign off for the night.
Day 2 – The Mayhem Continues
Saturday morning brought in the sun and a short-winded apology from Elements staff about the difficulty getting into the event. Fans continued to pour in, and rumors that staff were not checking bags, nor the COVID vaccination passes that Elements had been stressing all year long, were later confirmed
Hi everyone 💖 we would like to take a moment to sincerely apologize for how difficult it was to get into the festival yesterday for some of our community. pic.twitter.com/IAOoqUUOrU

— Elements Music & Arts Festival (@elementsfestnyc) September 4, 2021
At the crack of Noon, Illustrious Blacks had the party going as fans traded their shoes for swimsuits to get wet and rowdy at the Water Stage. The sun continued to dry up the campground as the Air Stage and the trails leading up to it began to become slightly easier to traverse. However, this area would only become incredibly more muddy and chaotic as the night progressed.
At 7:30, Templo delivered an all-original set that had fans at the Earth Stage vibrating and riddled with energy from the combinations he was putting together. He was perhaps one of the most intricate and well-designed openers of the entire weekend. 
It was interesting to see how the settings and environments around us grew as Saturday rolled out. But the stage crew hanging fixtures and ornaments right over the heads of attendees as the night continued didn't seem necessarily safe and also made it appear as if the festival was behind schedule and scrambling to get preparations in order.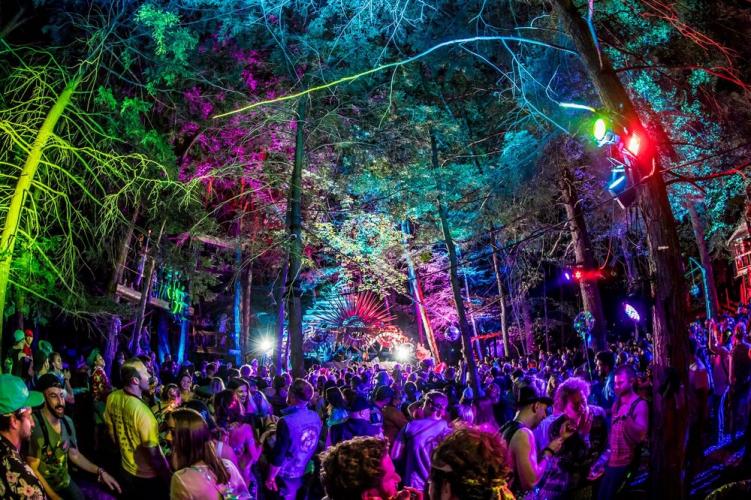 Still, the night went on and the music and magic continued to persist. At 10:45, Manic Focus handed off the decks to CloZee who began to enrapture her audience with a set that left listeners slack-jawed and floored with the technique she was laying down. Unfortunately, the rain continued to fall which ravaged the trails and stages leaving massive mud pits and slippery hills as her set progressed. At the same time, the raindrops provided an exotic and paralyzing environment to see the Queen of Jungle Bass do her thing.
At this point, with flooded showers, limited water stations, ridiculously long lines for food, poorly kept bathrooms, a grossly oversold festival, and people still clawing to get inside and outside the venue, Elements Festival was planning to go down in the mud, rain, and flames.
Day 3 – Fireworks & Farewells
The weather didn't let up into Sunday morning as it continued to rain on and off. By now, several attendees had made the decision to head home as the mud was only continuing to thicken and the disaster only more exacerbated. But even getting out proved to be a nightmare, as cars were stuck in the mud and resources became depleted.
For those of us who chose to stick it out, Sunday's processions included Claude VonStroke bringing the energy at the Water Stage in the early afternoon, followed by the likes of Tokimonsta and Mat.Joe at the Earth and Fire Stage. Fans were also blessed with fireworks and a "Viking funeral" in which a boat was sent out into the lake and lit on fire by a flaming arrow which was quite the spectacle.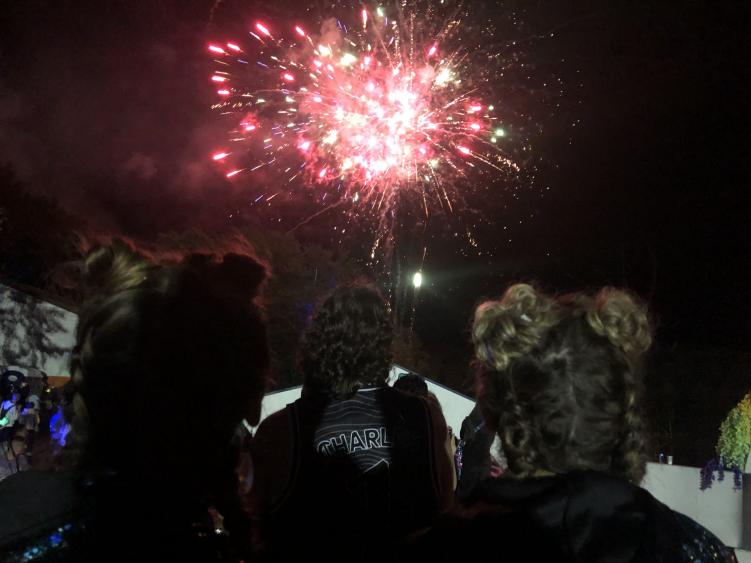 The final performance of the weekend at the Earth Stage was none other than Ganja White Night, who proceeded to get down and dirty with one of their famed sets which included an unreleased D&B collaboration between them and Rusko. What added quite the punctuation to end the main stage festivities was a spontaneous Desert Hearts takeover that stretched late into the night.
Despite the high valor of the performances, you couldn't help but walk through the campgrounds and feel the energy of all the madness that ensued. It was too quiet to be day 3 of a festival and it was obvious that a lot of people had either left or were just too tired and worn out to be making much of a commotion. 
The Outro – Damage Control
Elements eventually made an announcement Sunday night that they would be extending the departure times and letting attendees stay on the premises until 8 PM the following day. They even provided more music at the Water Stage and let the vendors stay open to keep people occupied. And while this did provide a cushion for everyone leaving, getting out still proved to be a whole ordeal with a ridiculously long line for the shuttles and more cars stuck in the mud.
Our team has made additional preparations to provide extra shuttles and box trucks, and we will also be allowing all guests to stay on site until 8pm tomorrow if they wish. We do expect a morning rush, so sleep in if you'd like and enjoy the last night! pic.twitter.com/gwry4rnX3L

— Elements Music & Arts Festival (@elementsfestnyc) September 5, 2021
Despite all the mismanagement that occurred, there was still a large portion of volunteers and staff members trying to make things right. From handing out food and drink tokens to personally carting attendees to and from their campsites, it was clear that there was a significant majority of event staff trying to do the right thing. In reality, there wasn't really much they could do except listen to the grievances of fans and offer what little they had to soothe their pain, explained a volunteer named Emma who worked with guest services and accommodations. 
Meanwhile, people are taking to the internet to lament and express all their frustrations about the way things were handled. A Facebook group dubbed Elements Festival Shitshow 2021 was even created where people have been sharing videos and pictures of the troubling events, including a disturbing video of a staff member getting physical with a guest and pictures of cars getting pulled out of muddy lots.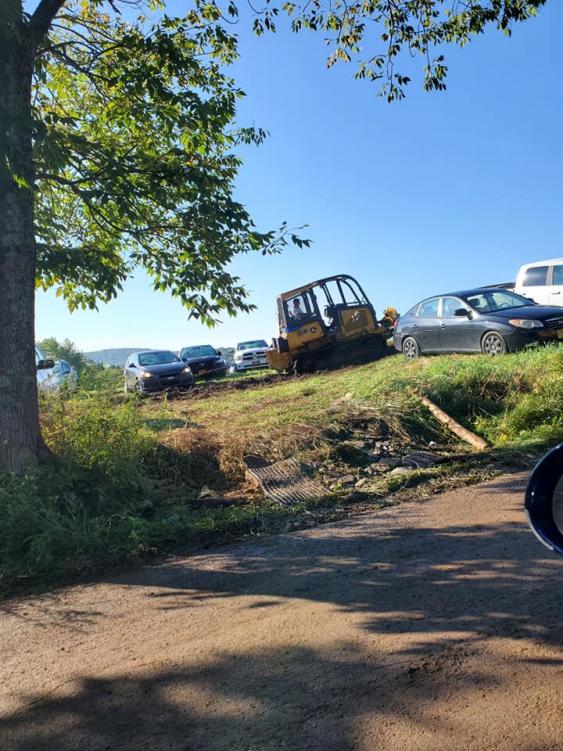 Although Elements Festival had more wrongs than rights and more lows than highs, you can't ignore all the good that went down. A group who traveled down from Long Island – Alex, Dustin, Steve, and Amanda – agreed that despite all the insanity getting in and the poor infrastructure, the production was on point and it was still an overall great time. Dustin went on to say that he had "the most fun this past weekend than the majority of festivals [he's] been to" and that he would without a doubt go back. 
Now, the questions remain – should Elements Festival have followed Bonnaroo and canceled the festival? Can fans who were wronged expect to get a refund? Will Elements ever be able to bounce back from this to see their 9th year? Only time will tell.
A statement from our team. pic.twitter.com/cBpuAQs88F

— Elements Music & Arts Festival (@elementsfestnyc) September 8, 2021
​​This is a developing story and will be updated accordingly.
Featured image provided by Elements Festival