If 2021 proved anything about the electro-soul producer, weather channel connoisseur, and "system navigator," Daily Bread, it's that he is rapidly evolving as an artist and sound experimentalist. And with plans to splash down and dock his shuttle in Baltimore, Maryland on November 18th for his second to last show of 2021, fans lie in eager anticipation of what kind of jet fuel he plans to bring to the party.
Initially making his name by manufacturing soulful and hip-hop-oriented electronic tracks alongside the Philos Records crew, Daily Bread's jarring and bass-heavy set at Resonance Music Festival this past September goes to show that his abilities on stage and in the studio have come a long way.
And the fact that he continues to experiment, change his sound, and venture into unexplored territories, just furthers the mystery surrounding his plans for his upcoming shows, one of which is a New Year's Eve extravaganza set to take place in Detroit. 
In support for the East Coast get-down is fellow Philos Records' producer Artifakts alongside openers Sol Good and retchs – all of whom will undoubtedly be contributing to the vibe factory set to take place at Baltimore's Soundstage on November 18th.
Artifakts Last Chapter
Earlier this year Garret Meyer (Artifakts) announced that he would be stepping away from the Artifakts project and taking a new direction at the end of 2021. What this direction may be, is not entirely clear, which only adds to people's fervor for catching one of his final shows as Artifakts.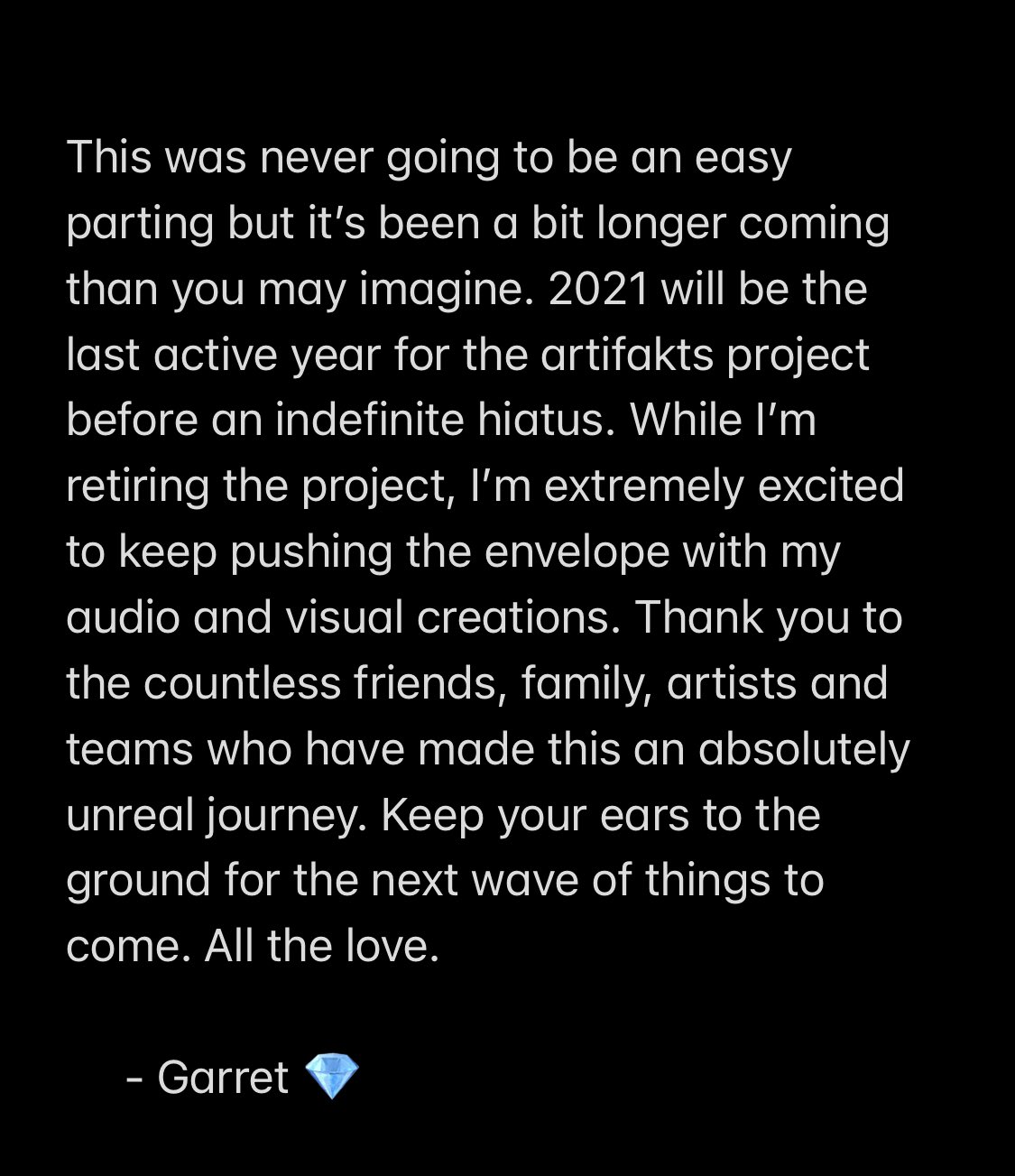 He assures fans that he is not done creating. And considering the wide variety of skills and talents he has, there is no telling what he might set his mind to next. What some fans might not know is that he also has some skills behind the lens, even producing and helping orchestrate Daily Bread's famed Bread and Breakfast sets. 
As for what fans can expect at Thursday's event, there is no telling what he will put together, as he can be just as surprising and stupifying as the headliner of the event. However, his most recent release, a hardcore edit of Jay-Z's "Dirt Off Your Shoulders," gives us the impression that he is ready to sign off the Artifkafts' project with a nuclear explosion.
Keeping It Local
As a Baltimore Native, retchs has been steadily contributing and helping build the electronic music community that continues to blossom in his city. With a string of shows in Baltimore and through the east coast these past few months, along with an absolute banger he released this past week titled "Consume," there is no doubt this sonic pyrotechnic is ready to end 2021 with fireworks. 
It's Sol Good 
If there was ever a show to get to early, this is it. Sol Good is a sonic purveyor with a sound that doesn't necessarily run parallel to the headliners – but in the best possible way. With tracks that include gritty and down-right NASTY bass lines, we think he makes the perfect artist to help open up the Soundstage's fuze-box and get the electricity of the show going. 
Can't Forget About the Fixings…
One feature, or features, that we at River Beats love to shed some light on ahead of shows are the vendors that will be present. Depending on who they are and what they do, we believe they always bring a certain kind of magical element that provides shows with their own unique flair.
This Thursday, Soundstage will be welcoming Safe Circles Harm Reduction & Energized Vibrations, two collectives that "aim to spread wellness, connectivity, and positivity amongst the electronic music scene." Their intentions are to "bring mindfulness, harm reduction, and overall awareness about mental health and personal boundaries within our community," something we are behind 100% at River Beats
Last but certainly not least, one of the experiences of the night that we are most intrigued about is the wall of televisions being set up by Smooth Canoe Visuals in the vendor section. The duo of analog artists, who have been featured at events like Elements Festival and What Fest, conduct mesmerizing visuals via old-school box TVs that they stack upon one another to create entrancing and immersive environments – all via analog technology.  
The incredible range of vendors that will be attending the show only serve to further compliment the incredible lineup that will be taking place. Serving as the sprinkles, fudge, and cherry on top of what's going to be one sweet night.
For more info and tickets to the show, head on over to Boosted Promo and Soundstage's event page. And to relive the madness that is going to ensue this Thursday for Daily Bread's NYE warm-up show, and perhaps one of Garret Meyer's last ever performances as Artifakts, keep your eyes on the River Beats feed.
Featured photo by @hutchandstuff