RESONANCE MUSIC FESTIVAL FINDS A NEW HOME IN MARVIN'S MOUNTAINTOP THIS SEPTEMBER 16-18! Join River Beats in an exploration of sound and art with one of the best lineups on the calendar. Check out our event preview for more details! Purchase Tickets Here!
This year's headlining cast is packed with familiar names across the festival circuit. Sound design mastermind Tipper returns alongside resident host Papadosio, jam favorites Umphrey's McGee, Lotus, Keller Williams, and more! The Rust Music is bringing the underground to the forefront with an incredible cast of talented producers to provide a perfect blend of instrumentals and electronic production throughout the weekend.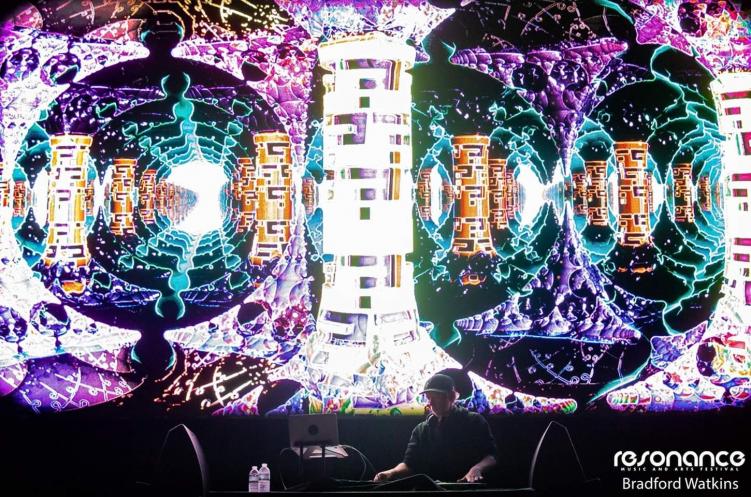 A number of performances this weekend have caught our eye! As an added bonus, Resonance is unique in its layout with dual main stages, meaning no overlap and no missing out. Here are 10 artists we think you should keep an eye out for!
---
Tipper
Sound design mastermind, also known as Dave Tipper, prepares for his final performances of 2021 and is the only downtempo set this year. In stark contrast, the primetime set will feature uptempo stylings as seen most recently at Red Rocks. While Tipper has released several studio albums, a number of fan favorites only go by names given or agreed upon by attendees.
After over a year in the laboratory, the ID catalog has only increased. Classics will be matched with VIPs, twists, and entirely new tunes.
---
Lotus
Over the years, Lotus remains a staple in festival lineups, and with good reason. With an incredible discography to explore, the band is constantly changing it up on stage. Lotus staple and lead guitarist, Mike Rempel, takes his last bow with the band in a celebration at Summerdance Music Festival. The incredible Tim Palmieri joins on for his first get down at Resonance!
---
Detox Unit
Who's got the keys to the jeep? Detox Unit had thousands asking this question after his biggest performance yet at Red Rocks. Cuts the queen Missy Elliot could get down to carried through the natural amphitheater. During quarantine, The Rust Music hosted The Featherbed Sessions, a Livestream experience hosting Detox and more providing a unique stage for teams to perform for fans at home.
He also hosted his own event featuring an unreal audiovisual combination with Fractaled Visions. Known for expansive edits and heart-pounding basslines, Detox Unit stands apart in the crowd. He has become an artist that simply can't be missed.
---
Emancipator
Doug Appling, AKA Emancipator, is a staple in any major festival lineup. Since 2008, Emancipator has serenaded audiences with an organic combination of strings and electronic production. Often pairing Ableton with a violinist or the Ensemble, the live experience is something to behold.
Emancipator also stayed busy through quarantine, releasing a number of new projects on his own Loci Records. We look forward to a double dose for Resonance, expect a deep dive from Soon it Will Be Cold Enough to the latest Citrus Fever Dream with Cloudchord!
---
Daily Bread
Atlanta has a special energy that shines through in the artists that call it home. Daily Bread exemplifies the sound of the South with a harmonious blend of soul and hip hop sampling. At any given tour stop, you might find Daily Bread in a Braves hat digging through crates at a local record store. During quarantine, River Beats had the honor of bringing the Bread and Breakfast series to living rooms far and wide.
Returning to the stage with an incredible two-night run at Mishawaka, Rhett Whatley is showing no signs of slowing down. A dual vinyl release of fan-favorite Cloud Conductor and latest EP Purple Clouds vanished in less than two hours and fans were teased with more to come.
---
MIZE
If you're attending a music festival this season, there's a good chance you'll see the name MIZE on the lineup. With good reason, the melodic bass wizard is taking off in 2021. Spending time grinding with SoundCloud mixes, playing renegades, and interacting with fans at shows and on social media is paying dividends as his calendar continues to fill out.
If you can't get enough, catch MIZE on tour with Peekaboo or Champagne Drip across the country this year.
---
5am
Mixing the old and the new is a common theme in the artists we've highlighted so far. 5am is no different, taking elements of jazz and soul and bending them into psychedelic, bass-driven melodies. Resonance features two sets, one with Zone Drums and Tygris as 5am Trio!
---
Smigonaut
Another common element amongst the performers at Resonance is the seamless blending of instrument and digital. Smigonaut taps on early life experience with a keen sense of how sounds can be arranged. Collaborations with Jade Cicada and Chris Karns speak volumes and The Rust Music producer has much more in store.
---
Thought Process
Originating in Denver, Thought Process is a name we expect people to become more familiar with very soon. Opening for staples in the experimental scene like Supertask, Yheti, and Detox Unit, Thought Process is setting the hooks with fluid hip-hop-inspired sound design. His latest 2021 Mix has been constantly in rotation since release!
---
Wessanders
Throughout quarantine, countless teams gathered to brainstorm how to best present producers and DJs in a streaming format. Many will agree that The Rust Music had the formula absolutely dialed. While we discovered a number of incredibly talented artists through The Featherbed Sessions, Wessanders had viewers floored presenting a surreal audiovisual tag team with visual artist Sieg Mattel. This set simply cannot be missed.
---
Early arrival campers can arrive as early as noon on Wednesday! The opening ceremony will begin at noon the following day, carrying attendees through the weekend. For more info, join Resonance Festival Community on Facebook for the latest from the team!
Festival Information
September 16-18
Resonance Music & Arts Festival
Marvin's Mountaintop
6046 Herring Rd, Masontown, WV 26542, USA
Festival FAQ
---
Featured image via Keith Griner