It's Saturday, April 24th, and we're tucked away in the mountains of Colorado at Mishawaka Amphitheatre.
Rhett Whatley, aka Daily Bread, has chosen to celebrate his birthday with a small number of fans and family members. The openers for this unique event, Mux Mool and Motifv, set the stage with staples in their library including a crowd favorite, "Insufficient Lighting."
For many in the intimate crowd, it's the first show back after a long break. We haven't seen our beloved friends in just over a year. Hugs are a given amongst the group of fans adorned in merchandise from the Daily Bread threads collection. We're not just here for a show, we're here for a party.
Very excited to announce this socially distanced show in the open air of Mishawaka Amphitheatre in Bellvue, CO on my birthday, April 24. Tables go on sale now! Bring your mask, friends, and let's get down in person. https://t.co/DSLROtlKFh | @motifvmusic @muxmool @HawksNestMusic pic.twitter.com/XETvsso5Z9

— Daily Bread (@rhettwhatley) March 31, 2021
Spaceships on I-285
Based out of Atlanta, GA, Daily Bread is sending transmissions through Philos Records. This special weekend the Philos team traveled through space to bring that Atlanta heat to the cool mountains of Colorado. Initially built to be a dance hall, Mishawaka Amphitheatre has since been reinvigorated into a thriving source of live music. As a result, artists and fans of all walks have traveled to attend.
Throughout quarantine, the Mishawaka has been a safe haven for artists such as Sunsquabi, Clozee, and kLL sMTH. The staff is incredible and the natural surroundings of the canyon create a unique experience. There is a smooth running river directly behind the stage and a breeze that cuts through the venue off of the water.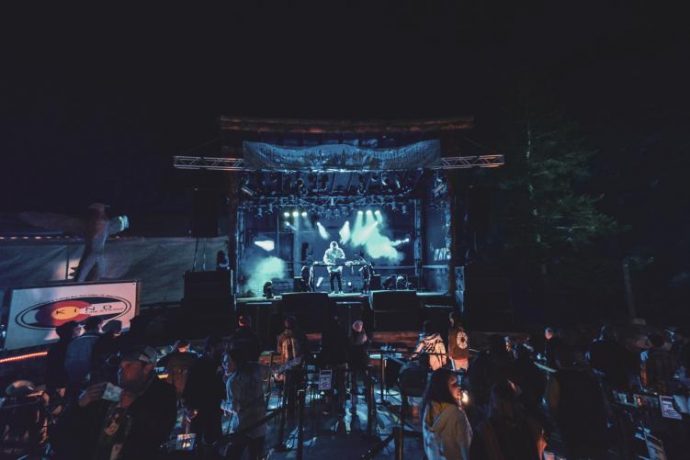 Our excitement and energy could barely be contained by the amphitheater as Daily Bread stepped on stage to celebrate his year number 33. Daily Bread was surrounded by loved ones and the community manifested by his creations. A special moment I will remember is what Daily Bread's mother passed out cookies to everyone in attendance. It was truly a family affair.
We had a blast celebrating @rhettwhatley (Daily Bread's) birthday with everyone at the Mish last night! Who's ready for round two tonight? pic.twitter.com/F9wqz7ehSW

— Mishawaka Amphitheatre (@themishawaka) April 25, 2021
A train is coming!
Opening the night, Daily Bread came out with a massive flip of "Meditate," a premier track off of DB's latest release, Re-Entry. For the next two hours, time stood still as Daily Bread worked magic on the decks. You could hear an extra punch added to "Rockbridge Railroad Station," "Clock on the Wall," and "Trapped in this World." To fill out the set tracks requested by the Daily Bread family, "Sunrise" and "Another Promise" stirred emotional responses from the entire crowd. And finally "Running the sound," Whit Hawkins (Hawk's Nest Music) tuned the speakers to hit just right. The sound resonated perfectly between the canyons.
Along with the amazing production, behind the lights was Tiberius Benson, who is the genius behind the lighting for STS9. "Gone on a Purple Cloud" was matched with an incredible display of deep hues to wrap around the stage. For those looking to remember the event the merch booth featured signed event posters and limited stock of the latest releases including Navigator Standby, and Philos threads were available for those who might have missed them on release.
Rounding out night one, Daily Bread would be joined by close friends and Philos mates, Artifakts and Derlee. Celebration ensued as they stepped on stage to play a few tracks as their collaborative project, Friends of Norris Lake. The crew would close with Hell & Back, which felt all too fitting.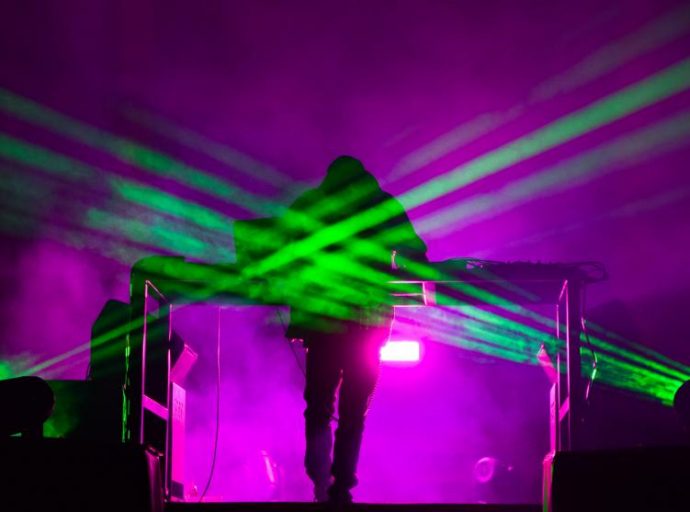 Never miss a Sunday set
Sunday brought warmer weather and a warmer vibe. Daily Bread started with a fresh selection including "Any Kind of Way," "Blaze the Heat," and "Misty Mornings." "Too Blind" featured a surprise visit from a collaborator, Michal Menert.
Tracks from On the Daily and Purple Clouds filled out the set as well as a debut of "Street Treasure." You can only find other sounds played if you purchase one of the five Daily Bread USBs. The Daily Bread family was encapsulated and filled with joy as the sights and sounds flowed in perfect harmony. To close out, "Love Like This" would send the crowd in one last frenzy of dance moves and cheers.
---
Featured images by Jordyn St Vrain