Liquid Stranger and his team of Wakaan artists share quite a lot in common with the Wu-Tang Clan. Both feature talented members with distinct styles, personas, and discographies. Both have left an indelible impact on establishing burgeoning genres, and as of now, both make staggeringly long LP's to delve into their influences.
There are 30 tracks on Liquid Stranger's Infinity LP, a veritable "Wu-Tang Forever" in terms of ambition and length. Like the 1997 classic, that track listing is stacked with features, collaborations, genre shifts, and even a few misfires. While one listen straight through is inevitably long, the towering album contains some of Martin Staaf's strongest and most surprising sound design to date.
Infinity's engines take a second to truly jettison you through Liquid's nexus of swirling downtempo bliss and radioactive dubstep grit, but it's thrilling when that balance is found.
A look inside Infinity
The first track that surprised me was "Brain Boi," It's a crisp and composed single with beautiful vocal melodies. Stranger fans that love Staaf's mellower, downtempo work on songs like 2016's "Dissolve" will love a lot of the cuts on this album, as I did. "Goodbye" and "Solar Winds," follow in this vein, letting breathing room and sub-bass roll weave glacially through striking instrumentation.
The best examples of forward-thinking downtempo on Infinity are the inspired echoing passages on the synth-guided "Jello Stream," and the swirling violin on "Midvinter."
The latter is one of the most atmospheric on the album, abandoning space travel to evoke images of frozen fjords and wintry bonfires. Martin's younger sister Malin Staaf lends her gentle Swedish vocals to the track, lending a wonderful sense of emotion.
It wouldn't be Liquid Stranger without the caution lights going off, though. The heavy moments on Infinity range from lush, dangerous warning signs to full-blown assaults. The collaborations with Chee and Clozee, "Zero Frontier" and "Ceremony" respectively, are foreboding album highlights. Chee's drum design is always fiercely unique, and I've never heard a darker, more vicious song from Clozee. Fantastic.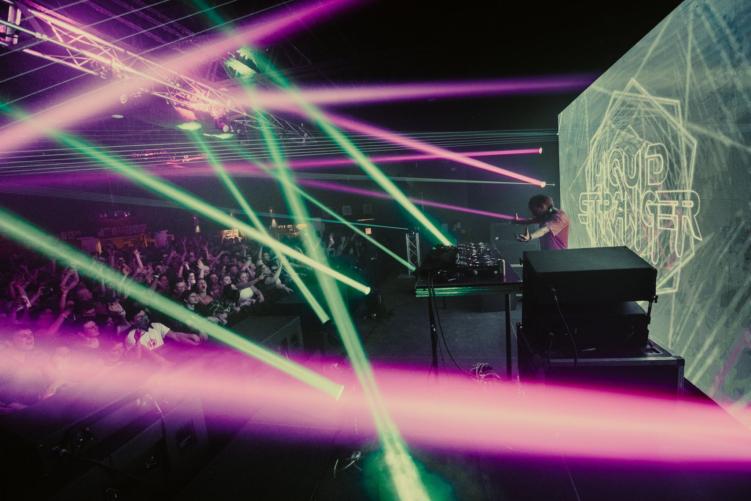 Changing the pace
An exciting change of pace is the warped nods to drum and bass on "Swollen Beast" and the devilish "The Pod." The tempo breakbeats work perfectly and are complemented by Martin's knack for taking a rhythmic motif and distorting it until it spirals out of control. I can hear him grinning playing these live, and that's a blast as a listener.
If you've been skimming this for the nastiest tracks you've ever wanted from Liquid Stranger, I'm going to vouch "Run for Cover" with MC Shells or "Kevlar," two blistering songs with some of the most scowl-inducing sound trickery I've heard from Martin in any of his work. They're high-octane as bass music gets.
My chief complaint with a few cuts is that the many rap verses are sometimes incongruous and don't really add much to the track's tone or effect. There's quite a few, with a wide range of quality between them. Additionally, where tracks like "Burn Like Sun" with Leah Culver set an impressive template for soaring female vocals early on, the tracklist feels padded with similar songs that go for the same nerve a few too many times.
Infinity towers tall, with style to spare.
Still, by Infinity's close, I'm surprised by how often the new ventures and fearless experimentation succeed. The album allowed Liquid Stranger to dive into his electronic fancies.
The final song "Murder on the Freeway" with Christian Acamo and Cojaxx feel like the culmination of all Liquid's songwriting bets paying off. Martin effortlessly ties in silky downtempo, melodic vocal features, clean rap verses, and heavy dub freakouts galore.
---
Photos by Tessa Paisan Photography @tessapaisan
Facebook| Twitter| Instagram| Soundcloud
Follow Wakaan: