When Low-End Productions announced their debut show with K.L.O., Mike Wallis, Lone Drum, and pheel. in a random movie theatre in Maryland, a lot of questions were raised.
While there was a lot to scratch your head about regarding this brave and exotic show, the question on everyone's mind was: Who is Low-End Productions and why are they throwing a bass show at the same place where retirees watch movies from the 1900s? When show day finally arrived, the naysayers were silenced and doubtful fans were turned into devout followers with a four-hour journey through sound and sight at a beautifully unexpected location.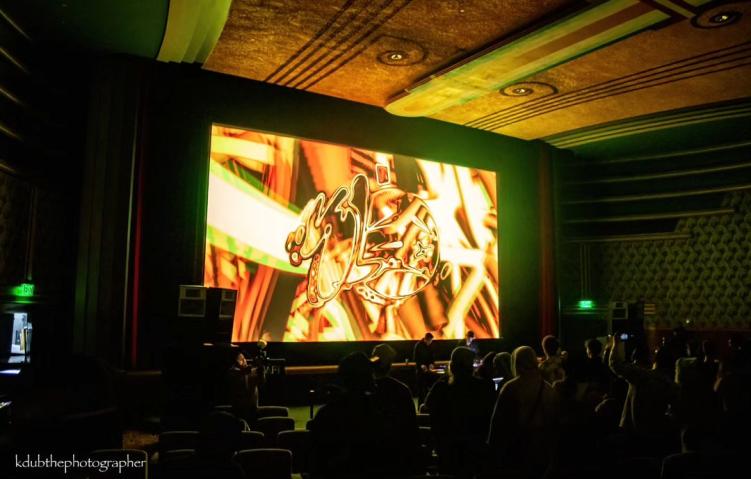 After a massive response from both local fans and those who traveled from afar, Matthew Passarelli began laying the groundwork for the next edition of the cinema series. Set to take place this Friday, July 14th, the lineup once again boasts some of the most flavored sonic profiles and stunning visual augmenters in the electronic music scene today.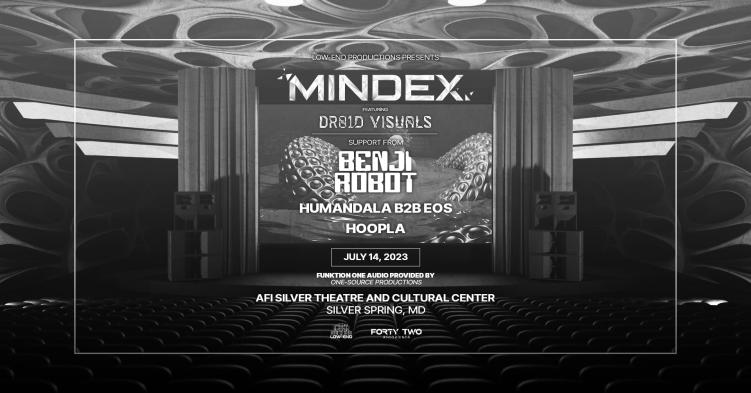 Featuring a takeover by Forty Two Recordings of Tallahassee, Florida, the lineup includes Mindex, Benji Robot, Humandala B2B Eos, and Hoopla, with DR01D Visuals, The Void, and Tyme Visions commanding the VJ booth for the night. Low-End will once again be bringing in One-Source Productions to deploy their Funktion-One sound rig to rattle and rumble the night away.
About the Acts
With several big performances already under his belt for the 2023 season including Sol Fest and Infrasound, Mindex is looking in fighting form for the upcoming bass bout in Silver Spring this weekend. Despite dedicating some time this year to his house-techno side project, Neversky, he has continued to chisel and refine his bass music prowess with a single released with MorFlo and a rambunctious mini mix featuring all unreleased bangers earlier this year.
One of the more novelty names on the lineup is Benji Robot heading up direct support. With few festival appearances in 2023 and almost fewer shows in between, Benji Robot is an act you don't want to miss out on if you get the chance. This year has seen the ambitious producer join up with Forty Two Recordings while releasing an EP shortly after that ranges from "bluesy, experimental, and squelchy glitch hop" to "deep jazzy downtempo."
As for the B2B between Humandala and Eos, these two are more potent than bleach and acid when they get behind a board together. Just look to their collab EP, Apport Apparatus, as proof. As for Hoopla, the Brooklyn bass alchemist is looking to keep the momentum going after a recent unreleased mix and a career-changing performance at Tipper & Friends 5.
View this post on Instagram
Keen on retaining an elevated level of talent, production, and event curation at every single show, Low-End looks to establish themselves even further with this upcoming iteration. Keep up with everything they've got going on at the link below and grab your tickets for the special night here.
Follow Low-End Productions