Let it be known that Friday, March 27 was an amazing day for music. Huge ups to Beatport for their 24 live stream event, Justin Martin who's in the mix at 1 PM PST, and of course our own River Beats Quarantine Streams live event featuring Vibe Street.
We recently sat down with Vibe Street for an exclusive interview on his latest comeback, new single "Back Like Jordan" and his latest EP in the works Vibin on Em. Today, Vibe Street announced on his Facebook that he's dropping Vibin on Em on the stream tonight!

Tune in at 8 PM MST for 90 minutes of that straight vibey flow. A perfect segway into the highly anticipated GRiZ live stream tonight at 9 PM MST on Beatport Twitch. Check us out via River Beats Facebook for our live stream event.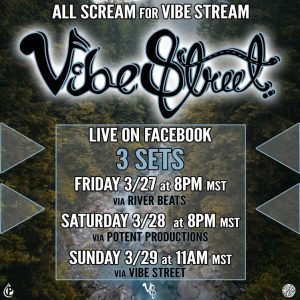 Can't get enough? You're in luck – he has three sets in store for you this weekend.
Word on the Vibe Street is he's doing a full throwback and rarities set with Potent Productions on Saturday and a daytime grasshop set for Sunday brunch.
Who said we can't still have fun in quarantine??