2020 is shaping up to be an incredible year for music and many of our favorite producers are making their re-emergence. (Ahem… Pretty Lights we see you) River Beats has the great pleasure to announce – Vibe Street is BACK and ready to kick it like one of the greatest to ever do it – Michael Jordan.
For his first single release and the inspiration for this return, Ben Davis aka Vibe Street has taken the Jay-Z sample 'Back like Jordan' from "Encore" and reworked this track into a funky reimagination with a live scratch over by Robbie Dude.
"Back like Jordan" is full of funky juiciness and one clear message: VIBE STREET IS BACK AND HE AINT FUNKIN AROUND. This is one of those tracks you put on, close your eyes and just siiiiiink in. He's giving us what he's known best for – creating new fluid funk with simply a sample and that incredible vision. Listen to it on your favorite streaming platform here.
Vibe Street's last official release was Home is Where the Heart Beats in December 2016. That's over three years without our neighborly, grass-steppin', glitch-hoppin' Vibe Street blessing our ears with his totally unique sound.
River Beats has always had a long-standing relationship with Vibe Street. Since our inception, our brand has been deeply rooted in the funktronica genre and we're major fans of his funky sound. In 2017, we sat down with Ben 'Smiles' Davis for a filmed River Eats interview to discuss his career and music thus far.
Three years and some change later, it was only natural that we had the honor of once again sitting down with Davis to discuss his comeback. We're here to tell the story of Vibe Street – then, now, and beyond.
---
When asked to do this interview we were immediately excited. Not only that River Beats was chosen as the medium for the announcement, but also, we were long overdue for some tasty new tunes!
Over the last 3 years, Vibe Street has dropped a few sporadic releases and had a couple of one-off shows here and there. Admittedly, his heart just wasn't really feelin' the creation of new music.
"I found myself in a place where I needed to step away from a lot of things I cared about in order to find clarity and reconnect to my creative purpose. I'm grateful for the incredible support I received, and for everyone who helped remind me of who I am at the moments I needed it most along the way. "
Back Like Jordan, y'all
So let's take it back to the moment. THE moment Ben Davis knew – it was time to come back as Vibe Street and his fans were ready to welcome him with open arms.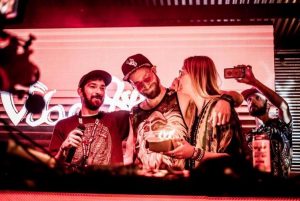 It was August 2019, on a gorgeous Denver night at Jackson's for Potent Productions rooftop takeover. Davis had recently moved back to Colorado and had some new music he was working on. So he figured, why not join on for a set with some long-time homies and enjoy his birthday eve (he actually turned 29 as his set began).
So there he is – hasn't played a show in about two years. He's worked on some new stuff but has no idea how the crowd will receive him. He has the makings of a new song, but it's not quite sounding exactly how he wants it to – so he invites Robbie Dude to live scratch the mix on stage.
The track goes off – exactly how he envisioned it – and there's Diana from Potent Productions with a cake as the crowd sings him happy birthday. It was that moment that he knew – it's time to make his comeback.
All About the Vibes
Vibe Street's next release will be a 6-track remix EP titled Vibin on Em. The samples he uses range from classic rock such as Dire Straits and The Doobie Brothers, to soulful grooves from Rusted Root and Bill Withers.
"I'd say that just about anyone could enjoy my music. Toddlers, grandparents, your parents – it's multi-generational and almost anyone could recognize some of these samples."
There are six tracks on this EP with a wide range of styles. True to the norm, he's still keeping us on our toes. We've had the opportunity to listen to Ben's favorite remix from the EP, "Sultans of Swing".
In line with his signature fashion – "Sultans of Swing" throws us some education on classic tracks in a way that is digestible for our generation. This is a whole new reimagination on the classic Dire Straits track.
"It's allowing me to take all of this beautiful stuff that's been created – like Dire Straits – that was my dad's favorite band when I was growing up. We'd jam out in the car and last September we saw Mark Knopfler at Red Rocks. After that, I went home and made 'Sultans of Swing'."
Vibe Street 2.0
We really appreciate the new lengths of Vibe Street. There is a noticeable difference in the level of the emotional spectrum he is now pulling from.
When we left him in 2017, he was 'Smiles' Davis. He kept it pretty surface-level good vibes – only occasionally dipping into the depth of emotions That's the place we were comfortable in during those years. 2020 Vibe Street, however, is here for the deep-sea diving of emotional places including the darker, more soulful realms. Don't worry though fans – he's overcome these challenges and still smilin', just has a bigger reach now.
"I didn't have a personal connection to that side because up until that point I hadn't really experienced too many of those deeper darker emotions.
That I now do have, I spent the last three years and many days and hours navigating darkness inside my own mind and body. And my music is now going to be able to touch on things that I couldn't before."
More than Music
Vibe Street is an undeniably talented producer with a wide-scale vision. His passion for community, authenticity, and gratitude shines through in not only his music but in his other projects as well.
Ben Davis is a passionate advocator for plant-based foods and has been making huge waves in making those options available to the general public. He delivers his message of growth, experience, and human connection through events with intention that offer plant-based options and education.
"I'm very excited about the work that I'm doing outside of music that allows me to live in a place that I love and wake up every day excited to be productive and creative.
This is where music and food intersect for me. My job is organizing and connecting plant-based companies from all over the world together. "
Davis is one of the leading organizers of Plant Based World Conference & Expo – one of the largest networking opportunities for companies, consumers, and distributors to exchange education on plant-based products and services. He developed and launched the concept for Plant Based World alongside his dad's company in 2018.
If music is food for the soul and food is nourishment for our vessel to receive the music; this is where the dynamic mind-body-soul relationship comes back into play. This is where Davis' overall grand vision lies. But we don't want to give too much away just yet – stay tuned.
Word on the Vibe Street is you may get a chance to catch him live in a city near you. This is only the beginning, my friends.
---
Stay on River Beats watch for all the latest news on Vibe Street and your other favorite artists!
Photos by Brittany Teuber