Gramatik has revealed his annual return to Red Rocks for 2018—an announcement that'll perk any electro-funk fan's ears.
This year's iteration wraps the sheer madness of summer 2018 lineups and follows Gramatik's own North American Re:Coil Tour. Gryffin, Haywyre, Ramzoid, and Balkan Bump round out the lineup when Gramatik hits the iconic Morrison, CO, venue September 1st.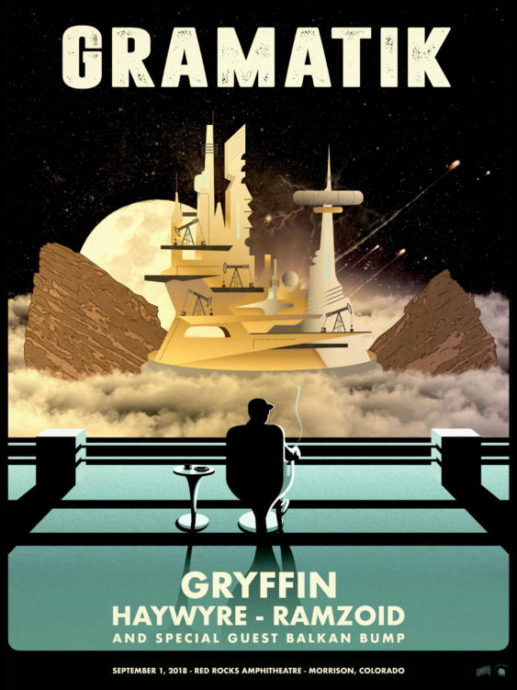 The Brooklyn-based artist has stayed busy in 2018, from almost the very stroke of midnight on January 1st. Gramatik headlined his first New Year's Eve, Re:Coil NYE 2017, at NYC's Terminal 5, following his Decadence Music Festival set in Denver the night before. Ramzoid provided support for that NYE 2017 show and is also one of several openers billed for the Red Rocks set. Gramatik also collaborated with Ramzoid on a remix of Flume's track "Wall Fuck" last year.
Gramatik spent fall 2017 trekking across Europe for the overseas leg of his current Tour. But for early 2018, Gramatik brought the Re:Coil Tour stateside. Promoting his latest EP Re:Coil, Pt. 1 released last October, the tour includes 31 stops between through April 26th. One show at the Joy Theater in New Orleans last month even doubled as a late-night Dead & Company afterparty.
Support on the Re:Coil North American Tour primarily comes from keyboardist-producer Haywyre and trumpet-wielding producer Balkan Bump. Haywyre will stick around after the tour to warm up Red Rocks for Gramatik's fall 2018 set. And Balkan Bump will join Gramatik as the evening's special guest. Balkan Bump recently signed to Gramatik's Lowtemp label and dropped his debut self-titled EP just last week.
Also tasked with amping up Gramatik's Red Rocks crowd this fall, Gryffin continues to prove himself as an artist to watch. A dynamic performer and intuitive multi-instrumentalist, he left behind a breathless crowd gathered for his surprise Power Plant stage performance at last weekend's BUKU Music + Art Project. Subbing for Lil Uzi Vert's last-minute cancellation, Gryffin solidified his distinction as a main stage festival artist going forward.
Purchase tickets here for Gramatik and co.'s next electro-funk takeover of Red Rocks before the event sells out!