Electro-funk heavyweight Gramatik is known as an innovator: an artist that delights in pushing the envelope of what a producer is capable of achieving. his latest Re:Coil tour proves just that. 
His Lowtemp music label made him a forerunner for a new wave of digital only, artist-run labels. Last year, he became the first musician to tokenize, allowing fans to buy his "GRMTK" cryptocurrency. Essentially, this allows fans to own rights and royalties to the brand as they expand into the future. He's placed his entire back catalog on peer-to-peer networks, encouraging artists to "free music by making music free."
The Slovenian-born producer dives into this forward-thinking mantra on the Re:Coil Tour, from the support he's brought on the road to the genres he freely bends.
New Lowtemp artist Will Magid opened as Balkan Bump, who played deviously fast Balkan trumpet lines against glitchy hip-hop drums. His song "Irfan" was a highlight, layered horns bouncing jubilantly at a breakneck pace. 
Next up was Haywyre, a young producer and keyboard player. He gained Youtube fame for his blistering electro reimagining of Michael Jackson's "Smooth Criminal."
That rework was present, along with keyboard spins across Thundercat's "Oh Shiet It's X," Outkast's "Ms. Jackson," and plenty of his own space-age originals like favorite "Do You Don't You." Haywyre thanked Gramatik for being one of the first to believe in him as a performing artist.
Perpetually wearing sunglasses, Gramatik took the stage with guitarist Adam Stehr and launched directly into "Future Crypto," a shadowy, concussive espionage soundtrack, before transitioning into an explosive tribute to Bitcoin's creator on "Satoshi Nakamoto".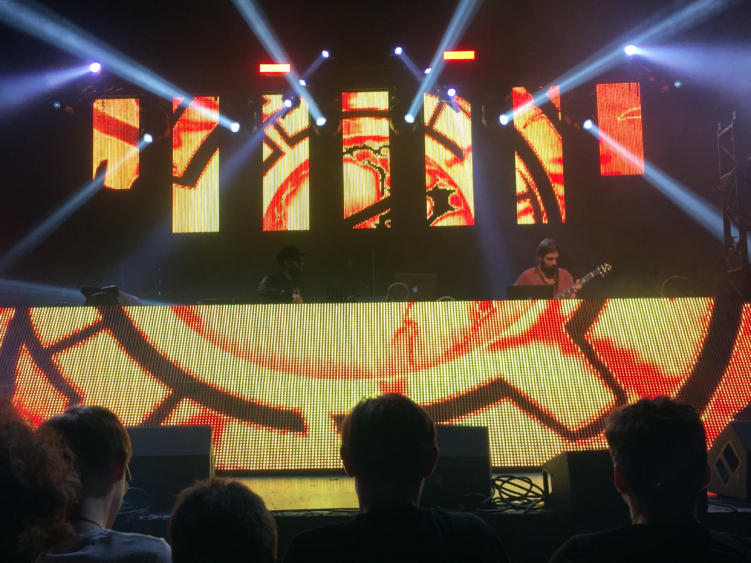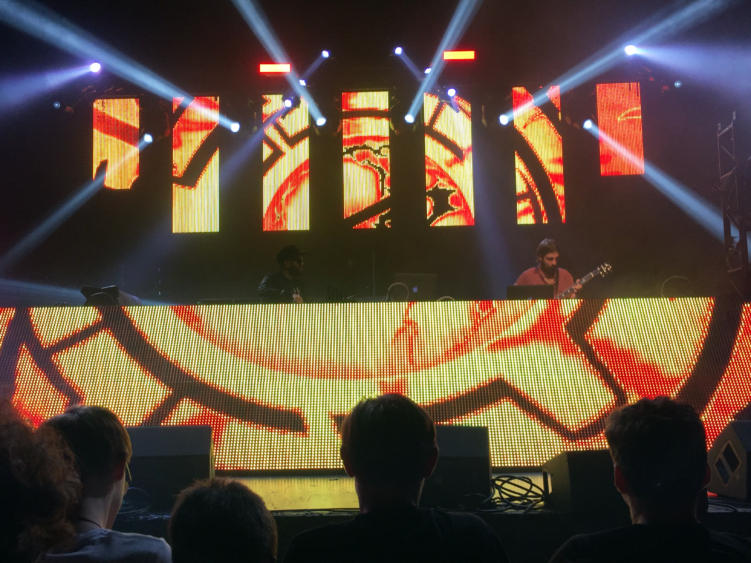 Stehr's bluesy guitar riffs carried melodies across Gramatik's electro-funk productions, giving the songs a fantastic call-and-response jam feel that I had never seen at a Gramatik show before.
Impressively, Balkan Bump came back onstage to play all of Griz's saxophone parts on trumpet through all three Grizmatik collaborations played out, which stole the show for us. "As We Proceed" sounded uplifting and incredible with all three artists performing at once, as did Magid's song with Gramatik "Aymo."
Gramatik teased he might have just enough time for an encore, and returned with  a massive extended version of his song "War of the Currents," a nod to the AC/DC current war between Edison and Nikola Tesla, who Gramatik idolizes.
Finally, he transitioned into Herobust's banger "Heavy Meddle," and ended the show with his own "Voyager Twins," keeping with the themes of space discovery, technology, and experimental thought that have become such artistic muses for Gramatik, onstage and off.
Catch Gramatik's Re:Coil tour in a city near you.