There comes a time in a producer's career where they find a fellow artist who not only encourages them to create but assists and takes part in it as well. For TheBusiness. and MIDIcinal, that moment came four collaborations ago, which makes their most recent release – "Don't Stop." – a track that has been practiced, measured, and precisely fine-tuned.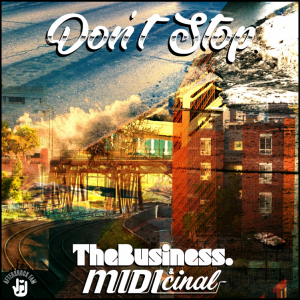 With a sonic storyline that follows upbeat grooves glazed over a sneaky and chest-rattling bassline, "Don't Stop." is everything you need to get through that holiday traffic or to get the party going when you're OOO. With multiple builds and accompanying drops, this single takes the form of a funk-fueled rollercoaster that dips, twirls, and flips several times, especially when you're least expecting it. 
There is no doubt that this track packs the punch of a couple of producers who reign from the electro-soul and funk realms, with MIDIcinal and TheBusiness. both sharing a strong interest in famed producer, Pretty Lights.
In fact, the two actually met in a Pretty Lights Family Producer group on Facebook. Since then, they have dedicated a substantial amount of time both to their own careers and this combined pursuit which has recently culminated in this action-packed track. To them, their collaboration has run a path that is organic as it is mutually beneficial, with both sharing feelings of a combined growth over the course of their sessions.
"We were actually talking about the direction we'll be moving in and came to the conclusion that all of our next collaborations will be under a new side project. The title is still up in the air but I can say that it's gonna be a lot of fun and maybe a little bit silly, still the same type of various sounds though."
A lot of fun and a little bit silly sounds perfect to us. We'll be waiting in anticipation for what TheBusiness. and MIDIcinal have coming up next, both in their solo careers and in this new project that they have on the horizon. Keep your eyes peeled to the RiverBeats feed for the evolution of this budding duo.