Few things are as beautiful as when an artist perfects their style and cadence. Knowing your craft to create the base-level foundation in artistry is every artist's wish. But loving and expressing it accurately are the concrete building blocks that lead to passion-filled projects with a perception that matches that vision.
One such artist that has done just that, is Alex Medellin. Better known as Late Night Radio.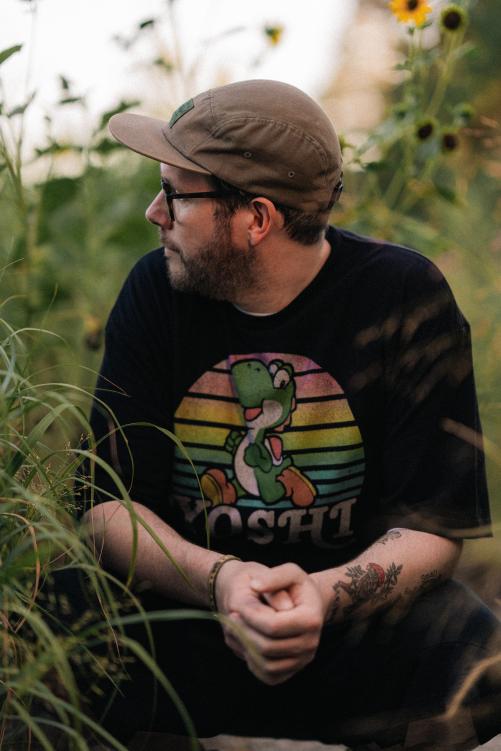 Born in Texas with roots also in California, Medellin has been calling Colorado his home for quite some time. His unique blend of hip-hop beats, bass lines, and electronic undertones make for a vibrant and warm listen each and every time. Over the years, Medellin has solidified his legacy as one of the best to touch down in breakbeats and retro sampling.
The tail end of 2022 saw Late Night Radio's most recent release, the 10th installment of the Vinyl Restoration series. 2023 then kicked off with a wild start featuring some massive collaborations with Maddy O'Neal, Motifv, Michal Menert, and Daily Bread. The momentum stayed on course throughout the rest of the year with appearances at some prolific venues and festivals such as Sonic Bloom, Summer Camp, Mishawaka Amphitheater, Secret Dreams, and most recently Wakaan.
Known for his style of fusing together hip-hop beats, soulful sounds, and samples from crate-digging adventures, the Philos Records' veteran shows no sign of slowing down anytime soon. Every project of his feels like an adventure down a long winding road. But his newly released 10-track album, Pocket Full of Dreams, takes you on a genuine journey full of ups, downs, soul-searching, and emotion that you can truly feel, hear, and share.
A story was told, and we're here to listen.
Starting strong, the first track of the project is called "Yes Ma'am." This song makes you feel a very specific want. A want to passionately succeed in your goals and overcome your struggles. With a relaxed vibe and downtempo beat, it gives you a hunger for more life. The soothing string chords and sample cuts help set the stage for a hopeful outcome to a perilous journey.
Next is the most recent of three singles from the album, "Shining" with Poldoore. "Shining" helps show a positive narrative to an otherwise cruel world. With electronic elements floating over a simple melody, we hear a sample with the lyrics, "the sun shining down on me." Everything meshes in a thoughtful message of confidence within your personal path…or dreams.
Exploring the struggle of making it through the rough decisions of dream chasing, "Caught up" really helps you take an internal look at what needs to be done to achieve happiness. We're told to "be willing to chase your dreams" and "don't let 'em misguide you" as it drops into a heavier vibe of confidence. This one is sample heavy with the satisfying energy of having decided to follow through with your aspirations and to listen to your own intuition.
"Pearly" is a jazzy daydream that melts in your ears perfectly. Feeling like a rest in the climb to the peak of LNR's Pocket Full of Dreams, this track rides a wave that's hard not to relax on. Reminding us to remain positive and to stay looking to the light at the end of the tunnel, "Pearly" delivers some truly magical energy. The nostalgia-inducing synth combined with a saxophone section really drives home the idea that everything is truly going to be okay.
Continuing the same emotional trend, "Stretchin'" makes us feel as though it's a descent rather than a break. The slower beat and trumpet in the background of the second half make you aware that this is all merely a part of the journey and to sit back and go with the flow. No matter the setback, there will always be progress to follow and that's precisely how this track makes you feel.
"Found" was the first single released from Pocket Full of Dreams. The Motifv collab starts out with another sample- "I want a job that I can be proud of.." followed by some vocal cuts from "Yesterday's Dreams" by Four Tops all laid out over a slow and steady beat that demands you pick yourself up from the funk you're in. "Found" finds a motivating message in the second half where the electronic elements are sprinkled in for a more upbeat feel that makes you feel like you're climbing back up the ladder of life.
The second single from the project, "On My Shoulder" touches on the internal battles within oneself regarding the choices one must make in life. Made clear, we hear "some say I got devil, some say I got angel" which reflects each side of the coin to every decision. Slower in the first half, it gives more of a reluctancy whereas the latter has more of a definitive motion to it accompanied with a deeper-rooted sound carrying on.
In "Hidden," featuring Michal Menert, we get another look on this journey upwards and outwards. This track has a heavyweight lo-fi feel complete with jazzy components and more vocal samples. It feels like an homage to the battles we face that nobody knows about. A powerful feeling of an unforgiving battle suddenly feels forgiving with this one and lays down a bright sense of pride.
Coming now to a close, the second to last track, "Skyscrapers and Sunsets" is a relaxing reminder that sticking through hardships until the end will always yield results and relief. Sampling Alan Watts speaking about living the life you always dreamed of really hits home here. Spread out over a feel-good piano melody, this track really nails the follow your dreams mantra and starts to bring this journey to a beautiful finale.
Rounding out this incredible album is the final track, "Promises."
Short but so sweet, this song really feels like a victory lap at the top of the mountain you spent so long climbing. "Promises" showcases LNR's talent in digging for the right sample amongst deep cuts. In this one, we hear a Janis Ian sample from her song "Bright Lights and Promises" partnered with a sample from Too Short's "Blow the Whistle" over an ensemble of elements that create a calming and familiar feeling beat.
With this year being a strong one for the Vinyl Restoration artist, it's not nearly finished. Closing out festival season with appearances at Dancefestopia, Sacred Acre, Of The Werewolves, and Wakaan, it also marked the beginning of his Pocket Full of Dreams tour featuring album collaborators Motifv and Poldoore.
A few stops are even blessed with Mikey Thunder, and fellow Philos labelmate, Parkbreezy. In addition to a stacked lineup, each stop starts with an opening Vinyl Restoration set.
On top of this already massive tour, you can also catch LNR at Public Works on November 11th in San Francisco, CA as well as his New Orleans debut at the legendary Tipitinas on December 2nd, both for the official Pretty Lights afterparties.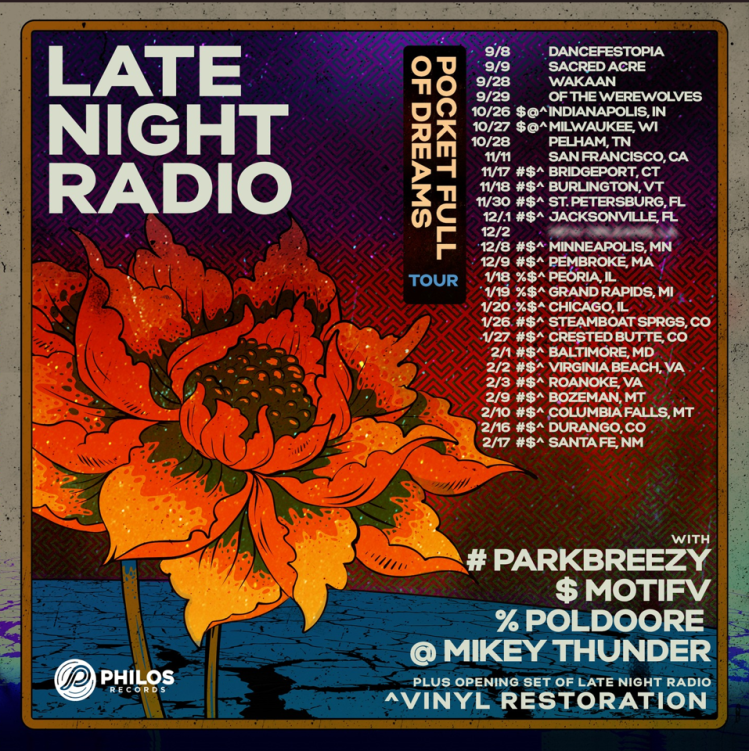 Make sure you keep up with everything Late Night Radio has going on in the links below!