When it comes to rarities in electronic music, Josh Teed is like a precious metal that you can only find in the most remote parts of the world. Getting his start in classical music as a violinist, Teed is one of the only electronic acts of note to introduce live violin into his performances and production methods.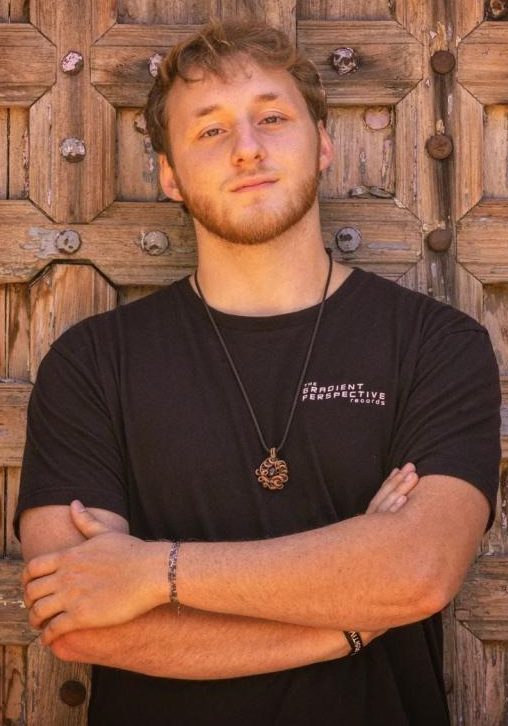 Equipped with a masterful ability to blend elements from across the board and swoon crowds with evocative soundscapes, Josh Teed has successfully paved his way into the speakers and hearts of fans across the industry. With the arrival of his new unreleased mix in addition to some massive upcoming performances such as the SHIFT 2-Year Anniversary, Big Dub, and tour with CloZee, Teed appears to be in his most potent form yet. Recently, we caught up with the Colorado native to talk about everything from the unreleased mix and upcoming shows to 7-Eleven tour diets and treating fans the way they should be.
River Beats: So you're fresh off a massive run of shows. What was your mentality like 7 months ago going into your biggest tour to date? Was it daunting at all?
Josh Teed: At the beginning of it, I was thinking about how long I'd be on the road and ways to make it sustainable so I'm not burnt out by the end. I was really excited to dive into it and get into the beef of tour, but I think the biggest thought beforehand was trying to make it sustainable.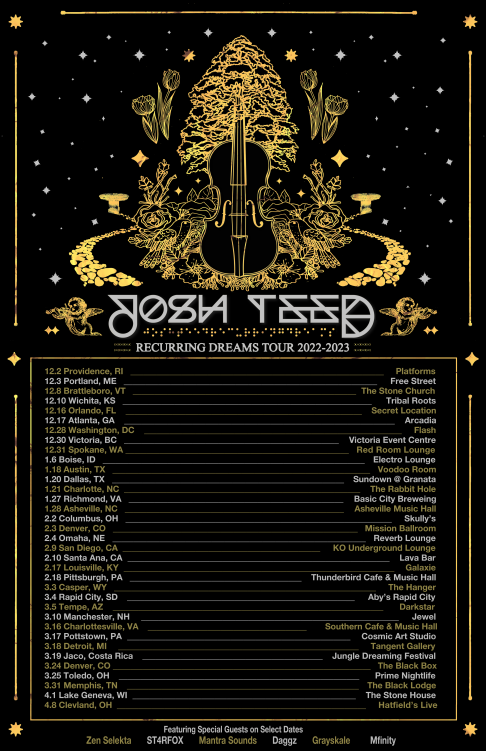 RB: How did you make it sustainable?
JT: Jared, my manager, was super awesome because he hired some staff to do mental health check-ins for artists and stuff. Every other week I would call my friend Ray and we would chat about how I was doing, how things were going, and how I was feeling about stuff. So that was really cool to have. Aside from that, just maintaining a good diet is what I learned from the first couple of tours I did. I remember the very first one I was in the car the whole time for a month and a half with my homie Elliot. We just took a little Subaru Legacy and drove the whole tour. It was really fun and I was working to get out into all those markets for sure but the experience of being in a Subaru Legacy cooped up with another grown man for a month and a half, eating at 7-Eleven and living on taquitos, was not the most enjoyable time.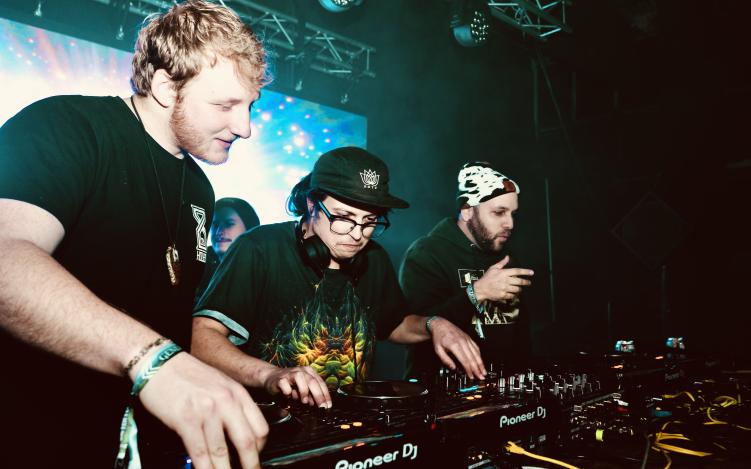 RB: Tour might be over but it looks like you're still pretty busy at the moment with some big shows coming up. We are particularly excited about the SHIFT 2-Year Anniversary, Pretty Lights pre-party with you and The Gradient Perspective Live band. Can you talk a bit about what Pretty Lights means to you and what your sets will be like?
JT: When I was first getting into bass music and this whole side of the music realm, right around 2016 or 2017, I spent a good chunk of the year overseas. So when Pretty Lights came to New Hampshire, where I grew up, I was over in Vietnam. He took that hiatus shortly after so I didn't really get the chance to see him play but I listened to a lot of his music back in the day. Still do. As far as my set goes, I don't think I'm going to make it overly Pretty Lights influenced. I'm going to go mostly original and with The Gradient Perspective live band set being later on, it's also going to be super vibey.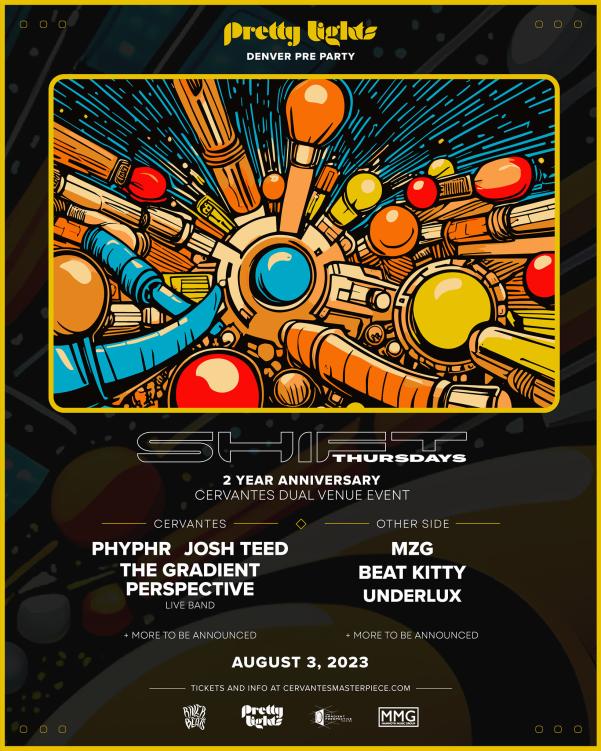 RB: How long has The Gradient Perspective live band been active and who is it made up of?
JT: We've done it twice so far, but I think it had been a concept for probably a year plus. I know Jared (Choppy Oppy/Manager/The Gradient Perspective founder) had been waiting for the right place to debut it. The first two runs around were me, ST4RFOX, Phyphr, and Dredlok but this next show we're going to be bringing on Mantra Sounds, who will be doing some vocal portions in addition to Jared, who is actually going to DJ the set and a few special guests as well.
RB: What kind of coordination goes into these sets?
JT: Everybody who's playing sends Jared a couple of tunes and he figures out how it would flow best and puts the set together accordingly. We're still messing around with a lot of ideas and trying to figure out what makes it work best. What makes it tricky is that a lot of our instruments are within the same sonic range with me on violin, Phyphr on guitar, and ST4RFOX on sax and trumpet. So we have to really figure out who's playing what and get our timing down. I think we all have a vision for where we want it to be so it's going to be really cool when it gets there.
RB: Another big show we are looking forward to is Big Dub! Can you tell us what that festival means to you and how you feel about your upcoming performance?
JT:  I'm definitely looking forward to Big Dub! The last time I played there was probably one of my favorite sets of all time. I had such a good time and the energy was really palpable. I think for the set this year around, I'm going to play a lot of original music but might lean a little heavier being that it's more dubstep centric. I'm not about to be playing Riddim or anything but I'll be playing some heavier cuts for sure.
RB: Speaking of original work, we were absolutely mesmerized by your 2023 unreleased mix. What are your intentions when releasing a composition like this?
JT: I try to put out a mix every year. I feel like it's really important to show that work is not always perfect. There's beauty in the rawness of a lot of these songs because a good chunk of them aren't all the way finished yet. That's one thing that I really love about Flume. He's not afraid to put out a whole album full of WIPs. Having your music as good as possible is a great thing but I feel like people think too much about the end game and not enough about what's happening in the middle of it and the journey of getting to where you're going. A lot of my unreleased mixes signify that for me because a lot of the tunes you hear in them are far from done or far from perfect. I just want to be able to share them with people.
RB: What are some of the tracks featured on the mix?
JT: Within the mix, I have an EP called Taking It All In that's going to be coming out at the end of this year. There's also going to be another three-part series that comes out as singles and those are all included in the mix. Additionally, I have a few collabs in there with some vocalists that I really appreciate such as Delgira, Chuwee, and Logan McDivitt who I just moved in with in Aurora. With Logan, it's the first time I ever lived with another musician so being able to make music together is really fucking cool. Lastly, I have a collab in there with someone really special but I'm not allowed to talk about it.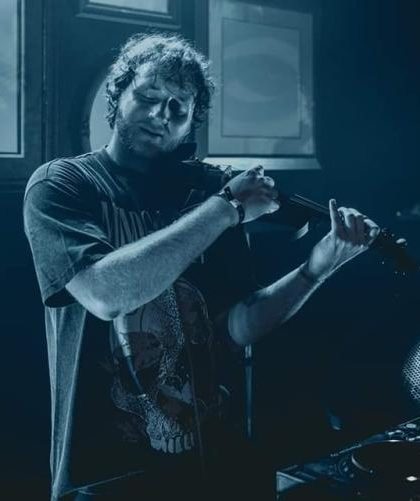 RB: What is the best environment to listen to the mix in?
JT: With this one, a lot of it is chill, vibey, and emotional. The best place to listen to it is somewhere that you're comfortable and can phase out of reality for a little. I want the mix to feel like that for people – the sensation of detaching from reality and going somewhere else.
RB: You've definitely captured that chill and ambient yet emotional aesthetic in this mix. It's a vibe that definitely aligns itself with artists like CloZee. Can you discuss how you feel about going on tour with her later this year?
JT: As long as I've been into electronic music, CloZee has been a really huge inspiration of mine. When you look at my album, The Journey East, there was a lot of her influence to be found in there so to be joining her on tour feels really surreal. As much as I look at her as a fellow artist and a peer, I'm also just a big fan of her music, so that'll be really cool to join her for seven shows.
RB: One of the last things I wanted to chat with you about is your relationship with fans. Something that the scene has grown to admire about you is your transparency and openness on social media. It feels like you're always down to share your thoughts and show a more vulnerable side. What has led to this mindset and why is it important for you?
JT: To me, we're all just people. I feel like a lot of people in the music industry have this tendency to put artists up on a pedestal with fans looking up to them as something more than human. I don't want that dynamic. For me, I feel like that leads to a lot of superficial interactions and expectations being set that might not be realistic. I've seen some more jaded artists just breeze off fan interactions and not really give people the time of day. It drives me nuts because these people are paying money to come and see you play music and they're devoting time out of their lives to pay attention to your art. I feel like the least we can do as artists is return the favor.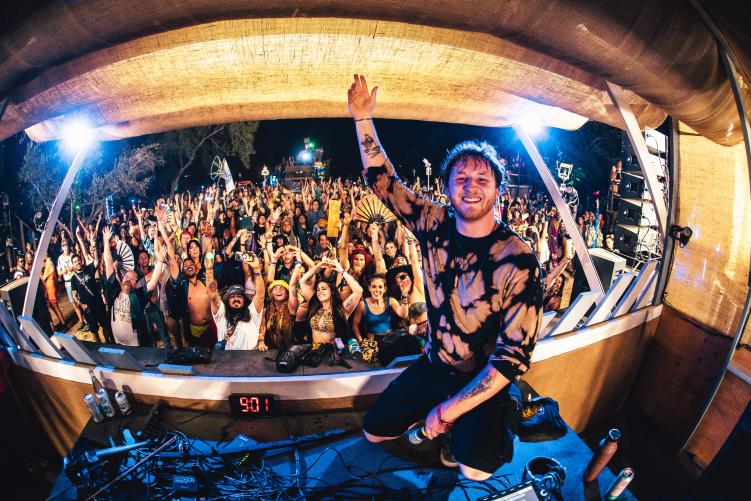 When it comes to his beliefs regarding the way people should be treated, Josh Teed doesn't mince words. When it comes to his production talents, Josh Teed dissolves into different realms only to return with otherworldly arrangements that both stun and captivate.
To witness the prowess of Josh Teed and his elemental stylings, grab tickets to the upcoming SHIFT 2-Year Anniversary here or keep up with him in the links below.
Follow Josh Teed:
Facebook | Instagram | Twitter | SoundCloud