Future funk is alive and well these days, with a new wave of producers and fans making moves in the scene. At the head of the pack, Phyphr continues to push the envelope and his latest 'Down the Street' has got to be our favorite one yet!
While shows are back in full swing, Phyphr aka Nick Locke is putting in overtime working on his debut album! 'Down the Street' exemplifies his efforts and provides a glimpse into what is possible when you put your mind to something.
Down the Street
Since his release in September, Phyphr has been hard at work absorbing inspiration and putting it back out into the universe. With 'Down the Street' it's clear he's found his stride. Paying homage to all things sampling, his love for glitch hop and its roots shines through.
Featuring his signature guitar riffs alongside tasteful sampling, Phyphr is making great strides in carving a path of his own. 'Down the Street' comes just in time for summer and days out in the sun with a warm welcoming vibe.
"'Down The Street' is about staying positive even when life gets tough. It's about smiling in downtown Denver, even when you can't pay your bills. It's about remembering who you love and always counting your blessings. Sometimes all you need is the people you love, some good music, and to feel the energy of the city around you." – Phyphr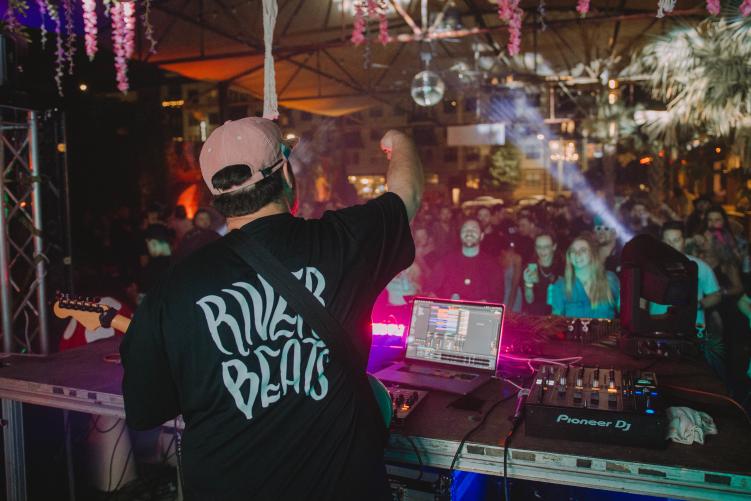 Stay tuned for a deep dive into the Phyphr project as we near the release of his debut album! For those who want to catch the growing artist in action, check out the dates below.
5/26 – Summer Camp Music Festival (Chillicothe, IL)
6/3-4 – Kosmic Kingdom Festival (Des Moines, IA)
6/16-19 – Sonic Bloom Festival (Rye, CO)
6/30 – SHIFT Thursday @ Cervantes The Other Side (Denver, CO)
7/30 – SoDown @ Mishawaka Amphitheater (Bellvue, CO)
9/2-4 – Big Fam Music Festival (Lake Ann, MI)
Connect with Phyphr
Website | Spotify | SoundCloud | Facebook | Instagram