In 1919, Walther Bauersfeld came upon the idea of projecting celestial objects in a dark room to enhance his and his colleagues' research of the solar system. 104 years later, the live events coordinator known as TidalFire has sought to transform the modern planetarium that Baursfeld gave way to into an immersive space for people to experience live music and art.
This Wednesday, August 30th, Boulder's Fiske Planetarium becomes the location for TidalFire's next attempt at weaving together advanced technology with electronic music in a way that evokes a "flow state" among audiences.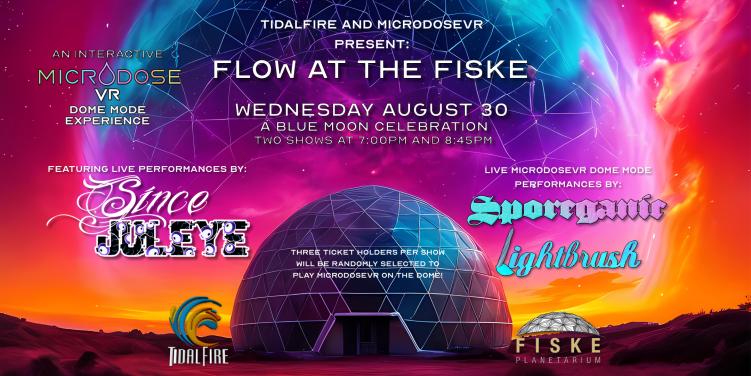 Utilizing the sonic capabilities of trip-hop duo SinceJuleye in addition to the live visual provisions of digital artists Sporeganic and Lightbrush, the mid-week event looks to provide attendees with an experience that differs from typical shows in downtown Denver and the modern EDM scene.
What makes the night especially immersive is the "Micronaut drawing" where three attendees will win a chance to step up to the plate and pilot Microdose VR Dome Mode live on stage.
View this post on Instagram
In addition to that, promoters have partnered with local non-profit Positive Legacy to create an art supply drive for those in need. To make things even more communal, one dollar of every ticket sold will be donated to Positive Legacy with art supply donations garnering attendees additional entrees to the Micronaut drawing.
With the jarring capabilities of Microdose VR in the hands of Sporeganic, Lightbrush, and three lucky guests, along with the live improvised renderings of SinceJuleye, expect nothing but spontaneity and surprise as Fiske Planetarium lights up for two showtimes running from 7:00 – 8:00 PM and 8:45 – 9:45 PM this Wednesday night.
Grab your tickets to the event here and keep up with everything TidalFire has going on in the links below.
Follow TidalFire: