While time pushes further into festival season, we're still Reminiscing about This Year's Elements Music & Arts Festival.
With past coverage ranging from the diverse lineup, innovative art, and activities programming and even an exclusive mix from Steve Darko, BangOn!NYC's fest provided a lot of exciting content for us to share. While the fest boasted an impressive set list of notable names, there is something worth mentioning that we have not yet: The up and coming talent.
Every year at Elements, the team over at BangOn!NYC does a fantastic job at providing a chance for fresh faces in the scene to demonstrate their talents. Although there was a long list of artists that we would love to mention from this year's event, one fiery performance seriously stood out – AKKI.
The Australian turned Brooklyn house rising star brought blazing beats and funky vibes to the Fire Stage on Sunday afternoon. With a line up that day that included Dirtybird Justin Martin, Elements co-creator Golden Pony, and many others, putting on an extremely memorable performance is a feat any artist should be proud of.
While we were unable to chat with her at the event, River Beats caught up with the AKKI after the fest to talk about her journey into the scene, Elements, her upcoming debut release and more.
Check out the entire interview below!
---
RB: I saw that you are originally from Australia… When did you move over to the states and why?
AKKI: "My family and I relocated from Australia to Singapore when I was about 12 and I gained a lot of exposure to a diversity of cultures there – through friends and visitors. I wanted to keep exploring and decided to make a big move to New York for university, went to Barnard College (women's college of Columbia University) and stayed on ever since!"
You are located in Brooklyn currently… A city rich with house and underground music. Was there a driving factor behind relocating to such a lively city?
"I have always been surrounded by a diversity of cultures. New York (particularly Brooklyn) is really one of the only cities I've found that brings it together for me. Apart from being so rich with a range of different music and experiences, I am always amazed by all the different kinds of people I can meet here and how easy it is if you just put yourself out there. New York is just a never-ending exposure to different walks of life. "
When did you decide you wanted a career in music?
"From a young age I'd always dabbled in music or related performance arts but was never quite sure how or what I wanted to do with it. I let it simmer for a bit and then one day realized how much I enjoyed curating playlists for social events and also manipulating sounds to create my own music.
After I took a few DJing and production lessons and played a few gigs around the city, there was just no going back. When I perform at a show or finish a track, I am just on a high for days after and that to me is a no brainer that I have to do this."
Were there any artists that inspired you to begin a career in music?
"I actually think it's been a mix of labels and artists over the years spearheading interesting sounds that inspired me. My earliest inspirations were the Ministry of Sound and Hed Kandi compilations back in the early 2000s, especially because we had a Ministry of Sound and Hed Kandi nightclub while growing up in Singapore. I loved MOS' earlier trance heavy compilations and then fell more in love with Hed Kandi's deep disco features. Then when I moved to New York I joined a Latin/Caribbean dance team in college and gained so much exposure to more drum-heavy beats which really planted the seeds for my love of afro-grooves to this day.
Around 2011 and onwards, Defected Records released a wave of super interesting and original deep house introducing me to MK, Shadow Child, Maya Jane Coles, Duke Dumont, Tensnake, The Magician, Waze and Odyssey, Anna Lunoe and many more. That's when I probably felt my niche was more the sub-genres of deep house and gravitated more towards groovy tech and acid house.
Soon after I discovered more underground labels like Fuse London and artists such as Seb Zito and Einmusik. Eventually also got more interested in heavier, darker artists, inspiring me to take more risks in my selections and productions."
How long have you been mixing? Producing?
"I have been DJing for about 6 years now and producing seriously for almost a year. I always dabbled in production growing up but never quite pursued it seriously until the past year."
I believe I saw on your Instagram that you will be releasing original music soon…Is this your first original release or are there others?
"Yes! These will be my first original releases. My previous two releases have been collabs/remixes. My first original will be coming out on a UK label later this year and I am working on a lot more original music in the meantime – including a collab with another amazing female artist."
Your set at Elements was one of the most memorable of the weekend. As a rising star, that is an impressive feat…Especially when you are sharing the stage with huge names like Disclosure, Fisher & Justin Martin. Tell me about that experience.
"It is definitely surreal to think I played the same stage as these legends. I think having a slot on this stage really pushed me to think about what I can bring to a set that will be unique, especially at a festival where you are one of many artists performing.
This one for me was less about making people dance and more about contributing to a really interesting experience on the last day of the festival. Sharing a stage with big names gave me that courage and confidence I needed to explore alternative sounds and beats that were unexpected but still flowed nicely together to tell a cohesive memorable story."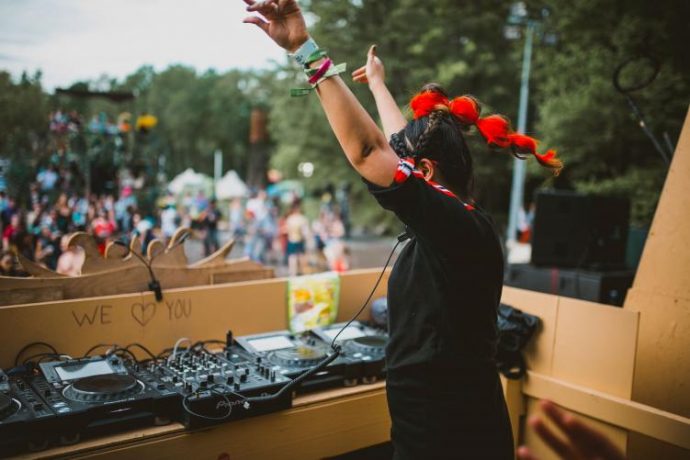 ---
What was one of your favorite memories from this year's Elements? (aside from your set)
"Hands down convincing the staff to let me drive one of the sports cars back to my camp."
I saw that you host the Midnight Snack Radio Series. Can you tell me a little bit about that? (What is it; How did you get involved; etc)
"I am a big advocate for more diversity in the scene, particularly trying to bridge the gender divide and help more women/GNC artists get booked. Midnight Snack is a feature mix series I started to amplify underground talent with a heavy focus on female/GNC producers. The name was inspired by artists similar to myself juggling a day job with a side passion that is basically a second career.
While we are focusing on women/GNC performers right now, the goal is to continuously diversify our focus. For example, shift towards more LGBTQ later this year, and eventually build a collective of diverse artists and allies. We are actually having our first event/takeover at the Soup x rvdiovctive boat party on June 22nd, so it's a big move for us!"
---
---
What is one or two things you would like your fans to know about you or your music?
"I am always trying to communicate some sort of interesting story or idea through my music – I can never produce or write a song that doesn't have a purpose beyond the dancefloor."
If you could pick one venue/festival in the US to play that you haven't, where would it be? (in other words, your "dream" booking)
"Electric Forest on one of the main stages! I have always heard amazing things from my fellow artists who have played there."
What is your favorite venue you've played?
"House Of Yes. The free-flowing energy and liberty to be self-expressive there make it such a unique experience. We never know what to expect or who to expect when playing there, but everyone's energy is always so high."
What is one artist you'd love to collaborate with?
"The Black Madonna! Her productions are so interesting and her sets are always so diverse – from heavy acid house to vibrant disco grooves. I feel she would have so many interesting ideas when collaborating."
If your life had a soundtrack, what would be the title?
"I could never be your woman"
---
If you're in New York this weekend, you're in luck. AKKI will be joining Kenny Dope and Pyscho Disco's Treasure Fingers for the Boat Trippin' boat cruise on Saturday, June 22. Click here for tickets and further details.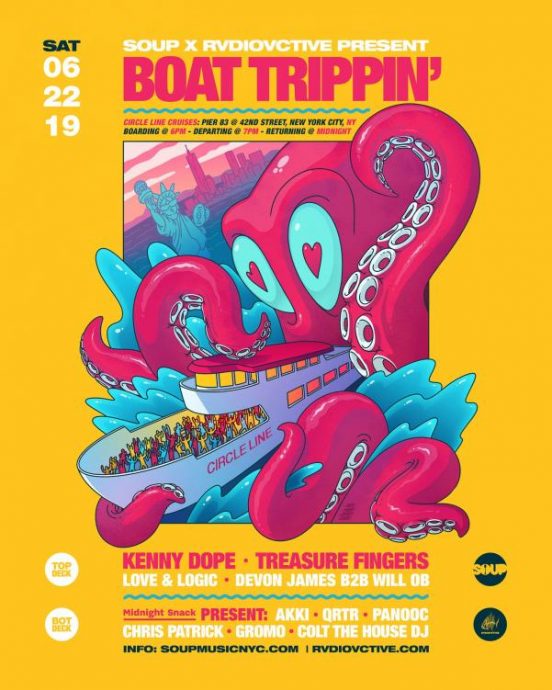 Keep an eye on her socials for a full list of upcoming show announcements and release dates.
---
Connect with AKKI:
Facebook | Instagram | Twitter | Soundcloud
---
📸: Zack Henningsgaard