We are officially two weeks away from the third installment of Elements Music & Arts Festival. 14 short days stand between us and BangOn!NYC's whimsical weekend in the beautiful, scenic area that is Lakewood, Pennsylvania.
In case you weren't excited enough already, River Beats, with the help of the team over at Elements, teamed up with Steve Darko to bring you an exclusive meet and greet competition, hour-long mix and interview. One lucky winner will get the chance to hang one-on-one with Steve at the festival (Enter below!)
Elements Festival 2019: Win a meet & greet with Dirtybird's Steve Darko

---
Along with the meet & greet, Steve also put together a special hour-long mix in honor of the festival. Featuring old and new Darko favorites, plus some unreleased goodies, this mix is 60 minutes of pure gold. Not only did he agree to the mix, but he also chatted with us about his journey into the music scene, his exciting past year, Elements and more!
Check out the mix and exclusive Q&A with the self-proclaimed King of Eels below!
---
---
RB: You work as professionally as a software engineer…how did you get into producing?
Steve Darko: "Well, I was producing before working as a software engineer. I started both hobbies when I was a young lad, around 13 years old or so. I currently work as a software engineer at iZotope, where we make software and hardware for audio — mostly for music production and post-production (audio for TV, film, podcasts, etc). I lucked out being able to work on products that I use all the time in my own productions."
How long have you been producing?
"Technically for 15+ years, but I've been at it seriously for about 9."
Were there any artists in particular that inspired you to begin a career making music?
"Early on I was big into hip-hop like Biggie, Snoop, A Tribe Called Quest and Cypress Hill. I played bass and guitar in punk/hardcore bands in high school and started producing electronic music seriously around 2011.
Some artists that inspired me to start producing electronic music were The Crystal Method, Skream, Benga, Jon Hopkins, and Aphex Twin."
You are a fairly new name in the scene and you already have a track signed on Dirtybird, were in direct support for Claude VonStroke on his 2018 tour, played at DBCO, Holy Ship, etc. Can you elaborate on your experience up to this and how you are feeling currently?
"The past year has been insane for sure. The tour with Claude was amazing! I learned a ton from him about all aspects of the music industry and had a blast playing all those shows. I also gained a ton of respect for producers/DJs who are out there touring full time — it's so much fun, but incredibly draining to fly to 2-3 cities in a weekend while playing shows until the early morning. Definitely looking forward to playing some bigger shows and festivals this summer."
It's been almost one year since you attended Elements as an attendee…This year you'll be playing on the Fire Stage among huge names like Disclosure, Justin Martin and Fisher. I'm sure you're excited! How does it feel?
"I had such an amazing time at Elements last year! Can't wait to smash that fire button all night long at the Fire Stage on Friday! Hoping I don't catch on fire during my set, but also kind of hoping I do catch on fire during my set. Wouldn't that be 'lit?'"
What is one or two things you would like your fans to know about you or your music?
"1. I'd rather talk to you about eels or Bikram On The Nines than music unless I'm in the studio. If you decide to invent a new offshoot of dominos, feel free to tell me about it, but don't ask me to invest unless it's legit.
2. If you want to make good music and be successful as a producer then spend as much time as humanly possible making music. Stop knitting or knotting or pitting or potting or playing video games or whatever else you might do in your free time and just keep making more beats."
If you could pick one venue/festival in the US to play that you haven't, where would it be? (in other words, your "dream" booking)
Probably Shambhala. Not technically in the US, but it's close enough. Had so much fun at this festival back in 2015."
What is one artist you'd love to collaborate with?
"OMNOM's cat and Wongo's kangaroo…seriously though, I'd love to work with Ardalan, his tunes are delightfully weird and intricate."
Any exciting releases that fans can look forward to in the near future?
"Yes, more tunes coming but I can't go into much detail there. I also have a load of unreleased music I've been playing out, some come out to a show to hear it for yourself!"
If your life had a soundtrack, what would be the title?
"Misty Eelboi On The Rocks (No Salt)"
Anything else you'd like to add?
"Thanks so much for having this interview and I can't wait to hang at Elements!
Hope to see all you kids out there this summer and thanks for supporting my music."
---
Steve Darko will play the Fire Stage at Elements Music & Arts Festival in Lakewood, PA this Memorial Day weekend, May 24-27. Get hyped by checking out the stacked lineup below. Head to Elements website here to purchase tickets!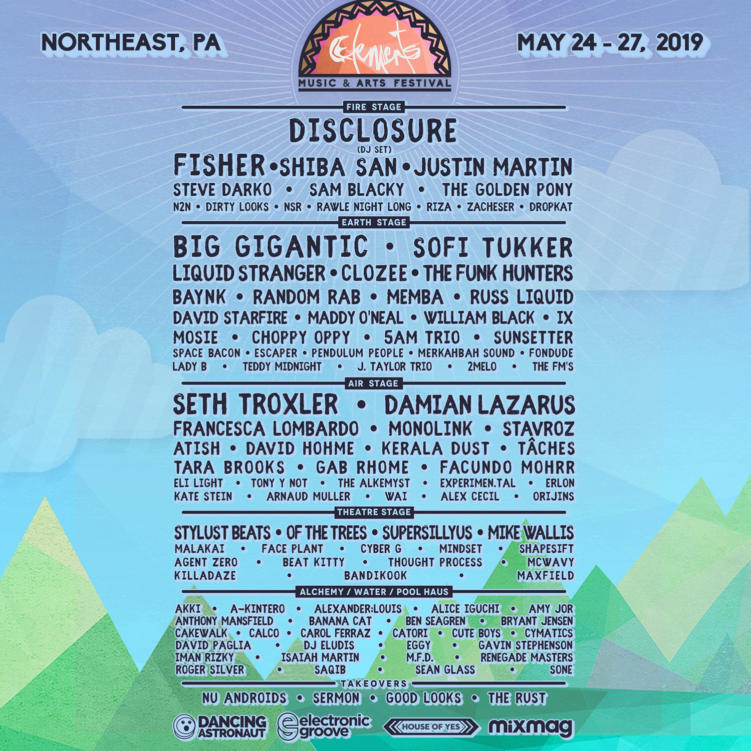 ---
Connect with Steve Darko:
Facebook | Instagram | Twitter | Soundcloud
Connect with Elements Lakewood:
Facebook | Instagram | Twitter | Website
Connect with BangOn!NYC:
Facebook | Instagram | Twitter | Website