The music industry has seen several players attempt to create their own worlds that run parallel to their music. Artists like Porter Robinson, Illenium, and Excision are all names who have successfully designed audio-visual experiences that have enraptured their fans for years through art, storylines, and even branded festivals.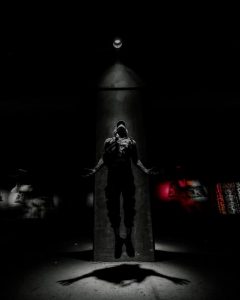 Now, as new producers attempt to find success in the same manner, one artist has begun to rise above the rest. His name is Bad Proxy, an industrial and glitch-based producer with a sound that you can feel in your bones and a narrative that will leave you transported.
2021 saw Bad Proxy release a string of singles that follow the storyline of a self-aware AI program named E.O.N. A program that is attempting to bridge a connection between the digital world in which it resides and the human world – with Bad Proxy acting as its "cyber-syndicate." 
Most recently, Bad Proxy dropped "Symbiotic," a bass-driven track with gritty overlays scattered throughout. At this point during the storyline, the time has come for E.O.N. to upgrade his "cyber suit" and take on a new form.
The event sets the stage for a massive 2022 in which fans will discover whether or not the AI program is successful in its mission to connect the digital world, Octavia, and our own
Bad Proxy has plans to release a track with a massive, currently unnamed, label in the new year. The Philadelphia native was also slated to open for Zomboy in Philadelphia on New Year's Day, but that has since been canceled. However, expect this rising artist to be making his way onto concert flyers across the map into 2022 and beyond.