At first glance, the worlds of Porter Robinson and Harry Potter couldn't seem any more different. They are two fantastical realms that are filled with their individual characteristics, traits, and storylines that exist in separate universes. But upon further inspection, fans will see that both of these worlds possess a certain level of magic that enraptures and entices their audiences on an incredible scale.
It is for this exact reason that the recently announced partnership between Porter Robinson's Second Sky Music Festival and Nassal, the company that delivered the Wizarding World of Harry Potter at Universal Studios Orlando, makes so much sense.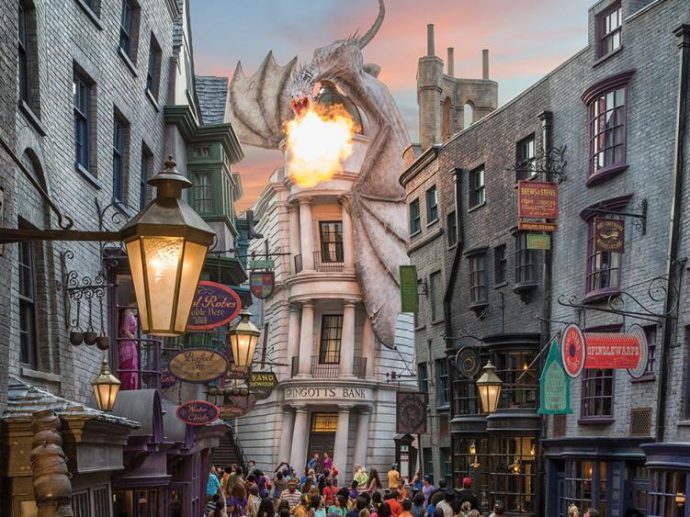 For the uninitiated, the Wizarding World of Harry Potter is an immersive experience at Universal Studios Orlando that includes recreations of scenes from the movie such as Diagon Alley, muggle London, and two HP-themed rollercoasters.
Nassal took no shortcuts in creating this experience, and their incredible attention to detail and desire to go above and beyond expectations has been driving thousands of Harry Potter fans to the Orlando location on a regular basis. Given Nassal's ability to create spectacular realms and jaw-dropping experiences like this, there is no wonder why Porter Robinson wanted to team up with them.
In his Instagram post, Porter Robinson makes no indication of what exactly Nassal will be building at Second Sky, only that they will be commanding the efforts of immersive experiences and the "transformation" of the festival as a whole.
I am insanely hyped to tell you that Nassal will be the ones making immersive installations and transforming Second Sky! I'm still in disbelief that it's happening. The initial stuff they've shown me is just so immersive and cool, I cannot wait to see it with you in person. My favorite fun fact about this is that we are getting a QUARTER MILLION FEET of turf for the entire venue lol. And, we are going to be able to do significantly more pyro in the new location which is an unexpected plus."Porter Robinson
This announcement comes one week after Second Sky made statements regarding a venue change and health protocols that will now require attendees to show either proof of vaccination or a negative COVID test upon entry.
Regardless of the hurdles that they're facing, Porter Robinson and his team are proving that they have all intentions of delivering an incredible experience at Second Sky. Keep your eyes on the River Beats feed for any and all updates regarding Porter Robinson and the upcoming festival.
Featured Image by Priscilla Rodriguez