Dutch duo DROELOE just released their first single of the new year, "Only Be Me."
The curious buzz around "Only Be Me" started this past Boxing Day, when DROELOE released a mysterious and comedic infomercial for a fictional product to "turn your self-doubt into self-proud." The infomercial takes a lighthearted spin on one of the most relatable issues around, the masks we wear around others – on social media and in real life – to hide our true selves.
On "Only Be Me," DROELOE invites you to leave your mask behind. The tracks's honest vocals and soft synths break into one of the Bitbird duo's brightest drops yet, running high on catchy squelching melodies and sharp percussion. Despite the negative implications of constantly putting on a front, "Only Be Me" celebrates the people and moments that make you feel like yourself, as DROELOE explains:
"Finding someone, something, or someplace where you truly feel like you can be comfortable being yourself is a beautiful thing. But of course, life isn't really like that and apart from a few special exceptions, it's hard for most people to feel that way. This track is about that feeling and about that special someone that gives it to you."-DROELOE
"Only Be Me" comes ahead of the second leg of the duo's The Choices We Face tour along with Kidswaste, Fytch, Tails, and more. You can find dates below and ticket information here.
Check out the new track "Only Be Me" below and catch DROELOE on tour this spring!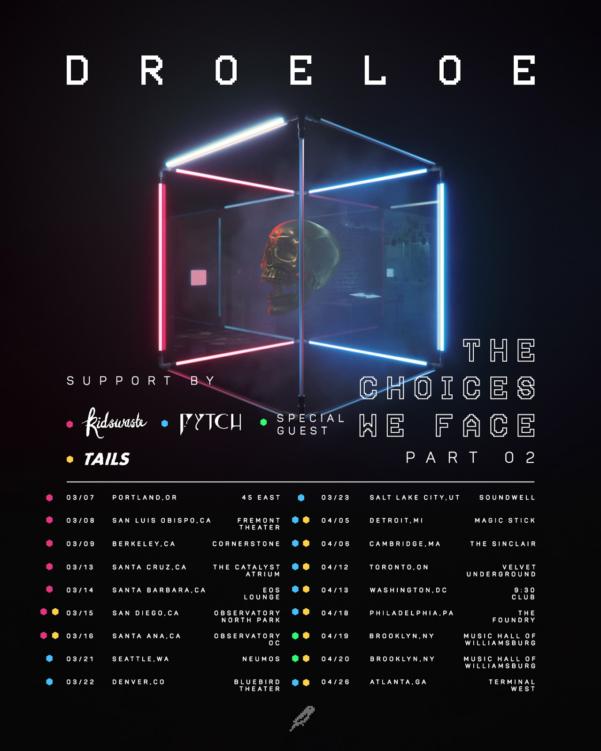 ---
Connect with DROELOE: SoundCloud | Facebook | Twitter | Instagram | Website