Riding the high off of Neon Jungle's tremendous success, CloZee returns to the main stage June 18th for VOYAGE! Presented by Odyzey Music, Voyage will bring a new sonic experience to Terry Bison Ranch.
Just north of the Colorado border, the ranch has hosted artists from Subtronics and CharlestheFirst for curated fan fair. CloZee looks to leave her own imprint on the green acreage with the likes of LSDream, Inzo, Rome in Silver, Tripp St, Notlo and more!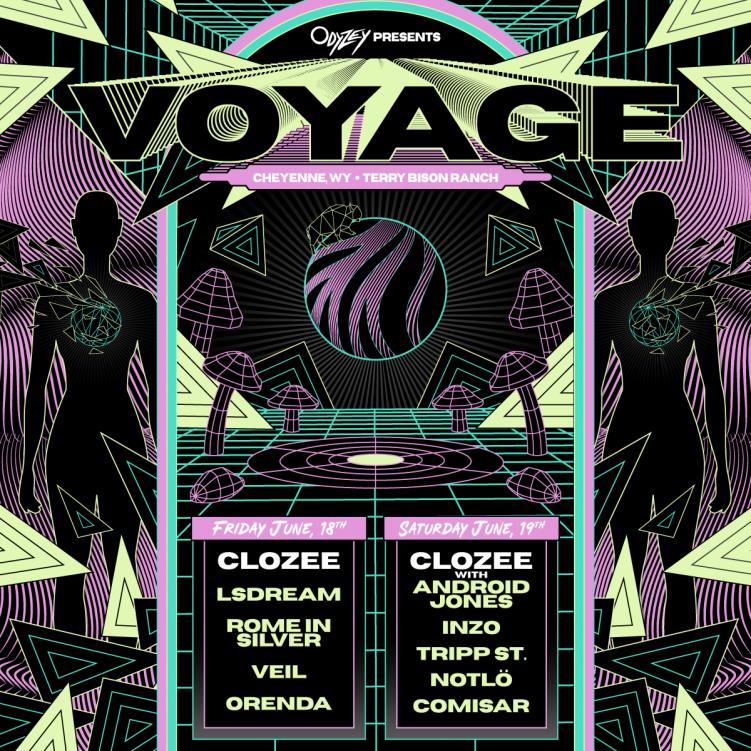 Get your tickets HERE while they're still available!
"A purveyor of lucid sounds, French producer Chloé Herry is a worldly and rhythmic figure in the electronic music atmosphere. Best known as CloZee, this Toulouse dwelling producer awakens the wanderer within. Orchestrated under the umbrella of modern electronic music, CloZee's sound can best be described as world bass. "
Greener Pastures
Terry Bison Ranch has solidified its name in the list of capable venues with the massive success of their opening events. Soon, Odyzey Music will leave its own brand on the unassuming farm just south of Cheyenne, Wyoming. Throughout the weekend, attendees with camping passes will have the opportunity to attend guided meditations, sound baths, and a Renegade lineup to keep the party going through to the early morning.
Voyagers! We have some amazing late night activities planned 🙌 We opened up single person camping add-ons for those of you who have a campsite to join. ⛺ Camping passes are required for late night and daytime activities. Thanks to everyone who submitted for the open decks! pic.twitter.com/kAAqntJv81

— Odyzey Music (@OdyzeyMusic) June 4, 2021
Alongside CloZee is a fresh cast of stars fill the bill! LSDream and Inzo will be joining as direct support to bring the energy levels to an appropriate level for two incredible CloZee sets! LSDream brings a spiritual connection to the human experience with a psychedelic rhythm. During the day, catch him at a sound bath or guided meditation! Inzo adds to the mix with a galactic sound sure to get the body moving.
Check out the playlist below to hear more from the artists!
Make sure to arrive early for the incredibly talented openers, and custom Voyage merch! Odyzey's own Tripp St debuts their first live performance. Campers can also catch Rome in Silver, NotLö, and VEIL performing on both the main stage and the Renegade! Saturday's Open Decks can't be missed with Saltus, Dekai, and more.
Did someone say new Voyage merch 👀Only one more weekend to go!! ✨ @CloZeeOfficial pic.twitter.com/XSC0RBI0cw

— Odyzey Music (@OdyzeyMusic) June 8, 2021
Get your tickets HERE while they're still available!
---
Featured image via CloZee.