Fire Lights Music & Arts Festival takes place over September 9-11, 2021.
Located at Wainer Park – 1000 Washington Dr, Edinboro, PA 16412.
Single-day tickets are now available!: www.firelightsfestival.com
---
PRESENTED BY EDINBORO VOLUNTEER FIRE DEPARTMENT, FIRE LIGHTS MUSIC & ARTS FESTIVAL COMES TO EDINBORO, PA THIS September 11 WEEKEND. 100% of festival proceeds will benefit the Edinboro Volunteer Fire Department. This 3-day music and camping festival includes 2 separate stages with a capacity of 2,500 people.
Fire Lights Festival is located at the beautiful Wainer Park in Edinboro, PA just down the road from I79. Attendees can arrive early on Thursday, September 9 to get comfortable and enjoy live performances in the camping area to start the weekend off. Stages will be treated with Hennessey Sound Design thanks to Tiaga Sound and Lights!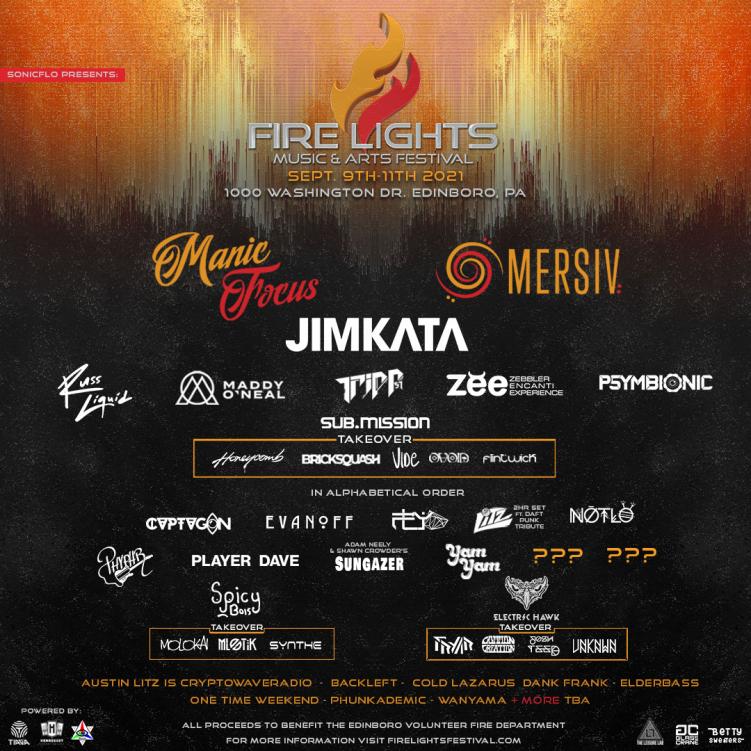 Freshly Picked
With daily lineups out, the excitement for Fire Lights is ever increasing! With a stacked roster from top to bottom, attendees will be able to experience some of bass music's fastest-growing acts. Mersiv closes out the main stage Friday as he continues to build momentum for his upcoming album release.
Alongside the fresh list of upcoming producers, festival veteran Manic Focus takes over on Saturday night to close out the festival properly. The rest of the lineup leaves little room for breaks with nonstop action on the stages.
Here are 10 of the artists we believe simply can't be missed!
Manic Focus
The host with the toast, Manic Focus comes to Fire Lights Festival to bring a wide variety of funk, soul, and new era hip-hop beats. Featuring a live drummer, a keytar, and a ton of energy, his live performance takes it to the next level. JMac continues to step it up after years on the circuit with all original production and one of the best lighting teams in the game.
---
Mersiv
Perhaps one of the fastest rising stars in bass music, Mersiv is set to close out Friday night with a Pretty Dark Loud display sure to get listeners on their feet. Mersiv is on a tear as he continues to build momentum for his debut LP.
---
Tripp St
Anonymous sound bender Tripp St has solidified his place on lineups after many break-out performances since his debut at CloZee's VOYAGE. His sold-out SHIFT Thursday debut featured a blend of ear-tingling beats and throwback edits we can't wait to hear again. Debut album Welcome to Tripp St is still hot out of the oven, and there's word a second album is already complete!
---
NotLö
Fresh off her latest EP with Wakaan, Hallucination Effect, NotLö is set to take off in 2021. Releases on Deep Dark & Dangerous, and Gravitas Records have helped build a foundation we look forward to seeing her expand on.
NotLö is also known to walk the walk. Proceeds from the Evolve EP as well as the NotLö & Friends event were donated directly to NAACP and RAINN. NotLö will win you over with a heart of gold and a unique low-end sound.
---
Phyphr
Phyphr is yet another artist who rocked the house at SHIFT Thursday recently. Additionally, we've received an exclusive preview of the title track off his forthcoming EP, Into Infinity! Phyphr's sound is rooted in funk, soul, blues, with a dash of glitch to bring the energy to a peak. Keep an eye out as we expect Phyphr to soar to the top.
---
Ovoid
For those looking to decompress, look no further. Ovoid is a minimalist downtempo producer with a surgical focus on sound quality and pleasing tones. Matched with Hennessey Sound, attendees will get a proper introduction to the intricacies and unique style of Ovoid.
---
Vide
By way of Baltimore, MD, Vide joins the Fire Lights roster with an intense combination of ethereal sounds and heavy low-end bass. His latest release, 'ultraviolet' featuring FLY, was nearly a year in the making, but the time invested paid off handsomely. After leveling crowds at the Black Box and Flash in DC, Vide is absolutely one to watch.
---
Fryar
Fryar just dropped his latest mix along with lineup-mate NotLö on Morflo Records' Mersiv 44.4 Radio! Following his single 'Doubt in My Head,' the mix is a small glimpse into what listeners can expect in a live set. A combination of hip-hop inspiration, melodic synths, and heart-pounding bass creating the polarity heard in his sound.
---
Mlotik
Chicago-based mlotik is a dynamic duo who began as community members promoting local events and attending festivals. Inspiration grew over time both in DJing and production, leading to the forming of the budding project.
Since their debut in 2018, mlotik has gained recognition with releases on Wavecraft Collective, Spicy Bois, and MorFlor Records. Bookings followed soon after and Michal and Mariusz have since graced a number of stages including WAKAAN Festival.
---
Josh Teed
To conclude the incredible cast, producer, and instrumentalist, Josh Teed brings a fresh element to the table with a unique take on bass music and live elements. While his sets feature the violin, Josh Teed is well-rounded in his abilities and we look forward to his development. The Journey East is his latest project laden with friends and fellow producers collaborating to tell a story.
wait a minute… @TeedJosh is on twitter now? it's about damn time, my guy!

y'all check him out if you haven't already 🌶 pic.twitter.com/oJ9glwxhUB

— am ૐ (@_asapams) August 17, 2021
---
Fire Lights Festival info
With entry beginning Thursday, September 9, the countdown has begun! In addition to the 10 freshly picked artists, the Fire Lights lineup is stacked from the bottom up.
For information on vending or participating, visit the website and complete the vendor form. The Firelights Festival Staff will get in contact with you as soon as possible.
Fire Lights Music & Arts Festival takes place over September 9-11, 2021. Located at Wainer Park – 1000 Washington Dr, Edinboro, PA 16412. Single Day Tickets and more: www.firelightsfestival.com
Featured image via Brittany Teuber
Festival Director – Andrew Lehr – AndrewL@firelightsfestival.com