This past week looked like an incredibly busy one for booking agents and managers across the industry. From your favorite jam bands to some of the most hard-hitting acts in bass music, artists have begun lining up their winter and 2023 tour schedules.
To make sure you don't miss your local stop, here are all the tours that have been announced in the past week and some details regarding support, dates, and reasons to go.
Yheti – Knew Sound Tour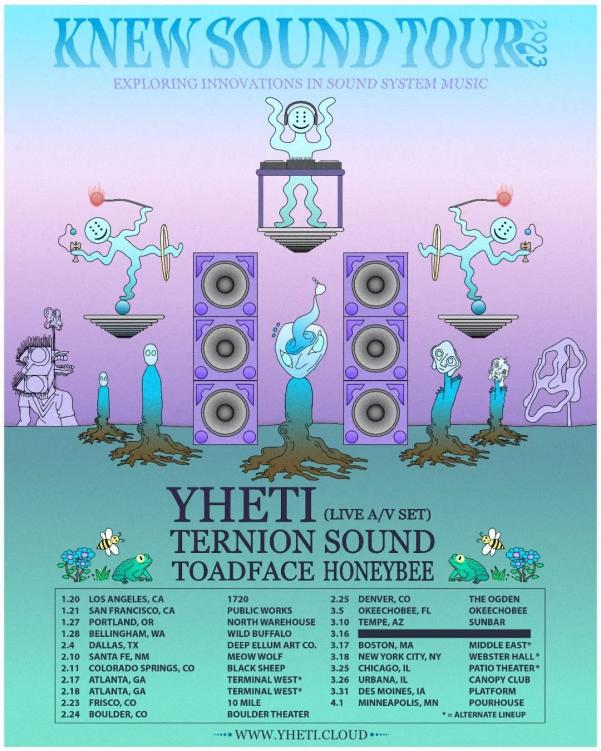 Duration: 1/20-4/1 (Phase 1)
Support: Ternion Sound, Toadface, HoneyBee
Reason to go: The tour will follow the release of Yheti's 20-song LP and will also be the first time he has taken his AV set on the road.
Of The Trees – Codex Natura Tour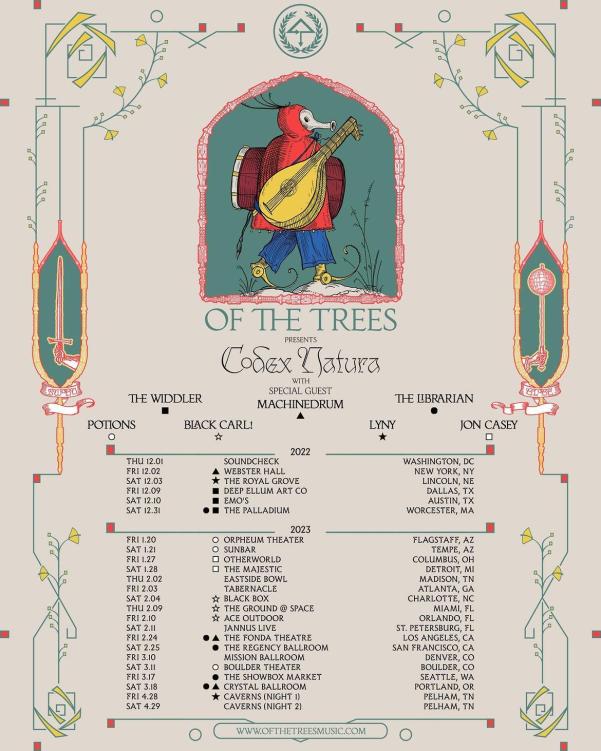 Duration: 12/1-4/29
Support: The Widdler, Machinedrum,  The Librarian, potions, Black Carl!, LYNY, Jon Casey
Reason to go: Aside from incredible support, Of The Trees seems to be entering a creative matrix that is contributing to his live performances substantially. These will also be AV sets from the Colorado-based artist.
Boogie T – Outbreak Tour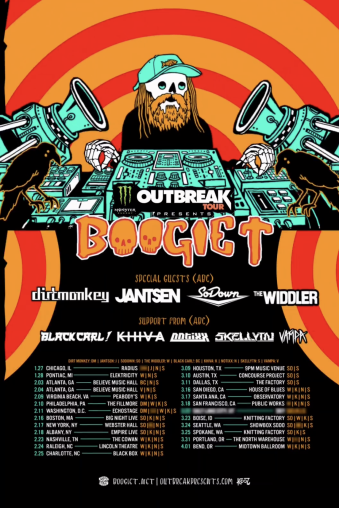 Duration: 1/27-4/1
Support: Dirt Monkey, Jantsen, SoDown, The Widdler, Black Carl!, Khiva, Notixx, Skellytin, Vampa.
Reason to go: Anyone who has caught a Boogie T set in the last year knows how electric his shows can be. There's no surprise why he is being booked at some of the biggest venues in the country with some of the biggest names in bass music and dubstep.
Josh Teed – Recurring Dreams Tour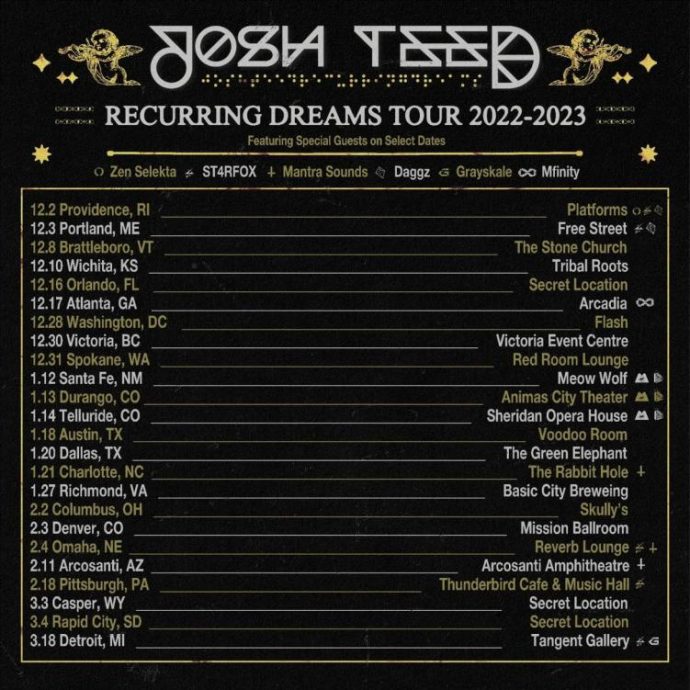 Duration: 12/2-3/18
Support: Zen Selekta, ST4RFOX, Mantra Sounds, Daggz, Grayskale, Mfinity
Reason to go: A violinist and exploratory sound designer coming out of The Gradient Perspective Label, Josh Teed has thrown down some insane sets in 2022. This tour will follow Teed's Recurring Dreams album.
The Disco Biscuits – Winter/2023 Tour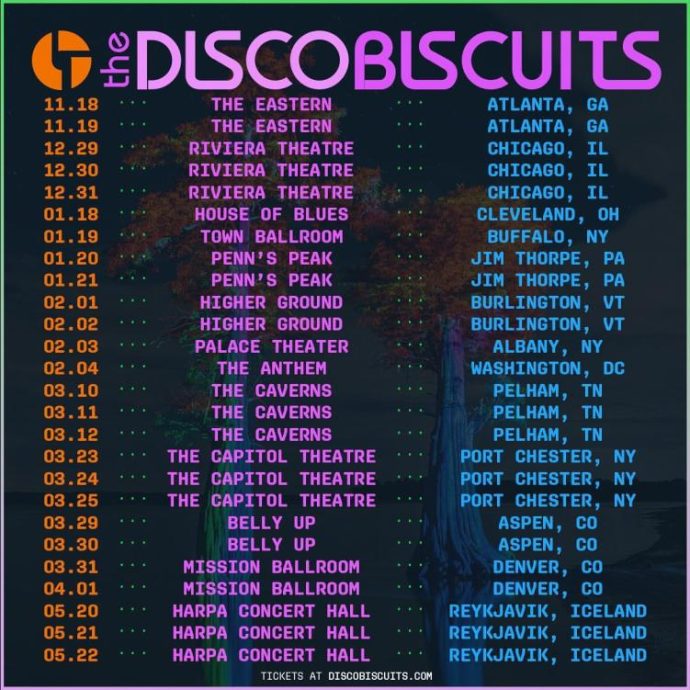 Duration: 11/18-5/22
Support: TBD
Reason to go: Lasers
Ternion Sound – International Tour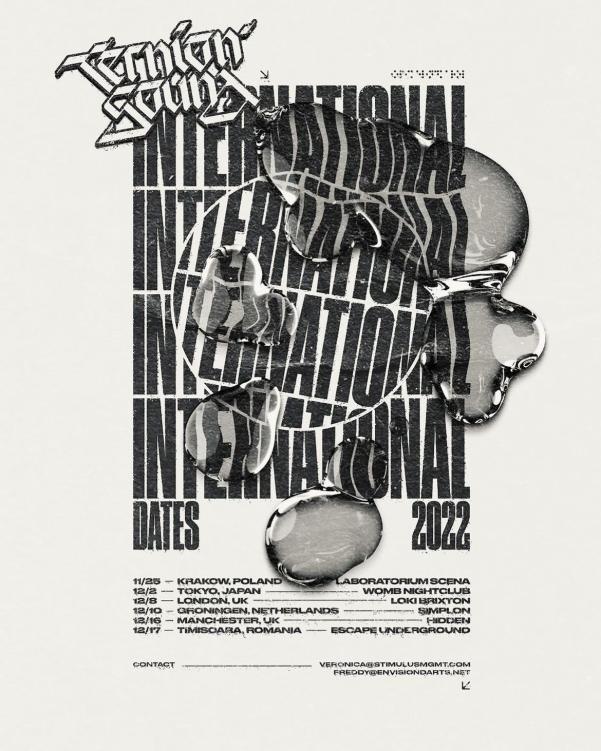 Duration: 11/25-12/17
Support: TBD
Reason to go: There is a reason why Ternion Sound is getting booked all over the world in non-stop fashion. Despite their consistency, you should expect the trio (or live duo) to be performing sets specific to each city they land in.
Trivecta – The Way Back Up Album Tour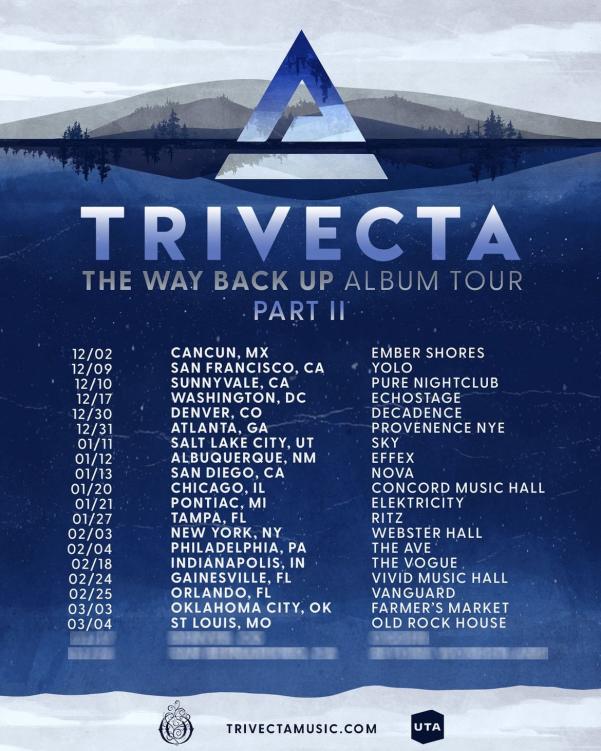 Duration: 12/2-3/4 (Phase 2)
Support: TBD
Reason to go: Trivecta blew out Phase 1 of his recent tour in such fashion that he had to run it back. With back to back festivals on top of sold out shows, Trivecta and his multi-instrumental prowess never dissapoints.
Big Gigantic – Brighter Future Tour Volume II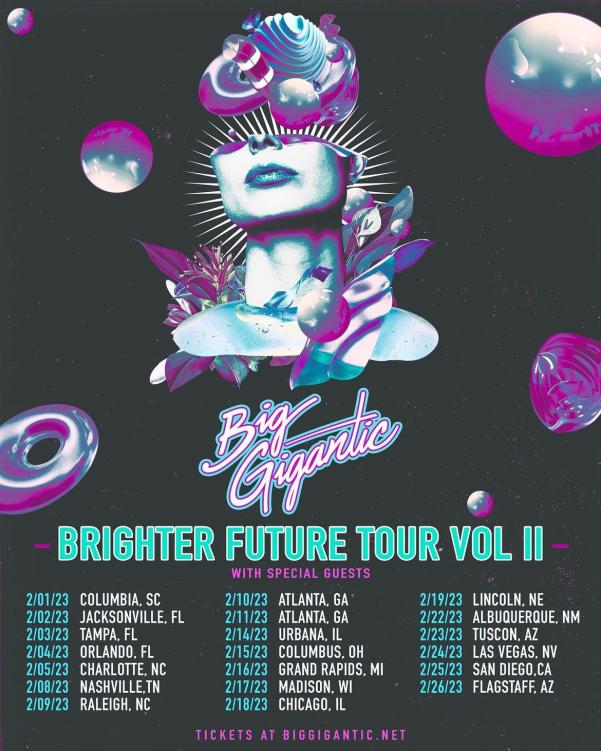 Duration: 2/1-2/26
Support: TBD
Reason to go: With 20 shows in 26 days, Big Gigantic is planning for a massive sprint through the US. As a a group that is known for their live shows, the Brighter Future Tour is a can't miss.
The Floozies – Midas Whale Tour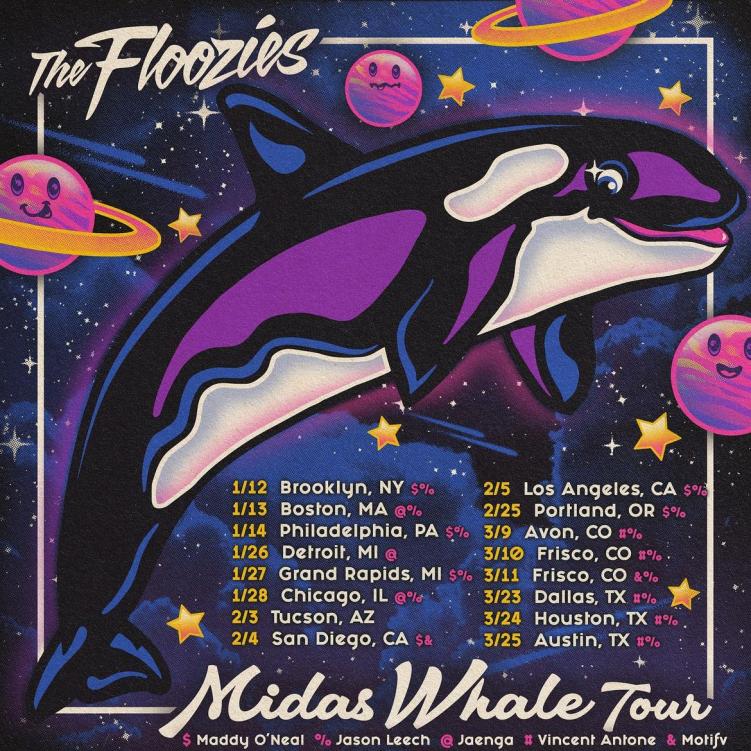 Duration: 1/12-3/25
Support: Maddy O'Neal, Jason Leech, Jaenga, Vincent Antone, Motifv
Reason to go: Since their first show in 2008, Mark and Matt Hill of The Floozies have been steadily crushing the live circuit. With multiple returns in their upcoming docket, this is one jamtronica band you will want to get a taste of.
ATLiens – Space Cathedral Tour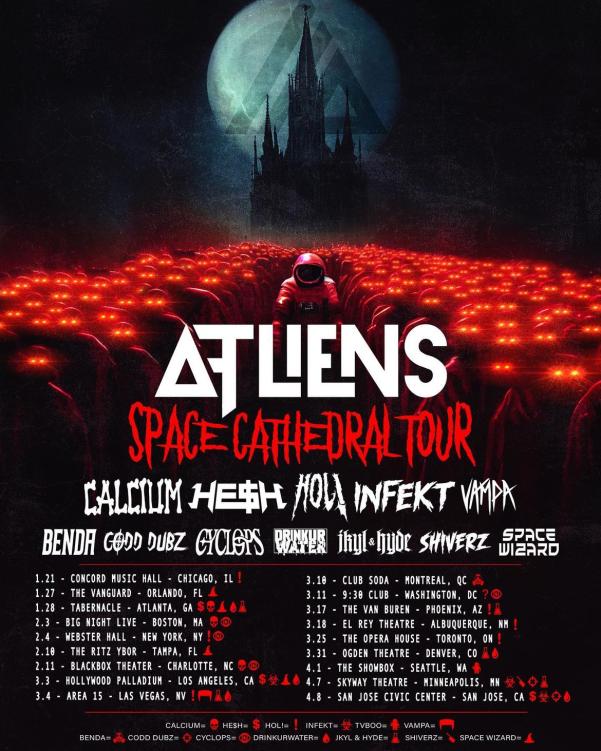 Duration: 1/21-4/8
Support: Benda, Good Dubz, Cyclops, Drinkur Water, jkyl & hyde, Shivers, Space Wizard
Reason to go: Bringing along an onslaught of dubstep artists new and old, the Space Cathedral Tour via ATLiens is lining up to be a speaker-worthy trek. Those who haven't seen the masked extraterrestrials tour should be keen on catching a glimpse of their theatric performances.
Marauda – Rage Room Tour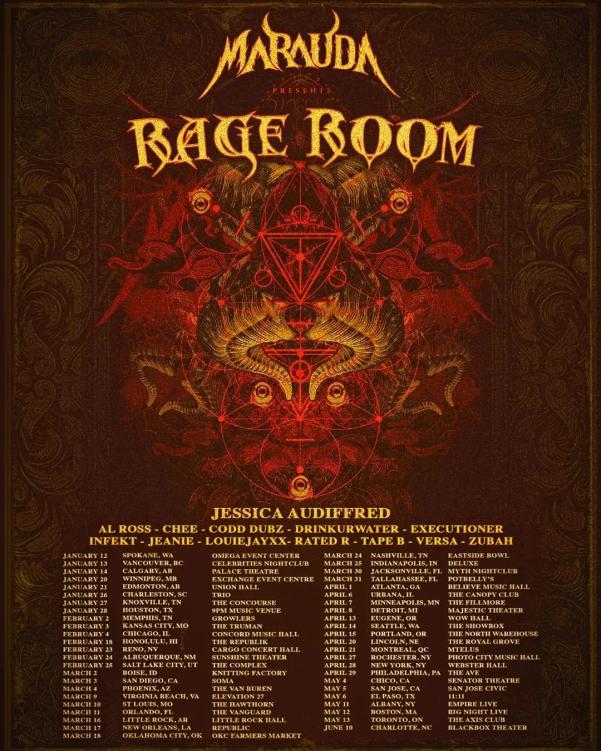 Duration: 1/12-6/10
Support: Jessica Audiffred, Al Ross, Chee, Codd Dubz, Drinkurwater, Executioner, Infekt, Jeanie, Louiejayxx, Rated R, Tape B, Versa, Zubah
Reason to go: The Marauda Rage Room Tour is by far the longest tour on this list and boasts some of the most praised names in dubstep and bass music. Artist like Infekt and Tape B will be joining Marauda on his conquest as he descends upon 48 different cities across the US.
Sullivan King – Thrones of Blood Tour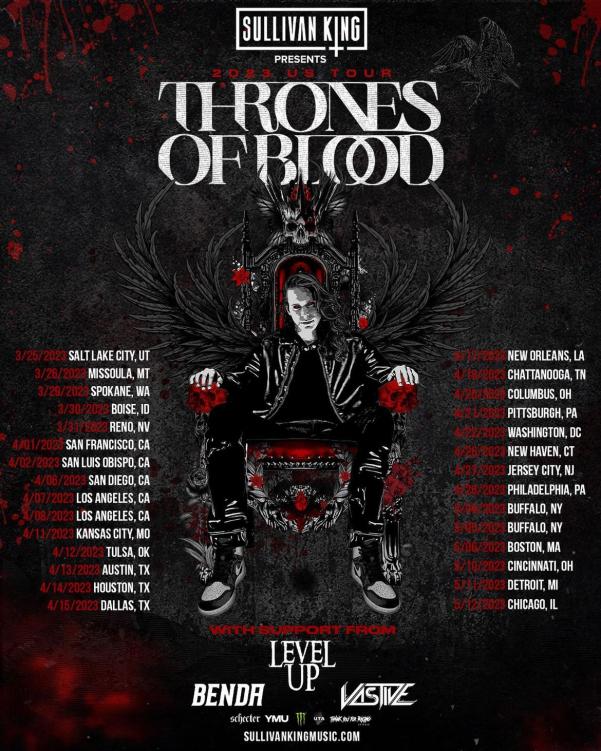 Duration: 3/25-5/12
Support: LEVEL UP, Benda, Vastive
Reason to go: This will be Sullivan King's biggest headlining tour to date.
LUZCID – Illusions Tour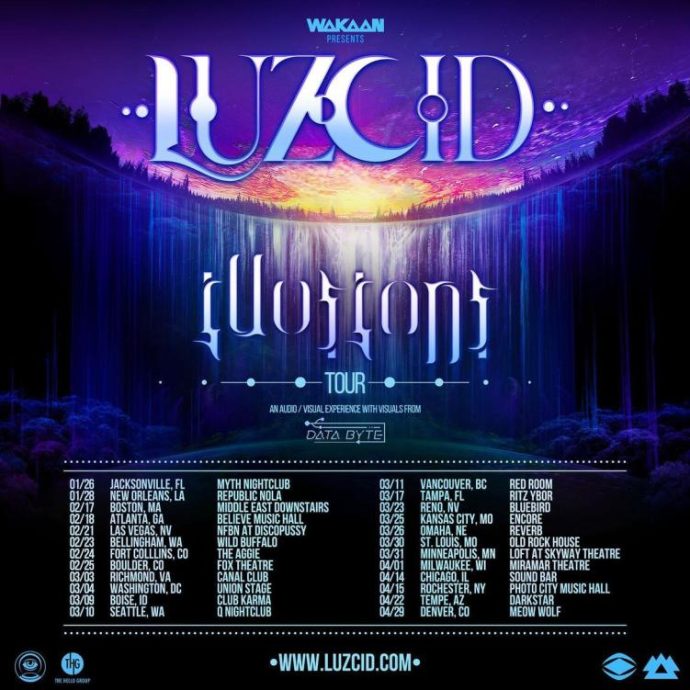 Duration: 1/26-4/29
Support: DATA_BYTE (VJ)
Reason to go: While we are excited to see LUZCID take his new music on tour, the fact that he has one of the most potent visualists in electronic music (DATA_BYTE) conducting his visuals makes this run a can't-miss.