If you haven't heard the news yet – Vibe Street is "Back Like Jordan" with his brand new single and now a nationwide tour! The tour includes 7 cities – beginning in Hawaii and ending near his hometown in Connecticut.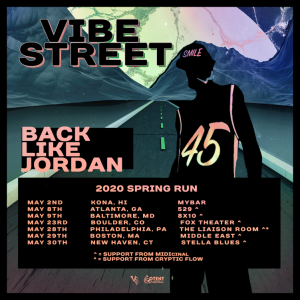 We're personally most excited for the Boulder stop at the Fox Theatre – and Philidelphia gets BOTH MIDIcinal and Cryptic Flow?! We're confident every stop will be a huge hit. We can't wait to hear the new stuff he's been working on.
If you haven't checked out "Back Like Jordan" featuring Robbie Dude yet – peep this quick review by our homies over at LifeTap Media to get you in the vibes.
Catch some new vibes in a city near you! Wanna get the full scoop on the return of Vibe Street? Check out our exclusive interview here.
Tickets available for Vibe Street Tour HERE