Every time you think STS9 can't take it any higher, they do. From their setlists to improv jams, technology, and genuine authenticity as a band – Sound Tribe keeps raising the bar of what they can accomplish and continues to push the envelope.
This NYE, STS9 completed a five-night run in Atlanta – four nights at the Tabernacle (affectionately called "The Tabby" by locals) and one special secret show at the Ravine.
On December 30, 2019, STS9 took over a new but highly important venue for their first-ever 'Rave Spell' set – a set they deemed would be an "All-improv, High energy dance party" and boy, did they deliver.
Not only did they deliver – they opened up a portal of what STS9 is capable of and Rave Spell was just a sneak peek of what's possible. They have taken the "electronica jam band" concept to a whole new level with their musical technology – a feat in itself.
Combine that with their intuitive ability to improvise and jam together – Sound Tribe Sector Nine is unmatched. They are truly a cohesive unit and Rave Spell proved that with their entirely improvised yet unstoppable heater of a set.
They said they'd give us a dance party and a dance party was had!
From the venue to the lighting and visual design, and the improvisation and flow of their music – Rave Spell marks the beginning of a new era for STS9 and their fans.
Here's why Rave Spell at the Ravine was such a night to remember:
The Venue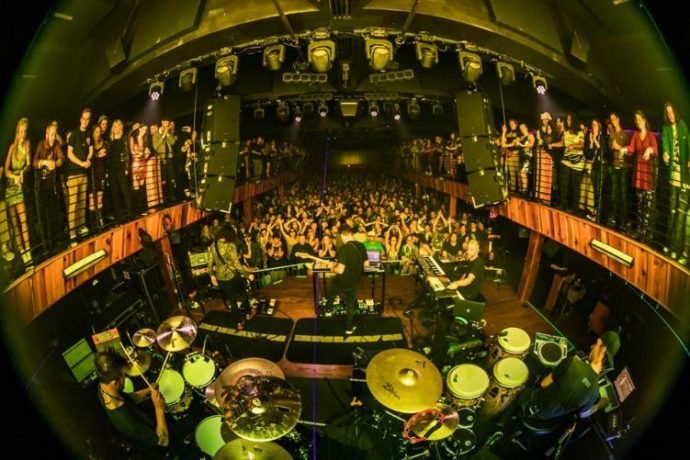 The Ravine is a fairly new venue in Atlanta – and equipped with a unique set up perfect for a niche group of music lovers (like us!).
This venue boasts an entire Funktion One sound system and a lighting rig designed by none other than Greg Ellis, better known as LazerShark and his work with Pretty Lights.
The Ravine is a very small venue for STS9 – fitting roughly 700ish people, the club was packed on both floors with fans. It has a fairly narrow dance floor on the bottom level and the second-floor mezzanine runs along the opposite sides with VIP tables and sections.
There was definitely a level of underground club vibes with an intimate setting. No matter where you were, you were close to the band.
Many fans speculated that Rave Spell would be a PA set – so seeing the band fully equipped with tons of tech at each station was certainly a surprise.
The Ravine's known as a nightclub with a notable sound and lighting system, but they normally host DJs not live acts. Witnessing the entire STS9 band up on that tiny stage was certainly a sight to behold.
Lighting and Visual Design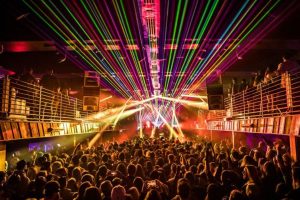 We previously mentioned that the lighting rig for the Ravine was designed by Greg Ellis aka Lazershark. Greg has worked with STS9 before, he's been called in for a few shows most notably helping them complete their 2016 tour. Pair this with the genius of Tiberius Benson, STS9's current lighting designer – and you have magic in the making.
For Rave Spell, it was entirely underground club vibes. Benson rocked that lighting design and did Ellis' rig justice.
The five-night Visions 2020 series was inspired by the long-standing Sequoias and each night represented the cycle of a tree: Seed, Sprout, Root, Rise, Return. The Rave Spell set represented night 4 – Rise.
Sound Tribe rarely has visuals behind them but for Rave Spell, there was a screen of simple analog visuals. Perfect for this kind of set. It was just the right touch to set off that warehousy underground vibe.
The Sound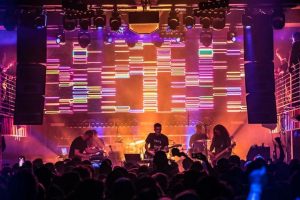 Wow, where do we even begin?
For one, Sound Tribe's technology is out of this world. For a better understanding of some of the completely modified and specialized technology that each member of the band has check out this interview they did with SoundCheck.
To touch on some of this briefly: David Phipps has a completely customized modular rig and synthesized keyboards that he built himself. Hunter Brown's floor station is unreal – tons of loop pedals, triggers, and controllers. Alana Rocklin's bass is decked out with FretTrax technology and customized for STS9's samples – she can trigger MIDI synths directly from her fretboard as she's playing.
Zach Velmer while already an incredible drummer (his DnB is unreal!) is also triggering MIDI and has an electronic kit. As well as his regular drum set! Jefree Lerner has so much going on it's hard to differentiate. Bongos, a sample launch station, computer, and other percussion – just to name a few.
Combining their technology with the space of an experimental jam really gave STS9 a wide berth for improvisation. They didn't have the comfort of an original track to fall back on; once they got into a jam space it was theirs to take it out of this world.
This gives way for space and new growth and I believe even the band found themselves in a few spaces they didn't expect. They are clearly in a phase of rapid growth and expansion, and we cannot wait to see where they take it next.
Lucky for fans that weren't able to make the show, STS9 has graciously added the recording of the show to their Band Camp page. Each jam is roughly 7 – 13 minutes long and wavy and groovy all the way through.
Their drum and bass jams are exceptionally notable as well as their high energy heaters. There were some parts of that set that were simply on fire.
Check out some fan videos here:
To Infinity and Beyond!
Now that STS9 has completed Rave Spell – where do they go from here? As one fan mentioned – this is only scratching the surface for Sound Tribe potential!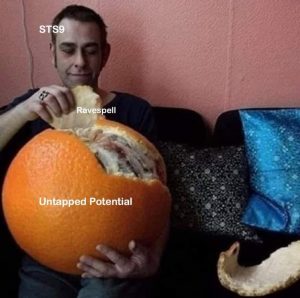 Fans are eagerly awaiting new music out of the studio – potentially a Rave Spell album in the works? We can only hope.
This is only the beginning for 2020 and the experimentation that is to come. With synthesizers, modulators, and fully equipped MIDI/sample stations for each band member – the potential is unlimited.
We'd like to thank everyone we encountered at the shows in Atlanta! And a huge thank you to STS9 for forever pushing the limits and still surprising fans after all these years!
STS9's next big event is Belly Up in Aspen, Colorado. A four-night run over February 13-17, 2020 at the Belly Up. A very intimate (500 person) venue and a special run for Sound Tribe fans. Get your tickets here.
Til next time, Sound Tribe family. It was a great and special run.